jenny fax's clothes are the kawaii version of 'twin peaks'
The designer has never been to the United States, but her collections are steeped in surreal Americana.
A Jenny Fax runway show feels like the set of an 80s film about a missing teen girl. At her spring/summer 12 show, models walked down the runway wearing soft pastel yellows, kitten heels and socks, and dramatically puffy sleeves. Her soundtrack floats from Twin Peaks composer Angelo Badalamenti's "Just You" to Bob Seger's "Against The Wind," landing on the sweet sorrow of Linda Ronstadt covering "Desperado." For fall/winter 14, one model sat in a clawfoot tub eating spaghetti against wall of tiles. Designer Shueh Jen-Fang's fall/winter 18 collection featured silks, knee socks, short hems, and giant bows.
This most recent collection sees Jen-Fang's composite young girl figure grow up, becoming a Working Girl character of sorts. Specifically, she's a woman Jen-Fang describes as an "amazing lady" who started her first job in the 80s, during Japan's bubble economy era. Fang paints a specific picture of this archetypal 80s power woman, a woman balancing responsibility — family, marriage, career — with, perhaps, an unplaceable desire for something more. She's a small departure from Fang's nostalgic teen girl muse of previous seasons.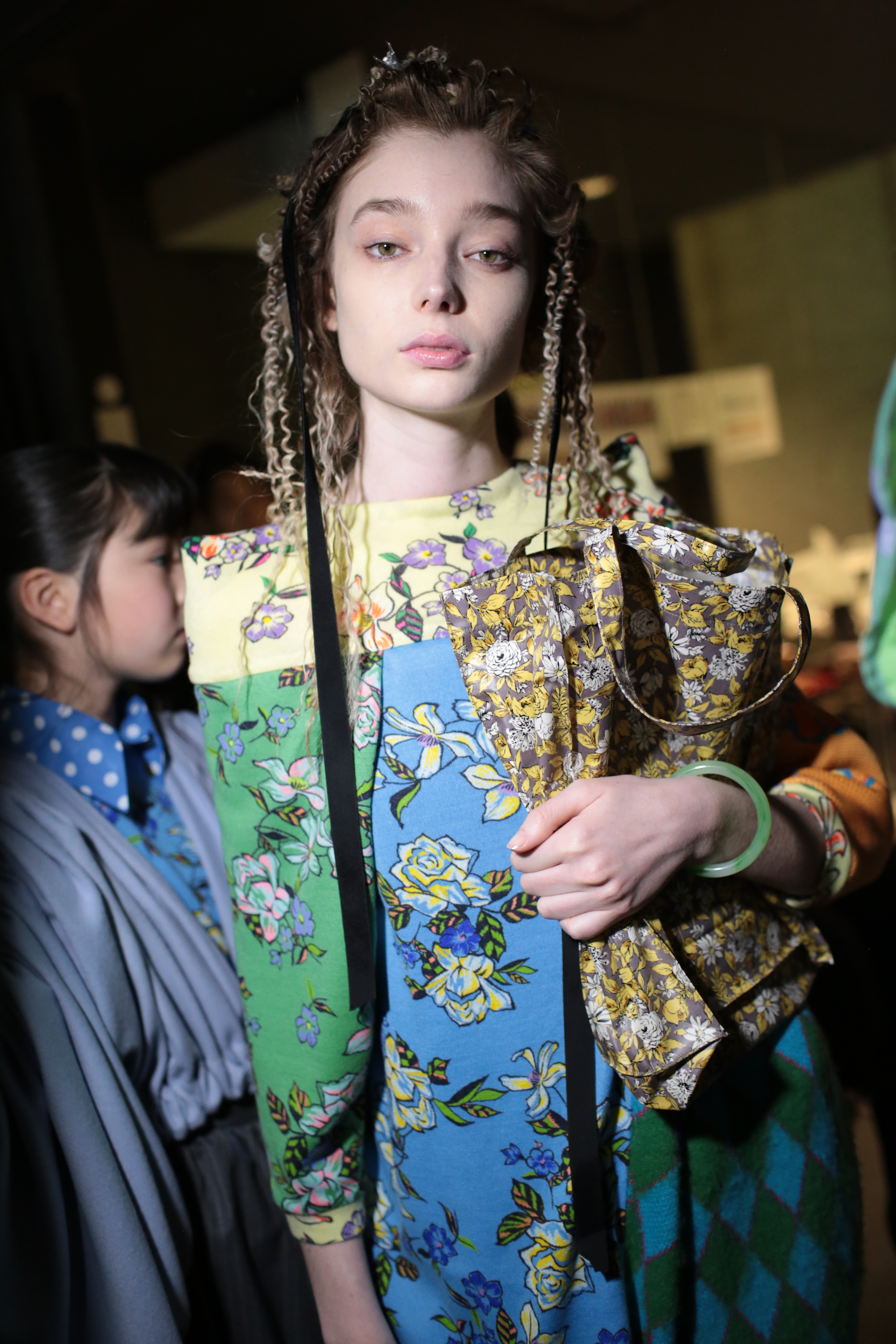 "[It's] very power shoulder and vivid color, a very energetic moment," the designer says. "She is full of hope for her life. In the 90s, she tried to give as much as she could to her child. Finally, this lady made a huge mistake in her life. Everything failed." She explains that the finger and hand accessories take cues from surrealism. "I wanted to show how confusing this lady's world has become. My muse is always teenage girls, but this time I made my muse more adult...I was inspired by my mum's fashion and habits."
The silhouettes of 80s power dressing, borrowing from pop culture references like Designing Women and Princess Diana, are entwined with nostalgia and girlhood in Fang's designs. She takes this pastel-colored innocence — a look that could almost be too saccharine in some cases — and adds mischief, humor, darkness, and a touch of the surreal. Previous collections have included shiny, red baby shoes attached to the tops of heels and mice hanging from a shirt, their tails shaped into hearts. One piece from her fall/winter 18 collection is a string of kitschy cookie cans, called "Mum's Cookie Can Collection," that can be worn around your neck. "My mum loves to collect many things," Jen-Fang says. "She collected all the nice cookie cans, I remember..."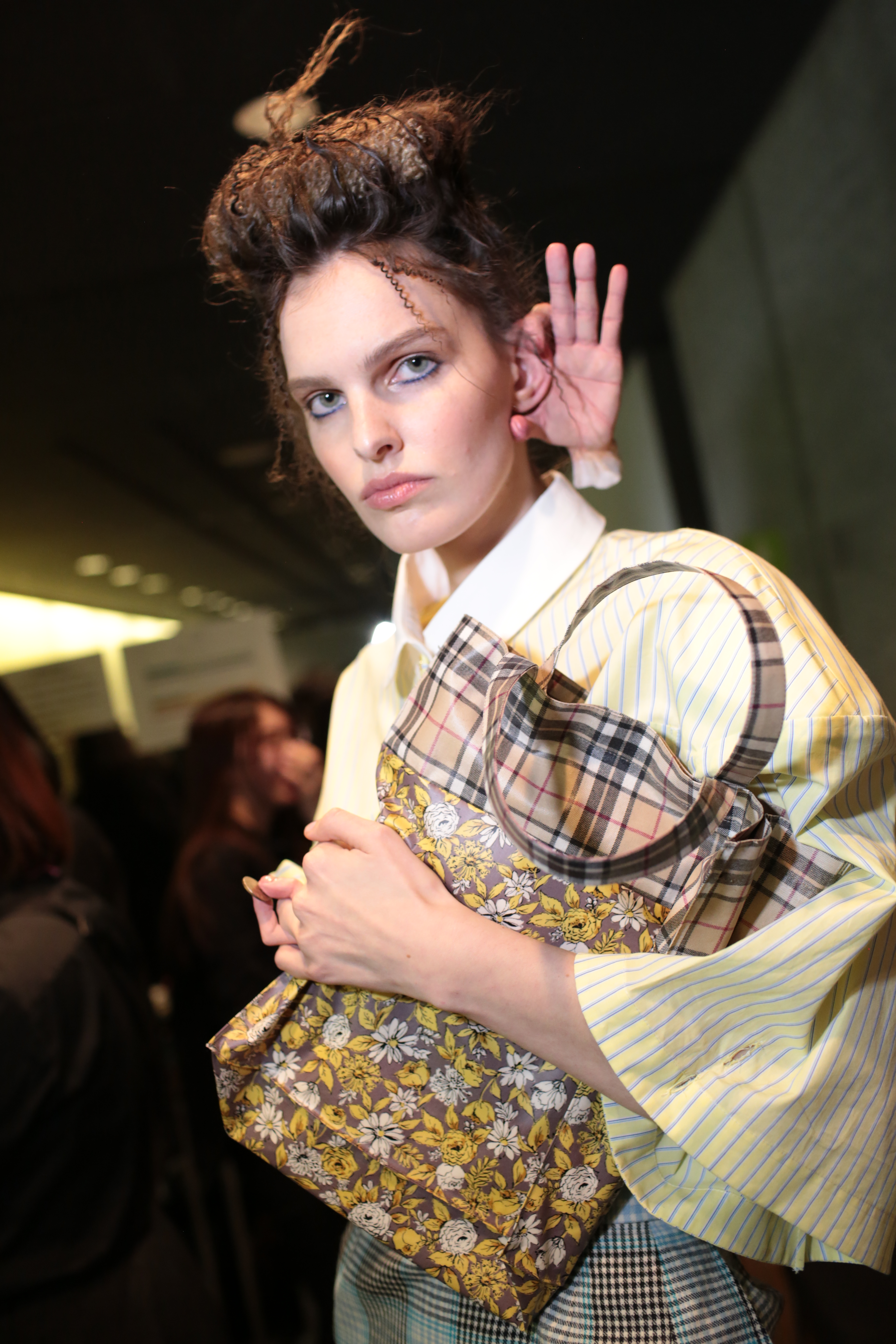 Jen-Fang's website, much like her clothes, amalgamates deeply American kitsch and pop culture with Japanese kawaii, like Macoto Takahashi's dreamy-eyed girl illustrations. Fang recently collaborated with Takahashi on a handbag. She's absorbed the mood of Twin Peaks, 90s music videos, Clueless, and retro Sears Portrait Studio-style images in her work. "I think I have a very strong influence from America," she says. "I remember when I was small, every animation was from the States, and toys and movies. But I've never been to America. It's all my American dream, and I love that."
Born in Taiwan, Fang became interested in fashion an early age, taking sewing classes in high school and learning about technique and pattern. She then spent two years studying in Paris, ending up at La Cambre Bruxelles. Fang met her husband, designer Mikio Sakabe, and they married and moved to Japan. Fang helped Sakabe launch his eponymous label in 2006, and in 2010, she started Jenny Fax. "I like the position of 'fax' in the now," the designer says about the name. "Email and messenger are very popular to use, but when you receive that fax from someone, that's a very special feeling. Another reason [is that] I like the sound of the name River Phoenix. I try to make similar sounds from my name."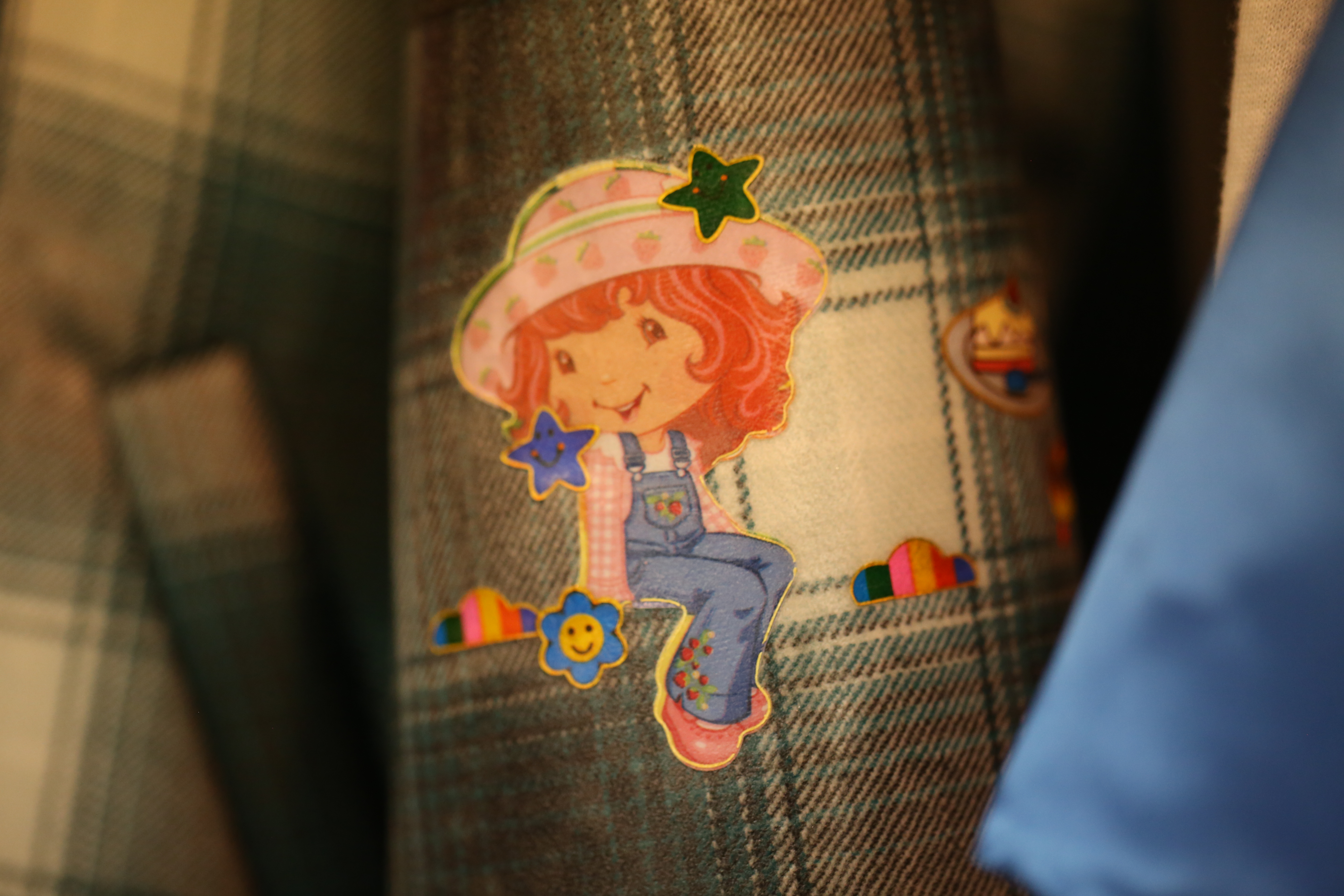 The label is often mentioned on Tokyo street style blogs; just last week, Rikarin, a popular Harajuku Girl and YouTuber, was seen wearing UNIF x Kiko, Jeffrey Campbell, and a Jenny Fax x Macoto bag. Fang's designs are traditionally cute in a lot of ways, like the Macoto bag or a heart-shaped Lolita dress, but what sets her apart is the unexpected, almost jarring elements of her clean silhouettes — like a top that looks like it's been haphazardly cut, revealing half of a model's breasts, or the brushes snarled in the hair of her spring/summer 16 models.
"My look is very painful and very cute at the same time," she says. "I used to say [the Jenny Fax] girl was a gray zone girl, not that cute and not that ugly. Those girls are the most complex. I hope through the brand to challenge people to try new styles with me."
The subversive humor in her collections, from what appears to be an inflatable pool shark wrapped as a dress to a human hand replica attached to a model's head, is juxtaposed with functionality. In other words, what might be perceived as gimmicky is balanced out by commercially wearable wide-legged trousers or a Peter Pan-collared button-up crop top. Fang explained that the dark sartorial quips in her work came from growing up with strict parents and using humor to lighten the mood.
This same humor shows itself when Fang is asked about her upcoming plans. "First the designer needs a diet… for good health," she says. "And I always wanted to make a movie."
Tagged: