this rap video is a response to art world racism
NYC artist Orrin illegally filmed 'System Control' in the Met Museum in response to its exclusionary new pricing structure.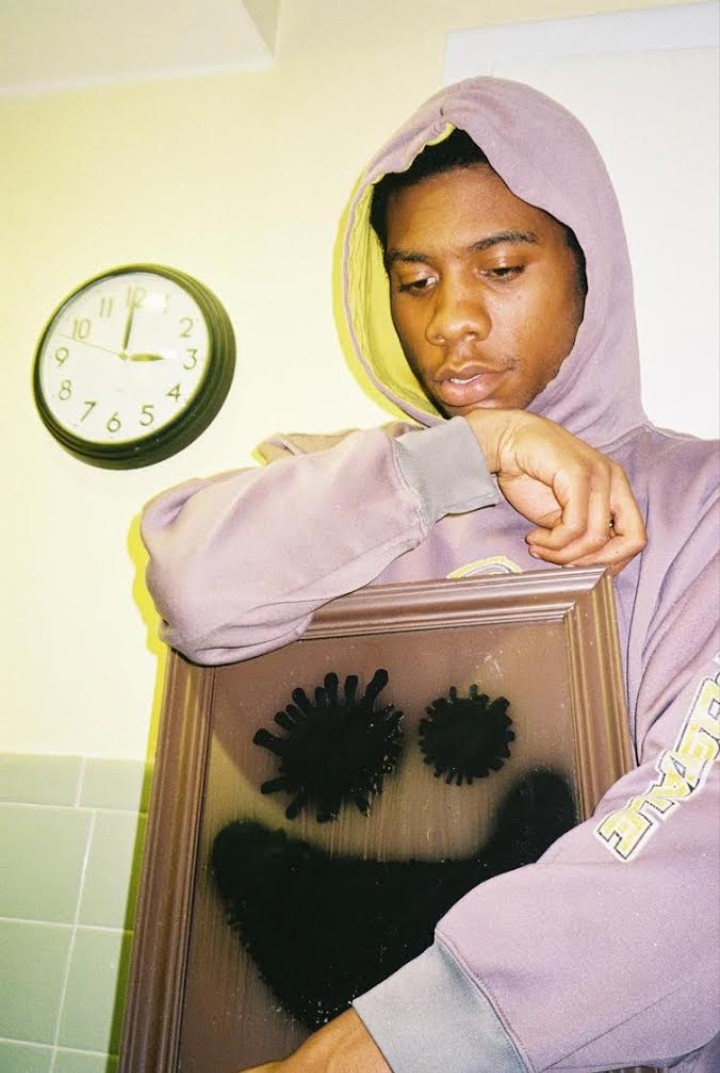 Photography Emma Rogue
In the age of vanguards like Lil' Uzi Vert, Tyler, the Creator, and Frank Ocean, it's no longer unusual to see rappers challenging hip-hop's hypermasculinity through sartorial or sonic means. From skirts — see Young Thug's Jeffery mixtape cover — to sexual identity, vestments and topics, alike, that were once largely untouched, if not eschewed by male rappers are increasingly becoming normalized within the genre. The latest contributor to this subcultural shift is 23-year-old Orrin, who undermines braggadocious lyrics — those lauding money, fame, sex and the like — by contradicting them with satirical visuals. His music videos are raw, clever, and poke fun at the very things he raps about; they're nuanced cultural commentary at its finest.
One such clip is for Orrin's song "Perfect Blue," which was released during the summer of 2017. "It's a super hard track in terms of it being an urban banger but I subvert its lyrics by making fun of them through memes and gifs," the New York native explains to i-D. In one part of the video, Orrin raps, "I got the cash to show/ Umma put it in the air 'cause none of this shit is fasho" as a gif of Tom Haverford, Aziz Ansari's character in Parks and Recreation, waving a single dollar bill flashes on the screen; in another, he raps, "And I'm flexin' with the wings on me," as clips of pop culture icons eating chicken wings dot the screen. "When you listen to the track you're like, 'wow, this is dope, I can bump this at a party,'" he says. "But then you watch the video and it's like, oh, there's actually a greater purpose behind these lyrics, they're meant to make fun of some of the hip-hop tropes that we see."
Today, i-D is exclusively premiering the video for one of Orrin's latest releases, "System Control," which was illegally filmed at the Metropolitan Museum of Art as a response to their recent change in pricing structure. In January, the museum announced that it would be doing away with its pay-as-you-wish policy that was created in 1970, instead requiring out-of-state visitors to pay a full entrance fee come March 1st (all New York residents as well as students from Connecticut and New Jersey can still enter gratis). Everyone is now required to provide identification upon entry which, as Orrin points out, acts as a barrier of entry to minority visitors more so than white visitors, and recalls their historic exclusion from the arts in America. "If you're an illegal immigrant, how are you ever supposed to go to the Met? Making a pricing model is okay but it should apply to everyone," says Orrin who enlisted his friend, political filmmaker Mr. Doingtoomuch, to shoot the video. "We filmed at the Met in an attempt to challenge the new pricing model, the depiction of black America in the art world, and our inability to record inside the museum. We wanted to challenge the institution of system and their attempt to control our perception of art, ourselves, and the world around us."
Orrin's sardonic approach to his artform took years for him to develop. His foray into rapping happened in a rather unusual setting: at a high school sleepover, when he was 16. "I was helping a friend write his lyrics and he was like, 'You might as well be on the song.' So I stayed at this dude's house for three days and we made three tracks," he remembers. Later that week, he bought a microphone and started recording his own stuff — spoken word poetry layered over atmospheric beats — in Audacity, which uploaded to SoundCloud. A one-minute track called "Harikari," which was a tribute to Robin Williams, was his most popular. "People really connected to it," he remembers, "but even though it had a really strong social message, there was still a disconnect between what I wanted to say and how I was saying it."
And so, during his freshman year of college, right when his music was starting to generate some substantial buzz online, he took what would become a two-year hiatus from his music in order to figure it out. He focused on his business degree at New York University's notoriously demanding Stern School of Business, where he learned about day trading and assets and how to take advantage of the financial markets. Orrin, whose family has deep connections with Columbia University, was only able to attend NYU under the agreement that he would choose a traditional major, but music was always his end goal. "NYU had the type of people that I wanted to be around, it had this this creative spirit," he explains. "Stern's structure and grading curve sucked but it's cool that it gave me the tools and knowledge to be able to be self-sufficient." Trading cryptocurrencies is how Orrin continues to make the bulk of his money.
In 2016, he was ready to dive back into his craft, having arrived at an understanding of what type of music he wanted to make and how he wanted to position himself as an artist. "I can better translate my emotions and certain messages onto paper than I could before — I can better articulate it, you know?" says the rapper, who started booking small shows in New York. "By taking time away I was able to figure out what hip-hop is to me and how I wanted to make commentary on that space." Of course, that ended up being through ironic lyricism and mixed media projects, but also through understanding how his other great love, fashion, could contribute to his art. "Fashion is a method of identification but also can be used as a form of rejection," explains Orrin, who is a uniquely fearless dresser and cites ØBLANC, Vejas, Telfar, and Gypsy Sport as some of his favorite labels. "I'll wear older styles that classic hip-hop artists used to wear as a way of paying tribute to them but I'll mix them with more current brands. It's a form of communication."
Orrin's first release post-hiatus was "Miami," "a bright R&B-pop bubblegum track," which was followed by a number of songs produced by fellow NYU graduate and frequent collaborator Warren Wolfe. "Perfect Blue" was one such track — "Switch," which was inspired by a bad fallout with a friend, was another. "I feel like a lot of people are like, 'The world is shit right now, let me take in all of this shit and express that through art,'" says Orrin. "It's about internalizing the external conditions and then expressing that through art."