Still courtesy Sunny Shokrae
a photographer's emotional film about immigrating from iran
Sunny Shokrae and musician Rahill Jamalifard collaborate for a moving study of identity.
|
20 September 2017, 5:25pm
Still courtesy Sunny Shokrae
Tehran-born photographer Sunny Shokrae's latest work, a short film called "I Came," might be her most personal and impassioned work to date. A collaboration with musician and artist Rahill Jamalifard (of NYC bands Habibi and Roya), "I Came" visually translates the feeling of growing up in between cultures as a child of immigrants (or as an immigrant yourself). You're forever misplaced, and nostalgic for a place that only exists in one's heart and mind, unanchored from geographies.
Inspired by the West Coast punk scene, Shokrae took photographs from a young age, but it wasn't until "fairly later" in life that she started pursuing it full-time. She studied politics and sociology at UCSC and worked a number of different jobs in Los Angeles before moving to New York City (where she currently resides) to study photography in 2008. In 2017, her work--especially her portraits and fashion editorials--is well-known among industry insiders, and names like The New York Times, The FADER, and Levi's are among her regular clients.
Just like her personal project called "Origins," "I Came" sheds light on Shokrae's interest in documentary photography, and creates a fraction of fiction that feels too real. "I realized, nobody wanted to befriend me. They scolded--did you think you were like us? Where did you come from?", Jamalifard reads in Persian in the short film. "I lifted up my head, I looked directly into their eyes and declared, 'I came from the Land of the Aryans, I came from the Persian Empire, of 2500 years, I came.'" As Shokrae's eye follows Iranian icon Googosh's vinyl slip, Jamalifard's Detroit-Iranian childhood, and specks of salt falling over soft-boiled eggs, the defining quality of the film remains the same: a piercing sense of longing. Here, we talk to Shokrae about her first personal film project.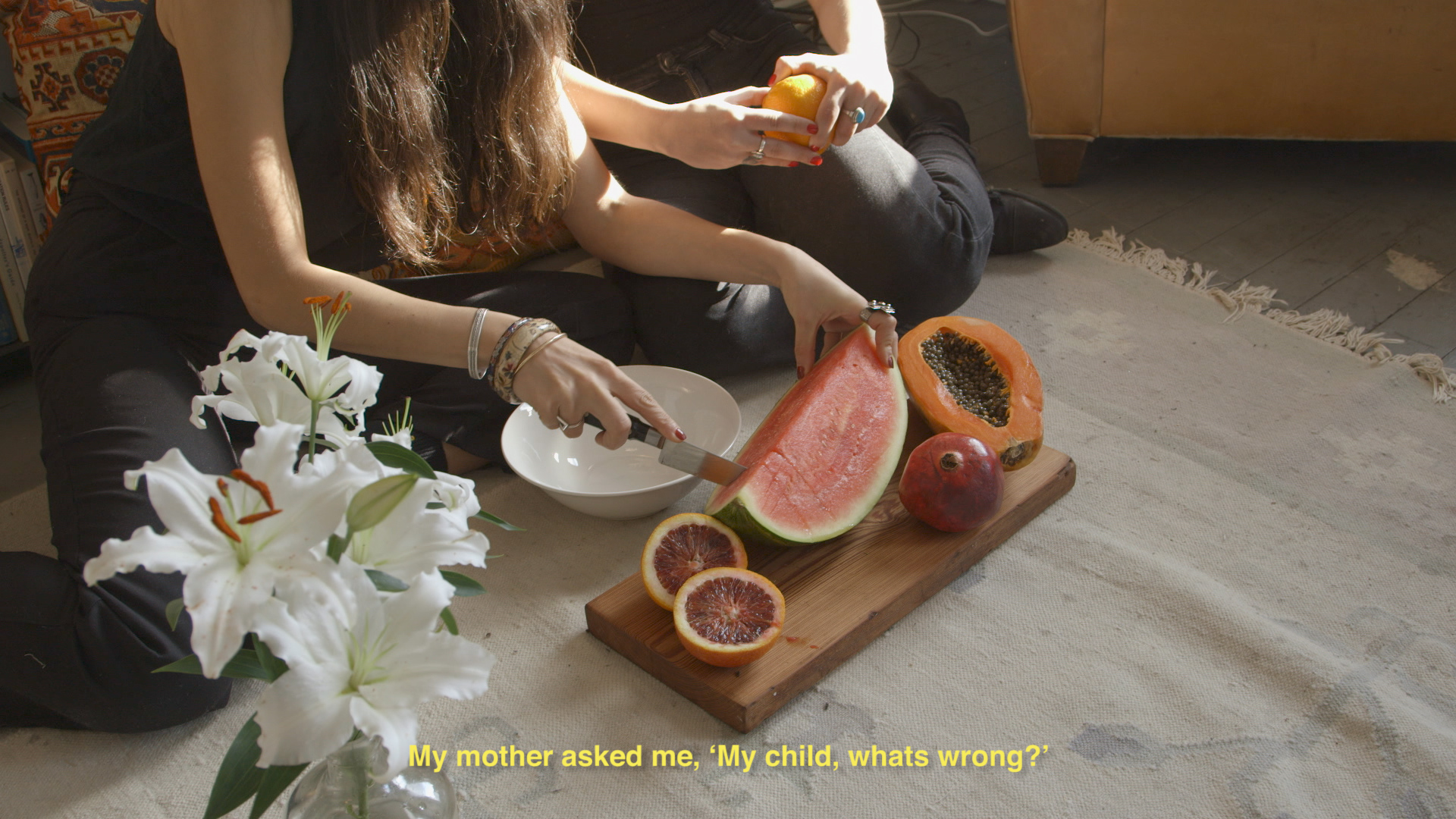 What was the genesis of this project?
I've always wanted to work with video. When Rahill [Jamalifard], a musician I know in New York who is super talented—and I talk, I feel like she is me and I am her. She's so relatable to me that she was the first subject of something I wanted to direct. I asked her to send me some stuff that she was working on, and she sent me these personal tracks, outside the bands she's playing for. I really connected with a poem. And there was another track, a song sung in English to her dad--which will be in the next video, "Chapter Two".
There are a number of video recordings in the film, documenting an Iranian childhood and youth, both in the American suburbs and Iran. Did you work with found footage, or were they shot after you decided to work on this project?
While we were talking about how we would make a video for the poem, I asked her if she had any VHS footage of her childhood, growing up. The poem felt like so many memories to me. She's from Detroit, she had her mom find all these VHS tapes. I grabbed them and figured out how to digitize them. I then kind of grabbed the pieces that I thought might work, and that's just how it came together.
Who is the other woman in the film?
That's Rahill's sister, Nazie. She was in town for fashion week to work on a project with Maryam Nassir Zadeh, and we shot them together.
You really get the sense that the two women's parents might be in the next room. Where was the location?
We shot in Rahill's home in New York. I feel like she and I both carry on little hints of the things we love about how our parents decorate, the textiles we used, the food they made, the fruits they had us eat.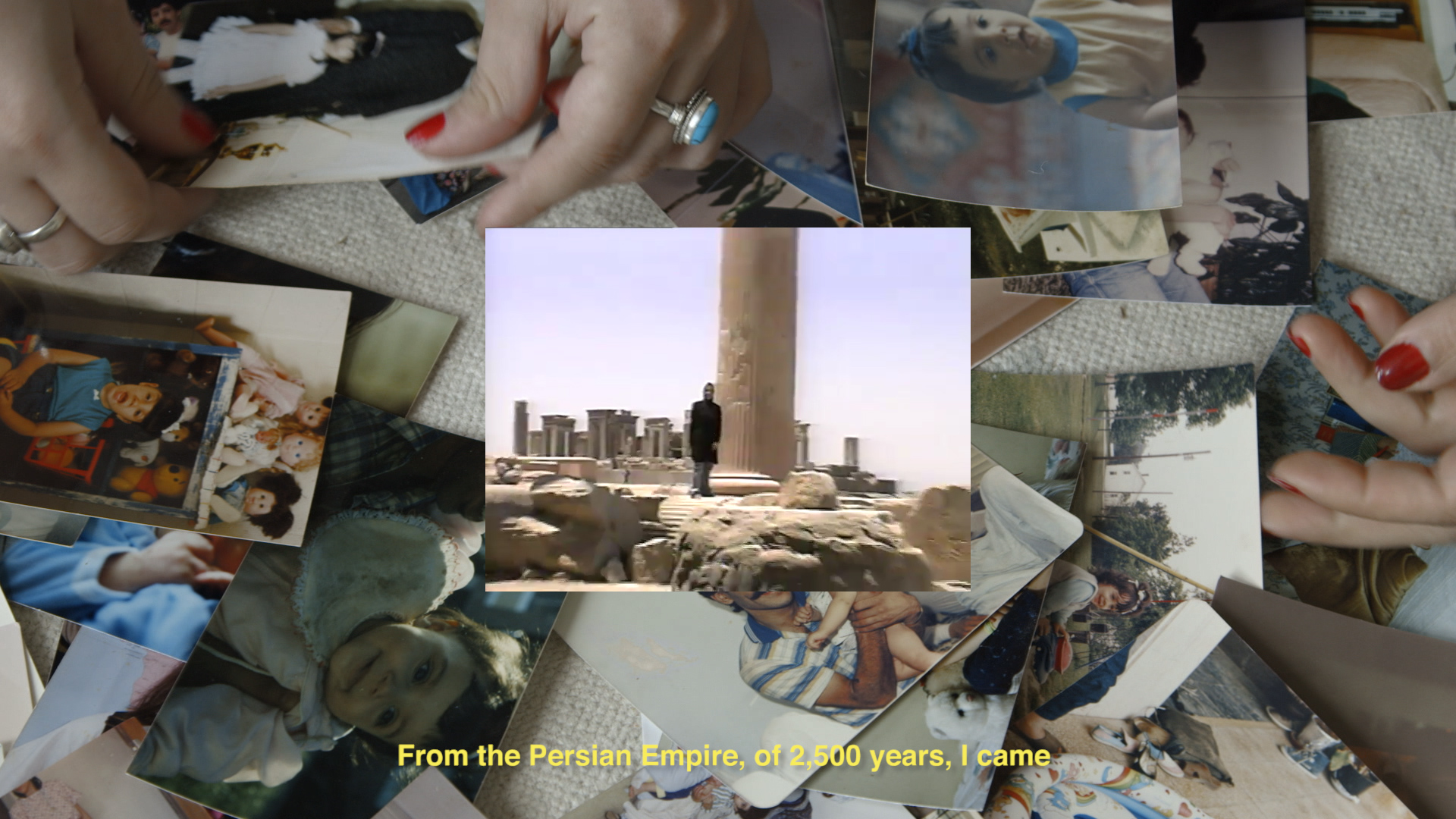 Food plays a big part in creating that strong sense longing in the film.
Food is a huge part of Iranian culture, and a lot of Eastern cultures. I'm so connected to memories through soft boiled eggs my grandma used to make in Iran, on her little balcony. Watermelon is huge, lavashak, the dried fruit rolls, pomegranates, are always around. Food is offered after a meal, before a meal, when you wake up, in the middle of the day (laughs). It's like a constant.
Do you ever feel like your role and responsibility as an Iranian-American creative has changed ever since Trump got elected?
It's always necessary to speak loudly, especially now, in the current political climate, where the ignorance is spreading like wildfire throughout the country. It's really sad to see people dehumanized based on ignorance.
Sometimes, I'm like, 'I just want to be a photographer.' I don't want to be labeled as an Iranian-American photographer. I'd rather be considered a person among these people, who all do the same thing. And sometimes I feel like I have a huge responsibility to represent an underrepresented fraction of Iranians that are in the arts. I know a lot of families that have been very encouraging of their kids to go into arts, but mine wasn't. To represent that and say, "You can do whatever you want," feels important. As a female, also it gets really complicated. To be a female, to be Iranian, to be in the industry, and always have to constantly prove yourself, your worth and your talent. It's kind of exhausting. This is a big question (laughs). I'm just trying to be my best, being a good person, being kind and genuine and authentic with what I'm putting out there.