crocs and "good fake news" are the headlines at a brilliant balenciaga show
Demna Gvasalia combines the fantasy of fashion with a whiff of reality for spring/summer 18.
|
01 October 2017, 12:41pm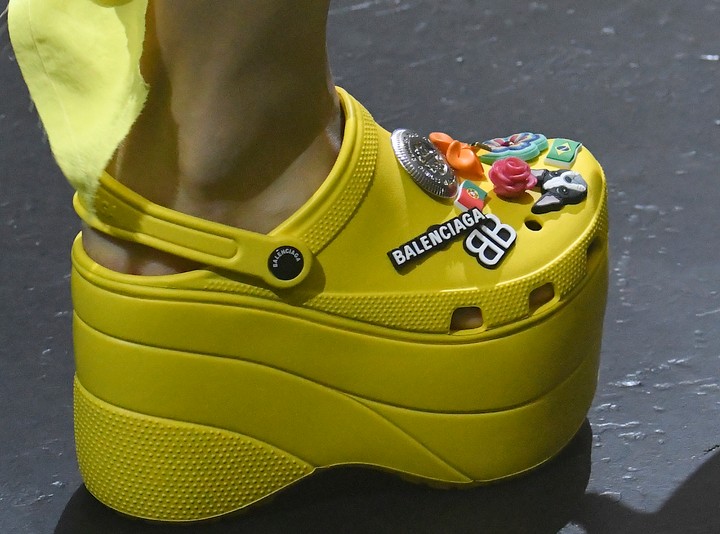 There's no more postmodern designer than Demna Gvasalia, and he proved his sampling prowess at this morning's show for Balenciaga. The apocalyptically major collection pulled from style codes as varied as bourgeois society and Colorado gardening gear, all given the Demna touch of unexpected fits and proportion play. Prints including cash money and newspapers were unapologetically symbolic, and a suite of gowns with flatform embellished Crocs made for an Insta-happy finale.

As in all of Demna's work, both for Balenciaga and Vetements, this amounted to a group of covetable separates with the gloss of the now. Who would have thought that twinset sweaters, button-up shirts, and pencil skirts could look quite so subversive and relevant? Part of this modernity is in the construction: hybrid garments like trench coat/jean jackets and nightgown/robes re-imagine what a garment can do. In a stressful world, a two-in-one shirt can be a comforting surprise.
But the real novelty, especially for a 98-year-old luxury company, is in the remix. Backstage, Demna told i-D, "I looked at a lot of images from the bourgeoisie society, something I don't know, with something that I do know, streetwear."

Accessories stole the show. Statement earrings (the iconic piece of the selfie generation, according to BoF) came in the form of giant hoops and large agate danglies with a hint of the art teacher aesthetic. Exaggerated fringed bags were a riff on the high street staple, and other handbags seemed almost to echo vacuum cleaners. Ladylike pumps were with dangerous spikes. And those aforementioned Crocs, with their chunky 10-centimeter platforms, were dotted with Balenciaga logos and cutesy charms including a puppy and a rose. The new style is called the "Foam" and it will sell out.
The show acted as a punk-rock reaction to bad moves by world leaders and bad ideas by staid fashion houses. Discussing a newspaper print (with a hint of Galliano) Demna said, "We created stories and made our own fake news, good fake news." An apt encapsulation of a revolutionary collection.