Hugh Hefner with his girlfriend Barbi Benton and bunnies at the London Playboy Club in 1969. Photography Rolls Press/Popperfoto/Getty Images.
the interview i never got to have with hugh hefner
An imaginary conversation with the Playboy king.
|
28 September 2017, 9:49pm
Hugh Hefner with his girlfriend Barbi Benton and bunnies at the London Playboy Club in 1969. Photography Rolls Press/Popperfoto/Getty Images.
Every journalist has an interview bucket list. I've been lucky enough to cross some conversations off of mine (Raf Simons, Lil' Kim, my all-time hero John Waters). Hugh Hefner was on my list.
Hefner was a complicated pioneer. A Chicago native, he was born in 1926 to conservative Methodist parents, both teachers. He wrote for an Army newspaper during his service in World War II, and upon returning stateside, graduated from the University of Illinois with a BA in psychology (plus minors in creative writing and art). In 1952, Hefner famously quit his copywriting job at Esquire after being denied a $5 raise. Within two years, he'd published the inaugural issue of his own men's magazine: Playboy.
Hefner only printed 50,000 copies of that issue (which featured nude photographs of Marilyn Monroe). He didn't put a date on the publication, either, as he was unsure there would be a second. It's been over 60 years since Playboy first hit the top shelf, and we are still analyzing the transformative impact the media empire has made on American politics and culture.
In the last decade, there has been much renewed interest in Playboy's progressive politics and Hefner's own activism. (This is mostly thanks Brigitte Berman's 2009 documentary Hugh Hefner: Playboy, Activist, and Rebel). Last month, Broadly published an in-depth exploration of Hefner's alliances with abortion advocates, and his battles with radical feminists. A few of today's obituaries have mentioned Hefner's gay rights activism, citing his remarkably candid 1994 interview with The Advocate. His thoughts on government censorship and discrimination feel vital in our new era of neo-conservatism.
But even more recently, Hefner has been tangled up in the Bill Cosby sexual abuse scandal. Former girlfriend Holly Madison levied accusations of drug use and manipulation. Hefner's legacy is perceived by some as revolutionary and liberatory, by others as exploitative and objectifying. To be honest, I'm not quite sure which side I stand on. So here are a few questions I'd have liked to ask him.
Do you remember how you felt the first time you heard jazz music?
If he didn't outright invent the concept of lifestyle branding, Hefner certainly pioneered it. He became the very public face of his aspirational readership: men who were interested in naked women, sure, but also literature, style, art, politics, and music. "We enjoy mixing up cocktails and an hors d'oeuvre or two, putting a little mood music on the phonograph, and inviting in a female acquaintance for a quiet discussion on Picasso, Nietzsche, jazz, sex," Hefner wrote in Playboy's first issue.
He hosted two late-night television variety shows: Playboy's Penthouse, which began airing in 1959, and Playboy After Dark, which ran between 1969 and 1970. These shows were modeled after the kind of parties Hefner threw at his homes in Chicago and L.A. Often, they featured musical guests, many of them downright legends of jazz and soul. Ella Fitzgerald, Nina Simone, Sammy Davis Jr., James Brown, Marvin Gaye, and Nat King Cole all made appearances.
Though I don't believe he ever performed on either program, jazz luminary Miles Davis was the very first Playboy interview subject. A standing feature since 1962, the Playboy interview provided a platform to discuss issues and viewpoints mainstream publications often shied from. Roots author Alex Haley spoke to Davis about race. Martin Luther King Jr., Malcolm X., John Lennon, Jimmy Carter, and ACT UP founder Larry Kramer all did Playboy interviews, too.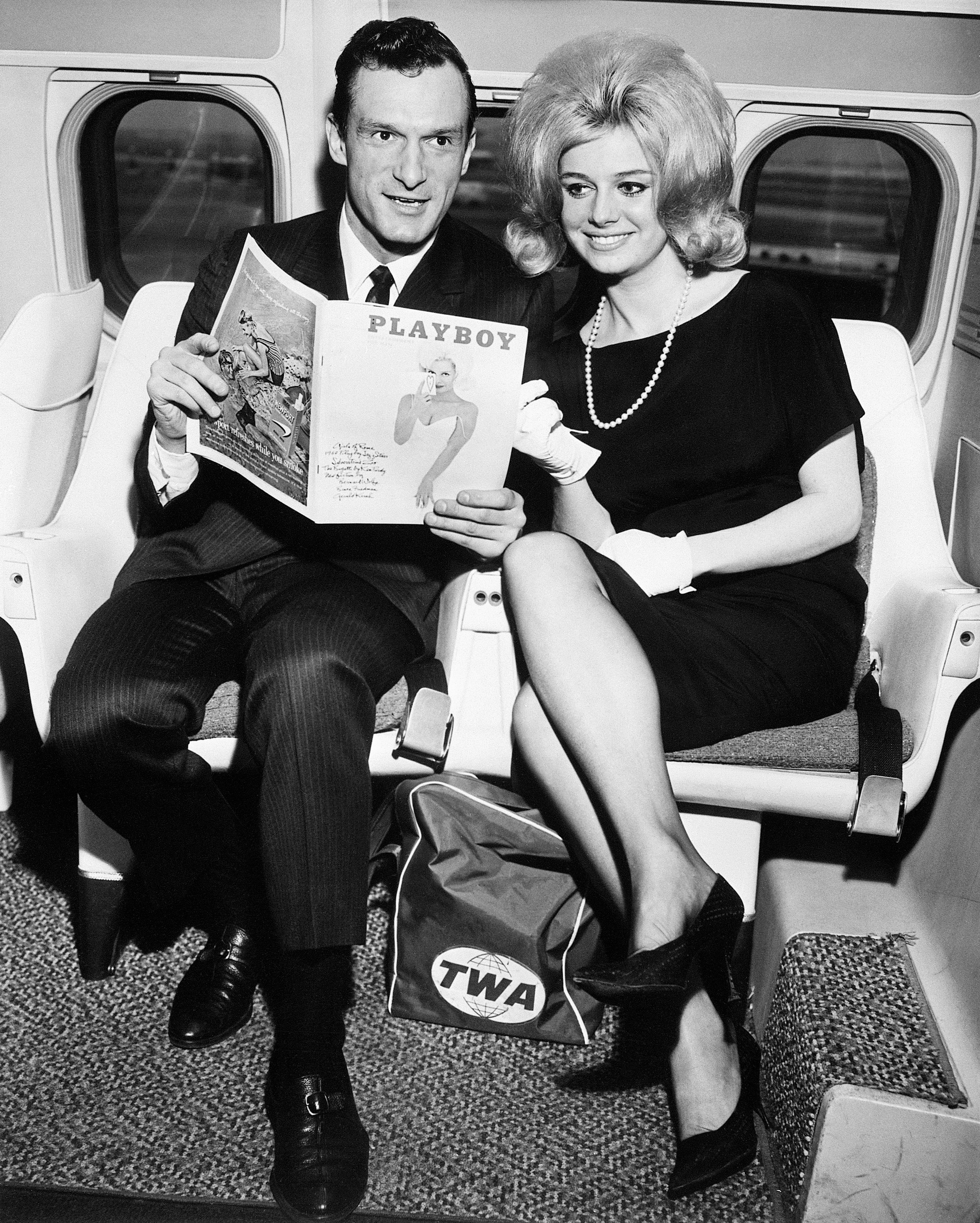 What's a work of fiction that's changed your understanding of the world in some way?
As early as March 1954, Playboy was publishing serialized installments of Ray Bradbury's iconic dystopian novel Fahrenheit 451. The following year, Hefner ran a sci-fi short story by Charles Beaumont that had been rejected by Esquire. "The Crooked Man" depicted a world where homosexuality was the norm, and heterosexuality was criminalized. Angry letters poured into Playboy, to which Hefner responded: "If it was wrong to persecute heterosexuals in a homosexual society, then the reverse was wrong, too.
Even during its peak popularity in the 70s, readers still encountered more substantive content than scantily clad women. In the May 1974 issue, far more of its pages are dedicated to excerpts of Watergate exposé All The President's Men than to pictorials. Some of the world's most esteemed writers have contributed works of fiction, art criticism, or journalism to Playboy, including Kurt Vonnegut, Jack Kerouac, James Baldwin, Margaret Atwood, Haruki Murakami, Shel Silverstein, John Steinbeck, Roald Dahl, Gabriel Garcia Márquez, and Joyce Carol Oates.
It's been almost 25 years since your Advocate interview. How far has the LGBT community come, and how far do we have to go?
Hefner spoke with The Advocate in 1994, one of the deadliest years of the AIDS crisis in America. The piece's writer, Jeff Yarbrough, notes that a decade before the conversation took place, Hefner was rallying against the epidemic: "In 1983, the Playboy Foundation awarded its first research grant to New York University Medical Center to explore the disease's pathogenesis. Since then, Hefner has donated more than $1 million to AIDS-related projects, funding research as well as bankrolling legal and political initiatives. He has provided grants and contributions to education projects, advocacy groups, and hospices and is a founding member of the National Leadership Coalition on AIDS."
The conversation is fascinating. It touches on Hefner's own bisexuality and the government's unforgivable response to the escalating epidemic. "The Right seized upon AIDS as some sort of evidence of where we as a society had gone wrong, had become impure. The only thing 'wrong' with AIDS is the way our government responded to it. They are culpable on many, many levels."
We're living in a time where reproductive rights are again being threatened by conservative politicians. Why is it imperative we keep abortion safe and legal?
"There is sexism and patriarchy in Playboy magazine and the gender worldview of the magazine," Carrie Pitzulo — Colorado State University history professor and author of Bachelors and Bunnies: The Sexual Politics of Playboy — told Broadly. "But I don't think it's gotten nearly enough credit for… the supportive stance that the magazine often took towards women and… liberal feminism."
Just as Hefner spent the 1980s funding AIDS-related projects, he and Playboy spent the 60s and 70s crusading for abortion rights and reproductive health. The non-profit Playboy Foundation helped fund rape crisis centers, the ACLU Women's Rights Project, and court cases that culminated in the Roe v. Wade decision. A decade before that decision was made, in 1963, Playboy began publishing pro-choice pieces. Hefner was enthusiastic about Betty Friedan's The Feminine Mystique, and gave a platform to Germaine Greer, despite her objection to (and open mockery of) many of Playboy's images and principles.
What's the strangest object you've seen the Playboy logo appear on?
Playboy's iconic bunny logo was developed in just half an hour by designer Art Paul. The logo is among the most recognizable in the world, and it's what's making Playboy all of its money. A vast, vast, vast array of robust licensing deals have splashed that bunny across fragrances, a range of vapes, alcohol, bed sheets, ice cube trays, golf clubs, belly button rings, entire closets full of clothing and sneakers. It's found in gas stations, art galleries, and absolutely everywhere in between.