solange serenades the cool girls at maryam nassir zadeh's east river show
A magical NYFW #moment.
|
12 September 2017, 9:05pm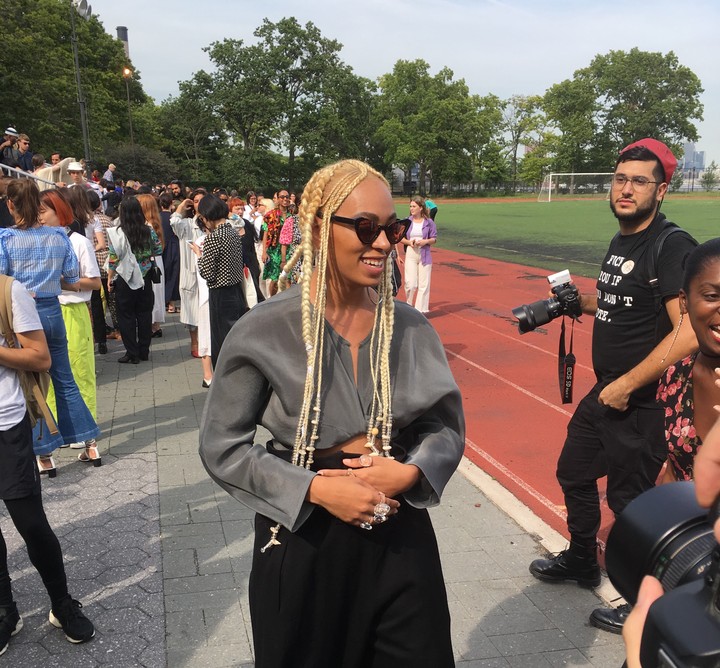 "She's so beautiful," cooed a little girl standing next to me, who with her mom had happened to walk by Solange Knowles singing "Rise" at the public East River Park. Um, yeah. The blonde-braided singer, dressed in a grey silk crop top and accompanied by a full band, was a total vision.

Plenty of designers try to do incredible things in public places during fashion week, but it's hard to pull off a true guerilla-style show without inducing fashion rage. Lower East Side designer and retailer Maryam Nassir Zadeh somehow managed to stage a low-key yet revelatory event in an unexpected spot, without going overboard with headsets and clipboards. A man obliviously continued his squats across the field behind the show. Some local families stopped and took pictures, but some just walked on by. (Not everyone has to be into the same thing. There was an Italian ice cart nearby.)
As Solange sang a long, incandescent version of the first song from A Seat at the Table, Maryam's stable of creative downtown girls walked the track. There was India Salvor Menuez in a purple strappy bra top and black cotton flounced skirt. Camilla Deterre rocked high-waisted polka-dotted silk pants. Susan Cianciolo, the artist and fashion visionary in her own right, wore scrunchy jeans and a white lace top. Maryam's now-iconic (and legally defended) slide sandals were remade in fluorescent colors like neon green that popped against the neutrals.

The women refreshingly kept their own identities and looked like they had dressed themselves. They could have switched places with the fresh-faced women in the bleachers, many of them also friends of the brand.

After she finished singing, Solange casually hugged a few friends and then sauntered off, without an entourage. And then the models got some Italian ice over by Avenue D.