tavi gevinson is having an epic stoop sale
Featuring Prada robot wallets and Nancy Downs fan art.
|
26 September 2017, 3:01pm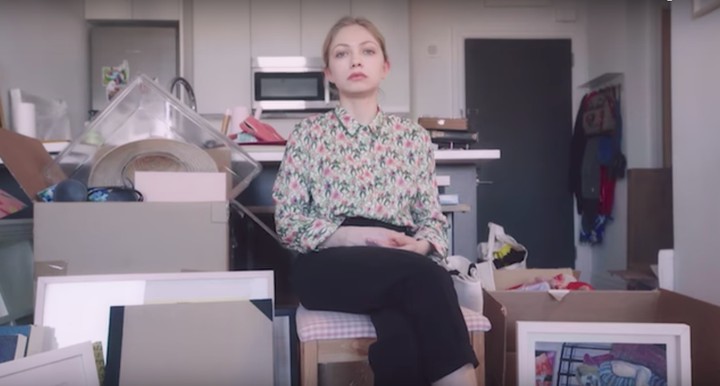 still via youtube
Tavi Gevinson is officially an adult. The editor/actress turned 21 this year and moved into her first grown-up apartment, and now she's joining the Cult of Marie Kondo. Well not exactly, but she is getting rid of a bunch of her old stuff — 10 years' worth, to be precise. While I would not wish the things I bought a decade ago upon my least favorite neighbors, Tavi's sixth sense for killer clothes, books, and trinkets is proven beyond all reasonable doubt, making this perhaps the best stoop sale in modern Brooklyn history.
An artsy video of her jettisoned possessions teases, for example: a collection of playbills, art from Beth Hoeckel and Amy Lombard, a creepy sketch of Nancy from The Craft, a Squire Bullet Stratocaster guitar, the vintage record player of your Lisa Frank dreams, and a lesson on how to pronounce "triptych." If you happen to be a relatively tiny human, the sartorial offerings are expectedly epic. There's a furry pink two-piece set by Glitters for Dinner, Dr. Martens by Baseman shoes, a vintage Bob Mackie embroidered gown, and those Christopher Kane geode Crocs. If you can't squish your feet into a size 36, the Prada robot wallet is OSFA.
It all goes down this Saturday 9/30 in the 300 Ashland outdoor plaza, while certain items available online. 100% of the proceeds help fund Housing Works's fight against HIV and homelessness.