Photography Mitchell Sams
raf simons finds beauty and hope in america for calvin klein
The who, what and wow of Calvin Klein autumn/winter 18.
|
14 February 2018, 4:50pm
Photography Mitchell Sams
Who?
Ankle deep in popcorn we waded into the Calvin Klein autumn/winter 18 show venue. Raf had turned to the American Stock Exchange building, with all that symbolises, and filled it with the rustic mid-western Americana of the barns seen in the spring ad campaign, here covered in fading Andy Warhol photographs and Sterling Ruby sculptures. Once again, it seemed, Raf Simons would be taking a look at the underside of the American dream. What followed was one of his most brilliant shows, replete with big themes (America, space, survival, dreams, nightmares, hopes, fears, apocalypse), a thrilling soundtrack, and most happily for an audience starved of it during NYFW, really brilliant fashion.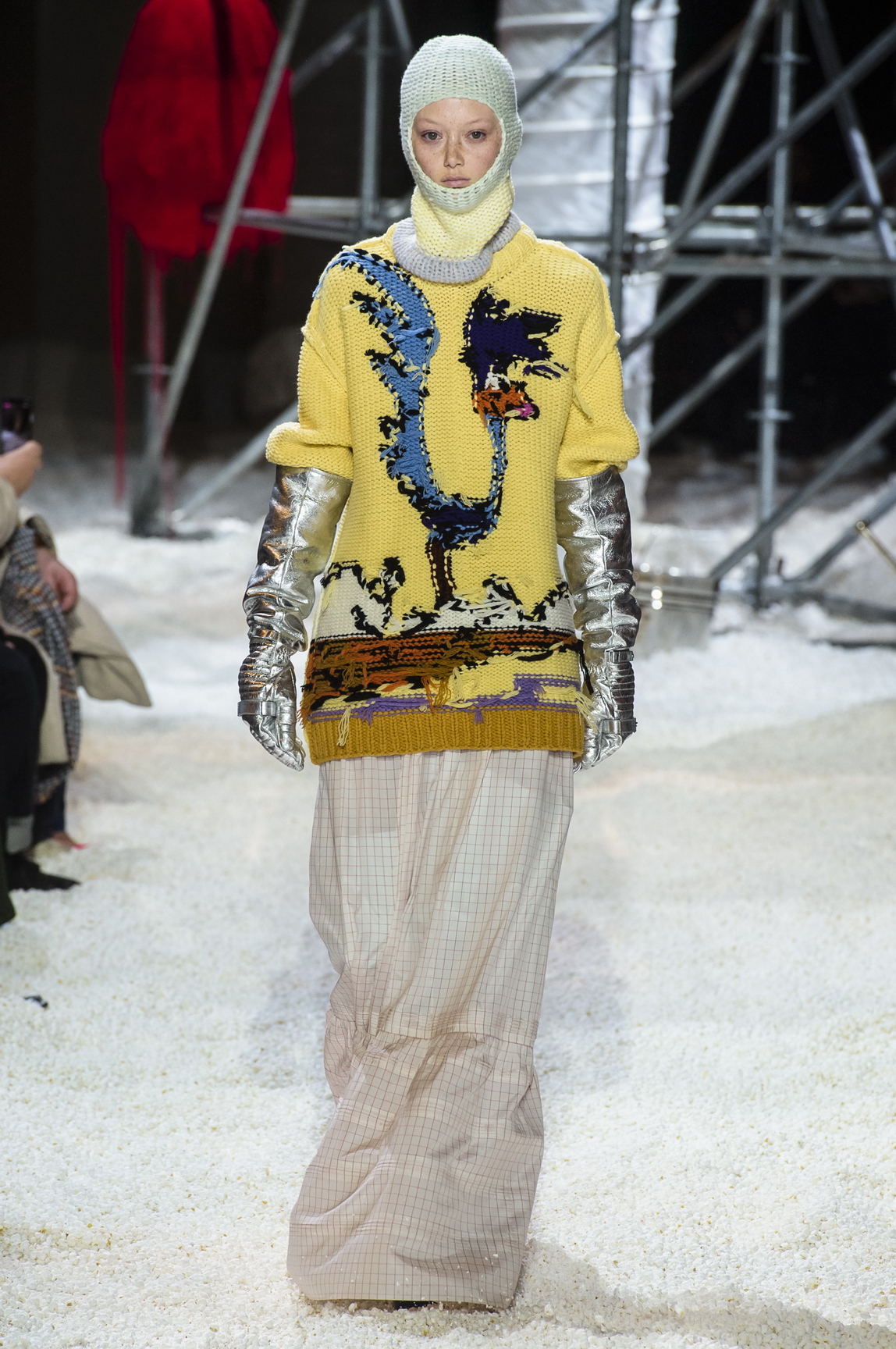 What?
To the sounds of brutal bass and then the baleful croonings of The Mamas and Papas and Simon & Garfunkel, Simons first sent out an array of what could best be described as protective gear -- balaclavas and huge, bulky coats with orange hazard strips. Outsize boots, stomping through piles of popcorn like the driven snow. Liya Kedebe strode out bundled up in leopard print, as if off to the movies during a nuclear winter.
Simons then moved to full skirted, 19th century pastoral dresses. It was nuclear winter at Picnic at Hanging Rock. Under their flounces of fabric you could once again see the orange reflective strips and the sort of boots you'd wear to clean up hazardous waste.
The culmination of this vision was a fantastic series of looks in silver reflective foil. A domed hood was particularly ominous, while more beautiful was a backless foil look over a lace minidress.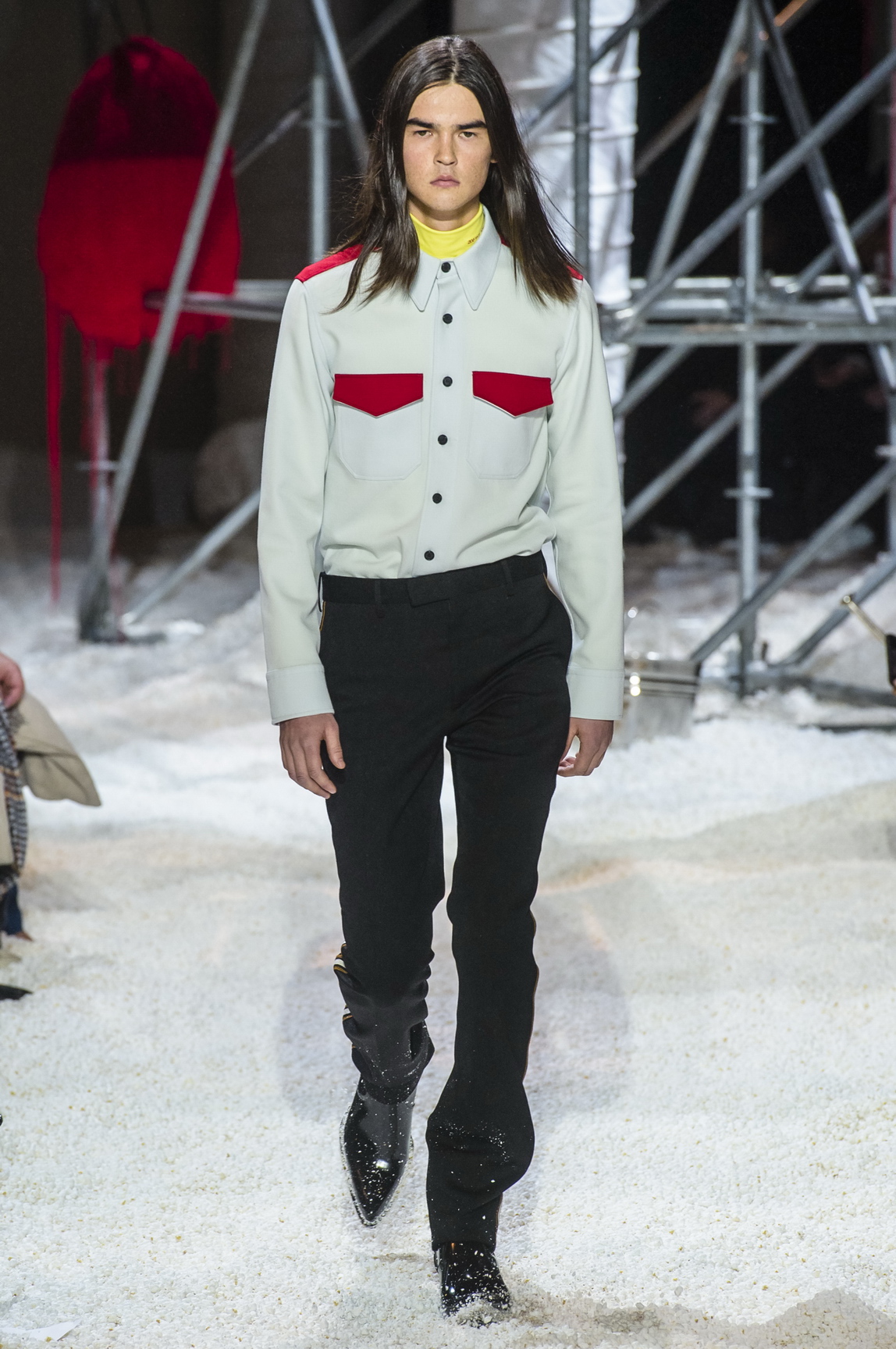 Wow!
It was a thrill to see Simons' vision writ large -- commerce and creativity colliding to spectacular results. As much as it was beautiful, however, it was ominous. Simons' models brought to mind both Depression-era migrants and climate change refugees, with their mash up of naive knits and plaid, and reflective fabrics last seen in disaster zones. As the models came out clutching their big bags of popcorn, as if audience for their own demise, one had to wonder.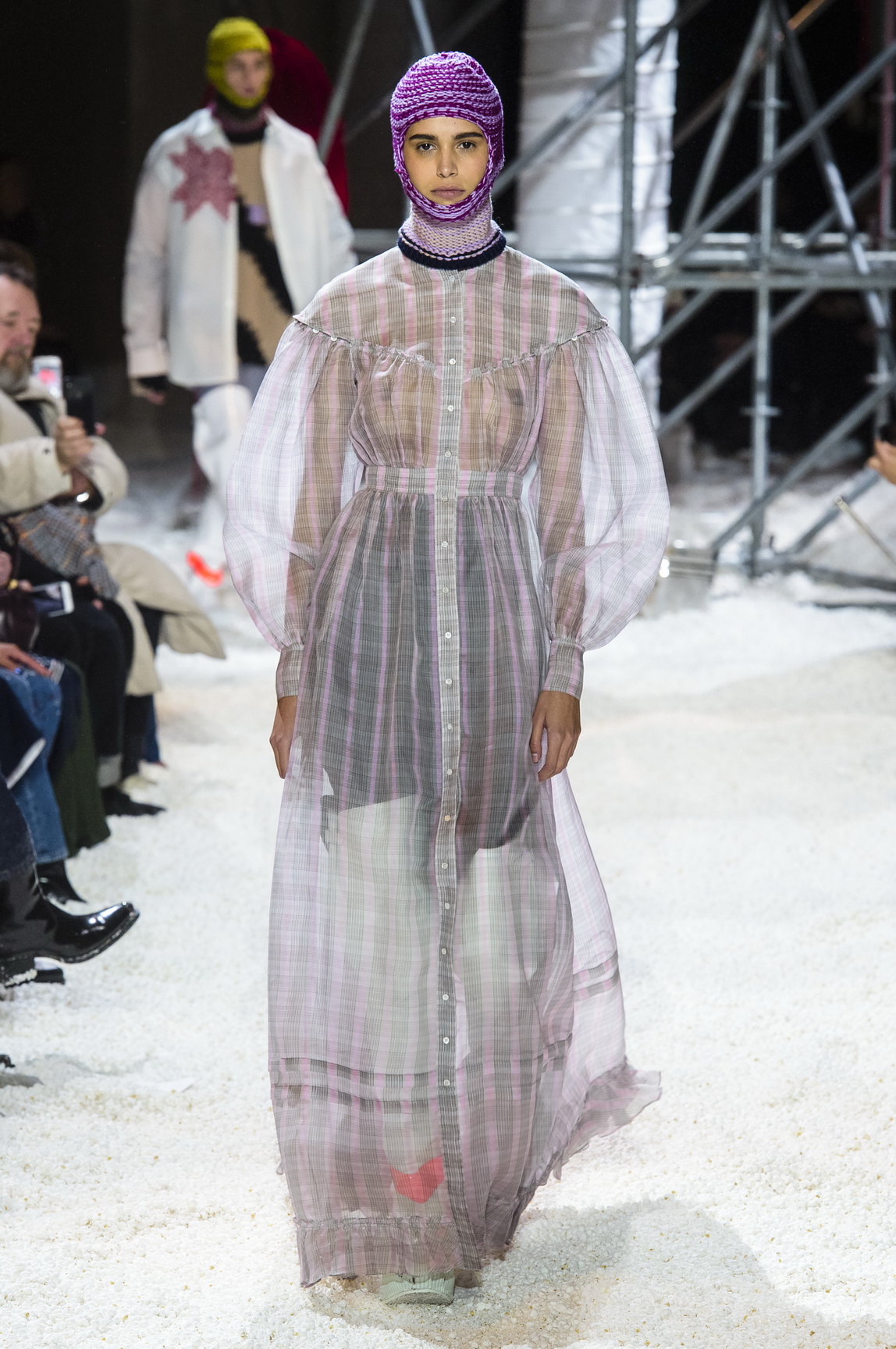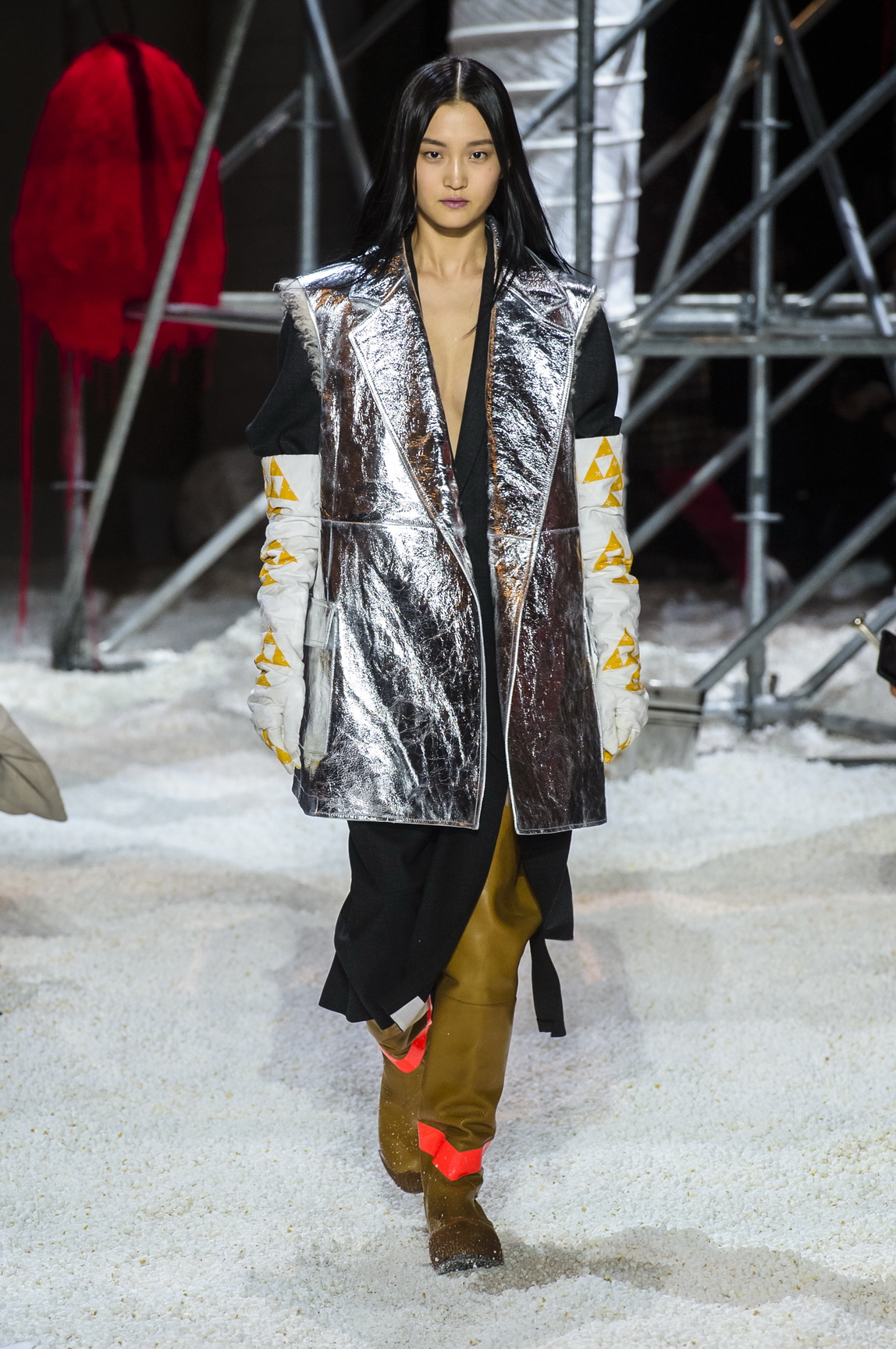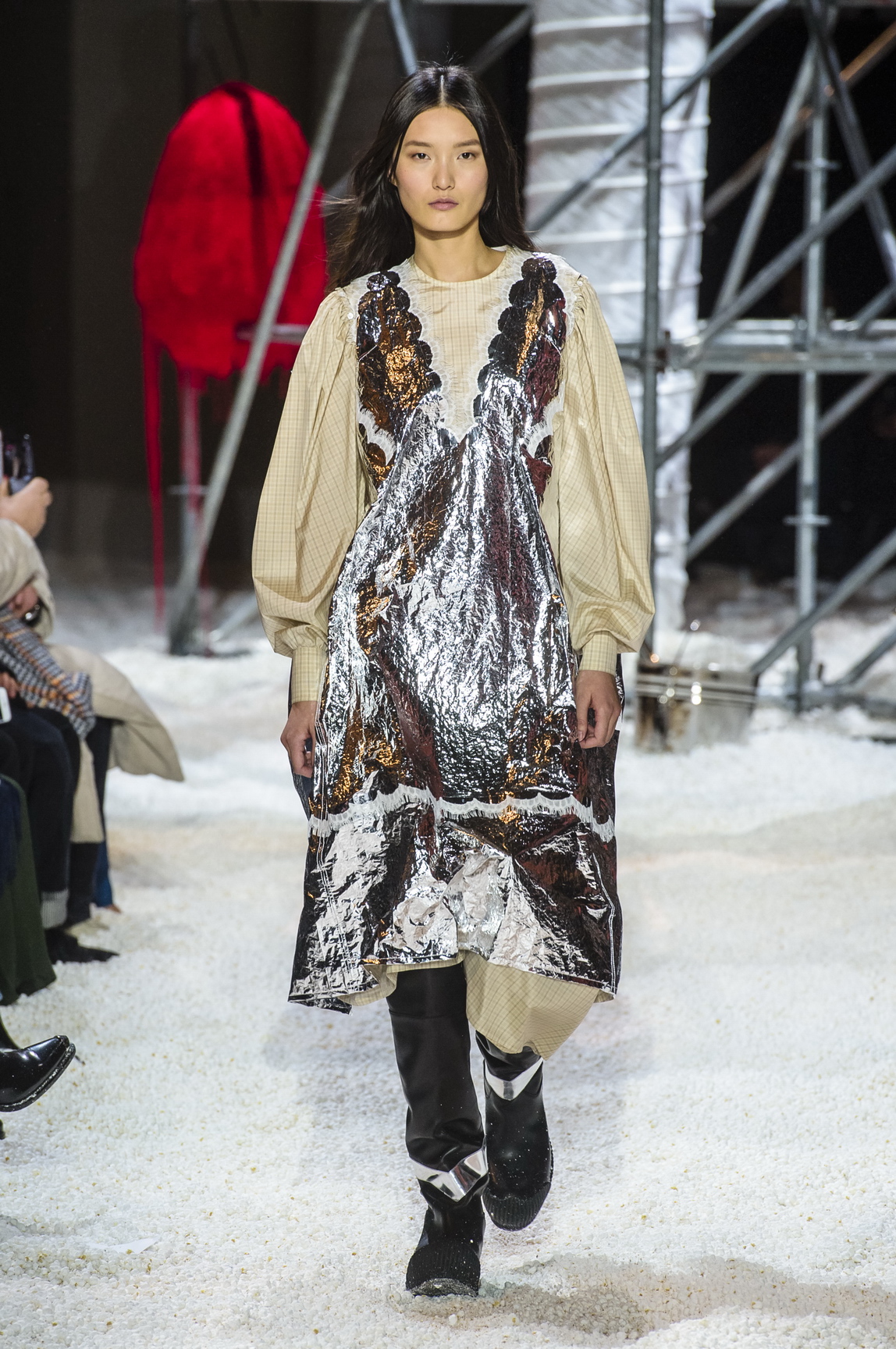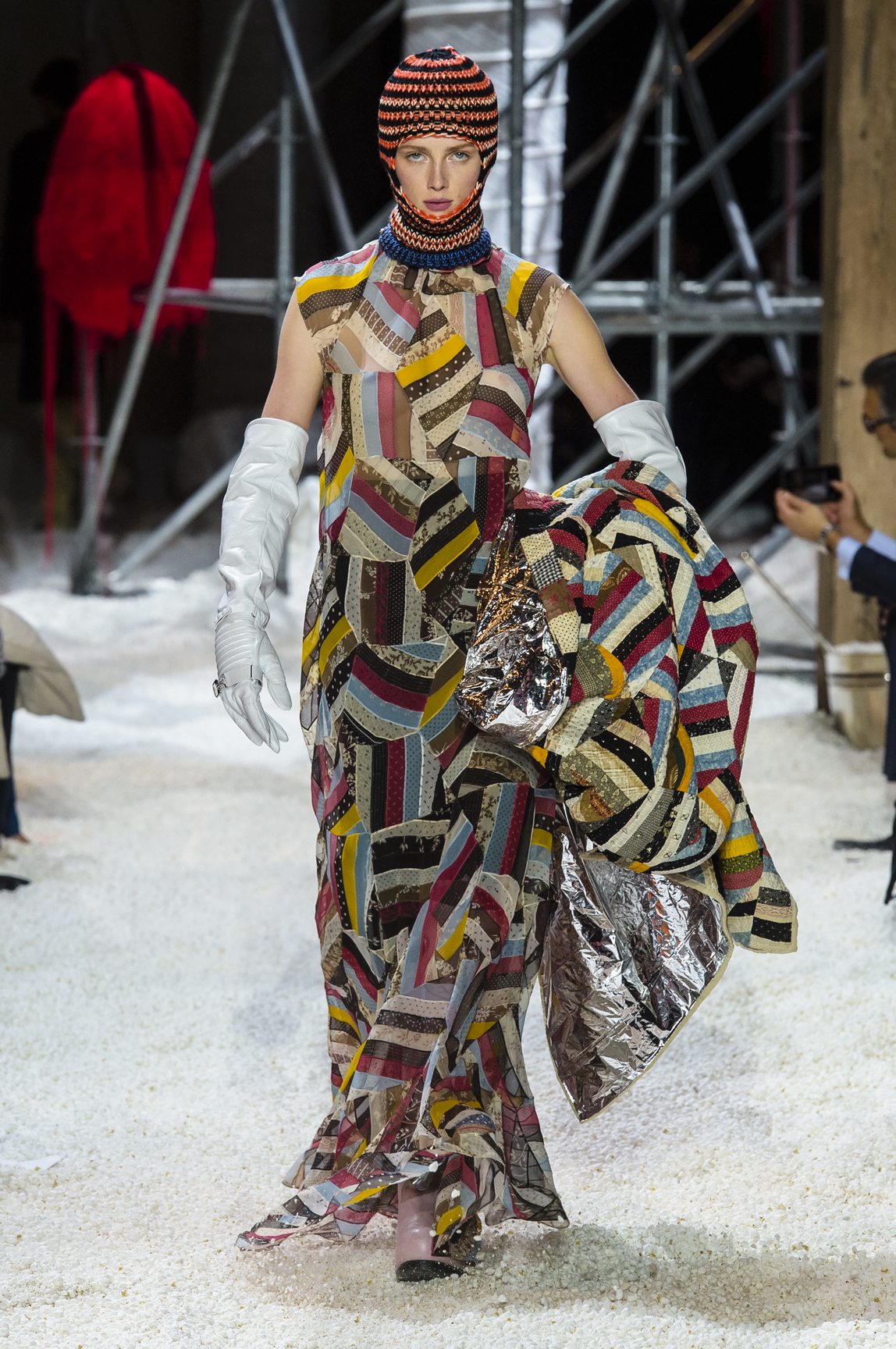 Credits
---
Photography Mitchell Sams