Photography Mitchell Sams
tom ford discusses his very sexy new underwear line for men
The designer launched his underwear for guys in an inclusive, celebratory show yesterday.
|
07 February 2018, 11:44am
Photography Mitchell Sams
Last night, at the end of a men's show full of metallic reptile prints and precise tailoring, Tom Ford launched his first ever men's underwear collection. Which admittedly doesn't sound that revolutionary until you remember this is the designer who defined what was sexy in fashion in the 90s at Gucci, and now has an eponymous fashion house that pretty strongly sells the idea that everyone wants to look hot. Ford showed pants in every skin tone, and then in every print possible, from pink zebra to sparkly silver. All to a Lana Del Rey soundtrack. It was glorious.
We sat down with Mr Ford post show to discuss occasion underwear for men, Patrick Schwarzenegger, and why silver is for show offs.
What was your starting point when thinking about underwear?
Well, first of all, this was a launch, underwear is one of the last things I didn't make. Because if you wanted to do a strong underwear business in the past, you had to have a very broad distribution network and you couldn't control your brand. And about half a year ago I realised I really want to do underwear. And I thought, "How can I do it? I'll do it online, because that's how everyone shops now."
So the underwear will just be in our stores, with a few key retailers, and online. And we'll do it very organically, because I think we can. Once I decided to do underwear, I wanted to put some thought into it -- I'm not just going to run my name in a circle around some white briefs! I thought, how cool, I remember when I was a kid in the 60s and 70s, and my mum would wear stockings in her skin tone. I thought, it would be great if we had seven different skin tone colours in cotton, and you could literally look almost naked when you took your clothes off, apart from the waist band. And that's how I started it.
Then I wanted to do extravagant prints, which we've always done in evening wear. I thought, well women shop for special underwear when they've got a hot date, and know they're going to get undressed. So why shouldn't a guy think, I've got a hot date tonight, I'm going to wear my silver metallic underwear [laughs a really dirty laugh]! You have to perform after you've worn silver underwear. It's setting yourself up. Why not?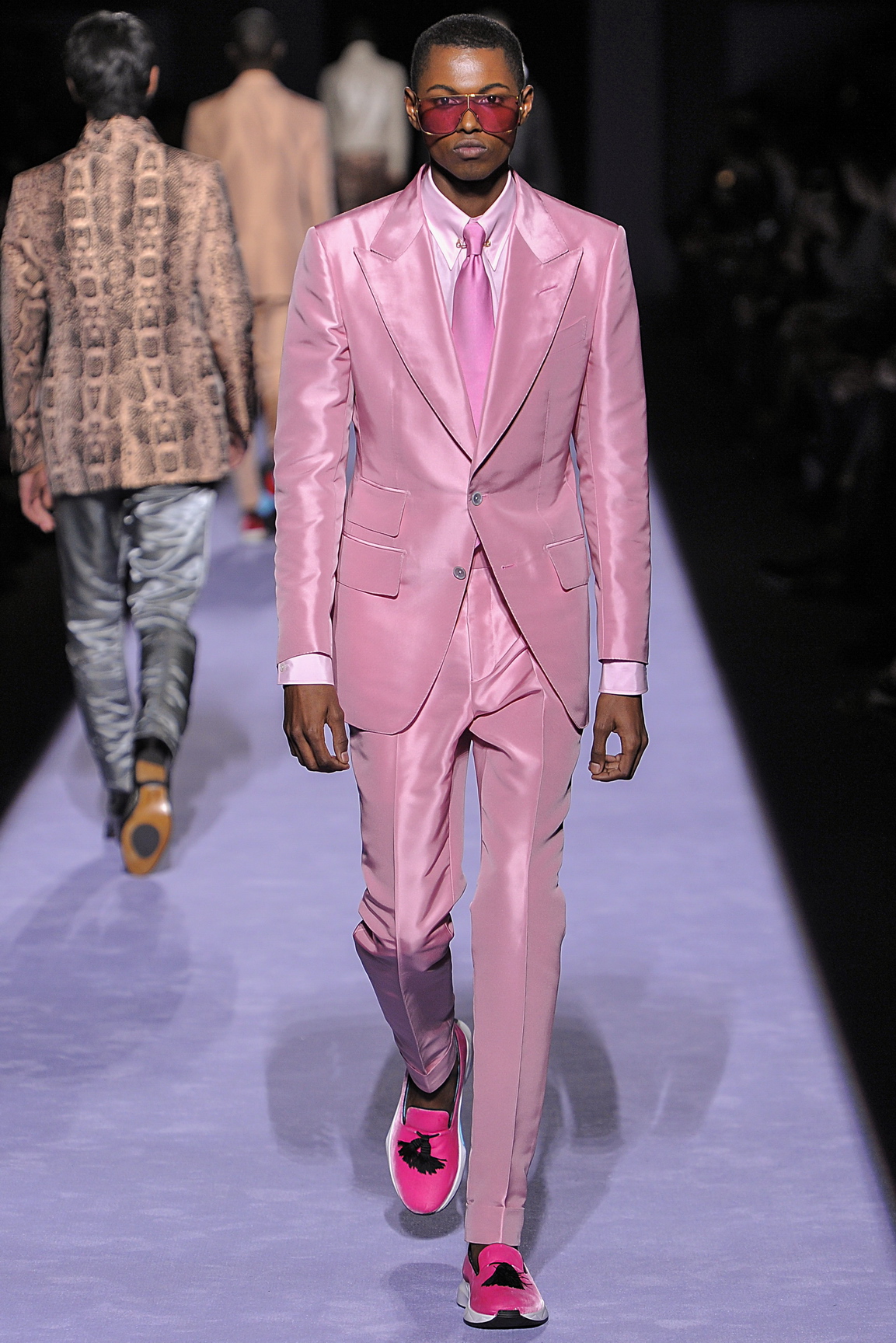 It was a relief that you showed 'nude' underwear in an array of skin tones. It seems so dated to describe something as 'nude' when it's one pale tone.
Which is why I did it in seven. I'm sure we could match your skin tone.
I think at this point it might be bright red, but thank you. Patrick Schwarzenegger and Trevor Noah were in attendance tonight -- what makes them Tom Ford men?
Well both of them wear a lot of my clothes. How do I bring them into underwear?
Well, errrm…
They're awfully handsome, don't you think? I mean, hello!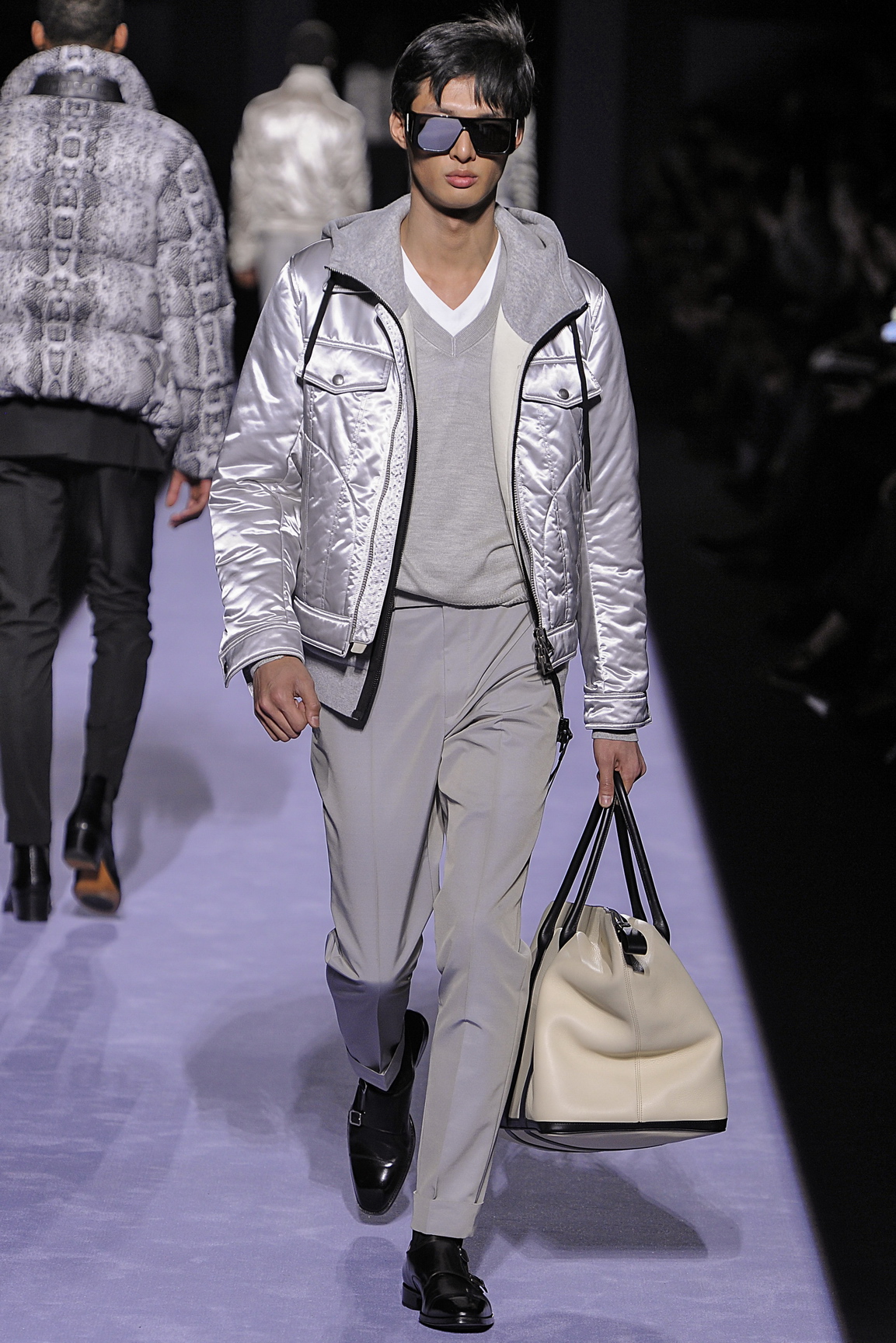 How do you give the models the confidence to go out on the runway basically naked?
Well I gave a speech backstage, which I've given for the last 25 years, [about] how you've got to go out there and make everyone in the room… want to fuck you.
Last question, I have to ask about the Lana del Rey finale?
Well, "Will you still love me when I'm young and beautiful?" Will you?
I don't know how to answer that.
Well I wanted to send the guys out to that too, they're all so young and beautiful.
Thank you, Tom.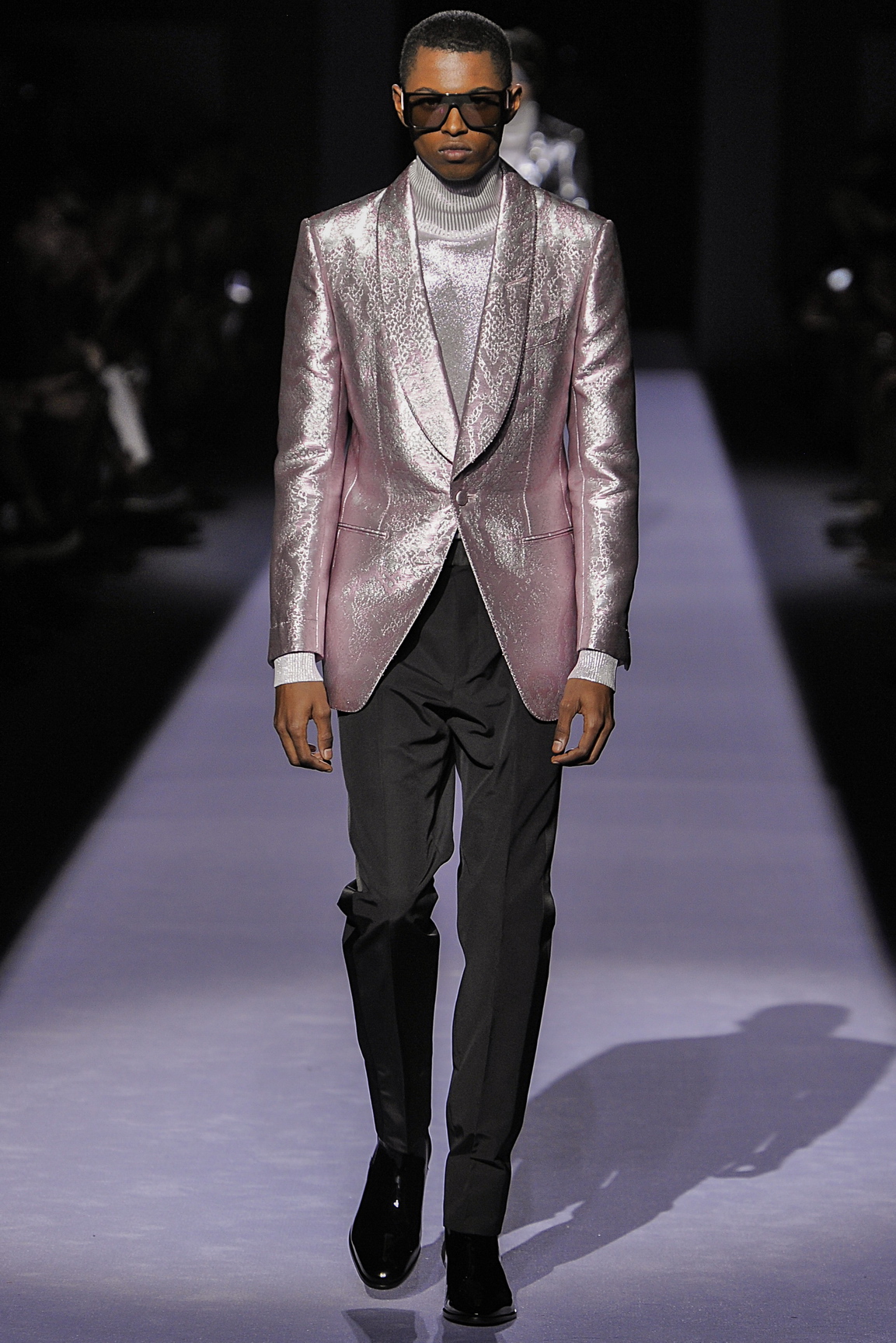 Credits
---
Photography Mitchell Sams
This article originally appeared on i-D UK.