how burberry re-embraced its iconic check
In this week's episode of i-D's fashion podcast, Fash-ON Fash-OFF, we take a deep dive into Christopher Bailey's final show as Chief Creative Officer of Burberry.
|
22 February 2018, 2:22pm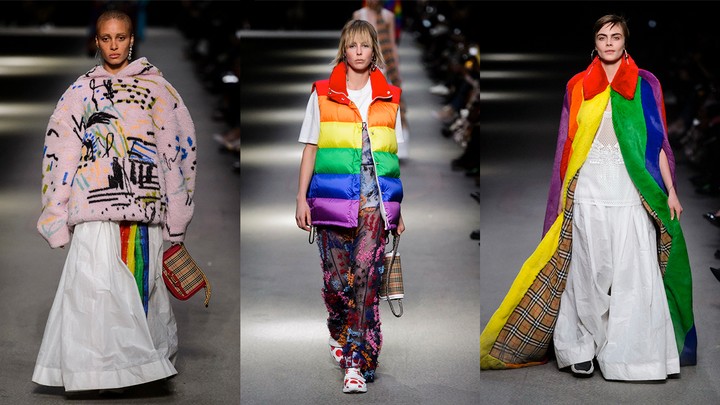 Burberry autumn/winter 18. Photography Mitchell Sams
Fashion can be strange. Fashion can be confusing. Fashion can, at times, be out and out bonkers. But that's what makes it brilliant.
In this new podcast from i-D, we discuss the highs and lows of Fashion Week, the shows we're obsessed with and get the front row report from our guests, as we ask -- well, how did we get here?
The last few months have seen Burberry re-embrace it's iconic check to powerful effect. There was the 90s/00s-mania of the Gosha Rubchinskiy collaboration in St. Petersburg last June. The revival of the baseball cap for Chief Creative Officer Christopher Bailey's penultimate collection last September. Hell, there was even a rainbow version dedicated to LGBT youth at the designers final showing this weekend -- a big, bold, optimistic finale, with a becaped Cara Delevingne striding down the runway.
To remind ourselves just how improbable this once seemed, here's a quote from BBC Two's 2010 documentary History of Now: The Story of the Noughties, and a section provocatively titled, Rise of the Chav:
"Chav spotters looked first for the Burberry check. Back in the late 90s, Burberry had shed its fusty image and become a fashion leader, worn by Madonna and the Beckhams. A Burberry cap, priced at £50, made a statement."
But it was the wrong kind of statement. The brand had become synonymous with what was, rather cruelly, dubbed "chav" culture -- a vulgar term typically deployed by comfortably middle-class commentators to describe working-class communities with ideas above their station. In 2002, EastEnders actor Daniella Westbrook was papped in a Burberry coat, with a Burberry handbag, clutching a Burberry child, while pushing a Burberry pram. As if overnight, the brand had chucked the check and a fresh faced, Yorkshire lad called Christopher Bailey was tasked with returning Burberry to its former high-end glory.
So, how did we get to the point where it felt ready to bring the pattern back into the fold? And what's more -- is it re-appropriation, long overdue recognition, or Burberry just following the streetwear crowd that's behind its re-embrace?
In this week's episode of i-D's fashion podcast, Fash-ON Fash-OFF, i-D Arts and Culture Editor Matthew Whitehouse takes a deep dive into Christopher Bailey's final show as Chief Creative Officer of Burberry. We hear from i-D Fashion Features Editor Steve Salter as he attempts to make sense of the brand's re-embrace of it's iconic check. And we're joined by i-D Digital Director Hanna Hanra, i-D Junior Fashion Editor Bojana Kozarevic and i-D Contributing Editor Douglas Greenwood as we cobble together our summations on the week's best fashions -- the who, the what, the where, the wow of LFW.
Every Thursday. Fash-ON Fash-OFF.
You can listen to Fash-On Fash-Off on Acast, Apple or wherever you get your podcasts.