girlpool is back with a divine new song featuring dev hynes
Harmony Tividad and Cleo Tucker recruit the Blood Orange sound wizard for 'Picturesong,' and share new tour dates.
|
01 February 2018, 5:08pm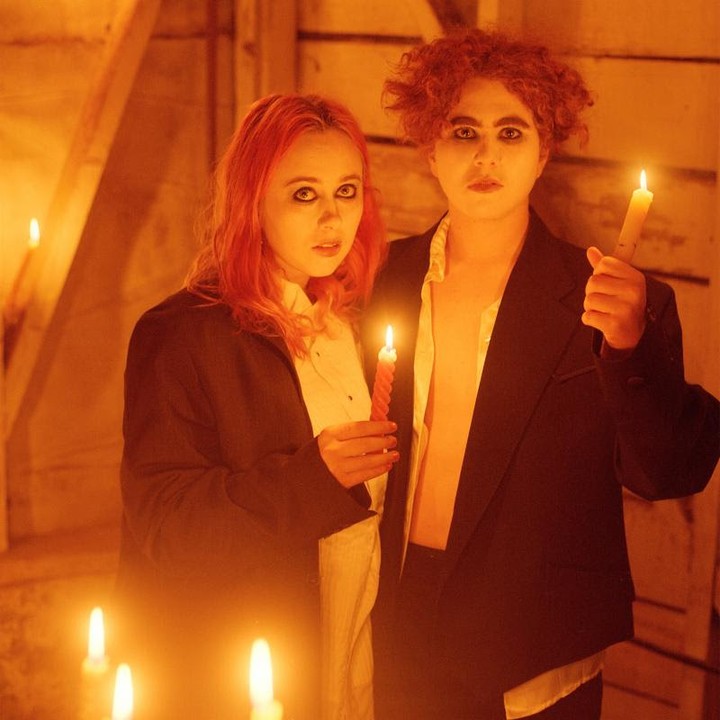 Photography Michael Bailey-Gates
It was almost a year ago that Girlpool dropped its stunning sophomore LP Powerplant. The record saw Harmony Tividad and Cleo Tucker amplify their signature introspective sound, while still armed with little more than a guitar, a bass, and their own ecclesiastical voices. Now, the beloved DIY duo is back with a secret weapon: Dev Hynes. The soundmaster behind Blood Orange features on Girlpool's beautiful new track "Picturesong." Dev contributes keyboards, guitars, backing vocals, and mixing, but never disturbs the palpable connection between Harmony and Cleo.
"'Picturesong' is a word invented to explore what we create in each other when we want to feel deep love because of loneliness or otherwise, and brings into question the reality and delusion of the things we feel," Girlpool said in a statement. Dev, a longtime fan of the duo, said Girlpool's harmonies "are some of my favorites that are out there." Considering he has worked with everyone from Solange to Connan Mockasin, that's quite the endorsement.
While we cross our fingers for a new album announcement, Girlpool is hitting the road on a bicoastal North American Tour. The band will play DC's Black Cat next Wednesday before winding up in Portland and Seattle at the end of the month. See all the dates below.
2/7 - Washington, DC @ Black Cat *
2/8 - Brooklyn, NY @ Brooklyn Steel *
2/9 - Boston, MA @ Paradise Rock Club *
2/10 - Philadelphia, PA @ First Unitarian Church #
2/20 - Los Angeles, CA @ The Echoplex %
2/21 - San Francisco, CA @ Great American Music Hall ^
2/22 - Arcata, CA @ Outer Space ^
2/23 - Portland, OR @ Wonder Ballroom %
2/24 - Seattle, WA @ The Vera Project %
* = w/ Land of Talk (solo), Forth Wanderers
# = w/ Land of Talk (solo), Palberta
% = w/ The Hotelier, Special Explosion
^ = w/ Special Explosion