"I want powerful men to be afraid" – desiree akhavan is coming for hollywood
The Iranian-American director tells i-D about the bisexual dating sitcom she's shooting for Channel 4 in Hackney, and about making a Sundance-winning gay conversion camp drama (starring Chloë Grace Moretz and Sasha Lane) in the age of President Trump.
|
21 February 2018, 11:04am
Photography Jeong Park
"Now that I'm directing things, I don't allow myself to work with assholes," Desiree Akhavan tells me over the phone. It's a few days before she will claim the Grand Jury Prize at Sundance 2018 for her new film The Miseducation of Cameron Post (starring Chloé Grace Moretz and Sasha Lane), and we're discussing her vantage point on the #MeToo moment, and the abuse scandals that have ripped through Hollywood in the months since our initial interview in autumn 2017. "Everybody knew about Weinstein," she says. "Everybody knew about Kevin Spacey. Once you're nominated for an Oscar, you're untouchable." The vertiginous fall from grace of both men, however, suggests that things are starting to change. "It's exciting," Desiree says. "I think powerful men in Hollywood will be afraid. And I like that. I want people to be afraid, when they're acting shitty and they know it."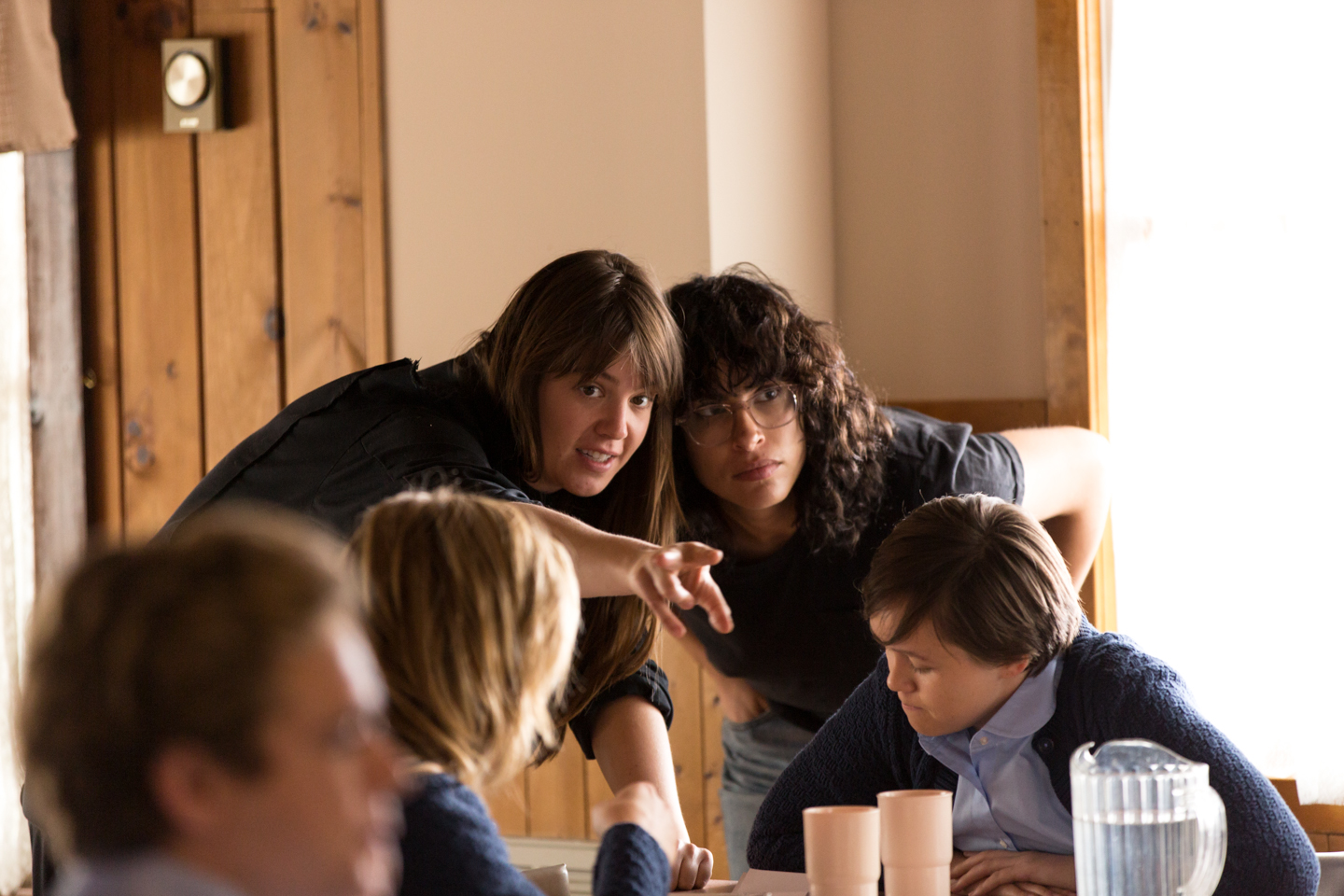 We get talking about the various actors, including Timothée Chalamet and Rebecca Hall, who, following the launch of the Time's Up campaign, announced that they will donate their salaries from a film they made with Woody Allen. "It's a smart move, it's a strategic move, and it doesn't mean they wouldn't have worked with Woody Allen. They still fucking worked with Woody Allen," Desiree says, clearly unimpressed. And what about fellow actor-director Greta Gerwig? "I find it really fascinating and not at all surprising that she did a Woody Allen film," Desiree says. Making it clear that she is a fan of Greta's work, Desiree is pragmatic. "I understand the pressure," she says. "[Greta] was known, as an actress, as a thinking man's dream girl. And for her to turn down a Woody Allen film at that stage in her career -- everybody around her would have been like, 'You're a fucking idiot'. I just think it's beautiful that now she'll always be known as the director of this insanely, enormously successful film" -- the Oscar-contending, Golden Globe winning Lady Bird.
Desiree tells me she too has been in rooms with powerful men "who did a lot of disgusting shit that wasn't sexual," and explains the powerlessness of that situation. "It was like, 'Shut your mouth Desiree, they're powerful people, they could really help you'," she says. But she calls bullshit on the whole boy's club system. If a man is powerful enough to provide an opportunity, "he can take it away if you piss him off. And who wants that?" she says. The industry is now up in arms about the abuses of this power dynamic, and that's a good thing -- "I'm pro-outrage!" Desiree says. Having apparently taken her own advice, Desiree's path to critical acclaim is marked by her collaborations with women.
Her career started in 2011, while she was still a student on NYU's graduate film programme. Her web series The Slope, co-created with Ingrid Jungermann, followed the lives of two "superficial, homophobic lesbians" (also played by Desiree and Ingrid) in Park Slope, Brooklyn. The series earned them places on a number of ones-to-watch lists, but it's was Desiree's first feature, Appropriate Behaviour, that propelled her to international acclaim. A fictionalised version of her experiences as a bisexual Iranian-American woman in New York, Desiree made the film with Cecilia Frugiuele, a producer she met while studying abroad at Queen Mary University in London.
Appropriate Behaviour premiered at Sundance 2014 and was an indie hit, with a 98% fresh rating on Rotten Tomatoes. I ask Desiree how she dealt the film's success, but she tells me instead that success is a matter of perspective. "If you'd told me before it was made, or while it was being made [that's what] would happen, I would be like, 'Go fuck yourself! That's too good to be true!'." It was a dream come true, Desiree assures me, but the recognition just made her compare herself to others. "You start looking around your shoulder, and you're like, well I'm not Obvious Child, I'm not that film. I'm not Dear White People. It's like an unending dick measuring contest." Heading to Sundance with Cecilia and the cast of Cameron Post this January felt very different to the first time around. "Appropriate Behaviour is a gritty, messy, microbudget -- it was The Little Film That Could, you know? We were really hustling!" Desiree says. "With Cameron Post we took our time. It's low budget, but it's not microbudget. We made Appropriate Behaviour on like favours, spit and good intentions. This film has a real actress in it, it has stars in it, and I had the time to direct."
Based on the 2012 teen novel of the same name by Emily M. Danforth, the film is set in the early 90s and follows Cameron Post (played by Chloë Grace Moretz), a teenage girl who gets caught kissing the prom queen and is sent to a Christian fundamentalist 'de-gaying' camp. Having an already famous, all-American actor in the lead role will surely appeal to a wider audience (without known actors, Desiree says, you risk making an "obscure, well-meaning film that no one really gives a shit about"), but casting Chloë was not without risk. "[It's] something a lot of people were worried about. Like, she's a really feminine girl, how is she gonna be believable in this?" Desiree admits. "Well, she sells the fuck out if it. She's really impressive. I feel like she let's something of herself go here, which I haven't seen her do in other films. She's creating a character, that's not different from herself, but this girl has swagger. This girl's a dyke!" -- which Chloë is not, though two of her brothers are gay. "I don't think your brother has to be queer to get it and to internalise it and give dignity to a character," Desiree says, "But yeah it fucking helps."
When Desiree and Cecilia wrote the screenplay for Cameron Post, they worried about whether audiences would find the topic of gay 'conversion' relevant. It seemed incomprehensible then that during filming a Vice President who had indicated support for the practice would be inaugurated. The cast and crew were on set when Donald Trump was confirmed as the next US President, along with evangelical Christian Mike Pence as VP. "It was horrifying. Everyone was really upset," Desiree says, "We had to shoot one of the most triumphant and joyous moments in this film and it was heartbreaking." To help regroup, Desiree gave the crew a pep talk. "The only thing we can do right now is take action," she told them. "And this film, that specifically brings focus to and demonises gay conversion therapy, is kind of the best thing we can do at this moment."
"One of the boys I met was 25 and half-Persian. It broke my heart. It was horrifying the things they did to him. They put him on viagra as a teenager so he could fuck girls. Like, a teenage boy on viagra. Legally you can't do that, so his father would take out the viagra."
While Cameron Post was filming, only five US states banned sexual orientation change efforts (or so called 'conversion therapy') for minors. There are nine state bans now, and more being considered, but the practice is very much a reality across the US, and Desiree and Chloë met a number of survivors while researching the film. "One of the boys I met was 25 and half-Persian," Desiree says. "It broke my heart. He was in the New York area, and it was horrifying the things they did to him. They put him on viagra as a teenager so he could fuck girls. Like, a teenage boy on viagra. Legally you can't do that, so his father would take out the viagra. It's like a fucking horror story."
Making a film about gay conversion during the assent of Mike Pence was soon confounded by Trump's Muslim Ban, which included travel from Iran, where Desiree still has family. She says she felt "like everyone else did -- the world is coming to an end." Having moved to London by this point, Desiree found it hard to watch from afar. "When everybody was going to JFK and they needed people who speak Farsi to translate -- it hurt to not be there," she says. But, for the most part, she's happy to have left New York, saying it felt "really grimey" last time she was there. "Every street felt like a memory that happened to me when I was thirteen and I just don't want to think about it anymore." Desiree moved to London because Cecilia -- who also produced Cameron Post -- is based here, and simply because she was being offered more opportunities than in the US.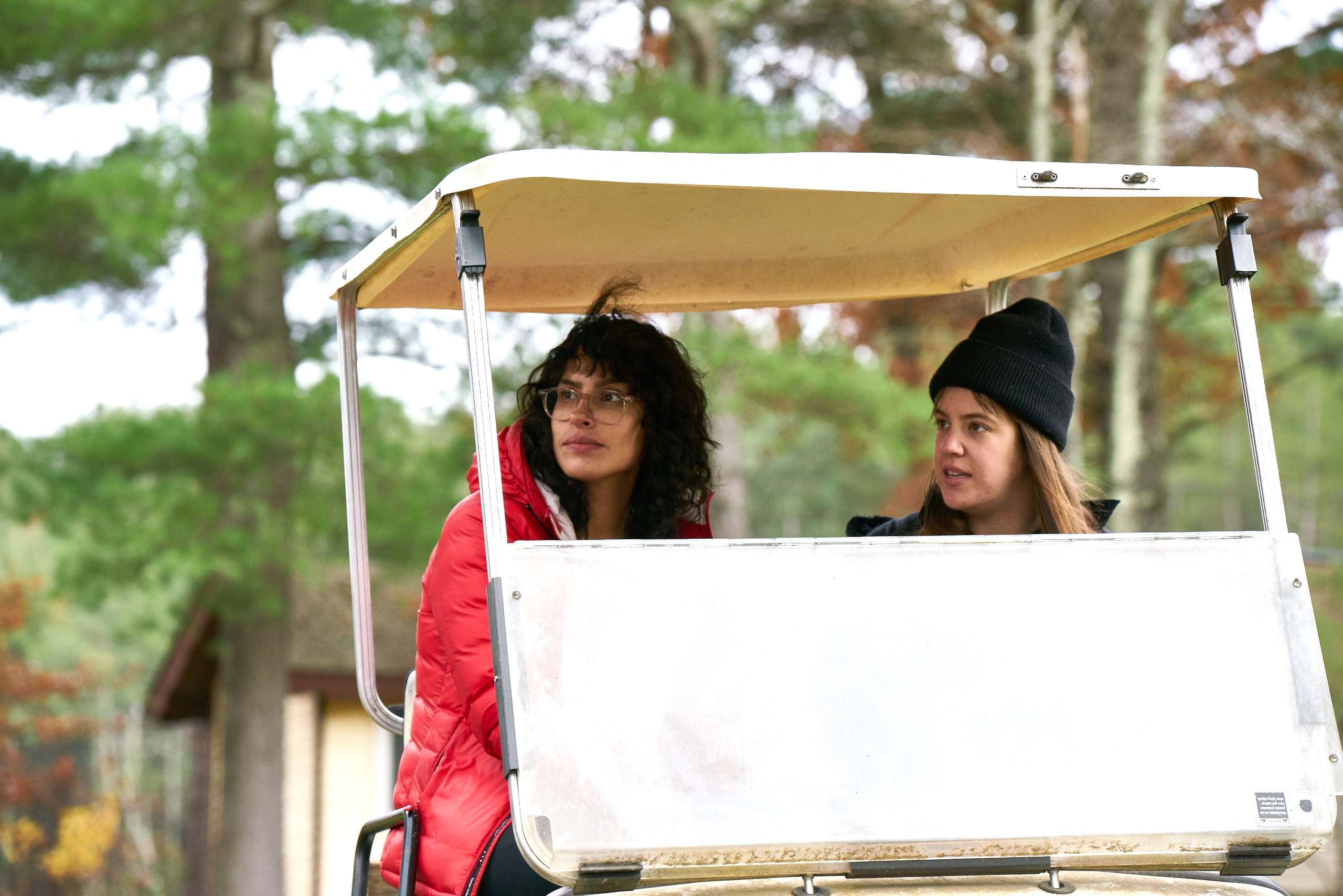 Desiree's upcoming Channel 4 series The Bisexual focuses on Leila (played by Desiree), a New Yorker in her thirties who's relocated to London. Leila has been a lesbian her whole life, but after ending a long term relationship with a woman, she starts to date men in secret. "She's never slept with a man, she's never done anything with a man, so it's sort of this sexual coming of age story," Desiree says, "And it explores the taboo of going from being exclusively with women to then being with a man." Desiree says she's been in love four times, and the last three times were with women, but she knows she could fall in love with a man. "And I know that it would be considered really fucked up by a lot of people, and like a betrayal," she explains, asking, "Why is that a betrayal, but the opposite is empowering?" The show is currently being shot in Hackney, with locations including the Moth Club, Shacklewell Arms and Club Aquarium.
When we first speak, Desiree tells me she really doesn't like the name The Bisexual, and that the show will not be called that, so, when we speak again, I ask for an update. "It's still called The Bisexual!" she says, sounding bewildered. "The network really likes it. I came up with a better title and then I found out another show was being shot with the same name. So now we have to call it The Bisexual, which is super embarrassing, but happening," she explains. Embarrassing how? -- this question was actually the starting point for the series, Desiree says. "Why does the word bisexual make me feel sick to my stomach? Whenever someone was like, 'Are you gay?' I'd have to be like, 'Ugh, yeah sure, I'm gay'. I would lie. I wouldn't want to say bisexual, it feels really, um, in bad taste. I mean, it just seems like you're a disingenuous lover. It's not something I wanted to be associated with, and I started to think, like, why? It's technically true." Desiree suggests that the many young people who now identify as 'queer' are a testament to how uncomfortable people are about saying they're bi. "They're basically bisexual, but they identify as queer, which is fine," she says. "But I also feel like, come on, that's a vague umbrella term, whereas, bisexuality really is -- until we come up with a better name for it -- what you are."
Desiree will continue to explore the trials and tribulations of coming out as bisexual, her experience as the child of immigrants in New York, and her start as a fledgling filmmaker in an upcoming memoir, titled A Late Bloomer. Published by Lena Dunham's Lenny imprint at Random House, likely in 2019, the book will contain of a series of essays about Desiree's life. "There's a genre now, like a memoir, but by a young comic person who has no business writing a memoir but is funny enough to just get by," she says of the format. "I think everyone has an interesting story, and it's how you choose to tell it." Some, however, have more interesting stories than others. "The one I wrote to get the contract – this is so embarrassing, but it's in the book, so I might as well get used to saying it," Desiree says. "It's the story of how I lost my virginity to cokehead I met in a support group for cutters in college."
And with that, our time is up. "Sorry I said fuck so many times," Desiree says before hanging up and moving on the next stage of her career, as a Sundance-winning director.