7 times I lived like I was in sex and the city
As the HBO rom-com-cum-generation-defining series enters its second decade, a millennial approaching her third looks back at how SATC has featured in her life.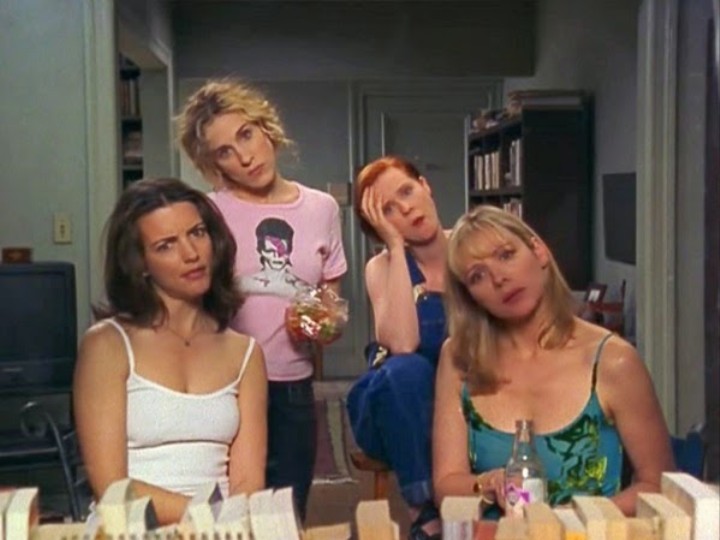 Still from Sex and the City
When Carrie Bradshaw was first seen in that iconic pink tutu, I was a mere eight years of age (and, ironically, in pink tutus myself). But through my teens and early twenties, Sex and the City became my window into life as a single woman in a big city. There were lots of men (far more than I was sure was realistic), lots of parties (turns out there are quite a lot of these) and lots of talking: about love, sex, pubic hair, dildos and everything in between.
For me, and I'm sure many millenials approaching their 30s, it was a magic ball-esque look into our futures. Some of it looked fantastic (Mr Big, vintage Chanel, book deals), some of it looked frightening (failed marriages, unexpected pregnancies, breast cancer). But no matter how realistic or not the highs and lows of Carrie, Samantha, Miranda and Charlotte were, there always seemed to be a palpability to the lives of these four extraordinary women.
So much so that I couldn't help but wonder: how much has my life mirrored theirs?
I pursued a career in journalism
A job where I spend most of the day in my pants, smoking out of the window of my brownstone, picking up a pair of Manolos with my morning coffee and -- occasionally -- writing a column about my mates' sex lives? Sign me up. Every time I saw Carrie Bradshaw sat in front of her laptop, Marlboro Light in one hand, Cosmo in the other, I thought: 'Yeah, I'd be good at that.' Of course, there were other less lowly reasons behind my choosing to write for a living (a love of reading, an appreciation of language, an insatiable appetite for magazines) but I'd be lying if I denied Carrie as the catalyst (and I may have thought I'd bump into my very own Berger).
The outcome? I did it. But that's where the similarities end. Unfortunately, I have to put actual clothes on to go to work, I can't openly drink cocktails at my desk (apparently it's 'unprofessional') and the chance of me owning a pair of Manolos is as likely as Cattrall doing SATC 3. There may be no brownstone. There may be no Berger. And I might not be emblazoned on the side of a bus. But am I glad I did it? Abso-fucking-lutely.
I learned how to do the flying trapeze
In a bizarre twist of fate, the same assignment that landed on Carrie's desk ended up on mine: attempt the flying trapeze. Alas, for me, New York Magazine hadn't come knocking, but when the invitation pinged into my inbox, I was quick to accept: how hard can this flying malarkey be? Turns out, very. Come the morning of the day itself, I'm less 'inquisitive journalist game for anything', more 'quivering mess calculating that no, I do not get paid enough to do this shit'. After the first ladder ascent and what can only be described as 'stepping off a platform with my eyes closed and my hands glued to the bar', I am well-and-truly hooked. While some of the class are happy to just swing aimlessly back and forward before gracelessly belly-flopping into the net, I'm perfecting my timing and am ready for to try 'the catch'.
The outcome? The catch was flawless. Rounds of applause from members of the public, who'd been drawn over by blood-curdling screams during their stroll through Regent's Park, were all I needed to convince myself that this was my true calling in life. Sod this writing malarkey, I'm way better than this. But the realisation that running away with the circus would mean spending time with clowns (I don't like clowns) was enough to get my hands off the bars and back onto the quill. I'm glad I took the leap though.
I entertained a foot fetish
Feet. I don't like them. Nope. Big, small, left, right: I'd rather you kept them as far away from my face as is socially acceptable. And don't even think about putting your mitts on mine. But then I met someone who liked feet. I mean, really liked them. And I really liked him. I'd catch him looking at them on the sofa, then he started trying to pick out my shoes. Eventually, it snowballed into him actually touching them -- all the bloody time. As the months went on, so did his perverted antics, until, basically, I was doing a Charlotte. While she partook in an exchange that meant she had her feet sniffed and licked in return for free shoes, I thought my own endurance of this freakish fetish would end in some kind of trophy.
The outcome? It didn't. It only got worse. Nights would erupt into arguments when I caught him ogling other girls feet while out shopping, at a restaurant, in a bar. Was I jealous? Maybe. But I think deep down I knew I couldn't be with someone who preferred what was coming out the end of girls' trousers more than what was coming out of my mouth. And worst of all? I didn't even get any free shoes.
I went to a club named after furniture
You may not think that 30-something New York women and fresh-from-uni school friends in Surrey have anything in common. Well, you'd be wrong. Because, back in 2011, me and my mates went to a club called 'Bed'. None of us had just been broken up with via Post-It note, or squeezed a post-baby body into pre-baby jeans, but nevertheless we were out on the town and on our way to do some duvet diving.
The outcome? Did I mention that the 'Bed' we went to wasn't in New York, but in Woking town centre? Well, first of all there was only one bed. Second, we were the only people in there. And third, when we tried to sit on said bed in the VIP area, we were told we weren't allowed past the red rope of elitism. We didn't even end up smoking weed or being in the back of a police car. Instead, we lost our host for the evening (and, in turn, the house key) which resulted in me being threaded face-first through a window, unlocking the door and finding our host fast asleep upstairs, naked. Turns out, she'd been wooed by a gentleman who went by the name of Ace and had decided to cut her night short and take him home. I can't help but think she took the the invitation to Bed just that bit too literally.
I flirted with a same-sex relationship
When Samantha decided to down tools and partake in a lesbian relationship with Maria, I was shook. Partly, because it was Samantha -- a woman whose little black book of men resembled something more like War and Peace. But the other part of me could relate to Samantha's 'trysexual' outlook. I went to an all-girls school, and I'll be damned if I don't admit that the odd school trip middle-of-the-night encounter (or more like a dare) didn't happen. There've been a couple of close calls in my twenties too (the odd loo snog, a bit of harmless flirtation, a fully-fledged can't-stop-thinking-about-her obsession). But most of all, I've just grown to appreciate the beauty of women.
The outcome? I've stuck with men. I'm also not so reductive to think that it's possible to simply 'become a lesbian'. Sure, the odd kiss back in my teens was exciting, but so was my first taste of alcohol, my first cigarette. It was a milestone; nothing more, but also nothing less. I still appreciate the female form, I still get ever-so-slightly flustered around elusive, intelligent, beautiful women, but there'll be no more kissing girls in bathroom stalls for me.
I considered converting to Judaism
Maybe it's the culture; maybe it's the food; maybe it's Liz Taylor. Whatever the drive, I've had a love affair with Judaism since Charlotte York embarked on a journey that started with her bursting into a rabbi's house on the shabbat, to her immersing herself in a mikvah. The revelation that Elizabeth Taylor did the same was the proverbial cherry on the matzo cake. The following years involved a lot of research. Admittedly, a lot of it was through my gut. I began to recognise the flake of a Börek and the texture of a freshly baked challah; joy came from a shakshuka on a hangover and a trip to Ottolenghi's on payday. It also led to an even deeper appreciation of its famous believers: the humanitarianism of Natalie Portman, the humour of Sacha Baron Cohen and the star quality of Barbra Streisand.
The outcome? I'm yet to be converted. Probably something to do with me not believing in God -- Charlotte had an Episcopalian upbringing as her launch pad. I also couldn't live without Christmas. Nevertheless, my appreciation of the Jewish tradition has not waned. And as long as Börek still exists, it never will.
I've dated my city
Anyone who's been single in a city will relate to Season 4's I Heart NYC episode. Being alone while surrounded by millions of people can be far more romantic than being alone with one person you have no romance left with. One afternoon in 2011, I found myself in the National Theatre cafe drinking £7-a-glass house red wine, approximately 15-minutes fresh from the end of a three-year relationship. I had two matinee tickets to Hamlet but now only the need for one. As I sat took my seat in the Lyttleton (and placed my bag on my ex's) I should have felt like the loneliest girl in London. But I didn't.
The outcome? Instead, I felt free. I could walk over Waterloo Bridge and swoon at St Paul's for as long as I wanted; I could have a glass of wine in Bedales and read Vogue cover-to-cover; I could order oysters (which he hated) in Borough Market and watch the world go by -- I could do whatever I wanted. Even now, seven years on, I dream of days alone in this city of mine. Of mornings on Columbia Road, buying china sets and drinking coffee; of a lunchtime treat on Broadway Market; of an afternoon rummaging through vintage-filled rails on Brick Lane; of reading my book by candlelight in Gordon's Wine Bar. Yes, I heart you London. And I heart you Sex and the City too: forever thine, forever mine, forever ours.
This article originally appeared on i-D UK.