Photography: Mitchell Sams
how the art of woman-repelling finally entered menswear
Forget boring tailoring, men are embracing dressing for themselves.
Photography: Mitchell Sams
A long time ago the world of menswear only catered for snappy dressers; those who wouldn't dare leave the pages of Savile Row's tailored rulebook. This rigid way of designing was tolerated for years but thanks to increasing awareness of gender fluidity and the simple fact that women have a lot more choice, menswear designers have been forced to look elsewhere for inspiration.

That shiny new place appears to be the mind of well-known blogger Leandra Medine. (Just hear me out here). In 2012, a 21-year-old Medine started a site called Man Repeller. Through her various outfit diaries and other style-related musings, she popularised the term which defined an outfit that was worn for the female wearer's pleasure -- rather than to attract a sexual partner.
Now, men's fashion has caught onto the art of self-expression. Just as tight-fitting dresses and leg-baring skirts were replaced by floaty prairie designs and ugly sandals for women, men's strait-laced suits and standard leather jackets have been swapped for lacy looks, look-at-me prints, and even comfort-first tracksuits.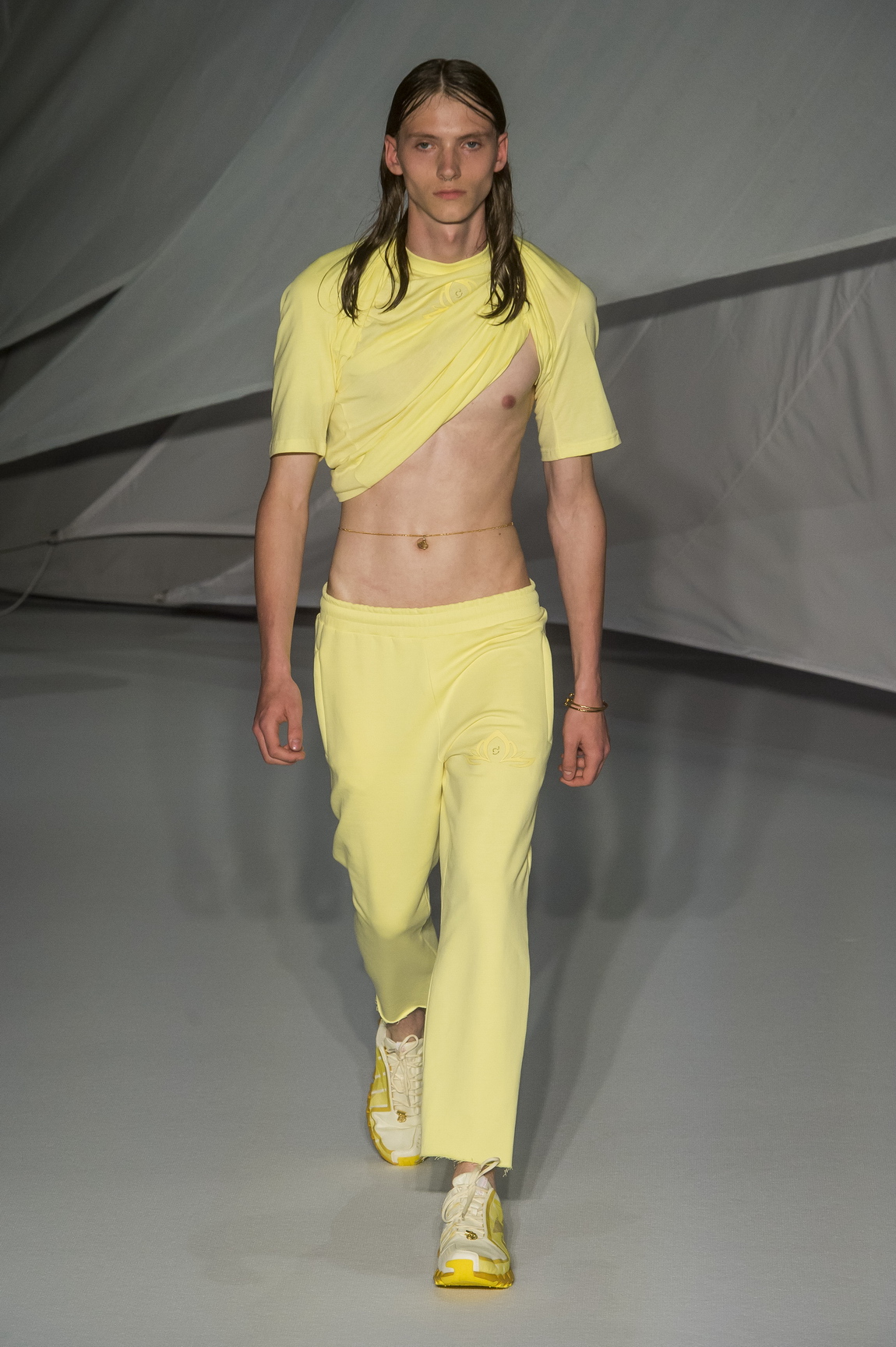 A 1982 study showed that contrary to popular opinion, men are more self-conscious when it comes to how others perceive the way that they dress. And unlike male animals who display vibrant colours in order to win a mate, male humans tend to stick to quiet hues and silhouettes so as not to scare off potential admirers (rather than as a mere personal preference).
Although members of the LGBTQ+ community have historically used flamboyant clothing to express themselves, hetero men have traditionally shied away from anything new, sticking to a tried-and-tested formula. "Before, many [hetero] men relied on their girlfriends (or girl friends) to help them shop and style their looks. If neither was around, they would turn to their ultimate saviour: their mum," says the trio behind fashion psychology magazine, Hajinsky, Pak Lun Chiu, Susan E. Jean and Judith Achumba-Wöllenstein.
Of course, queer activism (both on and off the catwalk) has proved the potential of fashion. But the Hajinsky team notes that the "power of using clothes as a secret weapon has been attached to women or related to the power beheld by femininity" in conservative society. These long-held ways of thinking, however, look set to change as where once men stood in the shadows, they are now at the forefront of personal style.
While the likes of Charles Jeffrey have been singing this tune for some time now, the most recent spate of shows welcomed some new additions to the woman-repelling club. For their spring 2019 collection, Cottweiler duo Ben Cottrell and Matthew Dainty took showgoers to a transcendent yoga retreat. Adorning glowing models with super short crop tops and low-rise trousers that revealed taut stomachs, each design promoted comfort and self-care and steered well clear of the macho "I can look after you" stereotype. (This was especially evident in a neon yellow T-shirt that was diagonally hoisted up to reveal a solitary nipple.)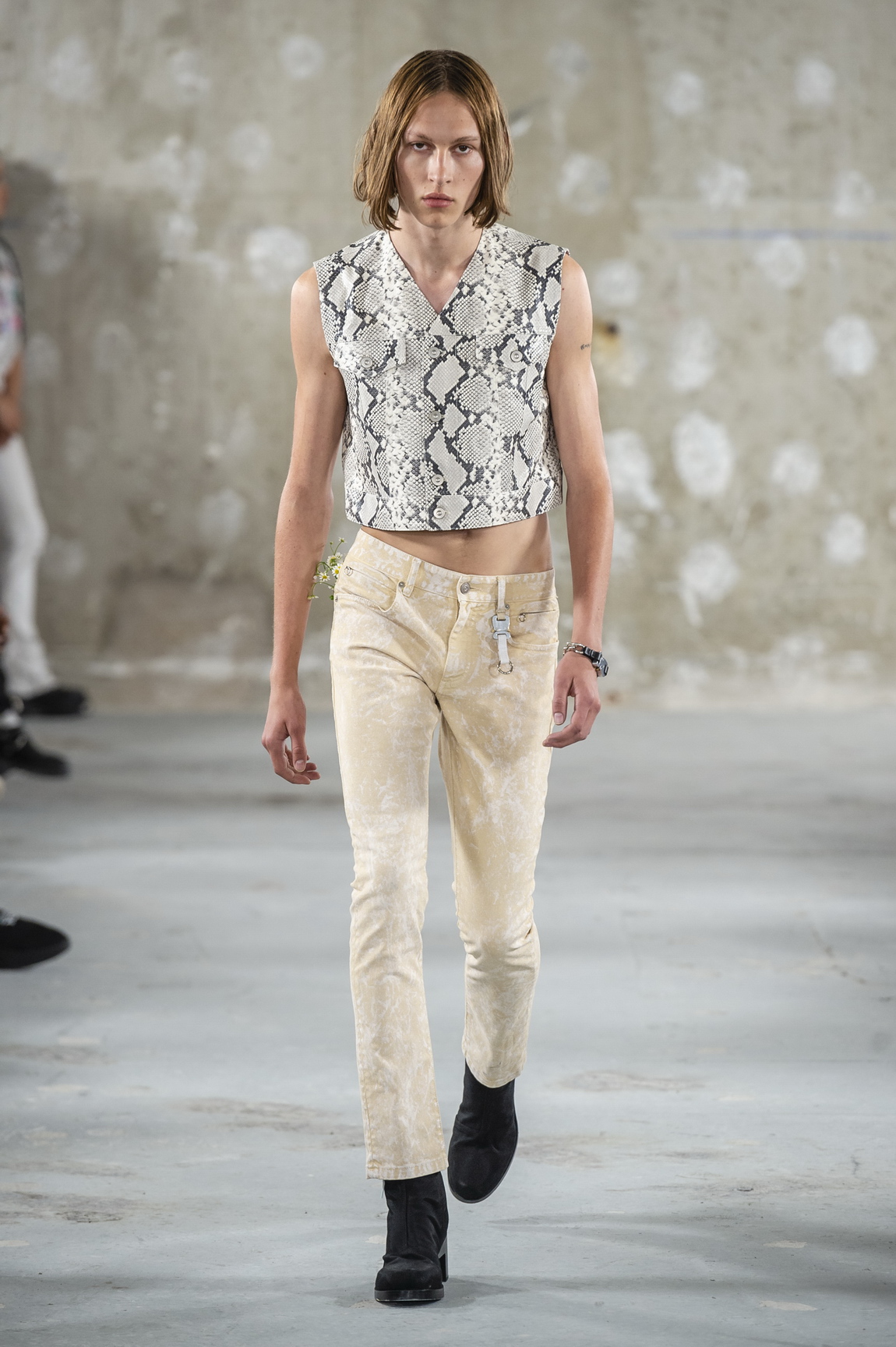 Craig Green's presentation at Pitti Uomo showed off a similar sense of spirituality with his combination of blanketed tie-dye looks and bare feet pushing the importance of taking care of yourself before others. "They look like a door or a portal into which you could escape into a better place," Green told i-D.
Freedom was the word of the day at Kim Jones's Dior debut, John Galliano's latest Margiela extravaganza and Alyx's first show, which showcased gaudy snakeskin waistcoats. At Dior, short shorts met sheer shirts and feathered embroidery. Although Jones deemed the collection as "romantic" (admitting that the "only thing [he] looked at [was] womenswear"), it seemed to be more about a romance with yourself than another human being. Take the colour palette which spanned from baby blue to buttercup yellow and florals in between. These shades weren't designed to stand out to -- or even attract -- others. They were a subtle form of self-expression for men who want to dip a toe into experimentation.
As is the case every season, Galliano took things to the extreme, catering for men who choose their wardrobe without a helping hand. Sending out a smorgasbord of waist-enhancing corsets and silky kimono-style jackets, this Margiela collection screamed "liberation" from the rooftops. While braving pink vinyl trousers and ostrich feather trims may be too much for some, Galliano's traditionally 'feminine' fabrics like silk, satin and organza practically begged to be stroked by the wearer -- not someone else. It's not a coincidence that he used the bias cut for this new class of pleasurable menswear; a technique that adds sensuality to any design in an instant.
Though these collections may each have their individual quirks, together they form a way for men to explore their sartorial likes and dislikes. To revel in the freedom and excitement that comes with having so many possibilities.
What's interesting is that this dressing for yourself trend has been adopted by both independent designers and the monoliths of the industry. Yes, Margiela has always marched to the beat of its own drum but Dior Homme has long been known for its spick and span suiting that rarely strays from a neutral-coloured blazer, shirt and trouser combo.
With a variety of names choosing this untrodden path, it appears that the concept of sexiness has finally been upended and "fashion has given a way for men to play amongst themselves", adds Hajinsky's founders. These clothes don't care for the opinions of others. Instead, they encourage the wearer to radiate confidence. Like Mark Twain said: "The worst loneliness is to not be comfortable with yourself." Why not do that with the help of some fluorescent flesh-baring fashion?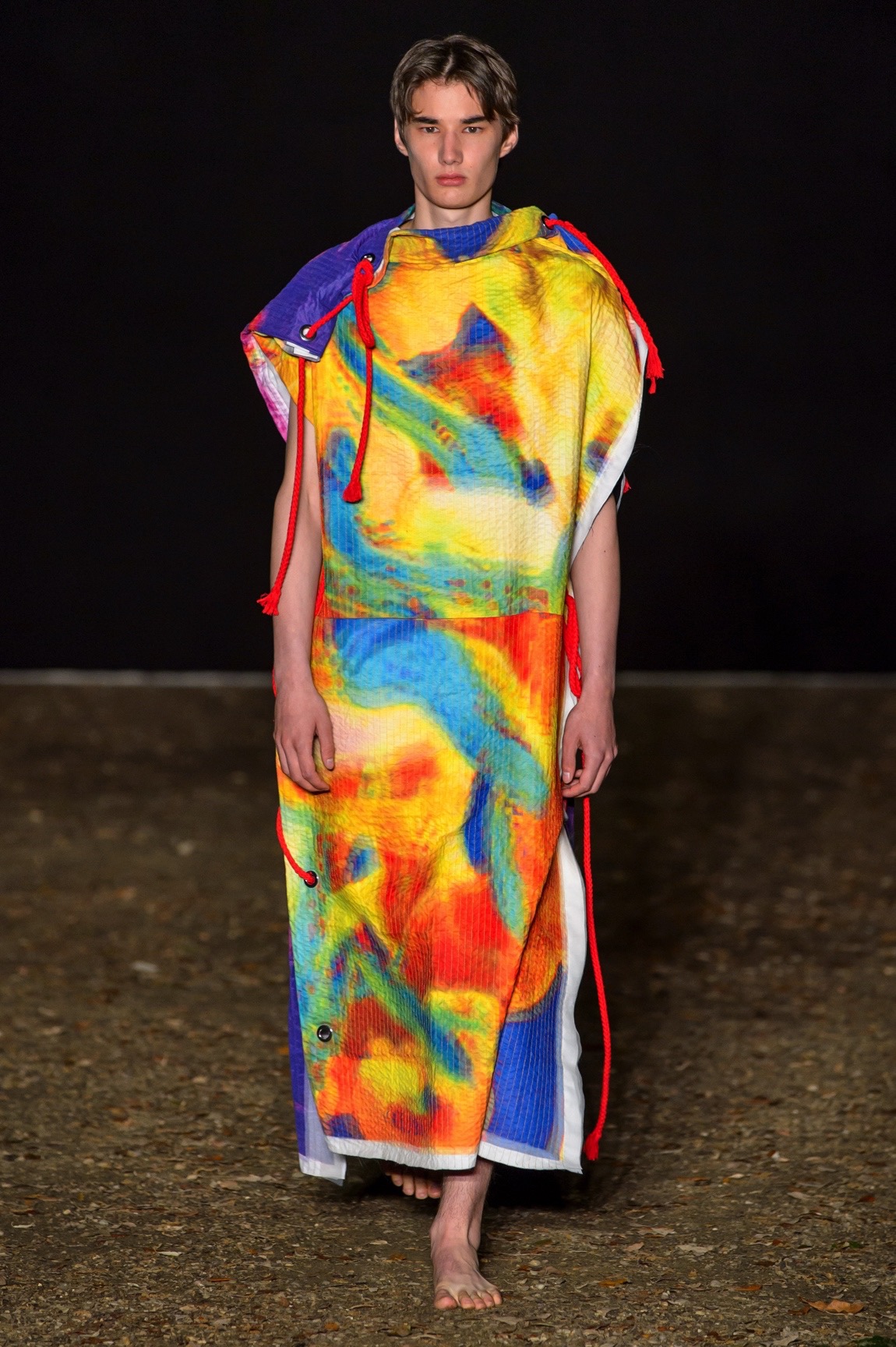 Losing its rigid -- and frankly yawn-inducing -- sense of style is probably the best thing that has ever happened to the menswear realm. The injection of streetwear may have changed the recent landscape but with the news that men's fashion weeks are getting shorter and questions over whether menswear deserves a place on the catwalk at all, this clearly isn't enough to keep the wheels turning.
But menswear that sticks two fingers up to 'masculine' traits and is finally allowing men to have fun in the way they present themselves could well be the change that is needed to keep the industry afloat. After all, people are more than the cookie-cutter versions presented by some designers and reality shows like Love Island. In a culture that lives for fluidity, stiffness is the last thing on anyone's mind.