everything you need to know about london's most exciting new store
Welcome to Planet Aries, the pop-up shop dreamt up by Sofia Prantera of Aries and Luca Benini from influential Italy-based streetwear company Slam Jam. Just before it opens, we speak to the duo about why now is the time for bricks and mortar.
Aries
As Demna Gvaslia's Balenciaga is crowned the world's hottest brand, and Virgil Abloh prepares to kickstart the new dawn of Louis Vuitton men's, the relationship between streetwear and high fashion has never been more scrutinised. But long before your favourite fashion sites began commissioning op-eds on how and why these worlds got so cosy, Aries was challenging the traditional conventions of streetwear and proposing a high-low fashion future.
Aries was born out of the ashes of cult London-based, globally sought after skatewear brand Silas, created by CSM-educated Sofia Prantera and graphic artist Fergus "Fergadelic" Purcell. Everything kicked off when they approached Luca Benini, of influential Italy-based streetwear company Slam Jam, to launch a capsule collection of printed jeans and tops. From confronting streetwear's archaic gender binaries, to questioning fashion's outdated seasonal cycle, Aries has always been at least one step ahead. Now, Sophia and Luca are moving onto their next phase, with a bricks-and-mortar pop-up shop. Alongside never-before-seen Aries garments, the two-story Covent Garden-based space will showcase the fruits of recent collaborations, artwork and merch from the brand's friends and fashion family. Before it opens its doors on 10 May, Sofia Prantera and Luca Benini take us on an intergalactic trip to Planet Aries.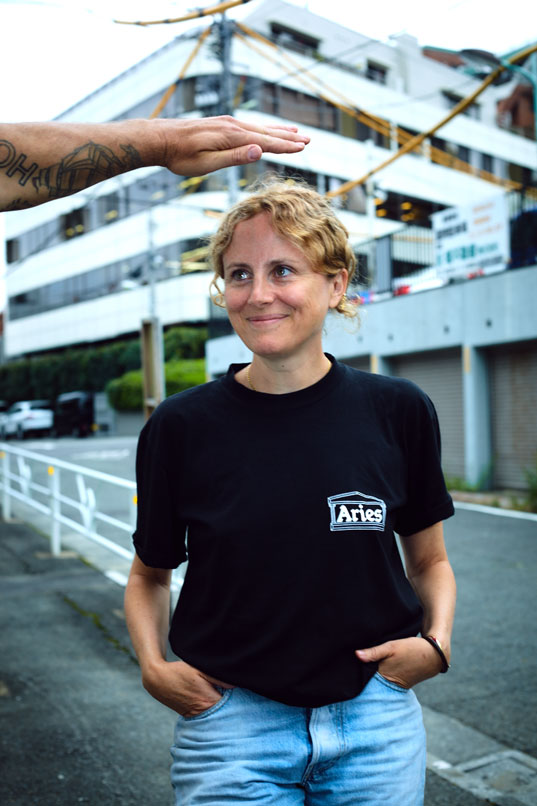 On what united them
Sofia: I first met Luca when I was working at Slam City Skates in the mid 90s. Slam City and Slam Jam were very similar entities, distributing the same skatewear and streetwear brands respectively. They both put creativity in front of gains, attracting an interesting mix of artists and creatives, and in doing so they were becoming a strong focal point for a new subculture. We were introduced by a common friend whose personal goal was to connect people around the world. We both shared a love for subcultures and mathematics, which was possibly the starting point for both our businesses.
Luca: At that time, I had a clear vision of the importance of subcultural attitudes, and when we met I immediately realised we shared that feeling -- the aim to stay true with no compromises, and a common language too. That allowed us to immediately start a stimulating dialogue on multiple levels.
On how Aries was born
Sofia: After I sold Silas in 2007 and worked as a freelancer for a couple of years, I realised that I needed to start something new. For me, creativity isn't just about designing, it's about creating a whole new identity. This is when I decided to approach Luca to do something new. Ultimately, I realised that in selling Silas I had lost my creative vehicle. Brands are powerful tools and a channel for creativity, and with Aries I wanted to recreate that platform.
Luca: I've always trusted my intuition more than manifestos or labels, and supported ideas and projects Slam Jam and I could truly relate to, just like Aries. That often involves a strong sharing of cultural references and instincts. Music, more than other elements, always played a very strong role in our process of connecting like-minded people.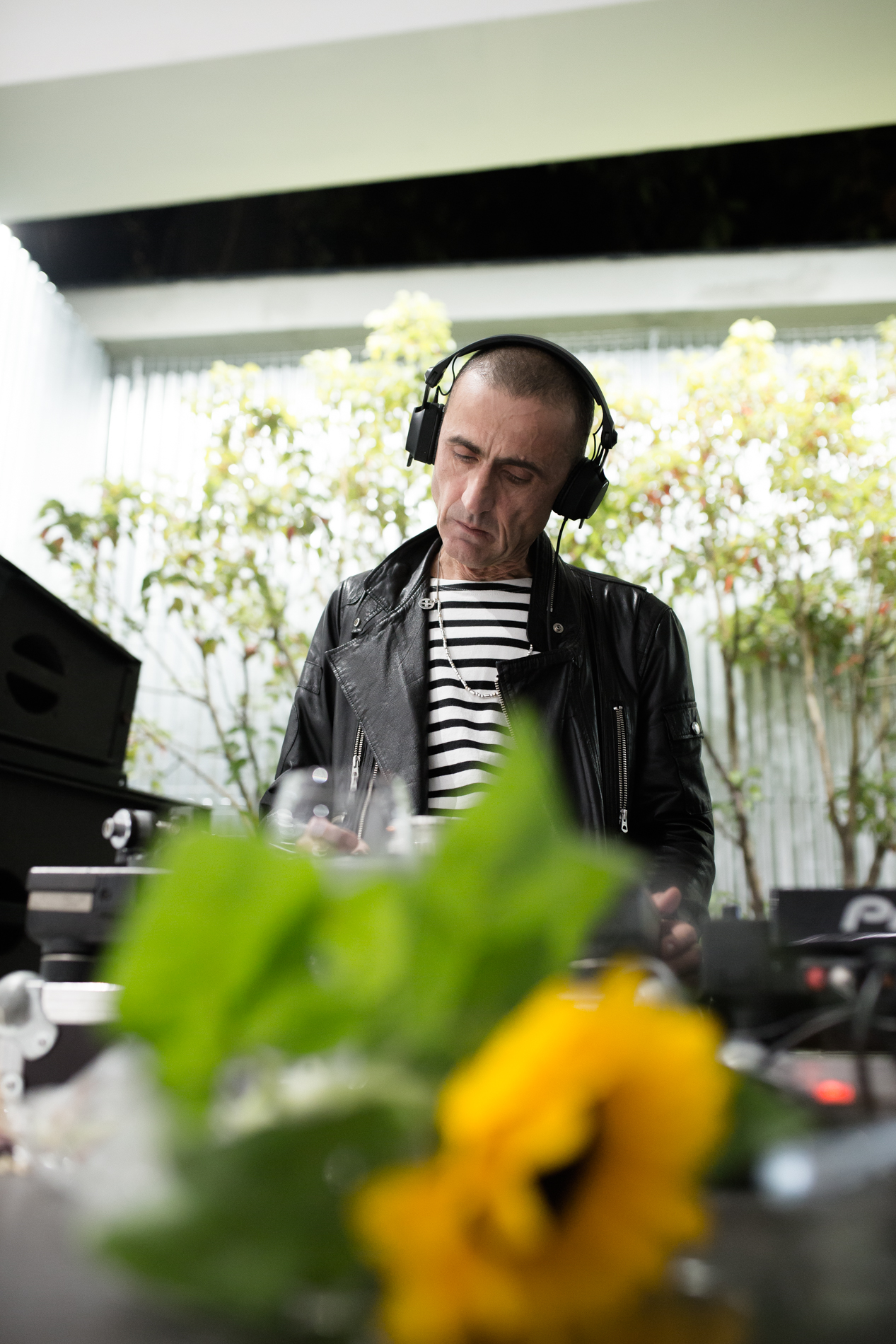 On the blurring of lines between streetwear and fashion
Sofia: For me, streetwear has always informed fashion -- since those early 80s photos of real people in magazines like i-D. Then at some point in the 2000s it was somehow hijacked and became synonymous with casual and sportswear. Today, the distinction between fashion and streetwear is blurred and it's more a question of price points and manufacturing quality.
It's quite possible that the term streetwear, with all its different connotations is becoming obsolete. Throughout this, the biggest surprise was realising that my work and obsessions had become somehow relevant to a bigger mainstream. There's a real nerdy side to my work -- my passion for graphics and comics, skate videos and trash culture in general was something I had always been almost ashamed of -- yet it has now become relevant and it has made me more confident.
Luca: I see a strong interaction between the two, and wouldn't talk about a distinction any longer. As soon as streetwear developed as a term across the 80s, I've struggled to feel comfortable with it as a label to belong or refer to. What we try to define is way more than a category, it's a proper social and cultural movement. Today everything feels very fluid. Art, music and all collective expression informs fashion. It seeks contamination in order to evolve.
On why now is the time for Planet Aries
Sofia: Having your own space to show your brand as you envisage is a dream, doing so with all your friends is even more amazing and much less scary. The real catalyst was the space on Floral Street -- it's large and open and industrial in its feel although it's on a hidden street in Covent Garden. It's really different from the small, temporary-feeling makeshift spaces you often associate with pop-ups and it has enabled us to involve brands and people we like and respect.
Luca: Exactly. Planet Aries is the inclusive way to put different and exciting energies together in a cool space, and have people dive into and interact with a very specific world.
On what you can expect to find in Planet Aries
Sofia: From like-minded brands including Thames, Wayward, Life's a Beach and P.A.M on one side, and ready-to-wear designers -- who are friends and share our outlook -- including Hillier Bartley, Martine Rose and Stella McCartney men's, to Itchy Scratchy Patchy and Ashley Williams. We've produced a special merch shop where we'll be selling phone cases, socks, mugs, stickers, tape and patches. As part of the interior we will be showing the prints from our Japan Click-to-Buy exhibition that features David Sims and Fergadelic's artwork, plus Blondey has lent us his latest exhibition, and a special installation by artist Ben Sansbury -- who also collaborates with Palace. Both Luca and I share a passion for Fiorucci -- I remember my dad taking me to the shop in Rome in the mid 80s and Luca's first job was in the Milan branch. It was a long time before we met but it was a huge influence on our work. Fiorucci used to sell comics and books, they stocked this amazing magazine called FRIGIDAIRE. For Planet Aries I tracked down the editor of it and we will have the whole collection on sale in the store, which is super exciting. We'll also sell books and comics from a whole range of artists, publishers and illustrators. Amazing handcrafted jewellery by Castro Smith and handcrafted pottery by Alison Lousada.We've also done special collaborations with New Balance, Vinyl Factory and Hillier Bartley...
On what excites them most about tomorrow
Sofia: It's all about new possibilities, what you have accomplished is never as exciting as what you will accomplish. I learnt from Luca that you can run an ethical, relevant and very longevous business without compromising, best lesson ever.
Luca: I hope to see way more freedom of expression, no rules or limits in terms of collaborative ventures, and putting together creative minds to shape new things and experiences.
You can explore Planet Aries on 20-21 Floral Street, from 10 May until 8 June.
Get i-D straight into your inbox by signing up for our newsletter!