weezer just covered toto's africa
Hurry, boy, it's waiting there for you... in i-D's Friday playlist.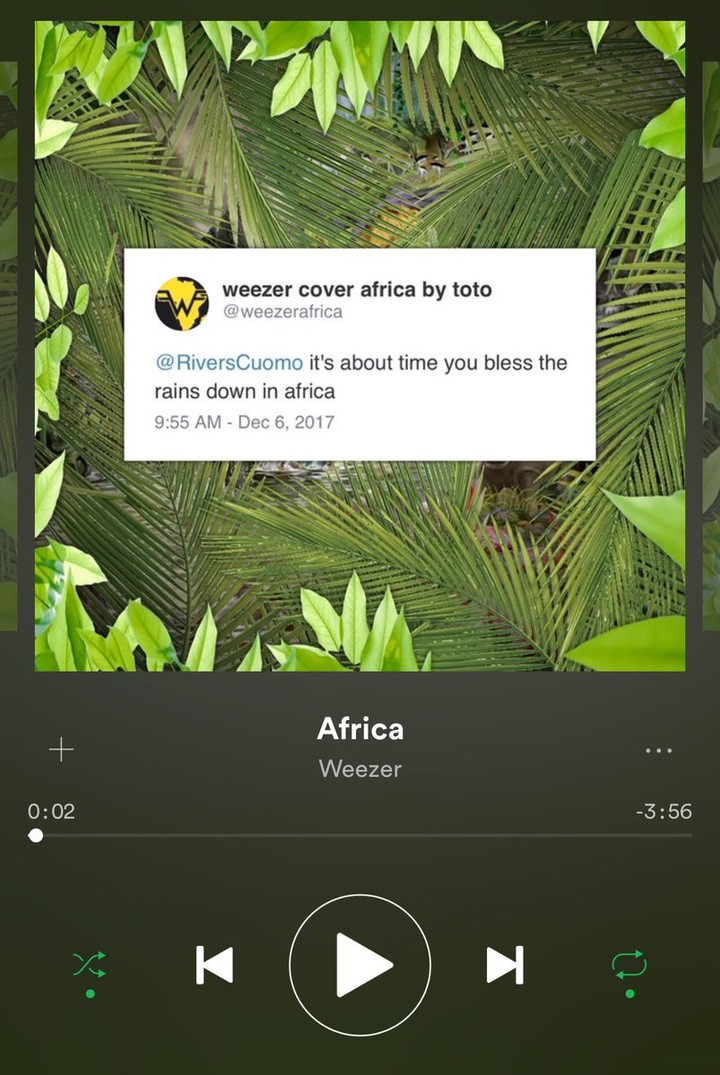 Remember Weezer? Post-grunge alt-rock hooky-as-hell guitar pop band Weezer? Who released both Undone -- The Sweater Song and Buddy Holly in 1994 and in doing so kept us well stocked in tunes to dance to at house parties and scream to at karaoke? Well, they're back and -- after a teenage fan made this Twitter account last December and began fighting for the cause -- have covered Toto's Africa. The result is pretty close to the original and can be found waiting there for you on our BEST NEW MUSIC playlist.
In other new music news, lovely Lykke Li has blessed us with another double drop; two nights featuring Amine and -- our fave -- sex money feelings die. A short but sweet little ditty and a sad study of life in just four words. The artistic osmosis must be strong in south east London because King Krule's housemate Jamie Isaac just released his debut album, (4:30) Idler. We like the smooth, late night jazz-tinged sounds of Eyes Closed the most.
Stepping things up a notch now, jazz lord Kamasi Washington lives out his teenage fantasies with Street Fighter Mas. "When I was young, I was obsessed with Street Fighter!" he Tweeted earlier this week. "I thought I would be a professional gamer, so I made a theme song. I still imagine it playing when I walk into a tournament, like I'm entering a boxing ring."
Meanwhile, Underworld and Iggy Pop have collaborated on Bells & Circles, Lily Allen has gifted us a summer 2k18 staple in Lost My Mind, and -- as previously teased in her Coachella set -- St.Vincent just upgraded penultimate MASSEDUCTION track, Fast Slow Disco, into a proper Robyn-esque dance banger. There's a nice new tune from All Saints too. It's no Pure Shores, but with news that William Orbit -- the producer force behind that and Black Coffee -- has worked on their forthcoming album, there's hope yet.
Charli XCX's 5 in the Morning is on the playlist too, alongside kind of creepy but very good Little Molly by her buddy Tommy Cash. Plus, Drake let's the world know ' I'm Upset' about this whole Pusha T beef business; J Hus' dropped his new Big Spang EP; and Gorillaz have a funky new tune featuring guitar legend George Benson.
Gearing up for Pride, MNEK and LA actress turned popstar Hailee Steinfeld have collaborated on the super bop that is Colour. Taken from the British singer's forthcoming album, the lyrics are full of rainbows, positivity and inclusivity. There's a cute lyric video too, so get learning before he plays Mighty Hoopla this weekend. You're welcome.