drag terrorist christeene is a brand new breed of american celebrity
Ahead of her groundbreaking new show at the Barbican, we catch up with the performance artist who plays ass-cheeks like bongo drums, twerks in Walmart and stormed the Church of Scientology.
|
19 September 2019, 7:00am
This story originally appeared in i-D's The Post Truth Truth Issue, no. 357, Autumn 2019. Order your copy here.
Before meeting Christeene, the musician and self-styled "drag terrorist," I had already seen her play a pair of ass-cheeks like two bongos. I had watched her storm The Church of Scientology and twerk in Walmart, and request that someone "throw [her] that beef steak," and "fix [her] dick," and "shut the fuck up when momma gets up to get down."
I had spent five spellbound minutes watching the video for her downbeat ballad about crying from your pussy, a pastiche that might have been a megahit if it had different lyrics and was not quite literally called Tears From My Pussy. In a video from Parkteatret in Oslo, I had seen her sing a version of Lesley Gore's You Don't Own Me with a brace of primary-coloured party balloons tied directly to her butt-plug.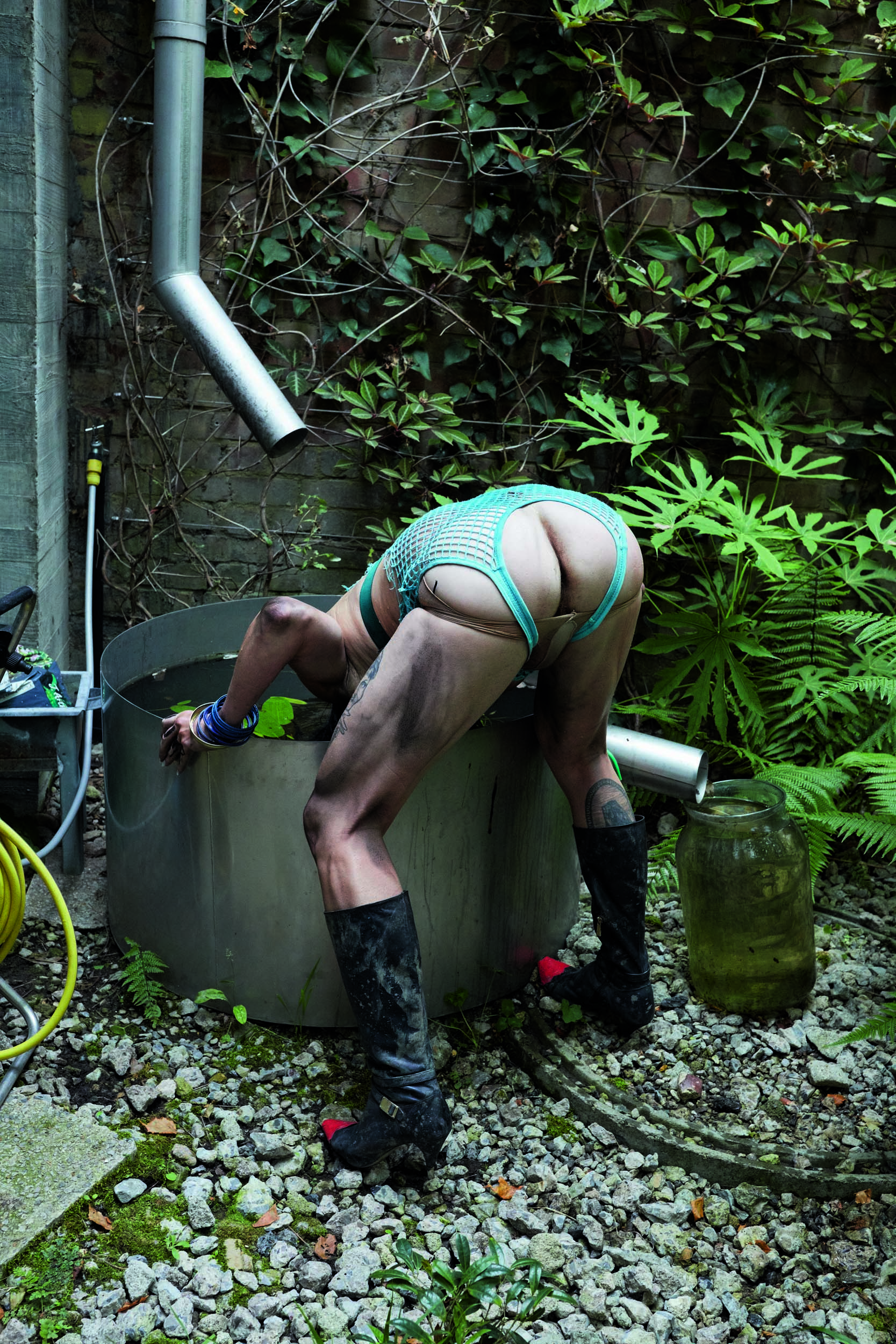 "I am your new celebrity, I am the new America," she snarls in the video for a song called, inexplicably, African Mayonnaise. "Come take a piece of me and burn it in your backroom." She seemed to me to be John Waters's dream and Middle America's nightmare: feral, frightening, filthy, funny, and as alienating to the straights as it is possible to be post- Queer Eye.
Her close friend Rick Owens, who appears in the video for her 2017 single Butt Muscle pretending to drink her piss, has called her "theatre, a composition of commedia dell'arte, kabuki, Busby Berkeley Hollywood musicals, [and] Grand Guignol," a description that is also as perfectly tailored and exquisitely fucked-up as a garment by Rick Owens. A commenter on the video for Fix My Dick calls her a "stupid disgusting amazing genius." I loved her immediately.
I agreed to meet Christeene in public in a park, hoping to be borderline-scandalised and knowing to expect the unexpected. What I absolutely did not guess would happen was that although she would turn up in character and in costume, she would also turn out to be meticulous and unfailingly polite. The contradiction at the centre of Christeene is her merging of extreme, sexual provocation and upbeat political and social messaging, preaching equality and extolling the virtues of the rim-job at the same time and with equal emphasis. Like her creator Paul Soileau and her soul-sister in dysfunction, Britney Spears, she is originally from Louisiana, speaking in musical, lucent sentences at a molasses pace. Her eyes, enhanced with her usual freak-blue contacts, are at times hidden behind a pair of shades: "to spare people who are havin' a rough time from having to deal with a demon-lookin' me on the train."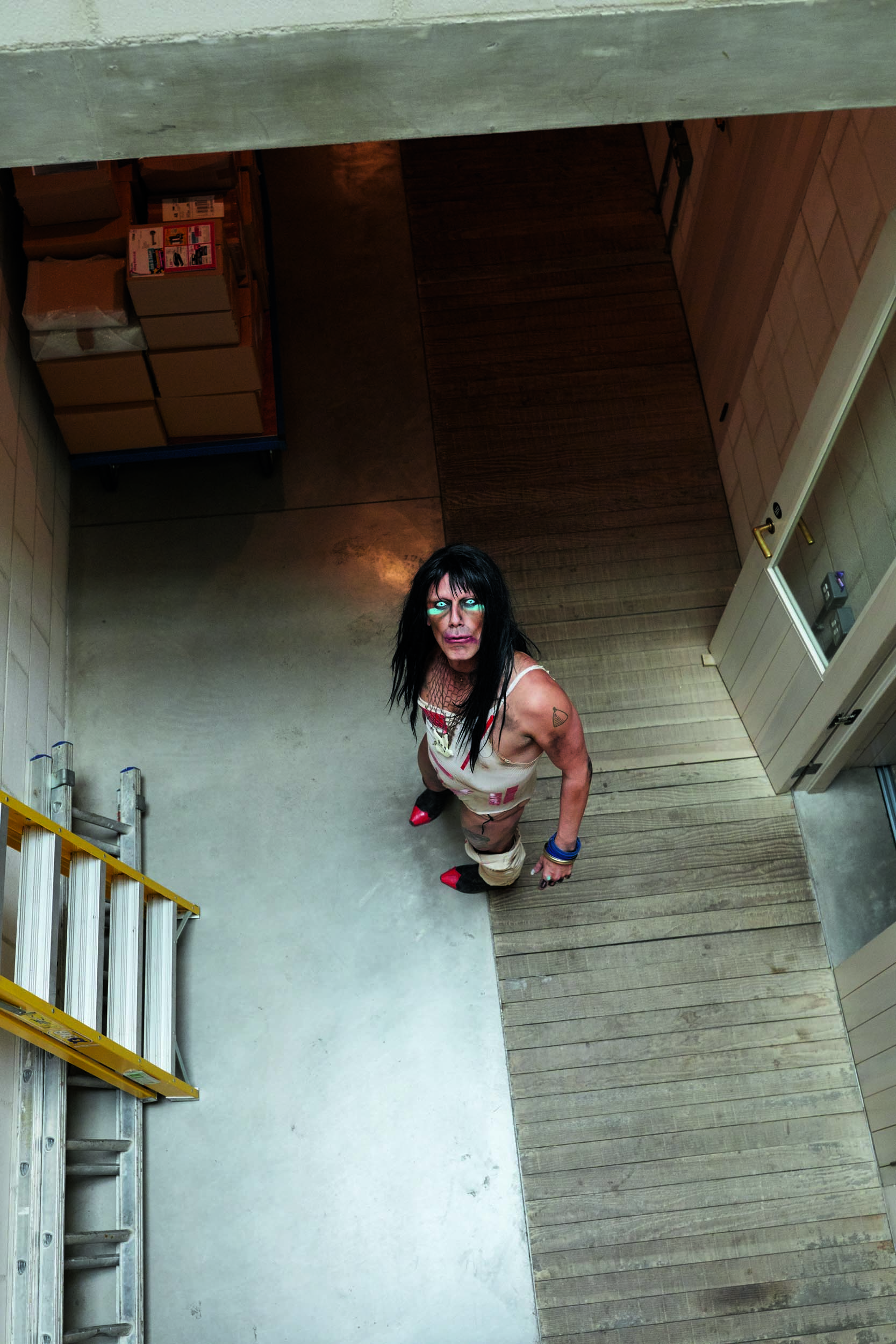 Her metaphors unfurl casually, full-formed. "Many of us creative folk," she says, picking up steam on the subject of artist-on-artist collaboration, "are aware of each other's work, and there's this nice thing of orbiting each other, where you can sometimes see the other planets come closer. Sometimes you get to collide, and sometimes you don't. What I like best is to reach out and grab on, and fuck with the gravitational pull of things for a while." Her latest project, as far as gravity-fucking goes, is major: this September, on the 22nd, she will perform an entire Sinéad O'Connor album — specifically O'Connor's debut, The Lion and The Cobra — at The Barbican for one night only, for a sold-out crowd of just under two thousand fans. "People don't know what to expect," she shrugs. "And I don't know what to expect. It's a one-nighter! But I love those kinds of fires to jump into. And me going from the Vauxhall Tavern or Vogue Fabrics to The Barbican is an enormous what-the-fuck." Sharing the stage with Christeene will be the Swedish electronic artist Fever Ray, and the Canadian punk provocateur Peaches ("both of them juggernauts of screaming energy," she clarifies, "with voices that have something to say, and are coming from the feminine"), ensuring that there is no chance of the event resembling a tribute night. Anyone present who is not already familiar with Christeene's work will no doubt see the event as an enormous what-the-fuck, too.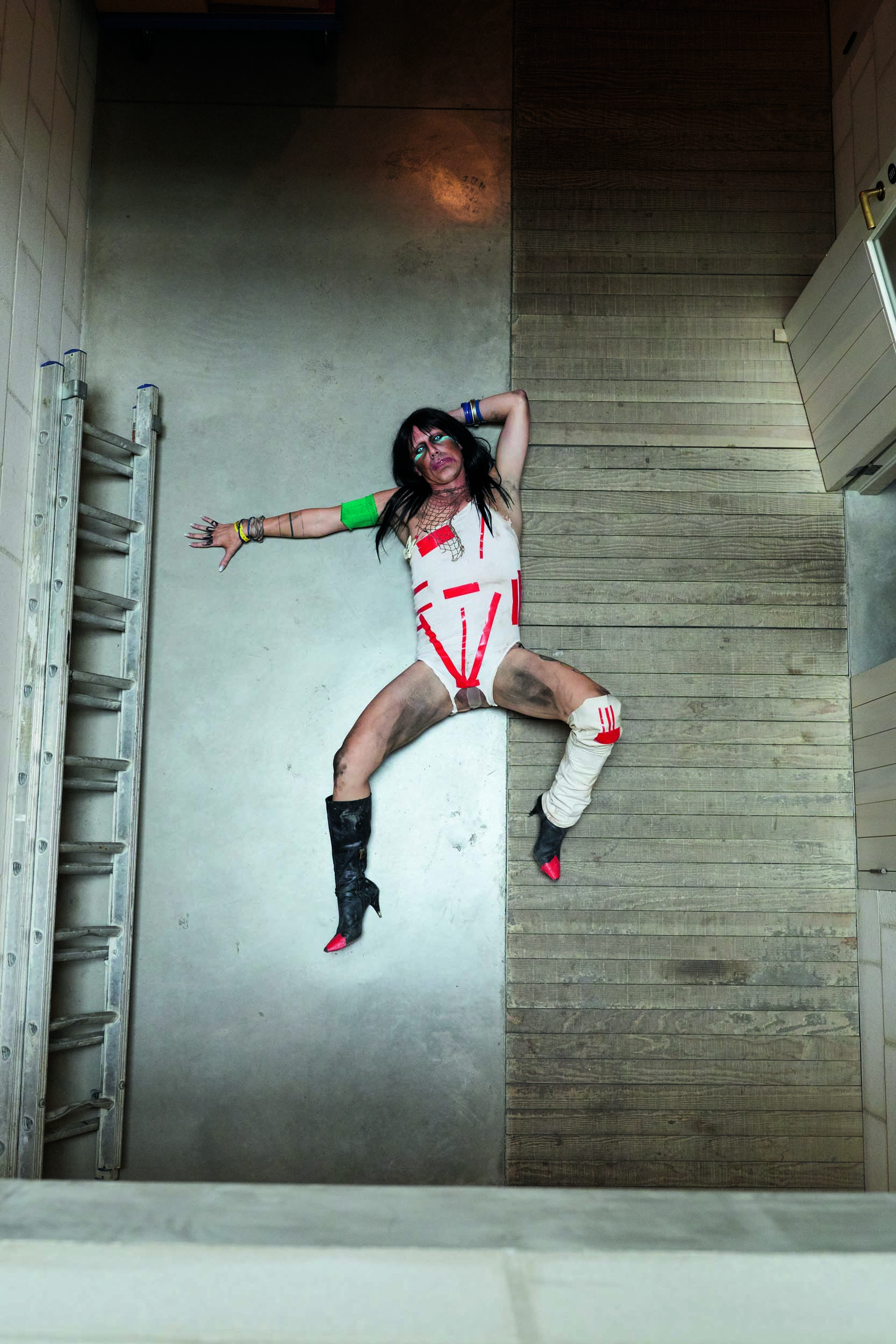 In the original 1988 review of The Lion and the Cobra, Rolling Stone described Sinéad's music as "a banshee wail across the bogs." It's a line that could as easily appear in a review of a Christeene show, which might help explain what this experimental, gender-bending switchblade of an artist sees in what is nominally a folk-punk record. "She made that album at 19, so young, and with a baby in her belly," Christeene says. "And so angry, but using her body and her voice and her guitar as this beautiful machine to release her feelings. And what a machine! What power!"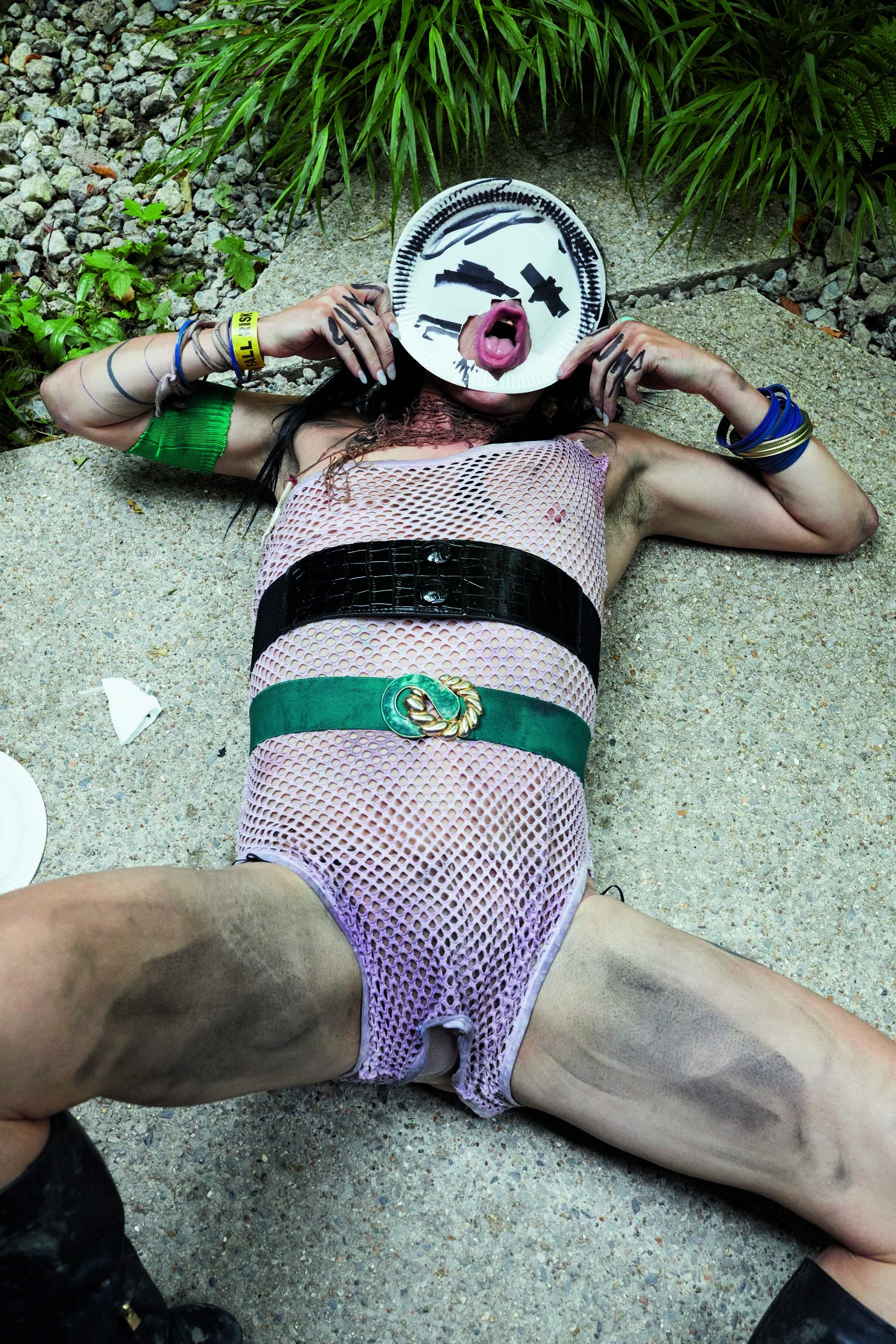 "Born" eleven years ago, before evolving — "or devolving, however you want to put it" — in dank clubs, on YouTube and at basement parties, Christeene also treats her body like a beautiful machine: a tool for good-natured disturbance. "I've always been drawn to sources of energy, restlessness or heat that I can have an exchange with," she continues, "so I've always felt a deep respect for Sinead, and an attraction to her work as a soul rebel, a lone rider. Of course she's needed help sometimes, but that's a human need; and when she hits, she hits hard, and she hits on her own terms. And I can't find many instances when she was being vocal where she was completely wrong in what she was saying, from a woman's point of view, or from the point of view of somebody who really suffered some rough shit, at the hands of the church and her family."
To commemorate the one-night event she has devised in order to pay tribute to her heroine, it only makes sense that Christeene would find a new way to reveal herself to us. Nudity would not be enough; nor would another shot of her in one of her pop-babe-on-methamphetamine outfits. Instead, she had herself 3D scanned by the artist Katerina Jebb, the result being a version of Christeene that appears larger than already-large life, an Amazon with no inch left un-photographed.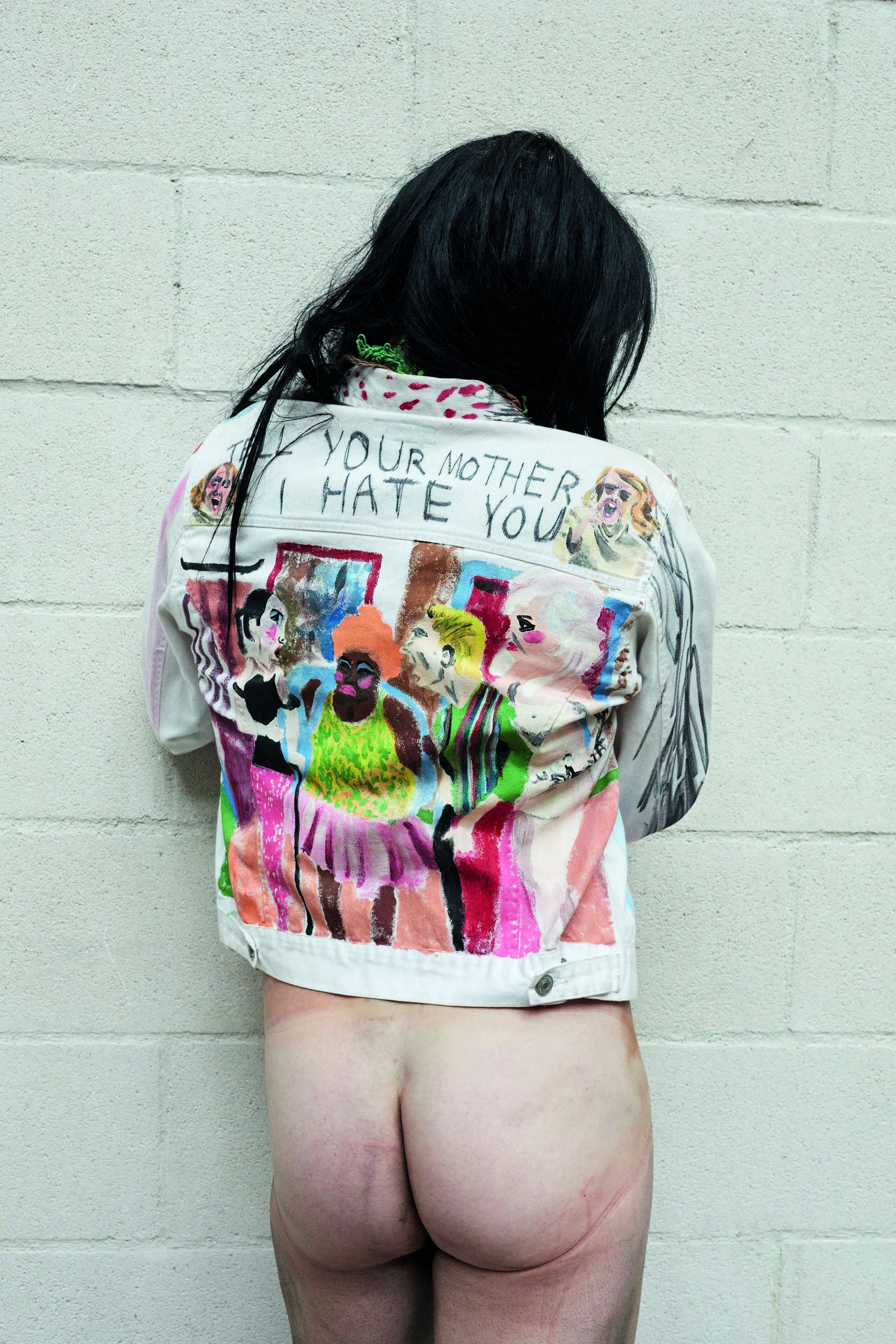 In a nod to her wild ways and her black fright wig, she has called the show The Lion, The Witch and The Cobra. "I remember hearing The Lion and the Cobra for the first time after I'd already heard her second album," she muses, just before heading to Juergen Teller's studio for the shoot, "and asking: why is this one not in the mainstream? Why are we listening to this sad lady who's all dolled up, when we could be listening to this punk who's tearing shit down with aggression, and feminine power, and untouchable strength?"
On September 22nd, the audience at The Barbican will be listening to a punk who's tearing shit down with aggression, at least quasi-feminine power and untouchable strength, too. I hope Sinéad O'Connor knows; I hope that if she does, it makes her happy. Christeene does tend to have that effect on people.
---
Credits
Photography Juergen Teller.
Styling Christeene.

Creative partner Dovile Drizyte.
Photography assistance and digital technician Karin Xiao.
Post production Catalin Plesa at Quickfix Retouch.
This article originally appeared on i-D UK.