ten insane beauty accounts you need to follow on instagram
✿♥‿♥✿ Like ASMR for your eyes! ✿♥‿♥✿
|
19 September 2019, 7:00am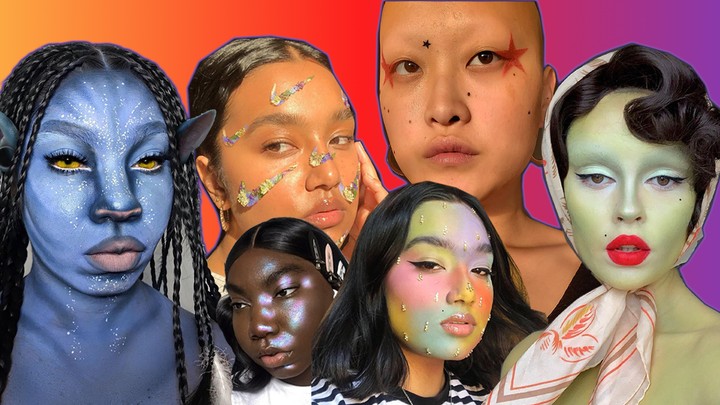 Is there anything on Earth that makes you feel more incompetent as an adult than a 15-year-old with 13,000+ followers on the 'gram who's able to perfectly recreate the artwork for Lana Del Rey's Norman Fuckin' Rockwell on their face? Honestly, what did we do to deserve this spike in stupidly talented young make-up artists sprouting up around the world, peppering social media with their seriously impressive beauty looks?
They are, in theory, the real OGs bringing unfettered loveliness to our feeds in a time when everything impressive and artistic is co-opted in a hot minute. Most of these MUAs are causing beauty revolutions from the comfort of their bedrooms! So if your Insta feed is lacking a little spark, colour and.. em... caviar eyeshadow, here are ten of the coolest make-up artists doing the most to switch up the norms of beauty. Follow them all. Like, right now.
Ela Galazka
Existing outside of the wildly competitive world of editorial make-up artistry, Ela Galazka -- known by her pro moniker TWIG -- is based in Zabrze, a city in southern Poland. While she's mastered the fine art of doing her commercial looks (killer eyeshadows and flawless highlights are her forté), if you venture on to her more experimental page and you'll find some that are, quite frankly, insane. Expect full faces coated in glitter, anthropomorphic strawberries and, most impressively, a hand-beaded eyeshadow look that toes the fine line between delicate raindrops and caviar.
May Tahmina Akhtar
London-born, Manchester-raised May Tahmina Akhtar is just 23, and has already maxed out her student loan on her make-up obsession. The British Bengali girl balanced her beauty experiments with a degree in data science in the beginning, and has swiftly earned herself a solid following on IG for her floral Nike tick beauty marks and grasshopper-esque, goo green paintwork. Conventional cut creases these are not!
Lucia Perešová
The Slovakian beauty scene is still sort of fledgling at the moment, but it's well on its way to being put on the map internationally thanks to this girl: Lucia Perešová, known as @geminiblush on Instagram, has managed to rack up 80k+ followers for her diverse approach to make-up. One day, she'll post a flawless matte eyeshadow look for her followers; the next she'll paint an entire bloody Bob Ross canvas on her mug. Our favourite is the one above though: a delicious throwback to Windows 95 and word art. A work of nostalgic genius.
Naomi
Belgium-based Naomi has adopted the same first-name moniker as a few others in the beauty industry right now, leaving her work to speak for itself. Her everyday looks are flawless. Her outlandish ones are, well, outlandish, but she also finds a pleasant middle ground for those who want to make a statement without looking too cartoonish. While her fire look is sort of jaw-dropping, her ghostly star-like make-up is the perfect compromise for iconic attention-seekers everywhere.
Kiko
Bristolian make-up and music star Kiko has carved a cool niche for herself in the UK arts scene, combining her creative passions and painting them, grandiosely, all over her face. When it comes to putting them online, she doctors her images to transform them into pieces of art in their own right, but has the ability to paint an entire, unfiltered, underwater seascape on her face and fuck you up too.
Kate
Her online presence, besides posting her face everywhere, is fairly anonymous. 15-year-old French Londoner Kate, known as @katingphotos on IG, doesn't seem to have a second name, but that hasn't stopped her from racking up tens of thousands of followers on the 'gram. Her account, which she dubs "a brain dump" is a collection of cute eyeliners, abstract art looks, full paintings and, of course, that genius Lana Del Rey album cover too.
Frances
A make-up artist and a model, another person who prefers to be referred to by their first name only is Frances. Her IG account @facebyfrances is adorned with images of the Londoner painted devil red, transforming herself into a cyborg and an alien-esque vintage Hollywood siren a la Juno Calypso. There's a decadent darkness to what she does. Oh – and she's also a Mac poster girl shot by Petra Collins over on her main account. Casj.
Naezrah Nicole
NYC icon Naezrah Amethyst Nicole has already transformed herself into a super-extra version of the clown meme, which is just one of a thousand reasons you have to love her. Toeing the line between conventional and rebellious, her make-up artistry is miles ahead of many others running in the same circles. Whether it's her Na'vi look, or her literal interpretation of a 'smokey eye', her account is an endless reel of excellence -- and if you want to try them out yourself, she regularly posts tutorials on YouTube too.
Sunny
Louisville 24-year-old Sunny has, in her own words, "never fucking learned how to contour", though we're not sure how much that matters when you can paint like this anyway. Her penchant for stars, which make a regular appearance in a few of her looks, has become her niche, but she's a master at tattoo-esque monochromatic stuff and duplication too. She's the prime example of a make-up artist who has completely sidelined the need to do basic-ass blending, and has instead changed her tools to transform her face into a canvas. The results are special.
Xenia Valevskaya

Based in Moscow, Xenia calls herself a make-up artist and a visual artist, which makes sense if you see any of her work. A mix of intricate, tribal-punk face paintings and glossy shadows are her mainstays, while she also paints people to look like they've been the victims of radioactive attacks: all gooey, snotty and covered in varicose veins. It's all invigorating and wildly impressive – just some of it is not for the faint-hearted! If Euphoria took place during a nuclear war, we're sure Xenia would be called in to work her magic.