vegyn just released your new favourite album
"People always wanna understand, you know? But I feel like it's good to not understand sometimes... so if I can help confuse people, I think that's a good thing."
|
11 November 2019, 8:00am
This story originally appeared in i-D's The Post Truth Truth Issue, no. 357, Autumn 2019. Order your copy here.
"They say, though I don't know who they are, that it takes a lifetime to make the first record," 26-year-old Joe Thornalley aka Vegyn muses. "I got mine done in about 10 months. You feel obliged to sum up everything you are, but I think at this point it's just a shade of what I do." The producer, PLZ Make It Ruins boss and very charming man better known as Vegyn is discussing is his forthcoming debut album, Only Diamonds Cut Diamonds. It sits at a mighty 16 tracks long, but honestly, what did you expect when he just put out a 71-track mixtape called Text While Driving If You Want To Meet God!? The album was inspired by solitude. "I hate being alone," he says. "Shit makes me really sad. I'm very needy, very emotional. But there becomes this big old void that needs filling, so I get work done."
With features from his pal JPEGMAFIA amongst others, the project is a melting pot of percussion that nods to his all time fave Aphex Twin, classical strings, melodic video game music, niche samples and a heady dose of field recordings. A real showcase of his talent -- it's playful, eclectic yet cohesive, and we think you're gonna love it.
Just an hour ago, Joe's hair was freshly bleached blonde. Now, it's bright green. He's open to creative collaboration, basically. It's what put him on the radars of music fans worldwide, having temporarily relocated to LA to work on Frank Ocean's Endless and Blonde albums before hosting the artist's Blonded radio show on his behalf. Excited to finally have a personal project to direct people to, he's still not totally sure how to explain his work. "Electronic is probably the easiest pigeonhole," he says, "but I don't think it's gonna stay like that forever. People always wanna understand, you know? But I feel like it's good to not understand sometimes, so if I can help confuse people, I think that's a good thing."
When you're knee-deep in album, I wonder, how do you know when something's finished? "You don't," says Joe, flashing a smile. "It's never finished. It's really frustrating. I guess that's what the mixtape was about, an exercise in letting go. I think about the harddrive as a peat bog; this oxygenless container which preserves things perfectly for hundreds of years. So I was like... I guess this grave can be revealed? And maybe someone else can finish it?"
Only Diamonds Cut Diamonds will be accompanied by a brand new live show, something Joe is currently plotting. "I want to make it really fun," he says. "No chin stroking, no stoic headnodders allowed. I just want people to come and feel like they've been on a ride as opposed to been taken for a ride. I want people to come out wanting to see it again." Oh and he sings on this record, something which you might be surprised to hear that he's pretty self-conscious about. "Singing was something that made me feel uncomfortable, but I realised that it's quite a straightforward way of conveying a message." Somehow, the idea of singing live doesn't phase Joe so much as it does on record. "I'll croon like a motherfucker! I don't have to be myself, I can be this extreme version, this other thing."
An admirable attitude. I suggest that Joe ought to be proud of his discography thus far but he's not so sure. "Pride is an interesting one…" he says. "I've been trying to deflate my ego. I think I'm a bit like a balloon sometimes, I need someone to come and prick me every once in a while. I am really proud of this album though, I think it's good and I'm very excited for people to get to hear it. Releasing music is always a cathartic experience, making it is fucking awful. Awful in a good way, just a lot to take in. Sometimes you're like 'I need to quit', and other times it's great and you feel like a million dollars."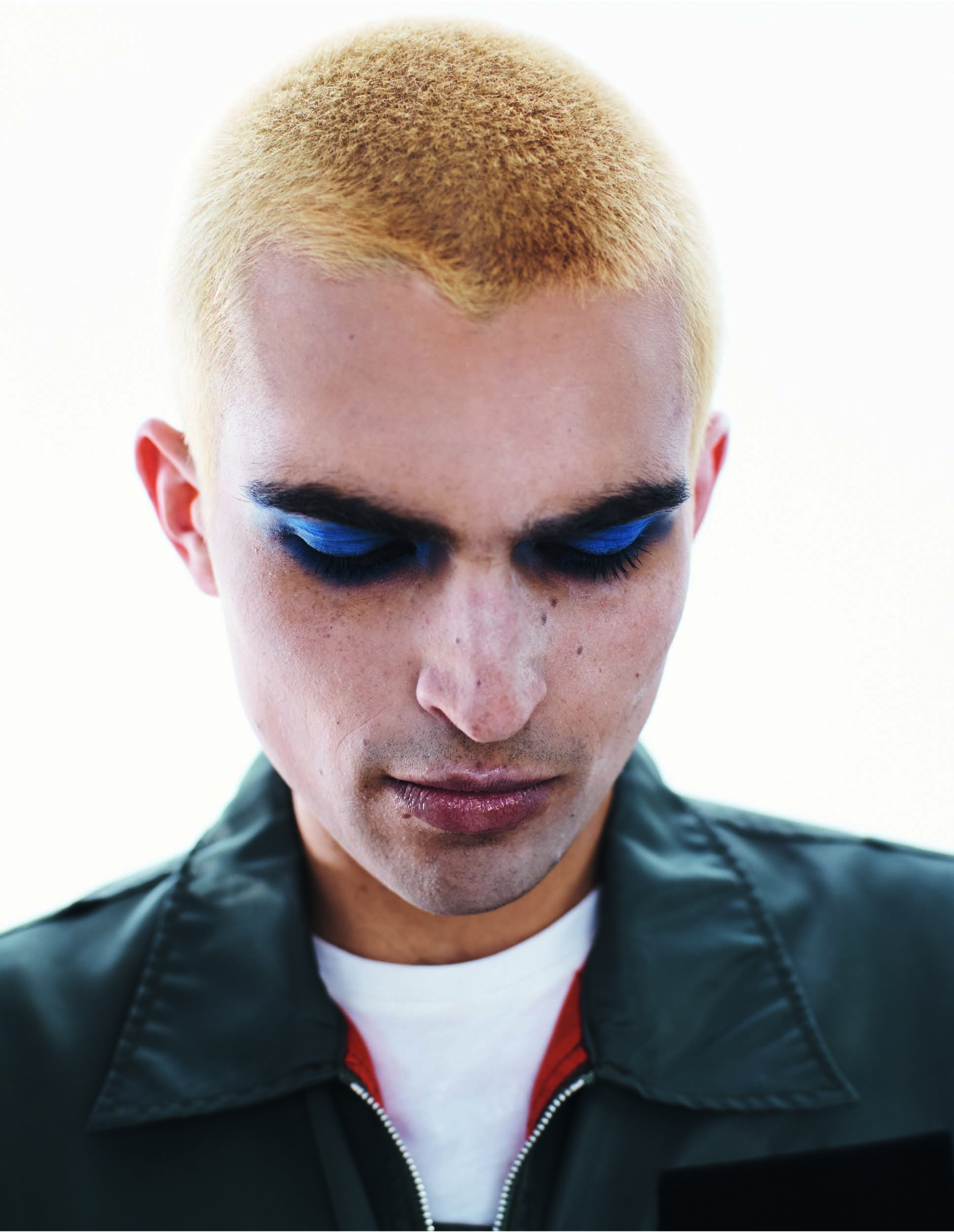 ---
Credits
Photography Josh Olins Styling Max Clark
Hair Cim Mahony at LGA Management.
Make-up Ciara O'Shea at LGA Management using Fenty Beauty.
Nail technician Trish Lomax at JAQ Management using Cnd.
Set design Max Bellhouse at The Magnet Agency.
Photography assistance Jeremy Young.
Digital technician Brian Cleaver.
Styling assistance Giovanni Beda, Joe Palmer, Monica Armario and Gal Klein.
Hair assistance Tarik Bennafla and Rohmarra Kerr.
Make-up assistance Jade Smith.
Set design assistance Miranda Latimer.
Production Etty Bellhouse.
Production assistance Molly Senior.