Alexa Demie and Taylor Russell on 'Waves' and the power of empathy
The actresses share how their on set friendship led to one of the films most powerful scenes.
|
15 November 2019, 5:00pm
Image courtesy of A24
Waves is a film that immediately immerses you in the intoxicating world of teenage excess. Written and directed by Trey Shults, it focuses on an African American family in South Florida, led by overbearing dad Ronald (Sterling K Brown), who's fixated on his star athlete son Tyler (Kelvin Harrison Jr.). Tyler is madly in love with Alexis (Alexa Demie), even naming her "Goddess" in his phone. Halfway through, tragedy strikes, and it switches focus to another relationship that blooms between Tyler's younger sister Emily (Taylor Russell) and Luke (Lucas Hedges). Both romances are based on Shults' own experiences growing up, and together they capture the dizzying highs and devastating lows of young love and loss.

Supporting this cast is a soundtrack so powerful that it feels like a tide pulling the film in different directions. Some of Frank Ocean's most emotionally heavy-hitting songs feature alongside tracks by Animal Collective, A$AP Rocky, Kendrick Lamar and Tyler, The Creator. Seldom will you see a more perfect depiction of reckless, youthful arrogance than when Kanye West's "I Am A God" roars through the car speakers as Tyler drives drunk through darkened streets.
Music played a huge part in shaping Waves – Shults wrote lyrics into early drafts to help define the story's direction, and later hyperlinked to songs in the script so that the actors could connect to their characters' experiences on a deeper level. Waves was so influenced by Ocean in particular that its two-part structure resembles his iconic song "Nights."
Demie, who is also a musician, says Waves' creative use of music was part of its appeal, as it was something she also enjoyed with Euphoria, the breakout series she's become known for. "Music is the core of my being, so I've been really lucky in that both Sam [Levinson, creator of Euphoria] and Trey are very tapped into music and use it as a tool to heal themselves and get through certain situations," she says. "It's exactly how I feel, and the way they infuse that in their work is really inspiring."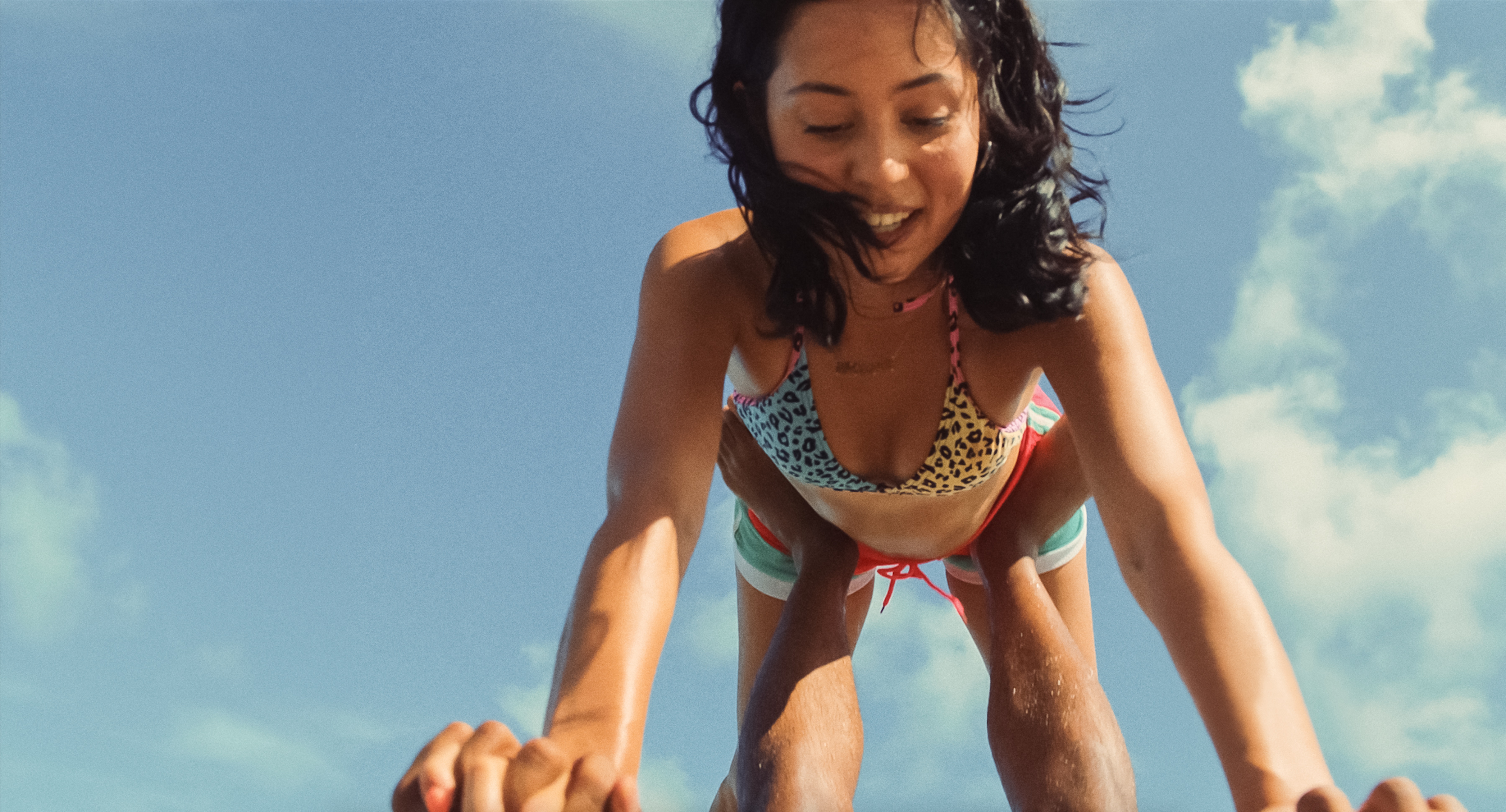 She found herself drawing on that same technique, listening repeatedly to Lauryn Hill's song "To Zion" (which Hill wrote while pregnant with her son). "My mom played that song for me when I was younger, so I listened to that song over and over before shooting scenes," she says. "I didn't have the most perfect life growing up, so I drew a lot from my childhood for Euphoria, and I drew a lot from my mom's experience – from what she's told me – for Waves."
Like her character in Waves, Demie's mother also got pregnant "extremely young," and was forced to deal with others' opinions. "The film just really hit me in a way that I didn't expect, because of that personal connection," she says.
Perhaps it speaks to the universality of Shults' story, but Russell also felt intrinsically linked to her character, although in a less defined way. "I felt like there were through lines between me and Emily," Russell says. "I would stumble upon a feeling that felt familiar, and it would end up being something from my childhood or teenagehood, that Emily also felt."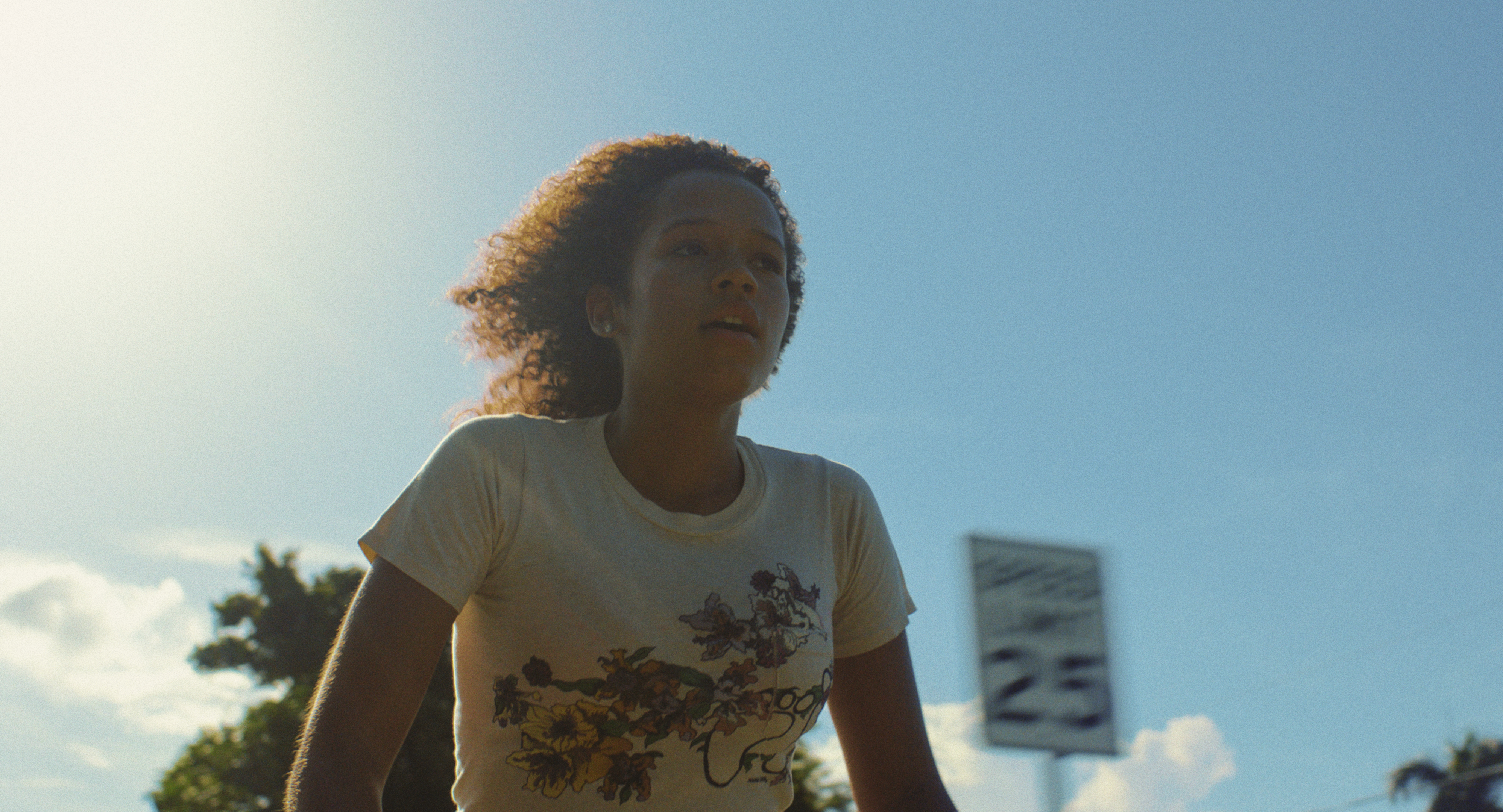 Both actresses utilized unorthodox techniques to connect with their characters. Demie watched videos on YouTube about codependency with Harrison to help forge their "destructive, volatile relationship," and Russell started doing dream work – an agnostic approach to exploring imagery and emotions that surface in your sleep.
"Lucas [Hedges] actually introduced me to it," Russell says. "We did a session together before we filmed together, and it opened up that door for me. I found a lot of good stuff in it." Good in the sense that it helped her work, not that it was enjoyable. "Honestly, the entire shoot I had nightmares every single night – like, really violent nightmares. A lot of my dreams informed the character."
Shults has described Russell as having an "internal power," and with one glimpse of her stoic presence as Emily this is immediately apparent. In the beginning of Waves she is in the shadows of her brother's achievements, but as everything comes crumbling down, Emily becomes the one that holds the family together.
"What I think is so beautiful about her as a person is that she is a loner, she's more introspective and introverted. She doesn't necessarily need to be seen; she finds that power within, and I think a lot of people can relate to that. I related to that," Russell says. "You don't see stories about women like that – who are quiet but strong. And strong in a way that is more like a listening sort of silence."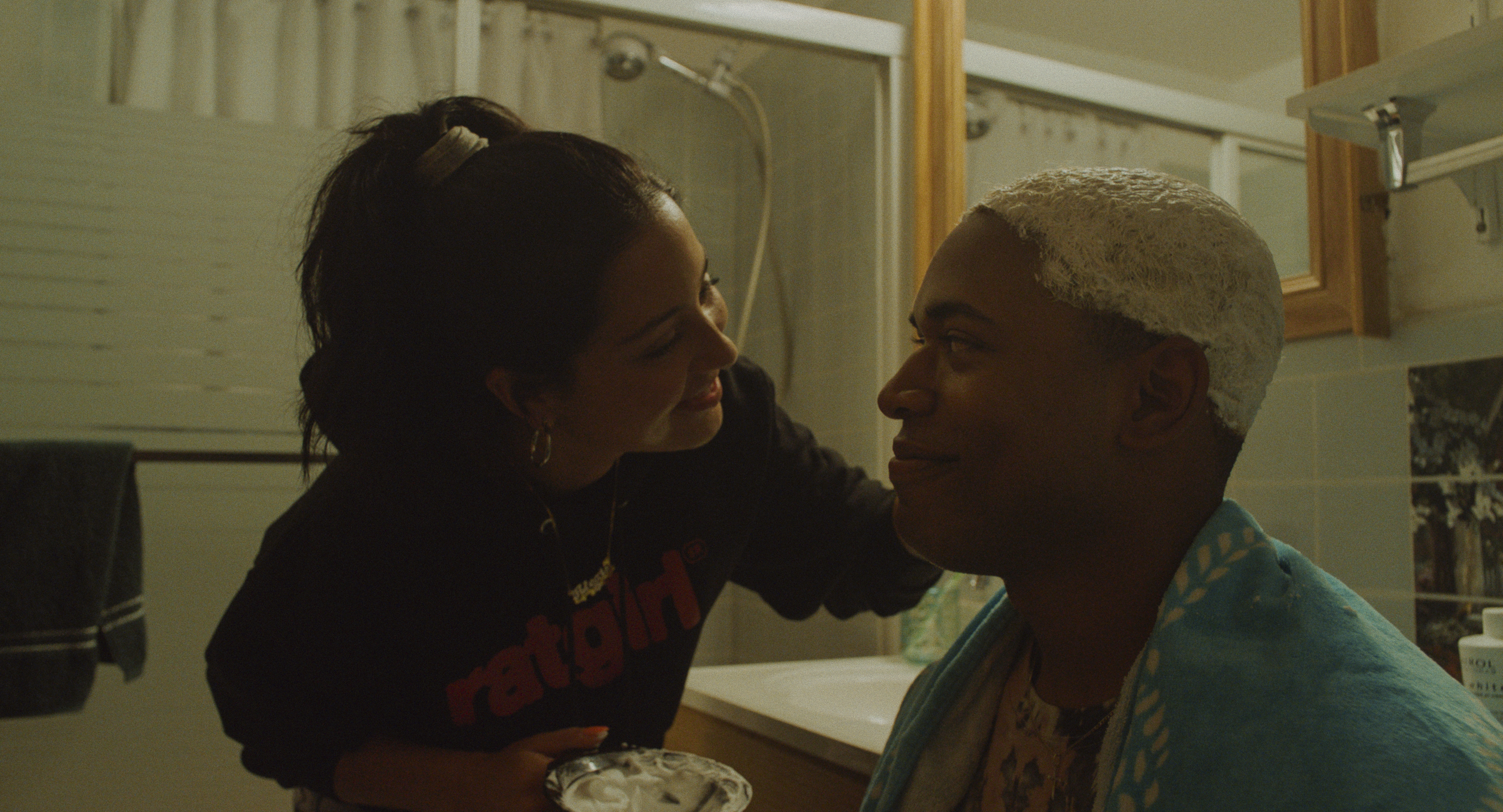 Where Emily held a quiet power, Alexis had a louder presence. The two characters weren't originally going to have any screen time together, but once Demie and Russell formed a close friendship on set they asked if they could create a scene together. Their short exchange in a bathroom at a party, where they share lipstick, ended up becoming one of Waves' most memorable, tender moments.
Both actresses separately describe Shults as "egoless" when they talk about how accommodating he was to their request. "We had 150 pages to film and he gave us a moment in his story that wasn't there and he just trusted us," Russell gushes. "It was quite serendipitous and divine. It was a unicorn experience!"
"Originally we were doing it because we loved each other and we wanted a scene together, and these two females in the film interacting," says Demie. "But after watching it, we both realized that it's a lot more special than that, because it's right before the shift [in the film] into Emily's perspective, and so it feels like an exchange of energy. Alexis is giving some of her energy to Emily, and Emily starts to develop and change after that. So that was really cool to see, because it wasn't the original intention. But that's a testament to Trey and where he placed it in the film."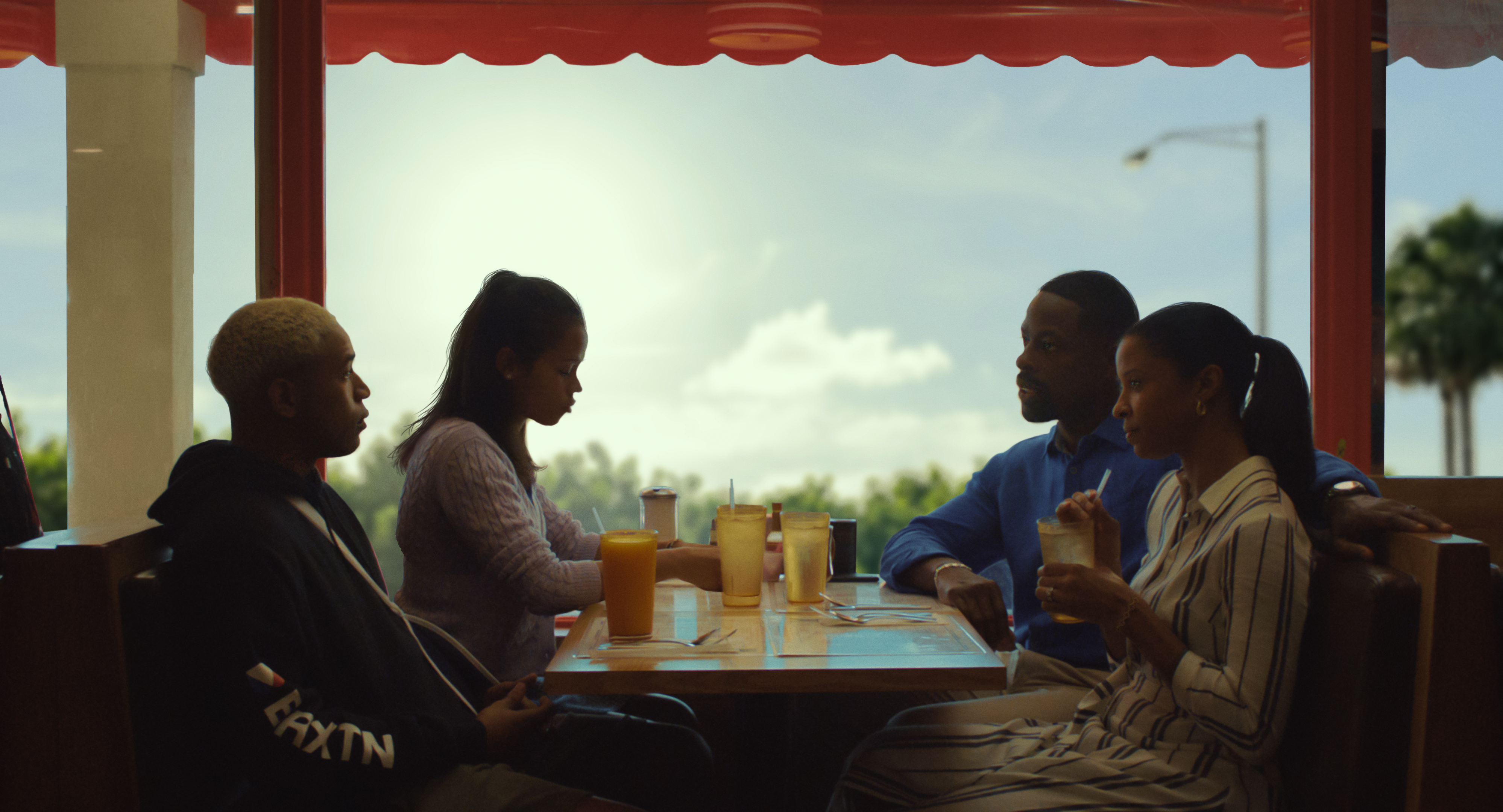 It's also a testament to what Russell describes as a "karmic link" or "a past-life thing" that she felt between herself and Demie. "I feel like I had that with Kelvin and Lucas too. It felt like we have all known each other in some sort of other scenario, in some other body or something. As woo-woo as that sounds!" she laughs.
"With Alexa and I, we had similar childhoods, and trauma is the biggest bonding tool that you can have with somebody, because it allows you to be witnessed in your humanity. And I think that that kind of bond can be stronger than anything else. More than any beautiful, happy moment."
When I tell Russell that Alexa described their scene as like an exchange of energy between their characters, she says, "That just gave me shivers! That's beautiful. What you can give to another human being – a smile, a hug, or putting your lipstick on them for a moment and really seeing them or looking them in the eyes – so much can be given that you're not really aware of. It's important to connect with another person, and I do see that in the movie."
Waves has more than one central tragedy – as the title suggests, they ripple out. But despite its profound sadness, it leaves you with a feeling of hope. At the center of the film is not tragedy, but empathy.
"For me, the message of healing is so huge," says Russell. "And forgiveness – forgiving when it's really hard, when you may be judged for doing so, but choosing love and forgiveness anyway. Doing it when it's really hard is when it's the most important. And I love that that message is in the film."
Demie hopes that viewers will leave the film with more compassion. "The film is about love and healing and forgiveness, and if we can all just learn to do all of those things for ourselves and each other, that would be an incredible thing for all of us.
Waves is in theatres now