these women turned gross unwanted dms into a zine
'You Were Always Online' is a female-lead digital zine made from crowdsourced screenshots of online abuse.
|
28 February 2019, 12:04am
Last year Grace Small decided she'd had enough of the daily abuse and unsolicited dick pics that would end up in her DMs. Instead of ignoring, blocking and deleting the harassing messages she decided to flip the narrative. The result is You Were Always Online, a female-lead digital zine compiling crowdsourced screenshots of online abuse experienced by women, and using them as a jumping off point to discuss online harassment. With it now available online, Grace sat down with i-D to talk about the making of the zine, the message that first inspired the idea, and how online abuse affects everyone — even her mum.
How did you come up with the idea for the You Were Always Online?
Like many in 2019, I have been targeted by online abuse and I wanted to do something creative with the insane messages I had been receiving. We're often told to ignore or shrug off virtual violence, but I find this approach insidious. It normalises violence and places the onus on women to deal with the violent behaviour that they are subjected to, rather than addressing those who are responsible. The extent of the issue is also worrying. Too often women and other minority groups are forced offline by incessant abusive comments and trolling. Such tactics work to silence women and are harmful to society.
The zine is not about shaming men (none of the names have been released) but it's about using humour to deal with that unpleasant side of the internet. It also documents the way women share their negative online experiences with one another and hopes to create a space for further discussion on the issue. It's been a really cathartic and empowering experience.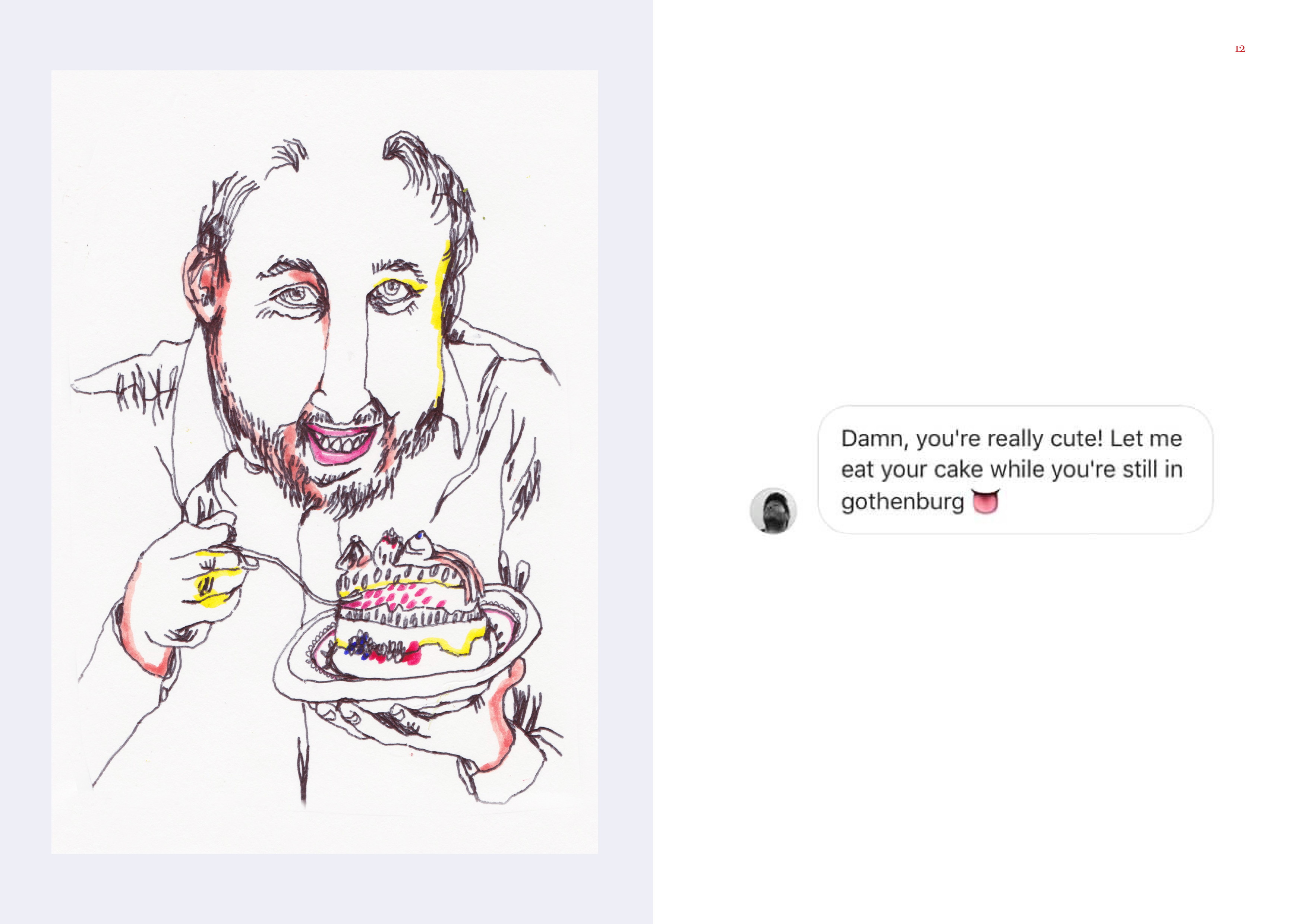 Was there a particular unsolicited message that kicked it off for you?
Yeah, it wasn't so much the message in itself this time but the person I was dating's response to it. He couldn't understand why this stalker-ish, threatening message bothered me so much. Apparently the issue lay with me and my lack of humour, "because he's just some old loser in his parent's basement, right?" My ex's response really is part of the problem. So often women are made to feel as though their reactions to these kinds of messages are dramatic, but the focus should be on the actions of the messenger.
You did a big call out for people to send in their own unwanted messages that they had received. What was the response like?
A lot of people receiving these messages want share stories of online sexual harassment, cyber stalking and revenge porn, so I think most of the participants were glad for an outlet.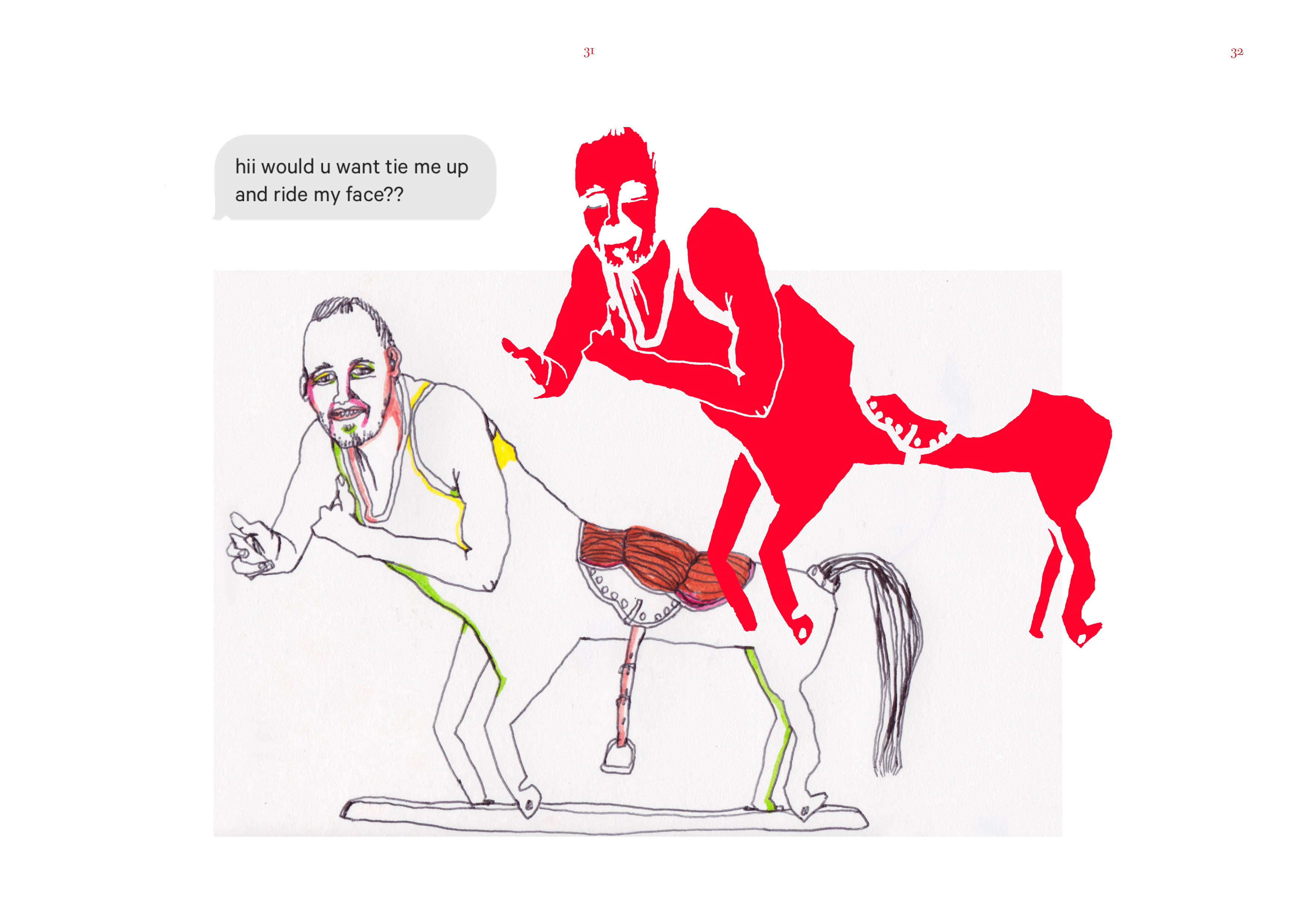 What kinds of women did you have send in their messages?
Some of the screenshots in the zine were sent to my mother. So yeah, online sexual harassment is a phenomenon that affects all kinds of women. We also heard from queer women and gender nonconforming people. Most of the abuse that they received was in one way or another attempting to reinforce dominant gender and sexuality stereotypes (i.e. queer women exist for male pleasure, regardless of their own sexual orientation, or GNC people 'deserve' abuse because they refuse to conform to a particular gender identity). A high number of the DMs were sent in by women of colour too, which is really important to note as statistically women of colour receive higher rates of online abuse, and are targeted for both their race and gender.
Who are some of the contributors to the zine?
It's been fascinating to see how differently women interpret and cope with this type of hassle. Not just from a writing or design perspective, but from different intersections. Our life experiences affect where we view the issue from, the common thread is we all know it's fucked.
Writing contributors include Jade Jackman, Perwana, Ella Jay Taylor, Ana Valens, Ella Plevin and Heidi Darveaux. Sydney Lima deserves some credit for the zine also, as we worked on the project together before I continued it on my own. Ella Oliver Hewitt's illustrations are hilarious and a major driver for the tone of the zine. I love the way she not so indirectly takes the piss out of lewd men online. Olympia Vlas did an amazing job at bringing everything together graphically and visually. She also came up with the clever idea to make the zine interactive online, which kind of mimics the immediacy of social media and how easy it is for the uninvited messenger to make contact.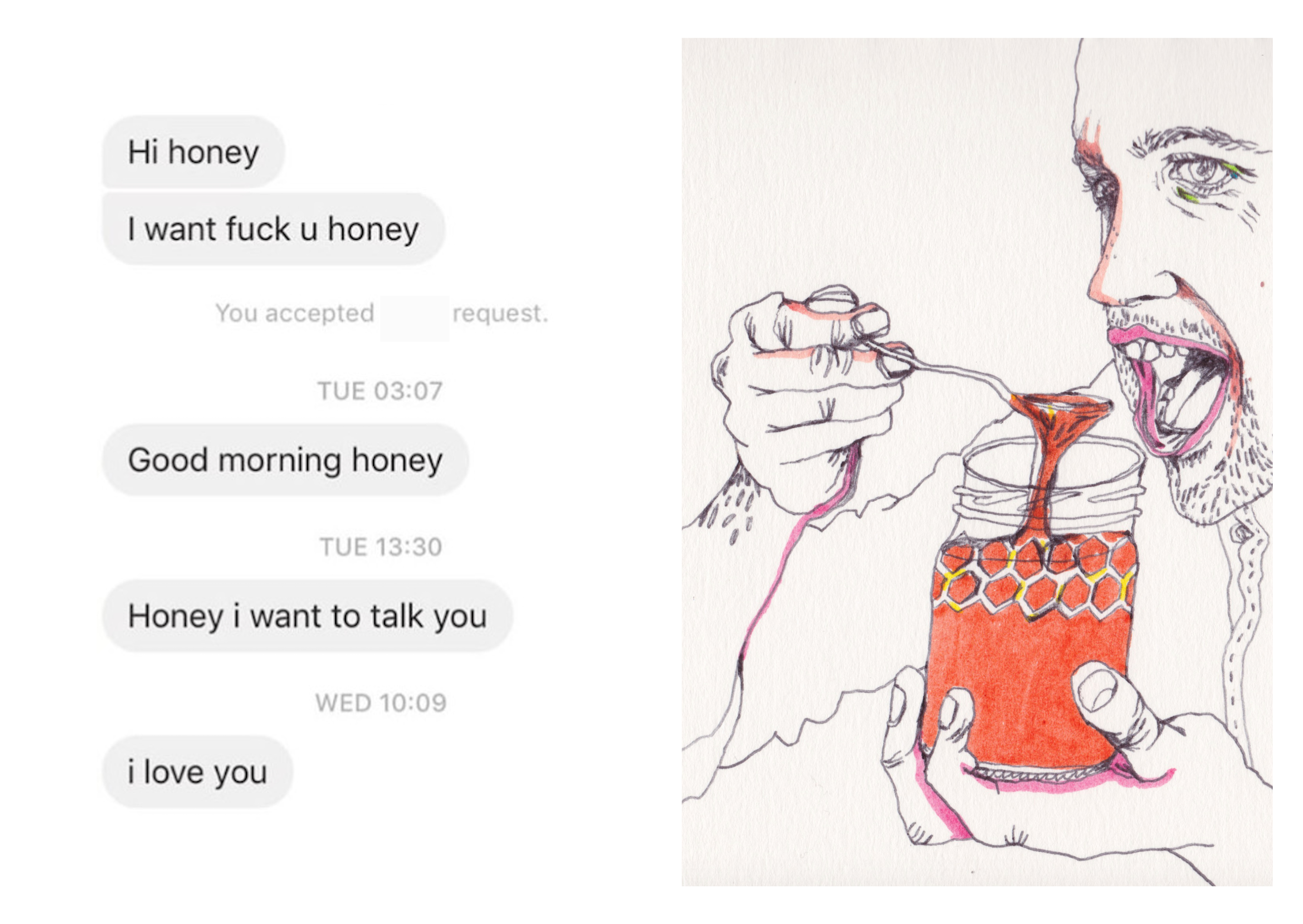 You mentioned the humorous tone of the zine, why do you think humour was important to the process? I don't know whether I can say humour is the 'right' way to deal with the issue, but that's how it came about organically. Some of the screenshots are so absurd. The way the authors mix extreme violence with poetry, plus the truly heinous spelling and syntax — they're amazing pieces of writing, in isolation from how fucked up they are. It's a serious topic and I don't want to diminish that, but also the recipients of these messages deserve some relief. Like gallows humour for all the dick pics and insults.
At the end of the zine you included a resource list for the reader. Can you tell us about why you included that? Yeah, I think this was important to add. Social media platforms often fail to hold their users accountable for abuse, particularly if the abuse is sexual in nature. Troll Busters, Crash Override and Gender IT provide support for those suffering from online abuse, whilst Fleshlight Chronicles is worth a look at for some comic relief. I particularly love Troll Busters idea to, in a sense, cancel out online abuse through positive reinforcement, or a "hedge of protection". I feel as though this could be taken on in a non organisational sense — sticking up for victims of online can make the abuse more bearable.