activists stage moving protest for grenfell during london fashion week
Adwoa Aboah lead the charge to demand more information and accountability for those who died in the Grenfell Tower fire.
|
18 February 2019, 12:27pm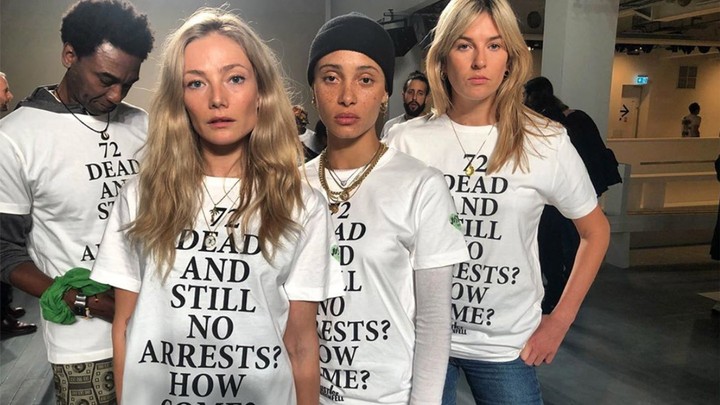 Photo via Instagram.
It's been nearly two years since the Grenfell Tower disaster, but activists are committed to making sure the 72 people who lost their lives in the devastating blaze will not be forgotten.
Using London Fashion Week as a platform, 72 activists took to the catwalk as part of the Justice4Grenfell campaign, staging a moving protest which brought home once again that those who lost their lives, homes, friends and family on June 17 are still in the minds and hearts of those campaigning for accountability.
Each activist wore a #NoDeathInVain T-shirt, inspired by the tactic used by Frances McDormand's character in Three Billboards Outside Ebbing, Missouri. The protest was a continuation from last year's protest from Grenfell's activists, where three red billboards emblazoned with the same message were driven through the streets of London.
Designed by community group Grenfell Speaks and Splitsquare Design, the T-shirts read "72 dead and still no arrests? How come?" Grenfell Speaks T-shirt designer Faisal Metalsi said of the shirts: "We wanted to create a design that remembered and honoured the people who died at Grenfell Tower, and to serve as a reminder of why we continue to campaign as a community."
"London Fashion week is a perennial event in the international calendar and highlights the world talent, creativity and inspiration in our diverse city," explained Yvette Williams, spokesperson for the Justice4Grenfell campaign. "The fire at Grenfell Tower is the unfashionable side of London where 72 people needlessly lost their lives. Their deaths will not be in vain. We are honoured to be a part of LFW that will assist our campaign in keeping a global focus on what happened at Grenfell, and to support the bereaved families in their continued fight for truth and justice.
"The accountable authorities have been inadequate and tardy in their response and 20 months on, no significant changes or improvements have been made and no one to date has been held responsible. These factors and issues are fundamental to ensuring that nothing like this is ever allowed to happen again."