"fuck! I should have thrown my tampon at him!" donita sparks on L7 in the age of trump
From pioneering fake news, to playing alongside Nirvana at their abortion rights concerts and creating perhaps the only tampon-based rock legend, L7 are back to take on Trump and rewrite rock history.
|
28 November 2017, 10:52am
"I don't know if I want to touch this right now, with a ten foot pole," Donita Sparks says, over the phone from her LA home. The front woman of seminal punk-rock-grunge band L7 is having her morning coffee, and is talking about Donald Trump. Specifically, she's describing the genesis of the band's first new single in 18 years, Dispatch From Mar-a-Lago. The three minute track imagines an angry mob storming Trump's Palm Beach resort complex, while a Secret Service agent attempts to decode the 45th President of the United States' bizarre 4am tweets. "Are we under attack? Is the universe getting fat?" Donita asks, paraphrasing the lyrics. "The people in the military and shit -- what are they thinking when they get these ridiculous things?"

Having regrouped after more than a decade apart, the band did not set out to write a song about the bigliest of our political leaders. They feared that it was too predictable, too obvious -- and also that they'd be opening themselves up to trolls. "People who stick their necks out get the worst shit. [Called] old, ugly, fat," Donita says. But L7 fans asked them to, so they did it anyway. "Bring it! Like we don't hear that [abuse] everyday!" she says. "People need their artists to speak out about these things -- get really serious about it, get absurd about it, veil it in a metaphor, do what you have to do, because this is crazy town."
It's fitting that Trump has been added to the band's notorious Shitlist, but as the new documentary L7: Pretend We're Dead reveals, the band were in fact pioneers of fake news themselves. "The media needs news, the rock press needs news, and we gave it to them," Donita reasons. "It's not like, 'Oh, L7 are collaborating with the Rolling Stones!' [or] 'They're the first band to play on the moon!' -- we never had that kind of news. So we just... in my love of absurdity, there were some news items that came out that weren't true."
Donita will not reveal which L7 news stories were fake, and she likes that it's difficult to tell. However, in the documentary the band do confess to one -- a bomb threat (it was a different time) that supposedly disrupted their music video shoot. "We said that Viggo Mortensen, who's a friend of ours, was the director of this video shoot, and that we didn't care about the safety of ourselves, but that we had many exotic animals on set so we were worried about this possible bomb going off. This visual of people thinking that we had the money to have all of these exotic animals in our video! Viggo Mortensen! He loved it; it was a chuckle. I always liked having a press person deliver [these stories], because then it would end up on MTV News. It was fucking hilarious."
Co-founded by Donita Sparks and Suzi Gardner in LA in 1985, L7 was completed by bassist Jennifer Finch and, after a few drummer changes, Demetra Plakas. Rising in the LA punk rock scene, the band then rode the wave of grunge, signing with Sub Pop and touring the world. The ride was not always a smooth one. As Donita told i-D in July 1994's The Fun Issue, "From the giddy-up we had to deal with that whole 'oh you're pretty good for chicks' kind of shit. We don't deal with those 'women in rock' questions anymore."
Throughout Sarah Price's documentary -- in the band member voiceovers, and the self-shot camcorder footage of them at shows, on the road, at house parties, and goofing around in hotel rooms -- the message from the band is loud and clear. They just wanted to rock. But US metal radio stations wouldn't play their music, and Donita stuns me by adding that L7 have never played a metal festival in the US. Still? "No, never played a metal festival. We play heavy metal fests in Europe and the UK, which is so cool. Metal audiences are very, very loyal. I've joked about it before, but they're like audiences for Cher. They'll stick with you forever. You get a metal audience on your side and they're lifers. I really dig that about Europe and the UK metal scenes."

"From the giddy-up we had to deal with that whole 'Oh you're pretty good for chicks' kind of shit. We don't deal with those 'women in rock' questions anymore." Donita in i-D's The Fun Issue, July 1994
One of the most impressive things about L7 was (and is) their ability to take the wall of misogyny, exclusion and abuse, and turn it into defiant art. From punk rock lyrics such as the iconic line, "Got so much clit she don't need no balls" on Fast and Frightening, to live jams (if someone shouted 'Show us your tits' at a show, they would just make a jam out of it, shutting them up) and righteous tampon-flinging action. I am, of course, referring to the rock legend of Reading Festival 1992, when Donita responded to mud-slinging festival goers by pulling out her bloody tampon and flinging it at them, shouting, "Eat my used tampon, fuckers!" It's one of the criminally few things the internet remembered about the band following their 2001 split. I wonder if it became an albatross, Donita's Ozzy Osbourne bat moment? "No tampons were hurt in the act of defiance I did!" she says. "No animals were hurt. So, I will separate it from that incident. I am cool with it. For a while, I was like, 'Ah fuck! Why is it always mentioned? Why did I do that?' But now I'm glad because young feminists seem to really embrace it and dig it. I dig it". "Hopefully that's emblazoned on women's minds: 'Fuck! I should have thrown my tampon at him!' she adds, "That is a good revenge fantasy to think about, as a 'fuck you!'"
Unlike their latter day incarnations, the 90s ladettes -- who thought they didn't need feminism (because they were just one of the lads) -- L7 were always vocal feminists. "They were openly, brazenly feminist," Garbage's Shirley Manson says in the film. Sure, they did rowdy 'laddish' things, like Donita getting her bum out on British music TV show The Word, causing media and public outrage. But they also organised a series of huge abortion rights benefit concerts all across the US. "We were playing some benefits like Greenpeace and ACT UP LA, which was an AIDS organisation, and the abortion rights issue was just being hit so hard," Donita says. "And, you know, there was Rock Against Racism in the 80s, they were putting on big concerts, and we started to think, 'Well, let's do a pro-choice concert -- no one is doing anything about it. Everyone is pissed but there is no outlet to make young people really aware of what's happening'. So we did it." The concerts, titled Rock for Choice (after the gallows humour of initial title 'Rock for Coat Hangers' was ditched), were played by Nirvana, Hole, Joan Jett, Red Hot Chili Peppers and Rage Against The Machine.
Going through her archives for Sarah Price's documentary, Donita began posting some of their highlights on a Facebook page, creating an internet presence that the band had never previously had. At this point, the band members hadn't spoken to each other in years, and more than a decade had passed since they split. They didn't even come together to record their voiceovers for the film. After hearing them, Donita says, she "got a very different perspective of why things ended". She hadn't realised the death of Jennifer's father had had such an impact on her being in the band, and wasn't aware of Suzi's regret at not having a family. The section of the film where Suzi quits the band, that she started with Donita way back in 1985, is heartbreaking. "Yeah. It got very quiet the first time I showed the band the film," she says. Which, somewhat surprisingly, didn't happen until long after they had regrouped (as fans on their Facebook page had urged them to, and pleasant emails between them about the film had suggested could be possible). They had already completed US and European tours, and were sat in an Australian hotel room together when they watched the final edit.
Donita says the band have never "gone into the gory details" of their split. "We've never done the autopsy together," she says. "I don't think any of us feel the need to go down that road and I don't think it would be very productive. Everyone is going to have a different take on it and I think everybody feels a bit slighted by everybody else at one time or another. So, we don't want to go into that," Donita says. "I mean, we had a very good time. I think the personal stuff is a weight off all of our shoulders and we're just enjoying the moment and enjoying the experience of being live performers again; being a band again." It's a refreshing take at a time when artists, and women artists in particular, are encouraged to spill their guts for the media, to fulfil the shallow, exploitative reality TV version of 'closure'.
What it's like to be back on stage, performing around the world? "It feels really amazing because I don't feel like we have anything to prove anymore," Donita says. "We don't have a huge record label behind us; we don't have a huge management team behind us; we just have a few individuals on our team. We're not really under the timelines we used to be under. So, we're playing to our fans, you either like us or you don't." Those timelines came after the success of 1992 album Bricks Are Heavy, which included the hit Pretend We're Dead. Riding the global success of grunge, the band's label expected them to sell more and more records. 1994's Hungry For Stink reached #172 on the Billboard charts, and in an expression of their frustration at the pressure to sell more, they called their next album The Beauty Process: Triple Platinum, awarding themselves the acclaim, despite the charts.
"It's so weird, I was on the radio the other day, with a friend, and they said, 'Oh, do you remember when you guys back in the day used to wear those codpieces. Yeah, the ones that really enhanced your privates?' I was like, 'Dude! That was a John Waters film!'"
Though she describes rumours of a new album as "maybe someone's wishful thinking", Donita reveals that they will have new music out soon. "A new track is gonna 'drop', as Beyoncé would say. Actually I don't know if she's ever said that, [but] we'll have a new track out at the end of November." For now, they're enjoying the hip-hop style of making a track and releasing it, quick fire. "We never got to do that back in the day. It was always this huge albatross of making an album, which takes for fucking ever. We don't have any time to waste, so we kind of like the idea of: we've got a song, let's put it out. I want to embrace this era and go with that," she says. "Then we'll be doing shows in 2018. We're gonna go to South America and hopefully we'll go to Europe as well."
I'm expecting a 'no' here, but I venture the question anyway: What about Camel Lips, the fictitious band played by L7 in John Waters's 1994 film Serial Mom? "Well, we may be playing John Waters's birthday party in the springtime," Donita answers, as if it were the most natural question in the world. "They'll probably want us to do that song from the film, Gas Chamber. We may be expected to do it, but I don't know if we're going to. We're definitely not going to wear those pants, I don't think! But you never know; we could cave on that issue." An item of curio in L7's mysterious internet-evading history, Camel Lips is a more regular topic for them today than I had expected. "It's so weird, I was on the radio the other day, with a friend, and they said, 'Oh, do you remember when you guys back in the day used to wear those codpieces. Yeah, the ones that really enhanced your privates?' I was like, 'Dude! That was a John Waters film! We didn't wear those on stage!'" But who knows -- if they did, perhaps enlarged vagina codpieces could be embraced as the pussy hat of 2018.
As the conversation is coming to an end Donita surprisingly says, "Thanks, and stay in touch!" It seemed unlikely that a lasting friendship had been struck up during the hour-long interview, but equally hard to imagine she goes in for meek platitudes. So, what she would like to stay in touch about? "You know, if something interesting comes up, and you need a quote, whatever. I'm around." Though L7 didn't want their documentary to be a revolving bore of talking heads, they know that a music history described by middle aged men on late night TV rock docs is only half a history. L7 have emerged from the shadow of pre-internet times, and now it is on everyone else to do better at telling the stories of women who just want to rock.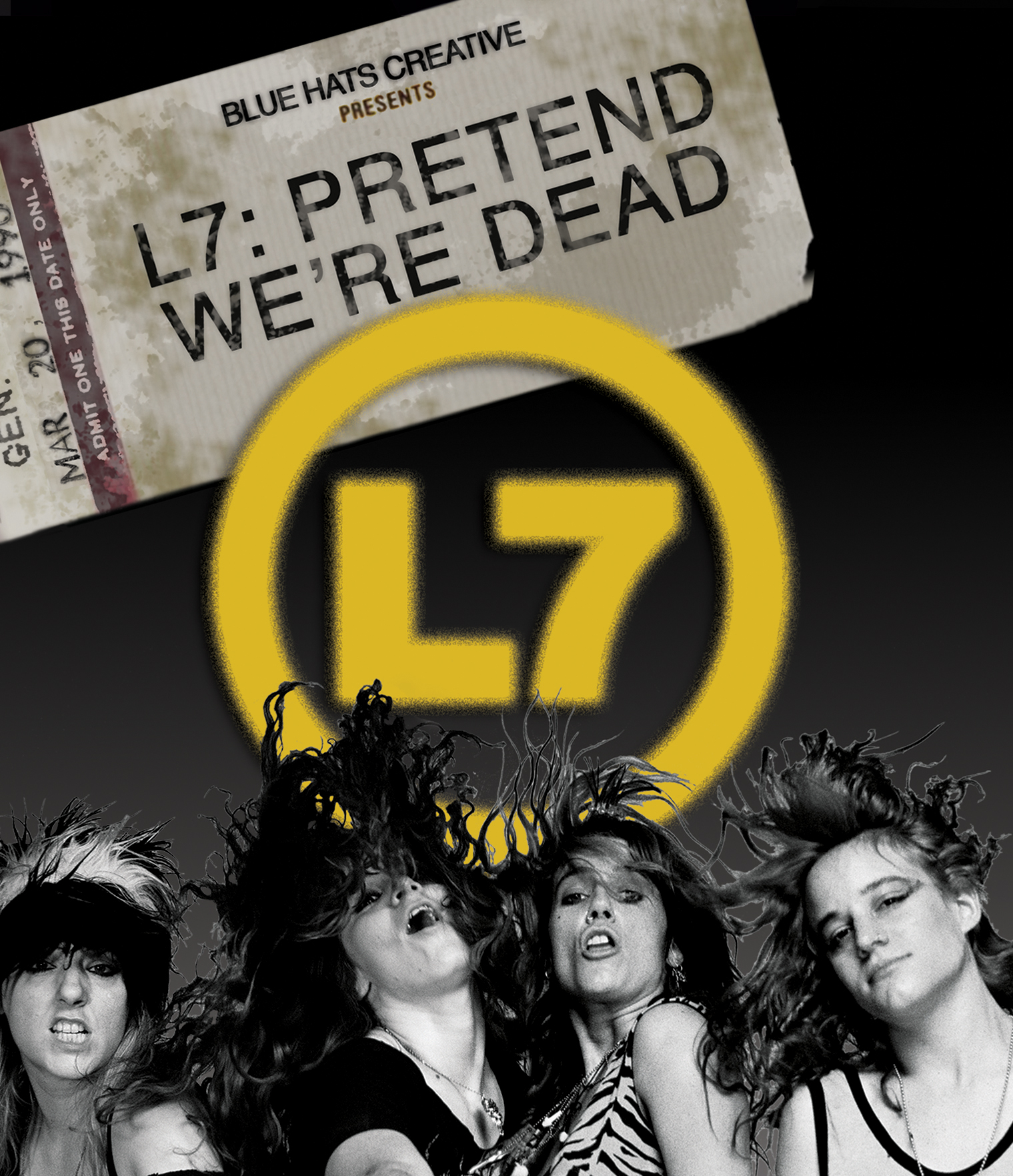 All UK screening dates of L7: Pretend We're Dead via docnrollfestival.com