naomi campbell, giggs, stormzy, paul pogba and more respond to horrific news of slavery in libya
A peaceful demonstration for Libya is planned for this Saturday in London.
|
30 November 2017, 12:00pm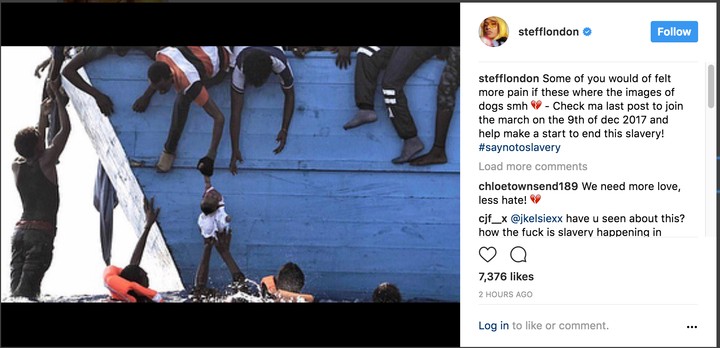 Reports from CNN earlier this month depicting people being sold as slaves in Libya have shocked and outraged many. The footage shows hundreds of human beings being auctioned off as farm workers for $400. Described as "big strong men for work", the footage sees these people also described as "merchandise".
After receiving the footage on a camera phone from a contact in the country, CNN travelled to the Libyan capital of Tripoli to investigate further. What they discovered there has been shocking, with reports of beatings, mutilation and rape among many migrant men, women and children.
Thousands of refugees, travelling from sub-Saharan countries into Libya as a gateway to the coast and European waters beyond it, are believed to be being sold by smugglers, who have seen a crackdown on illegal smuggling over the last year. Their alternative way to make money has been to turn their business into a slave trade, selling those desperate to escape conflict as workers on farms.
The story has rightly enraged many people including high-profile names, with everyone from Naomi Campbell to Giggs posting about the horrors unfolding in Libya. Manchester United player Paul Pogba dedicated a goal to the victims by crossing his arms last weekend, during a match against Newcastle United.
"WTF. Why is this being allowed to happen, but better yet. How can we help? Man can't just sit down and witness this in 2017, this is disgusting," said Giggs via Instagram yesterday.
Naomi Campbell broke her mourning following the death of Azzedine Alaia to also post about the travesty.
Giggs, Naomi, Wiley, Professor Green, OITNB's Danielle Brooks, Nas, Julie Adenuga and Lethal B are among the countless others using their platforms to highlight this issue.
Over the past 24 hours, support for the cause has snowballed, with Kano, Jammer, Stormzy and Giggs social messaging a link to a petition which aims to put pressure on the government to help stop this enslavement. After Giggs instagrammed a link yesterday morning, the petition skyrocketed from 7000 signees to, well over 125,000, more than enough to force parliament to consider the subject for debate.
You can sign the petition here.
A peaceful protest has also been organised for Saturday 9 December, where people are encouraged to march against:
The enslaving and selling of black Africans in Libya
The illegal detention of black Africans in Libyan concentrations camps
The torture of black Africans in Libya
The raping of African women in Libya
The extrajudicial killing of black African children in Libya
The protest starts 12pm at Belgrave Square, going on to march past the Libyan embassy in Belgravia.
As Stefflon Don tweeted "MEET ME THERE! THIS CANNOT GO ON!"