Images courtesy of Focus Features
in 'blackkklansman' clothing reflects both racism and resistance
Costume designer Marci Rodgers was researching the KKK and black power activists as the Charlottesville riot unfolded.
Images courtesy of Focus Features
Hate-based groups have long used clothing to both spread and normalize racist rhetoric. At the Unite the Right rally in Charlottesville last year, white supremacists co-opted khaki pants and polos to march across a college campus chanting racist and anti-Semitic slogans. Four decades earlier, Ku Klux Klan leader David Duke selected polished three-piece suits in an effort to appear charming, saving his hooded robes for cross-burning ceremonies. Marci Rodgers, the costume designer on Spike Lee's BlacKkKlansman, the true story of a black undercover cop who infiltrates the KKK, researched this period of American history while the 2017 rally was in full swing.
"[Lee] had sent me the script prior to the Charlottesville riot," Rodgers, tells i-D, recounting the days she spent researching at the Library of Congress. "When I landed in DC, that day, it was almost a twilight zone. I had just re-read the script, watched Birth of a Nation, watched Gone With the Wind — then the riot happened right before my eyes. I was watching on TV right as it was happening. I had just started to do some research on Mr. Duke. It was weird."
Further research for BlaKkKlansman brought the Howard University alumna back to her former college, which Kwame Ture — played in the film by Corey Hawkins — attended back when he was still known as Stokely Carmichael. Rodgers met with the real Ron Stallworth to perfect the former cop's suede and shearling-heavy wardrobe, and learn how he used accessories to blend in on the street. Laura Harrier's black power activist Patrice is one of the film's fictionalized characters — but her intricate all-black leather looks are also inspired by real historical figures.
As BlacKkKlansman hits cinemas today, ahead of the Charlottesville anniversary this weekend, i-D talked to Rodgers about working on the year's most terrifyingly relevant film.
You also worked with Spike on Chi-Raq and Netflix's She's Gotta Have It. How did you first meet him?
While in grad school at University of Maryland I ended up going to Chicago and I met [costume designer] Ann Roth. I worked on two Broadway shows with her, and then on [Kenny Leon's Tupac Shakur-inspired musical] Holler If Ya Hear Me. There was a rumor that Spike was in the audience. At the after-party reception Mr. Lee was sitting there kinda taking in the room. I worked up enough nerve to walk up and speak to him. I just introduced myself and the rest was really history.
BlacKkKlansman references both Birth of a Nation and Gone With the Wind. Had you watched those films before working on BlacKkKlansman?
I did when I was a child.
What was it like rewatching them from a professional standpoint at this current time in American history?
Watching Gone With the Wind, everything became relative. I'm an adult now, so I can read between the lines. Birth of a Nation — let me backtrack — I had never seen Birth of a Nation before I watched it. So everything made sense once I watched it from start to finish.
Which historical figures did you used as specific references?
Ron Stallworth and I had a conversation about what he wore when he was undercover. He had certain things, like little accessories here and there, that he would put on to make himself cool, if you will. Kwame Ture, well, he's Kwame Ture. Patrice is pretty much a marriage between Angela Davis and Kathleen Cleaver.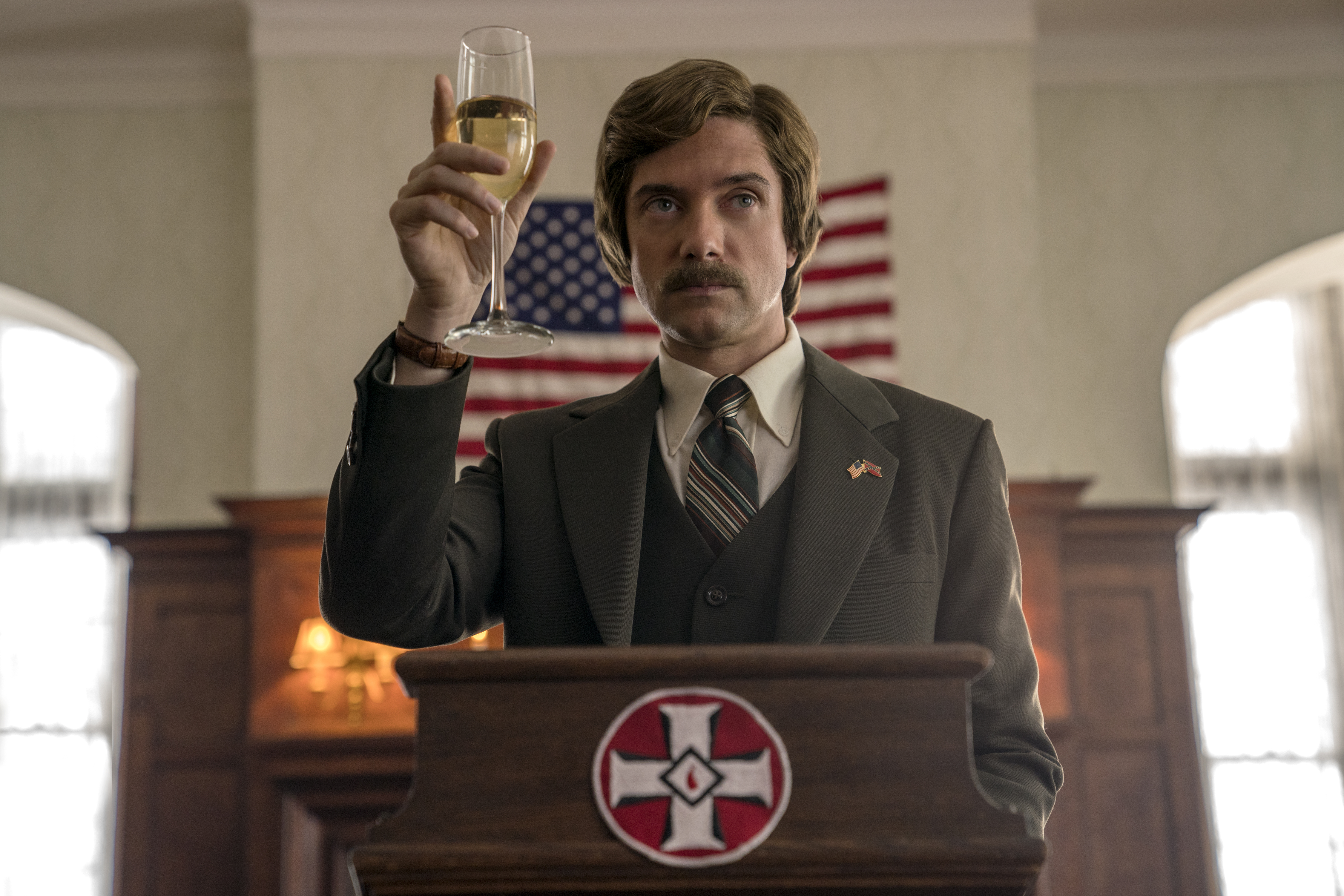 How did Angela Davis and Kathleen Cleaver use clothing during this period?
Kathleen Cleaver wore a lot of black. She ended up marrying one of the Black Panther Party founders, so that was her uniform as well. The way I dressed Patrice — and I'm sure this was a thing back in the 70s as well — I dressed her in different textures of black because I didn't want her to appear flat on screen. I mixed leathers and suede with different types of fabric, or copper and silver accessories here and there. She also wears earth tones.
Earlier you mentioned Ron's accessories. There's one scene in the film where he gives a necklace to Patrice.
Spike gifted that necklace to Patrice via Ron, if that makes sense. He said, "I want Patrice to wear this," I said, "okay." I got a really cute jewelry box, wrapped it, and it was a thing.
Tell me about researching David Duke. He used clothing to appear charming.
That's exactly it. One thing I noticed when doing my research was that he wore a certain style of tie. Even thought a lot of the pictures from that time were muted, [he wore it] in a variety of colors. He wanted to be taken seriously. He chose to wear a uniform, which was a suit.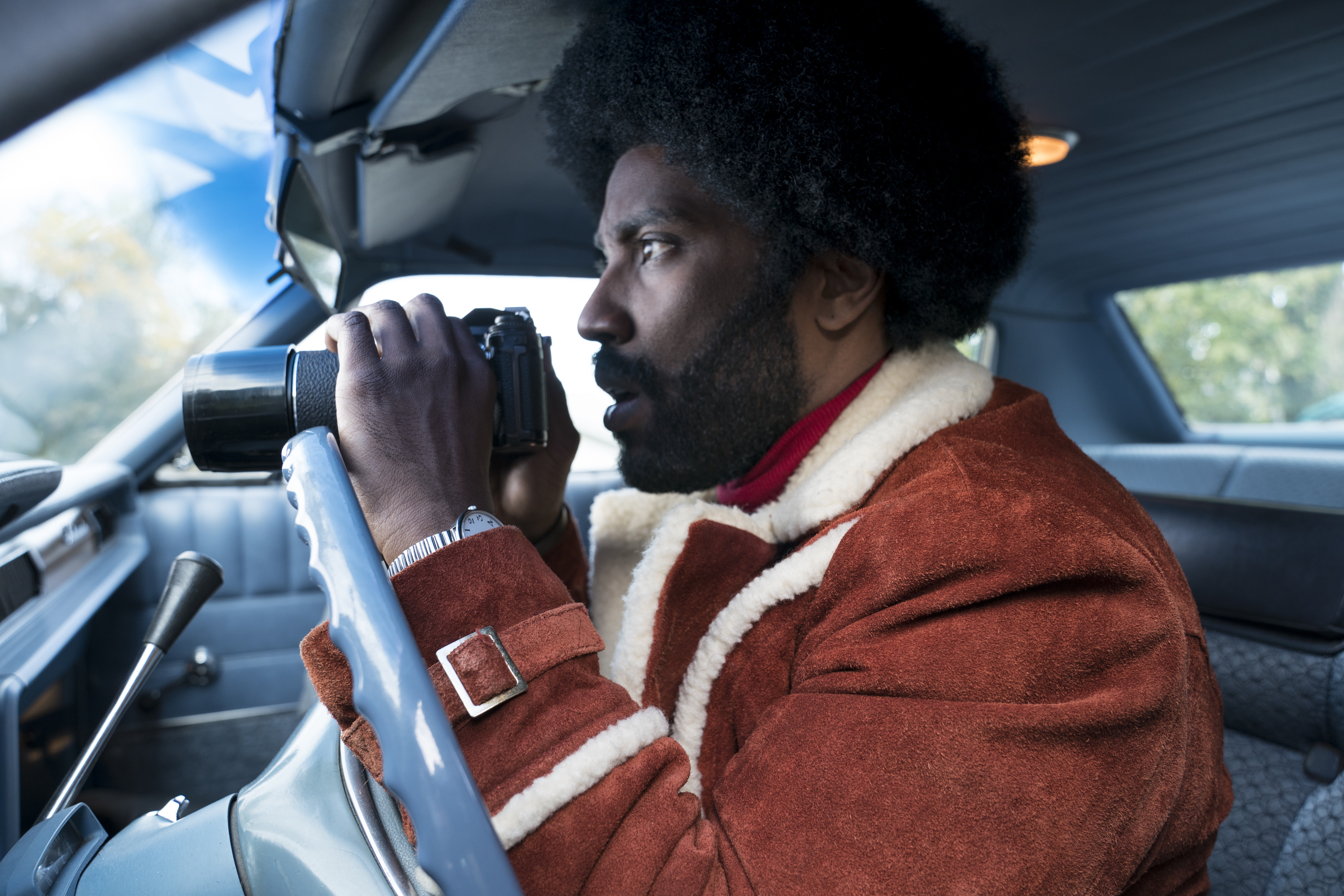 KKK costume is both ridiculous and terrifying. What was it like working with the robes up close?
When I was doing research on the Klan — obviously I'm an African-American female — I had to remove some of my emotions, and just look at it from an artistic standpoint so that I was able to portray it. It was the 70s, it was not contemporary, so I wanted to make sure it was as accurate as possible based off photos I had seen, documentaries, and research.
What was the hardest thing to source?
The hardest thing to source was Ron Stallworth's marshmallow shoes! I ended up making them.
She's Gotta Have It sourced from a lot of Brooklyn black-owned brands like William Okpo, Pyer Moss, and Defend Brooklyn. Is that normally your first-step?
This season I actually custom-made half of it. For Nola this season, half of her wardrobe was made and designed by me. For Greer this season, his entire wardrobe was made and designed by me. For Mars, pretty much his entire wardrobe was customed by me. I made the costumes for Winnie Win, who is played by Fat Joe, in collaboration with Dapper Dan.
What about for BlacKkKlansman ?
The suit that you see Ron walk out in when he's at the initiation — I designed that, custom-made that. But a lot of the cast costumes were either designed by me or sourced in-state.
Tell me about working with the actors. Laura Harrier has such an incredible sense of fashion in real life.
It was awesome. I consider myself a collaborator. I could come up with a great outfit, but I like the actors to be as comfortable as possible, so I ask questions, and ask what it is that will help ground the character when they put on the costume. They actually have to live through these clothes and the environment that the production designer creates.