Photography Harley Weir. Wales Bonner spring/summer 19.
menswear's mindful turn
The overwhelming feeling at the menswear shows this season was of logging off, finding yourself, and getting spiritual.
Photography Harley Weir. Wales Bonner spring/summer 19.
Menswear is getting spiritual. It's getting mindful. It's embracing the new age and finding itself. It's logging off, unplugging, and deleting Facebook. Menswear is in the mood for self-realizing and self-actualizing, for getting off the internet and getting back to nature.

The overriding feeling from the just-finished season of spring/summer 19 menswear shows was that the kids are getting transcendental and exploring alternative strategies for mental wellbeing. And is it any surprise? If you're a young designer the margins for failure are greater, the stresses more acute. The need for peace of mind more obvious. So this season we saw a turn to Indian mysticism, culty utopias, harmonious dreamlands, and heavenly bodies. Fashion stresses were transformed into oases of devotional calm.
This new mood is inherently, if not outwardly and loudly, political. We're a generation who've inherited a bad, fucked up world. We muddle through a geopolitical scenario that feels fatally fractured. Full of cracks that are barely bridgeable, let alone repairable.
If these designers are being quietly political it's because so much of politics just involves everyone shouting at each other. The grand gestures of activism and protest feel generally ineffectual in the face of the constant political brutalities. Our generation has spent the last decade navigating economic crashes, rising authoritarianism, environmental catastrophe. We're living through Brexitism and terrorism and Trumpism. We just want some peace. We want to be free to dream of utopias, create the spiritual uniform for a community of youthful creatives dropping out of the modern world.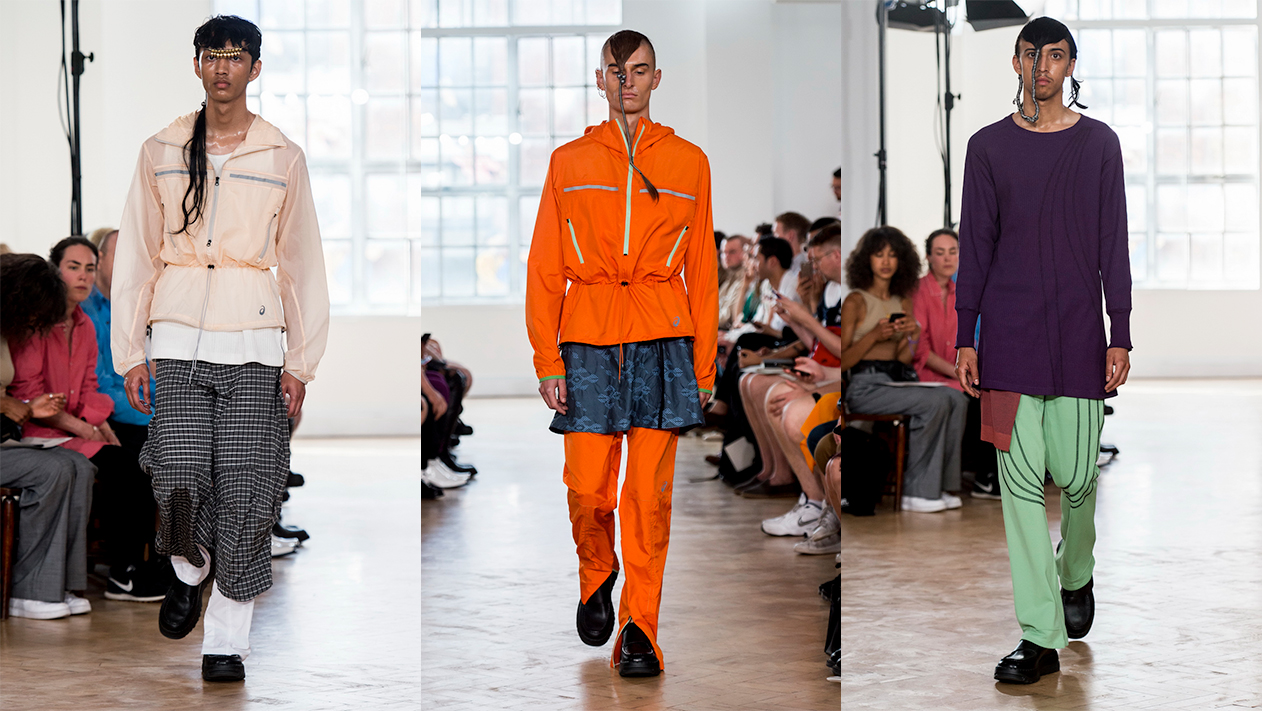 Because not only is the modern world not in a good place, it's getting worse at a frightening speed. It is hard to get a grip on one crisis before the news cycle spirals into another. And the next crisis is always something bigger. Something worse. Something harder to grasp. Our phones and computers are dams for bad news, a reservoir of gloom, and the dams keep bursting. To cope we have tried mindfulness apps, kombucha, activated almonds, digital detoxes, star signs and moon charts, and micro-dosed magic mushroom colonics. Sometimes the cure is as punishing as the disease. Sometimes we need something a little more considered than Goop-endorsed quasi-spiritual sadomasochistic wellness.
Fashion's political voice speaks in a variety of registers but it is usually all spectacle, empty sloganeering, or glamorous escapism. As if pithy one-liners printed on expensive T-shirts will change anything. As if more sequins on more gowns means anything. Menswear's nu-mindfulness is the most compelling of artistic fashion statements at the moment, because it is not really doing politics, or trying to turn fashion towards something it cannot be. It is something softer and personal and more nuanced. It is quiet. It seeks peace. It's wholesome and comforting.
This new mood takes in collections that obviously referenced the spiritual and mystical — it was explored head on by Cottweiler, Wales Bonner, Craig Green, and Kiko Kostadinov. But more obliquely we can draw a parallel with the ideas about breaking free and self-actualizing as explored by Samuel Ross in his A-Cold-Wall show, which climaxed with a performed birth, a naked man covered in red paint slipping out of a white box in a mess of fluid. But Martine Rose and Jacquemus — two of the best collections of the season — also expressed the utopian feeling of community, something hopeful that can anchor you through difficult times.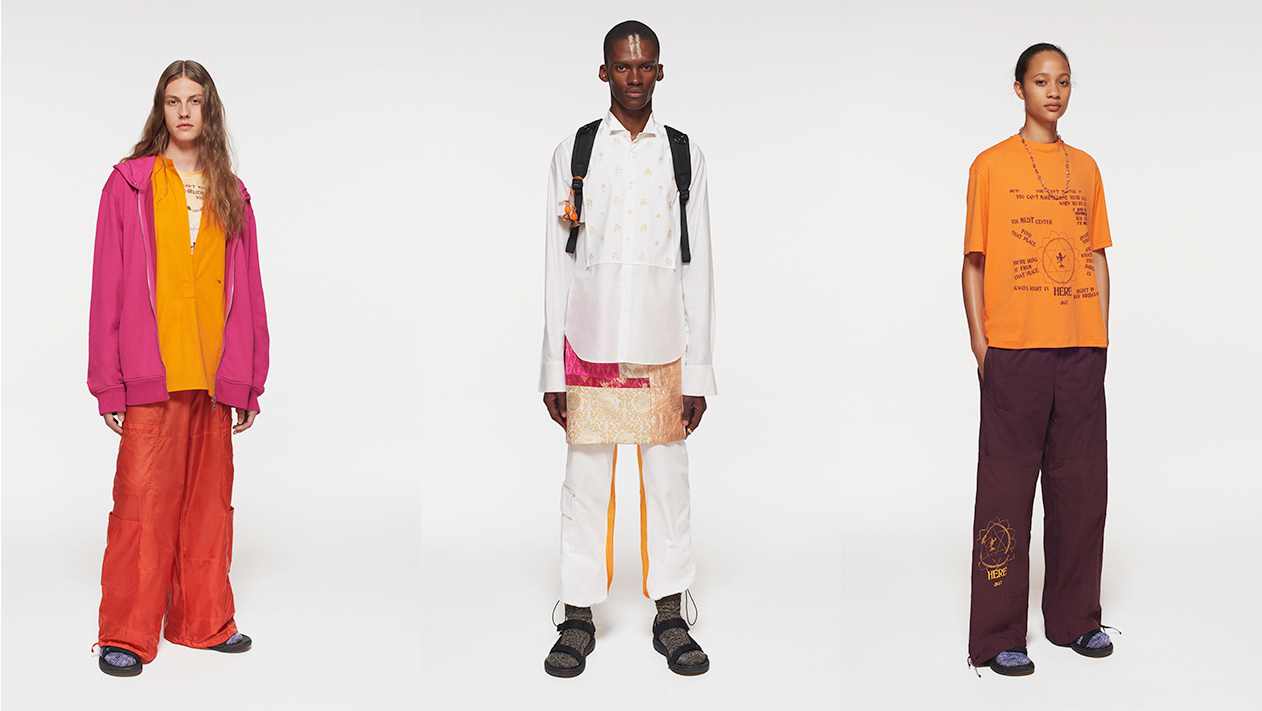 This is a broad bunch of designers to draw correlation between, but it is this stylistic breadth that makes the trend so exciting. Before this group of shows, beyond working and drawing inspiration from London, there was little to link the likes of Martine Rose's rave-dreams, Cottweiler's ecosport-futurism, and Wales Bonner's disaporic-tailoring. In fact the most surprising stylistic volte-face came from Wales Bonner, right at the end of the season. Showing her collection in a Paris showroom, forgoing the stresses of the London catwalk. Grace's aesthetic shift really cemented the nu-spiritual mood. A mix of old Indian formalism and new age Goa-hippy casualness. There were references to Ram Dass, yoga, Alice Coltrane, and a Wild Wild Country color palette. This idea of India as a divine melting pot was at the heart of the collection. There's something hopeful here, this idea of reimagining yourself, detaching from the speed and stress, reconnecting with something deeper.
Much of the inspiration can be traced back to a retreat Grace took in Goa, India. And despite the aesthetic shift, conceptually it was still rooted in the things that have always made up the Wales Bonner brand; the joins between personal and universal identities, finding contemporary relevance from historical costume, the emotional force clothing can conjure. Symbolism of the retreat is crucial, the peace of the inner-life, this search for a state of psychological peace, an island safe from the storm. That is at the heart of this nu-spiritualism.
Coincidentally, Matthew and Ben of Cottweiler also spent time at a retreat, finding inspiration for their collection this season. It was about letting the light in, finding peace, relaxing; it shifted from an opening series of dark, heavy, all black looks, before exploding into a sunshine of dusty yellows, khakis, and pastel purples. From goth to beach. Ridding ourselves out of the darkness. "Good wishes and pure feelings. A new golden age. Personal transformation and world renewal," is how the press release described it, "emotions are like waves: watch them disappear in the distance on the vast calm ocean."
Comparatively speaking, Craig Green has always been reaching for something transcendental in his shows. They've always overflowed with a quiet, emotional power. Something indescribable and inscrutable, an inability to quite work out how and why they are so affecting. This season, showing in Florence, at Pitti, he ramped it up; his signature human sculptural forms resembling angels, or an out-of-body experience. The final look was an actual vision of an angel, a religious visitation appearing on a trippy tie-dye floor-length tunic.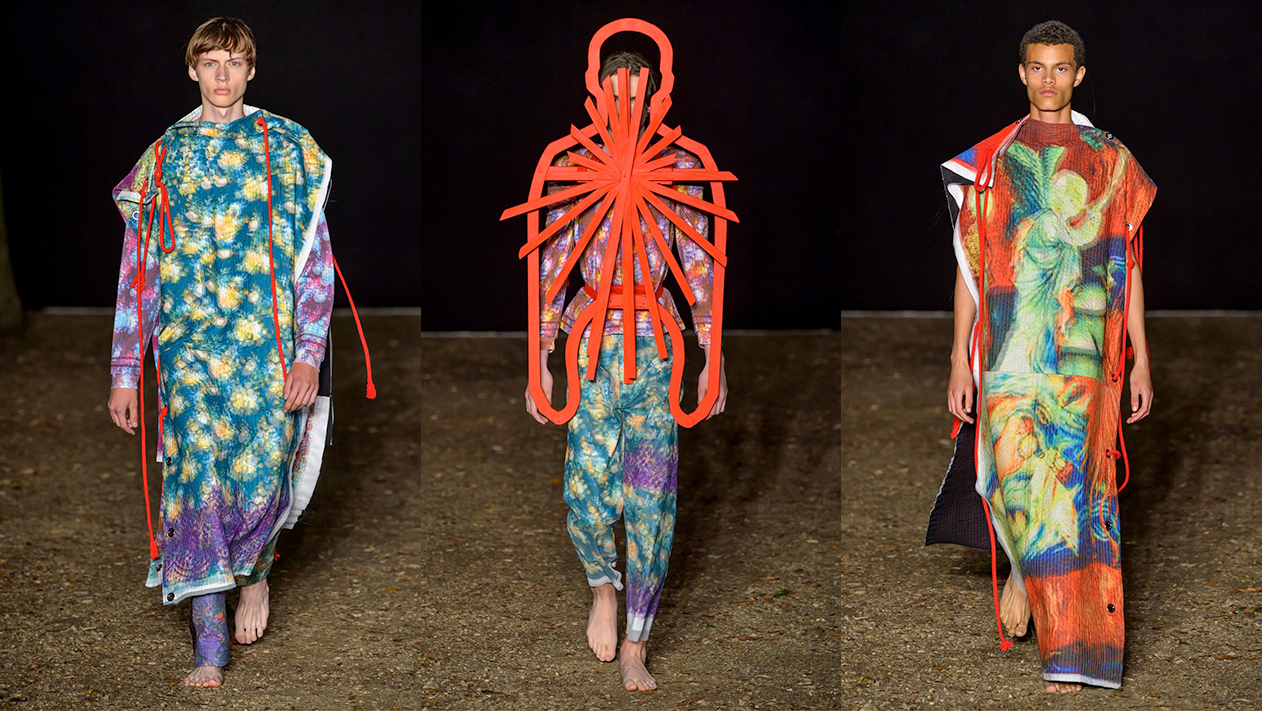 If you think there's something a little glib or satirical here, it's because we're so accustomed to the emotional meter of irony and negativity rather than openness and acceptance. Off the shelf Goop-bought cures for your existential midlife malaise. Can you talk about feeling spiritual without being sniggered at? Or without couching it in something ironic or non-committal? These designers are presenting it without sarcasm, talking in honest terms about it, proposing creative solutions to the political problems of the age. It's what we need.
This article originally appeared on i-D UK.