Photography Mark Florquin.
flora miranda uses computer data to create couture
She scans gowns from the 1800s to produce her fantastical dresses.
Photography Mark Florquin.
In a dark room at a hotel not far from Place Vendome in Paris during Couture Week, a trio of models were wearing alien-looking gowns with otherworldly woven textures and graphic spikes. At first glance, one might think the dresses were 3D printed, but the emerging Austrian designer Flora Miranda's executed them using a totally different concept. "This is completely threadwork," said Miranda, while motioning to one of her sculptural, intricate 3D scanned dresses. "On each node, there is a thread, and we go around it with thread, building up in layers and then we painted it in silicone which resulted in it being sculptural but flexible at that same time," she explained.

Her collection included six highly detailed looks scanned from historical garments of Austria — including a 1895 coat worn by the princess Stephanie von Belgian, revived in in the form of an alien-like textured dress. While in school at the Antwerp Fashion Academy, one of the first things she was told was to look at historical references rather than other fashion designers' work when creating. With that piece of advice, Miranda started thinking about the context of what makes something "historical," and thus pushed herself to create her latest collection called "Ready to Die".
This isn't the first time to Antwerp-based designer has gotten experimental with fashion tech either — last fall she also built an application that designed knitwear based on individual users' online data and behaviors. According to Miranda, she's also working on "ready-to-wear pieces that are working with visual data."
We spoke to the rising designer about her creative process, working with computers in fashion and more.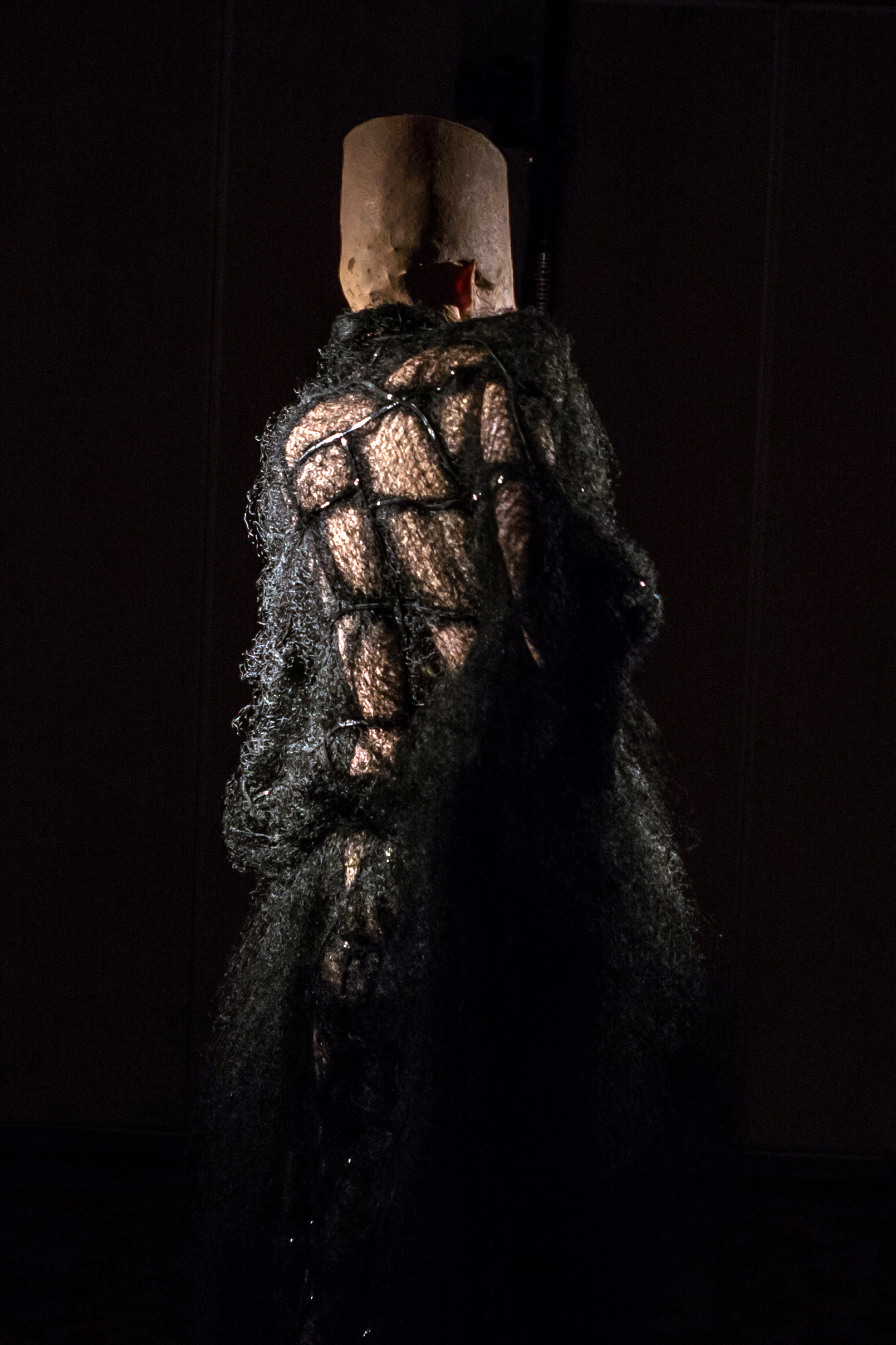 How does the theme of 'Ready to Die' relate to the process of creating the collection?
The collection is based on digitalizing and reviving dresses that are in museum collections. We already looked for key pieces in fashion history that we would 3D scan in museums, and then we wanted to see what would happen with the computer seeing them. We recreated dresses directly out of the computer. For example, this is a dress from the Austrian court in the 1800s. It's a Belgian princess who was wearing this as a morning gown.
We put the dresses on a mannequin in the museum, then we 3D scanned them. It's basically a 3D picture that you take, then we let the computer generate topography on that image which is then a direct copy, just digital. We developed techniques at the same time that helped us get that structure out of the computer, but it's all manual techniques.
Why do you opt to show on the couture calendar?
For me, it's a decision where I see space. I see space for an artistic process and you can take the time to create inspiration and step out of the completely commercial and mass thinking. I think now, avant-garde hasn't actually existed that long in fashion. I think currently this is where couture gives the best platform. With fashion tech, how do you show that on an established platform?
Where do you get your ideas from?
The time I'm living in. Exchanging with people and lots of art.
You previously worked under Iris Van Herpen—what was that like?
I enjoyed it a lot. I was very happy that I could immediately work with her right after my studies because I thought I would be the last one in my class to get a job, and I was the first. I was very happy because I could learn a lot of techniques there. I think you can never stop learning and finding new ways of making.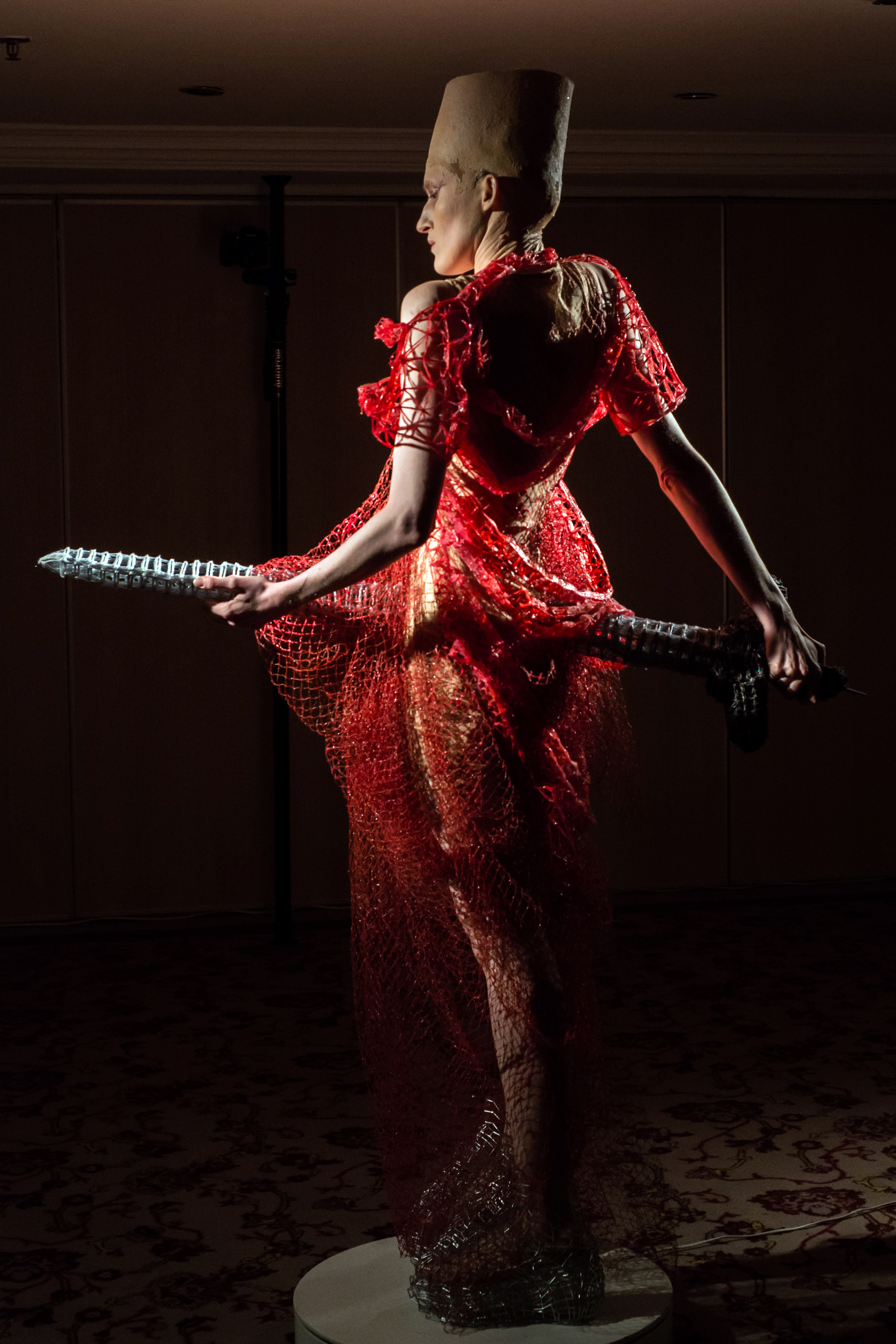 How did you work with data last season?
It wasn't as direct, it was more in the thought of what is surrounding our body between the next object — like the invisible space and the thought of what is data. It wasn't working with the data process, but it was more thinking about how we're so busy and visualizing that.
Did you come up with the prosthetic makeup concept and wire shoes?
Yes, I did. The basic idea is that there is no brain. It's an empty head. You can look inside.
The shoes, as well as the dresses, are 3D scanned historic pieces. We 3D scanned the '90s chunky Buffalo shoe. It's also about whatever happened yesterday is already history.
What is your goal as a designer?
The goal is definitely to find out new processes of making, to research for materials and ways of thinking about the body. Imagining beauty in alternative ways, but also a lot about the making process, and to take the freedom and serve to the masses with research with an artistic statement. What is fashion?
With this collection, it was very interesting to observe what we think the computer can do. That's generally what I find out again and again in my work — the difference between what we think the computer can do and what it actually does do. I find out with machines, and I'm very curious about that. Your own logic is not what the computer does — but you can't tell them to do that. That's always a big challenge and interesting to find out what's possible.