we tried the five most popular diy facemasks on instagram so you don't have to
Mask on, fuck it, mask off.
Do you follow women on Instagram that are fully on top of their bullshit? Girls who guzzle through kale, wear silky pyjamas and have eyebrows so sculpted Da Vinci would have taken them on as his drawing apprentice? Then chances are you will have seen them grinning in homemade face masks - those seemly vile mixes of smushed up green vegetables and powdered herbs stuck over their faces in an apparent attempt tp look like a grass verge.
Well, rather than spending ludicrous amounts of money on skincare that doesn't do half the things it says it will, there is a DIY alternative. For one, all you need is a big Sainsbury's shop. Plus you'll be helping the planet (unlike much mass produced skincare, the ingredients for these are free from microbeads and other harmful chemicals).

But before you go and rub Turmeric all over your face, stain yourself Lisa Simpson yellow and have to pull a sickie tomorrow in order to hide indoors. I am going to road test the most popular masks on Instagram to see if my skin turns into the glowy, clear, dazzling base I always knew it could be.
1. Turmeric face mask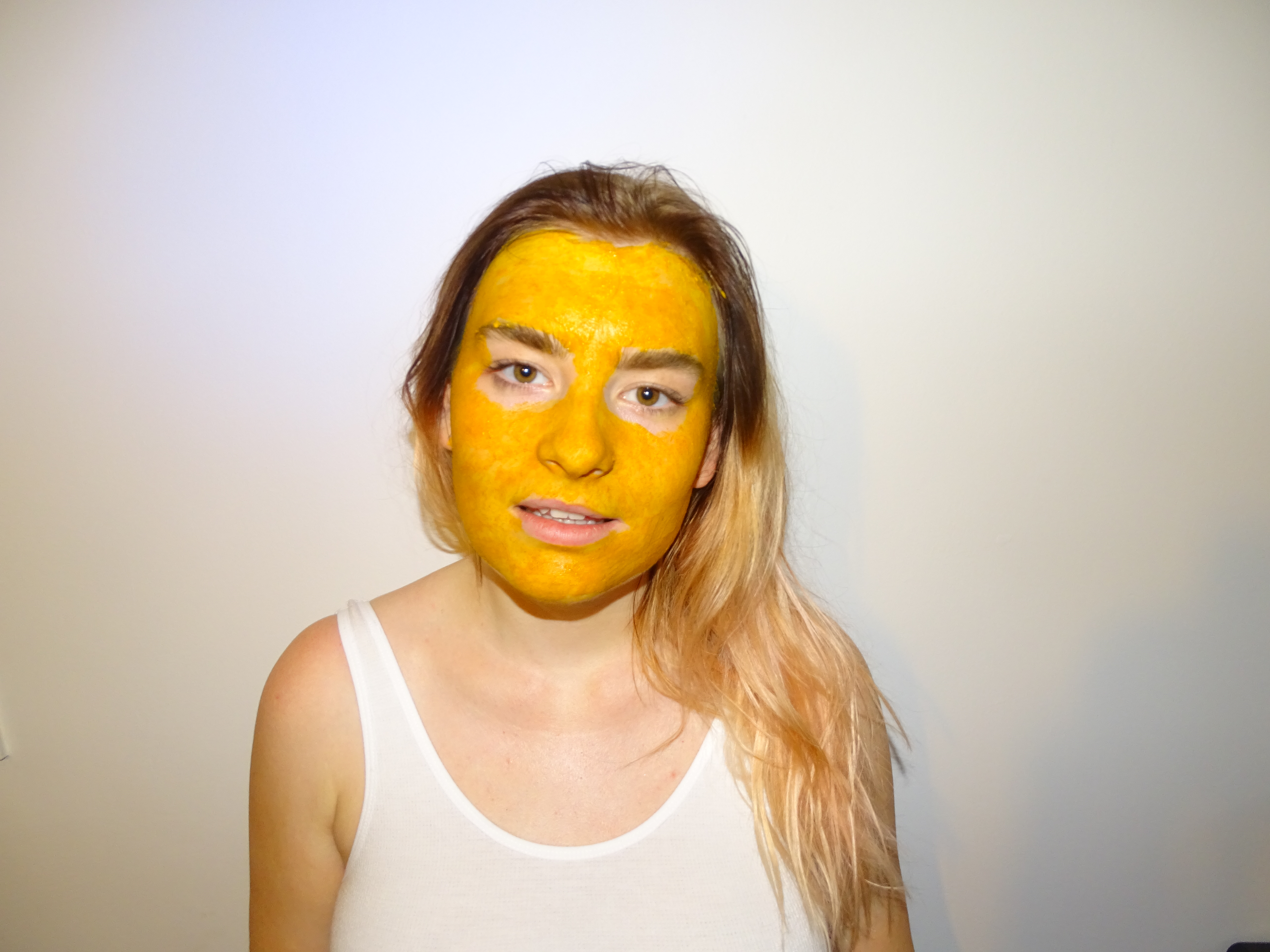 Ingredients
1 teaspoon of turmeric, 1 teaspoon of raw organic honey, 1 teaspoon of natural yoghurt, 1 teaspoon of lemon juice.
Method
Mix all the ingredients together and apply to your face for 20 minutes.
Theoretically this mask will drag me into goddess territory: Turmeric contains fatty acids and phytosterols which have been observed to reduce excess skin oils. Honey is a moisturiser and the lactic acid in yogurt dissolves dead skin and tighten pores. It can also reduce dark circles and puffiness because of its anti-inflammatory properties. The acidity in lemon cleans pores without stripping the skin of its natural balance whilst high amounts of zinc make lemon a potent cure for acne.
As I rubbed the mask into my skin the powdered turmeric felt gently exfoliating which is good for getting rid of dry skin and unclogging pores. I didn't feel any nasty stinging like you do with store bought face masks packed with chemicals. The sort that burn out blackheads but also decimate your cheek skin along with it. When I rinsed the mask off my skin was noticeably brighter, but it's difficult to determine whether this was because there was a subtle layer of yellow coating my skin. This actually works for my complexion because I have a rosy undertone to my skin, which the turmeric balanced out, much in the same way people use pale yellow primers to counteract redness before applying foundation.
3/5
2. Egg yolk face mask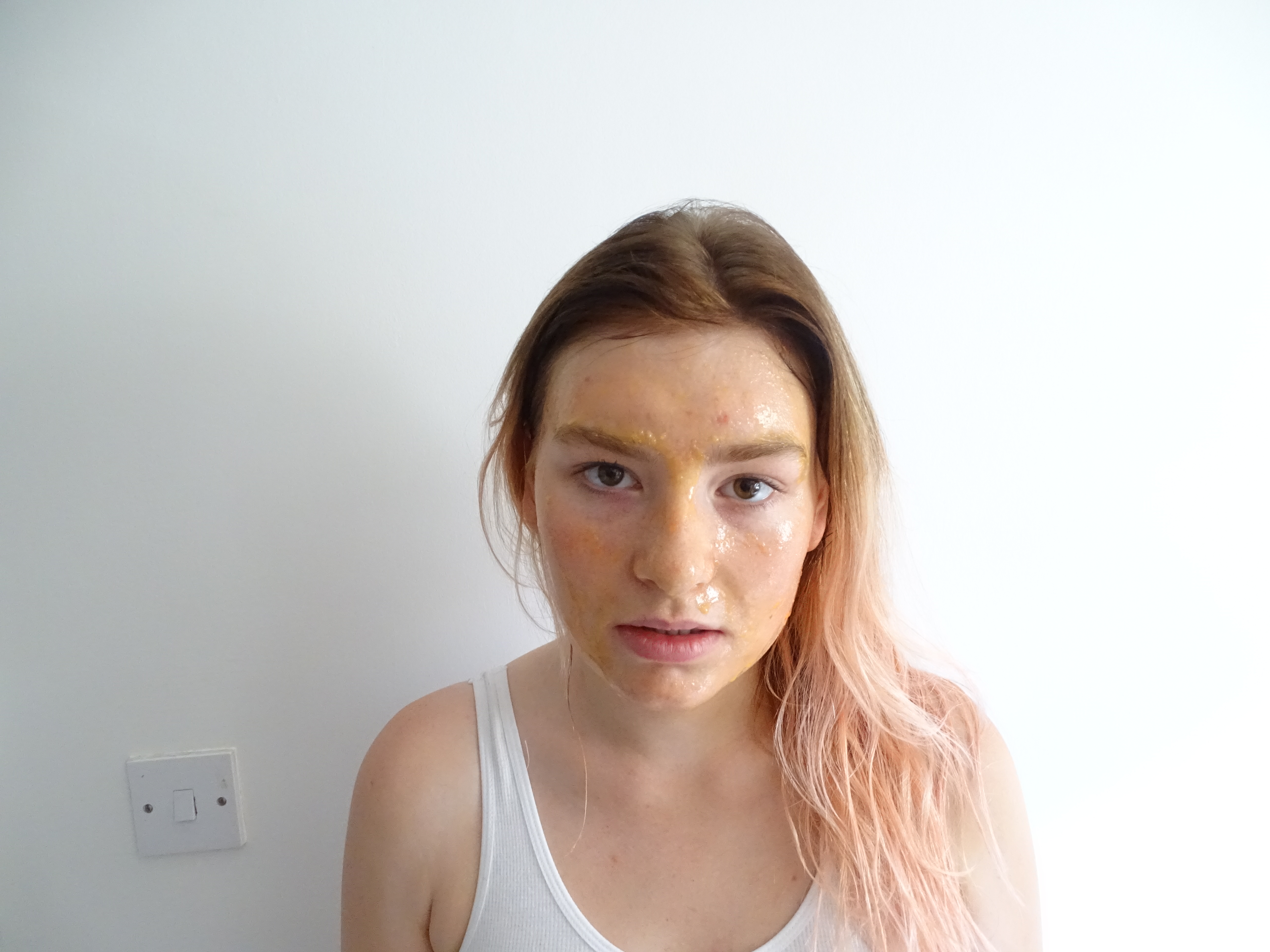 Ingredients
1 egg yolk, 1 teaspoon of coconut oil, 1 teaspoon of olive oil, 1 teaspoon of honey.
Method
Mix all the ingredients together and apply to your face for 15 minutes.
I was apprehensive about applying olive oil to my face, but according to skin geeks, unlike commercial moisturisers that often clog pores, olive oil penetrates deeply into the skin while providing a cleansing effect. Meanwhile egg whites have astringent properties that tighten skin and also a high protein content which nourishes skin.
This was honestly disgusting, but it was worth it. After washing the mask off my skin felt soft and pillowy and my pores were practically non-existent as though they had been vacuumed tight. I keep telling myself I will apply apply this again but, honestly, will I? The wet, warm smell of egg soaking into my pores is gross and now gives me nightmares.
3/5
3. Avocado mask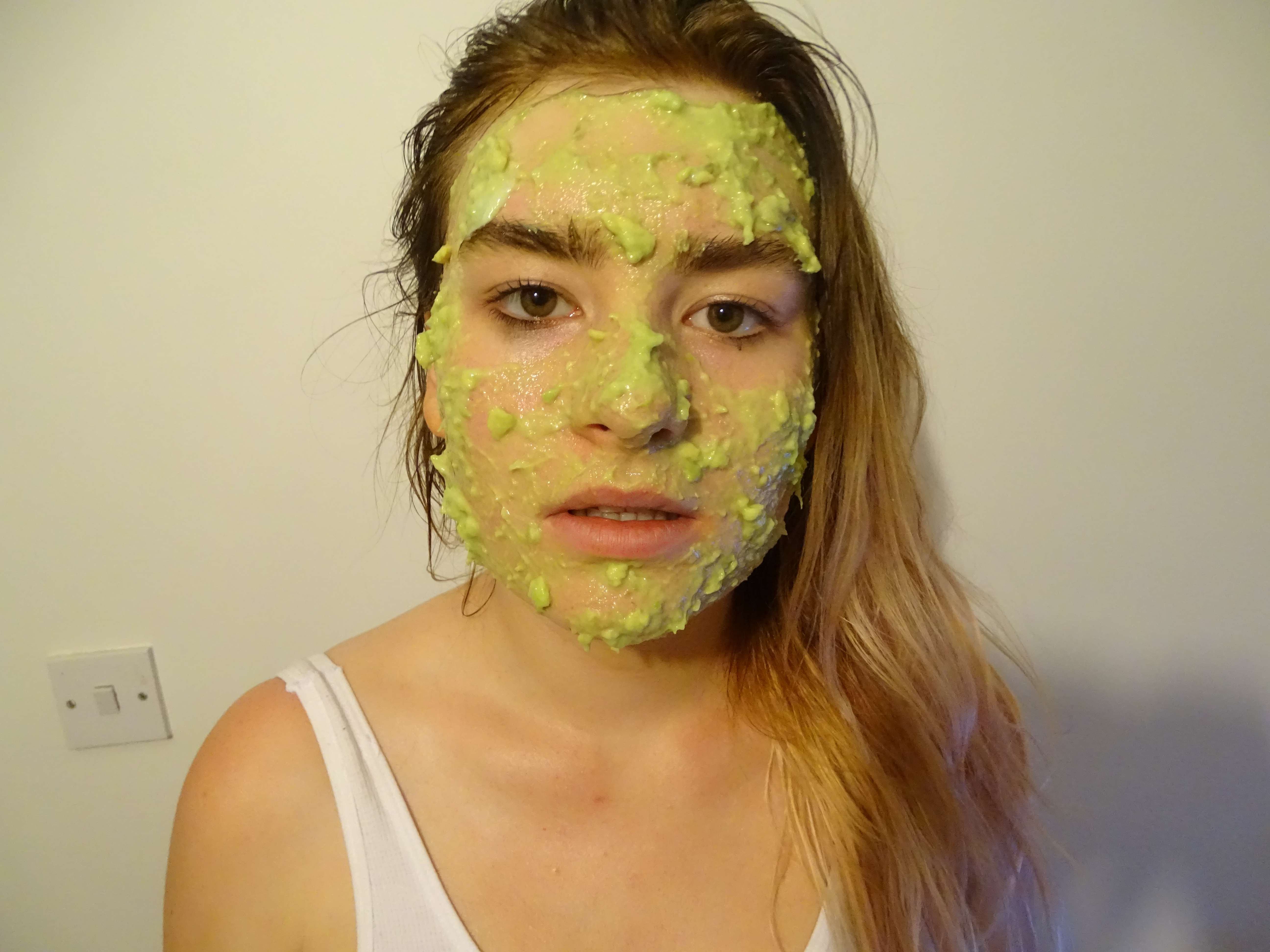 Ingredients
1 teaspoon grated cucumber, 2 teaspoons avocado, 1 teaspoon honey, 1 teaspoon yogurt.
Method
Mix all the ingredients together and apply to your face for 20 minutes.
The fatty content in avocados works as a great hydrator and so with the honey and yogurt my skin should appear bouncy and youthful like a Love Island contestant's arse.

I might have worn a cold salad on my face, but the cool refrigerated food was bliss in this heat. My skin ended up looking super dewy and rejuvenated. This would work wonders for a hangover. I looked as though I had put on a brightening primer but it was actually just light radiating from my face.
4/5
4. Green tea mask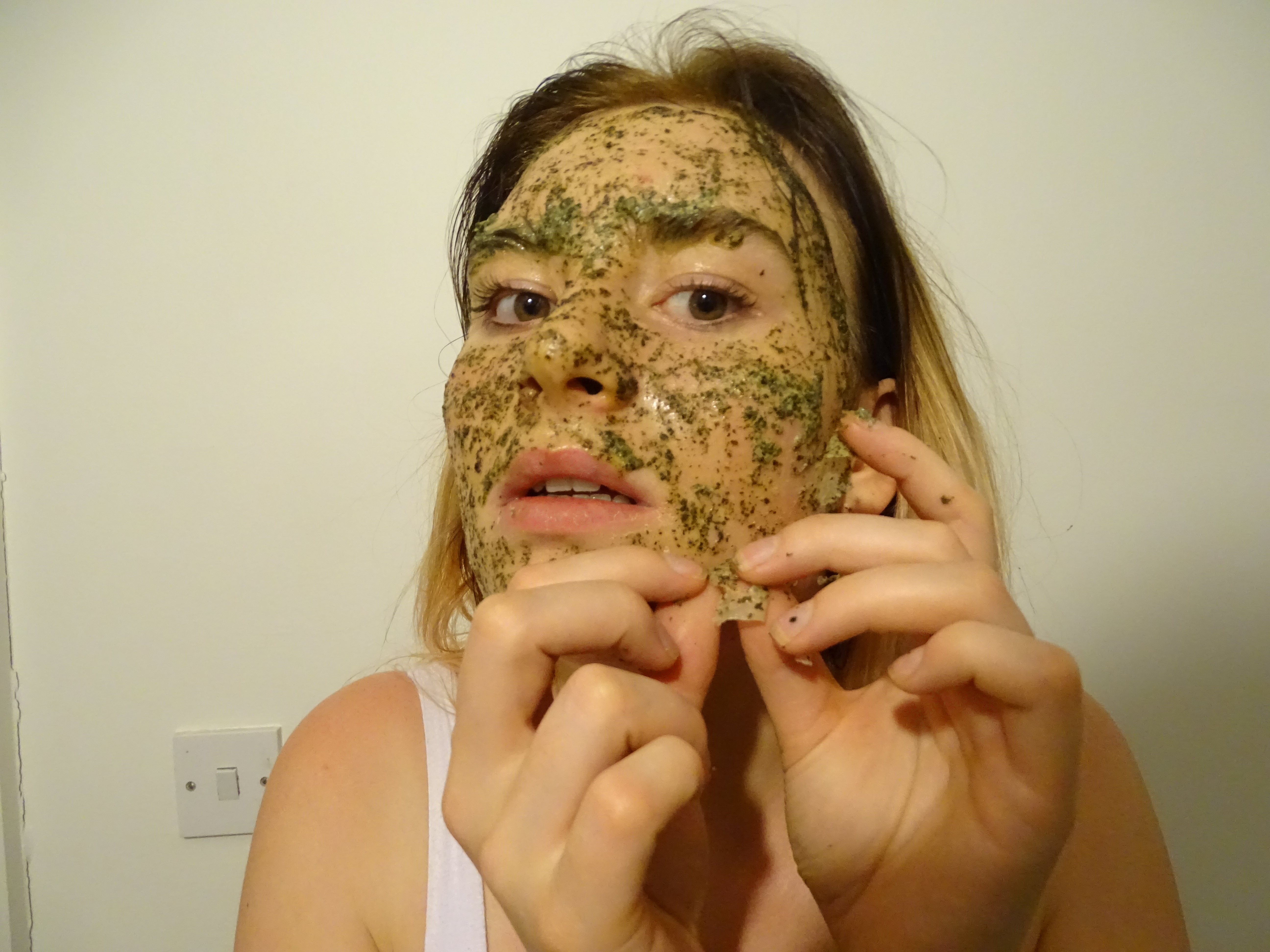 Ingredients
Hot water, 3 bags of green tea, half cup of milk, 1 bag of Gelatin.
Method
Leave the tea bags on the hot water. Bring the milk to boil and add the gelatin, mix it with 5 teaspoons of green tea and add the green tea from the bags. Let it cool for a little bit. Apply to your face. Leave for 20 minutes or until dry. Peel off and wash with warm water.
Green tea is loaded with antioxidants which fight inflammation and bacteria and it's been found to reactivate dying skin cells. The tea also helps to reduce the production of sebum (the skin's natural oil) by the glands in each pore. This makes it a better solution than harsh conventional treatments for those with oily skin, which work by removing excess oil, rather than by reducing production. Gelatin is a rich source of collagen, which is vital for skin elasticity, tone and the continuous renewal of skin cells. Milk is moisturising and contains AHA (alpha hydroxy acid), the anti-ageing ingredient in expensive skin products. Mariah Carey even bathes in milk due to its skin saving properties.
It was actually really hard getting the formula of this mask right, it ended up too runny because I put loads of milk in the mixture and I should have let it cool to a gloopier and thicker consistency.
Maybe it was because I had to heat up this mask in a pan that normally has baked beans in it? Maybe I was going to break out anyway because I am coasting dangerously near my period? Either way, this mask made me break out real bad. Initially, after I pulled off the mask I had literally no pores, you just couldn't see them at all, my skin looked like spongy velvet. But the next morning I had three huge under skin oil spots, the sort that never go away, but just lurk under your skin hard and stingy. Would not recommend unless your skin is very dry.
1/5
5. Gelatine peel off mask
Ingredients
2 teaspoons of hot milk, 1 teaspoon of unflavoured gelatin.
Method
Mix all the ingredients together until they form a creamy paste. Apply a thick layer to affected areas for around 20 minutes before peeling off.
No that is not sperm on my face, although I wouldn't put it past some Instagrammer to recommend applying that to skin in the pursuit of beauty. This gelatine mask is a DIY version of those pore masks that are everywhere online, but way cheaper. When you peel it off weeks worth of foundation gunk, muck and blackheads come with it. It was as satisfying as popping bubble wrap. I just want to do it again and again and again (and again). Bury me in a gravestone with enough equipment for a DIY porestrip so I can shudder with the pleasure in the afterlife.
5/5