behold lady gaga's iconic wail in this music video from 'a star is born'
Bradley Cooper is in it too.
|
27 September 2018, 6:52pm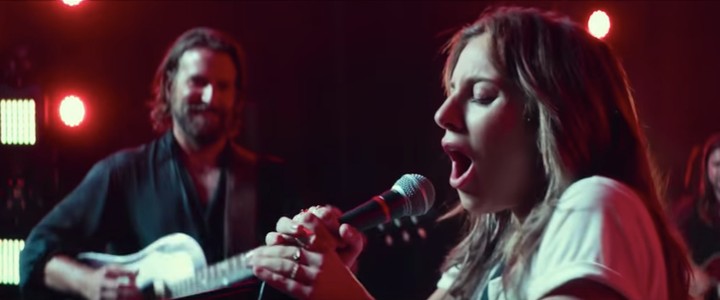 Still via YouTube
There are songs that slowly seduce you with the lyrical equivalent of fine red wine, and there are those that immediately slam into your deepest core like a shot of fireball whisky. Lady Gaga and Bradley Cooper's A Star is Born hasn't even been released yet, and the first release off the soundtrack is definitely the second kind of song. "Shallow," which you might know as "The 'HAAAAH AAAAAAAAH AAAAAAAAAH!' Song" is a wig-snatching country banger featuring one of the majestic wails of Gaga's career. The song — technically a duet — was first teased in the trailer for A Star Is Born, but now has the official music video it deserves. This accompanying visual is an emotional montage of scenes from Gaga and Cooper's volatile on-screen relationship, culminating in the aforementioned, already-iconic wail. It's so epic that Gaga even makes herself cry. Luckily Cooper ambushed her with a makeup wipe prior to filming.
"Shallow" isn't the only song on the A Star Is Born soundtrack, though it certainly could be! In fact there are 19 songs and 15 "dialogue tracks," according to a press release, following "the musical arc and romantic journey of the movie's two lead characters: Bradley Cooper's Jackson Maine, and Lady Gaga's Ally." A Star Is Born — the film and the soundtrack — comes out October 5.
Tagged: