Photography Mitchell Sams
"we push back against this idea that tailoring is over" – dior homme and the new new look
How Kris Van Assche raised the Bar.
|
21 January 2018, 12:55pm
Photography Mitchell Sams
After spending over a decade as creative director at Dior Homme -- and a further four years with Hedi Slimane before that -- the boundaries between the past and present of Kris Van Assche and that of the house that Christian Dior built in post-WWII Paris are continually blurring. "I grew up here," the Londerzeel-born designer explained as we sat inside his atelier to preview his autumn/winter collection 18. As his own nostalgia for 90s clubbing and love of sportswear fuses with his deep underlying respect for the shapeshifting DNA of Dior, there's a real sense of coming-of-age in his recent collection. Van Assche is making this storied house his home. Both custodian and renovator. For autumn/winter 18, echoes of Monsieur Dior, Dior Homme and Kris Van Assche reverberate throughout the collection to create a new hit melody for today.
"There's a great deal of noise today -- sportswear and luxury hybrids, high versus low versus mass-market -- that it can be easy to lose sight of what you stand for. We ask ourselves this constantly at Dior." To escape the incessant buzz from neighbouring houses, Van Assche confessed to spending eighty percent of his life in his atelier. Here, he applies the rigorous and established codes to his own vision of modern menswear, balancing the vibrancy of youth-shaped subcultural energy with the luxury and artisanal skill of its master tailors. Sportswear is very much a part of it but Van Assche's aim is always to elevate while staying close to home. "When you look at my first show for my eponymous line thirteen years ago, it was about mixing traditional tailoring and craftsmanship with huge baggy trousers and sneakers," he explained. "It's what I like but the fact that we have the atelier downstairs and a vast archive to explore means we can refine these elements and take these ideas to the next level. I feel as though it's a duty to show just how great tailoring can be."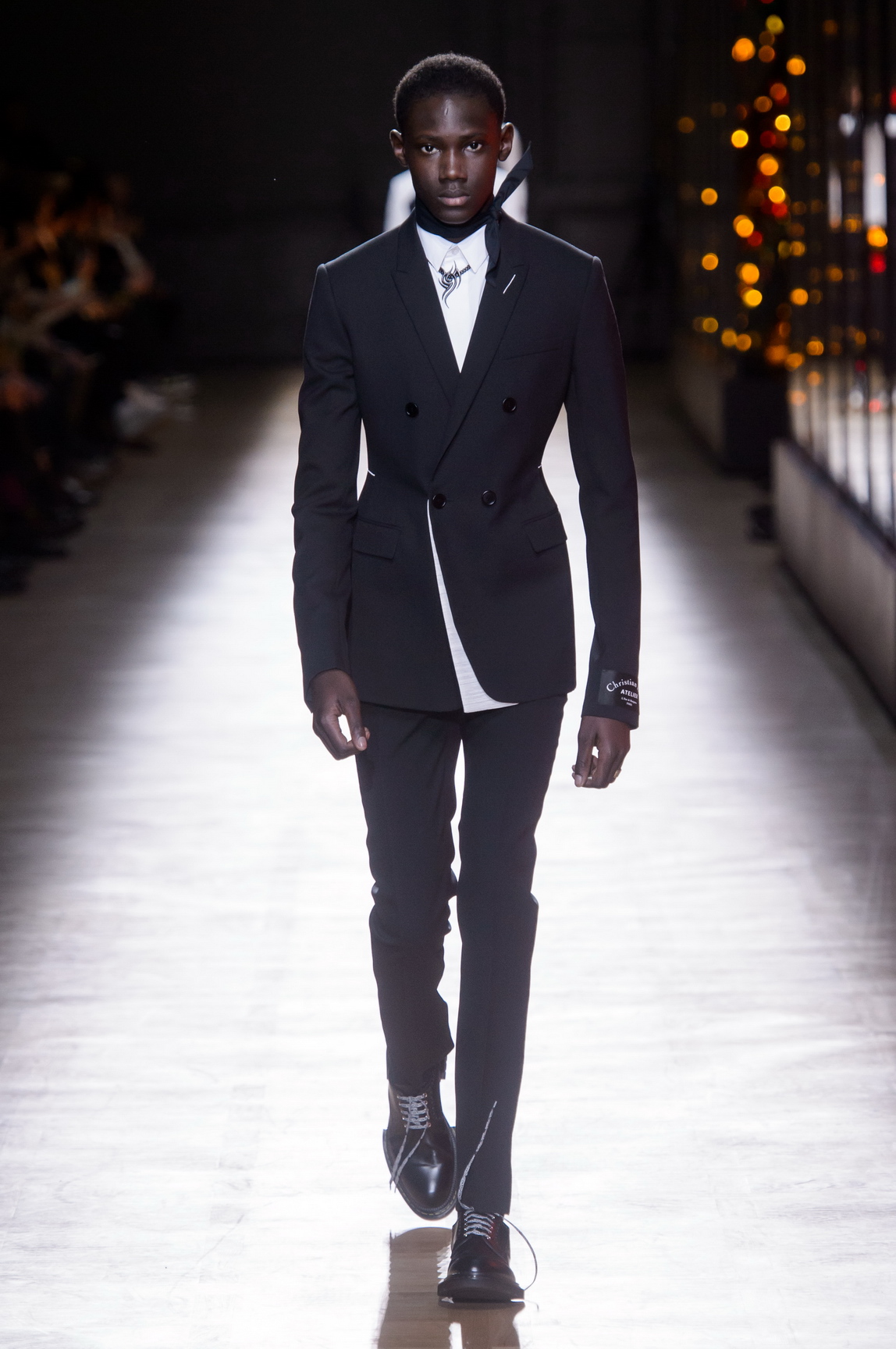 For autumn/winter 18, this demonstration builds on the narrative of spring/summer 18 that saw Van Assche reconfigure Christian Dior's New Look into a menswear silhouette fit for the 21st century. "It's about using elements of the iconic Bar jacket -- a Mr Dior legacy -- but push it further," he excitedly explained before pointing to the archive black and white images that inspired his new New Look. "It started with Mr Dior bringing men's tailoring into the world of women's fashion. Now we've got the women's DNA inspiring the men's, so we've come full circle," he explained. The Bar jacket has lost none of its power. The sharply sculpted curves and cinched waist have a transformative power. "I'm wearing one to the show and tried it on for the first time this morning and woah, as soon as you slip your shoulders in, you feel the difference. You change your attitude." And attitudes are just what Van Assche aims to change. "All of the cool-kids that come in their loose streetwear clothing try on our suiting and they love it. It's very charming. That's the point. We push back against that tailoring is over and everyone is only wearing loose oversized garments. This talk made me want to underline the DNA of the brand as something very structured, vigorous and body conscious."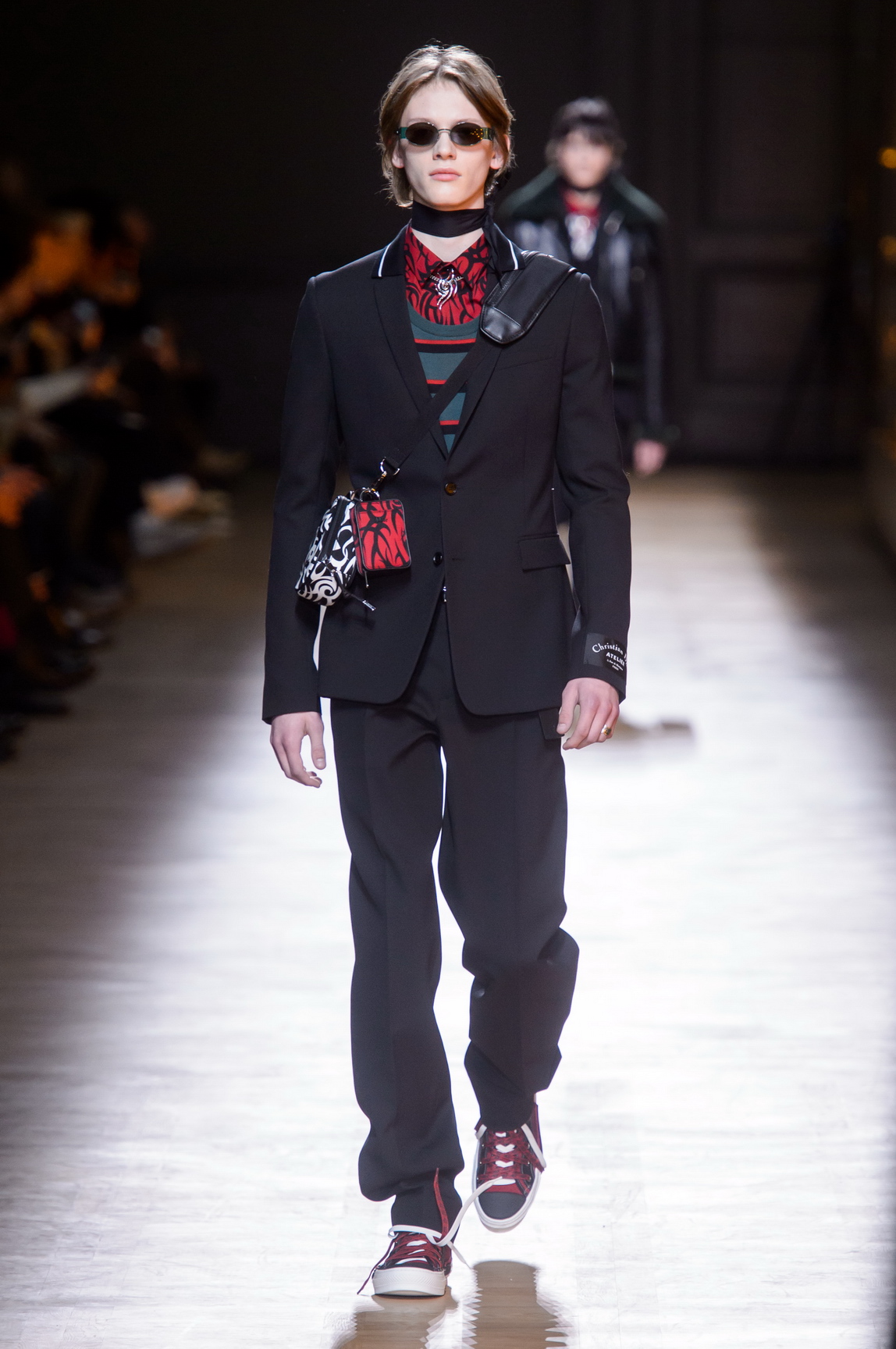 "I admire Mr. Dior's approach," Van Assche added, "the way he wanted to make people more beautiful, sharper and elevated during this period of war." In today's turbulent political landscape with its seemingly constant 'it's the end of the world as we know it' threats, the softly spoken talent is focussed on continuing this desire to elevate while staying to himself. "Of course, I love elements of streetwear too. We insist on standing for both."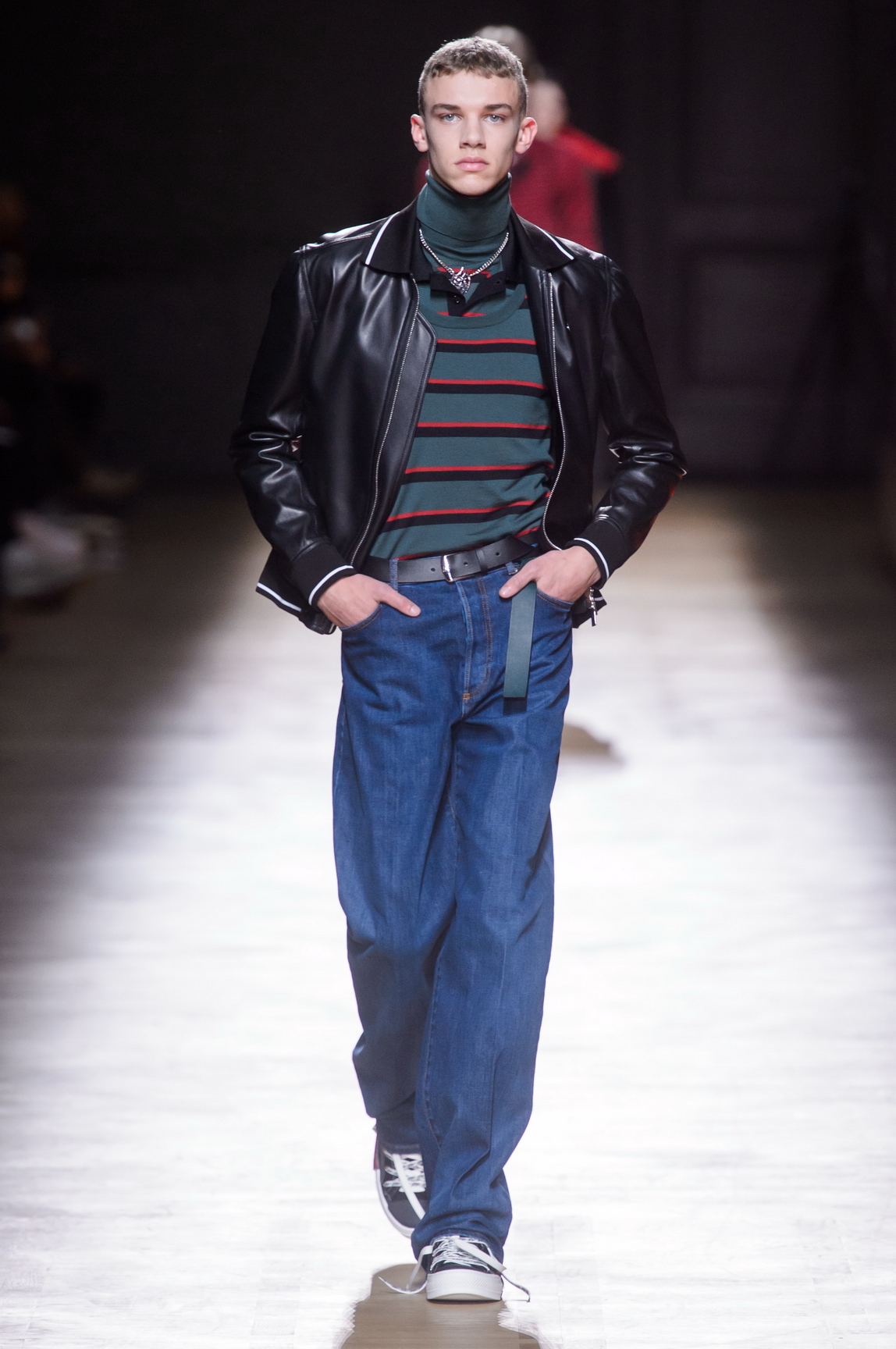 "With youth, the freedom to embody an ideal with reckless abandon," read the autumn/winter 18 show notes, "with age, a sense of looking from the outside in." His answer to this introspection is to fuse his own 90s clubbing nostalgia with the sharp sartorial finesse of the atelier. The result is an age-old tension between two generations. "It's about a youth culture fighting against classicism," Van Assche explained succinctly. Carefree clubbers against the careful city commuters. They might jostle for superiority but the two can not only co-exist, the push the other forward. Beyond the garments themselves, this was demonstrated in the casting as vintage models walked side-by-side with today's freshest faces.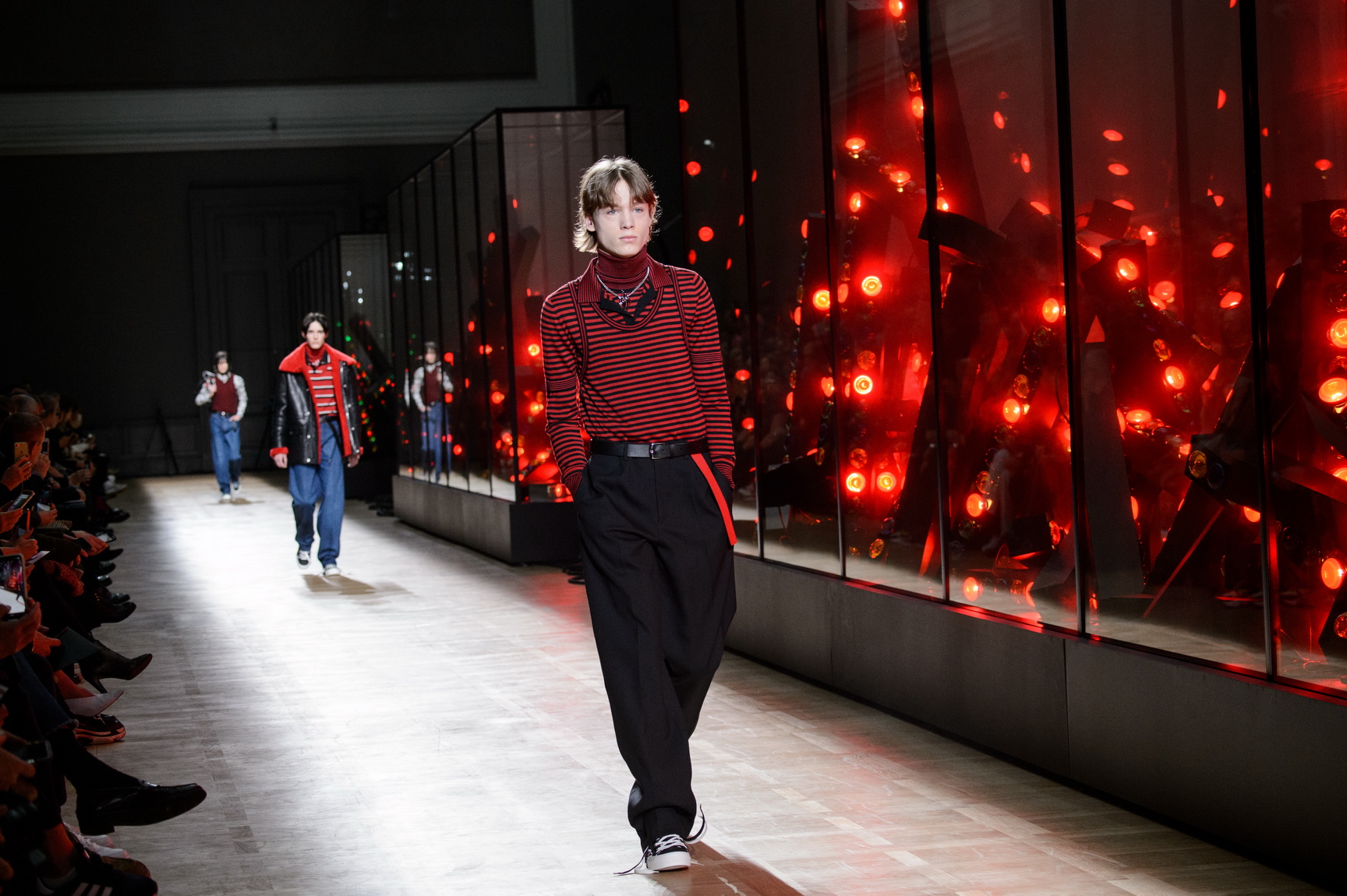 "There are many 90s streetwear references," Van Assche explained as he led me through the rails of the collection's secondary story. "There's an element of playing the good-taste of the legacy against the bad-taste with those tribal tattoos that some people might regret," he added with a laugh. Without the need of a appearance on Tattoo Fixers, the ink sneaked in as an all-over flocked print on tailoring and shirting (and shaved into scalps thanks to Anthony Turner) they become something quite different. "When I was growing up, you were either a new wave dark romantic kid or you were a clubber. For me, the tribal stands for the clubbing but it always has to be elevated. In these colours, it almost looks like a New Romantic shirt. I'm able to mix both, it's about layering influences and pushing them forward."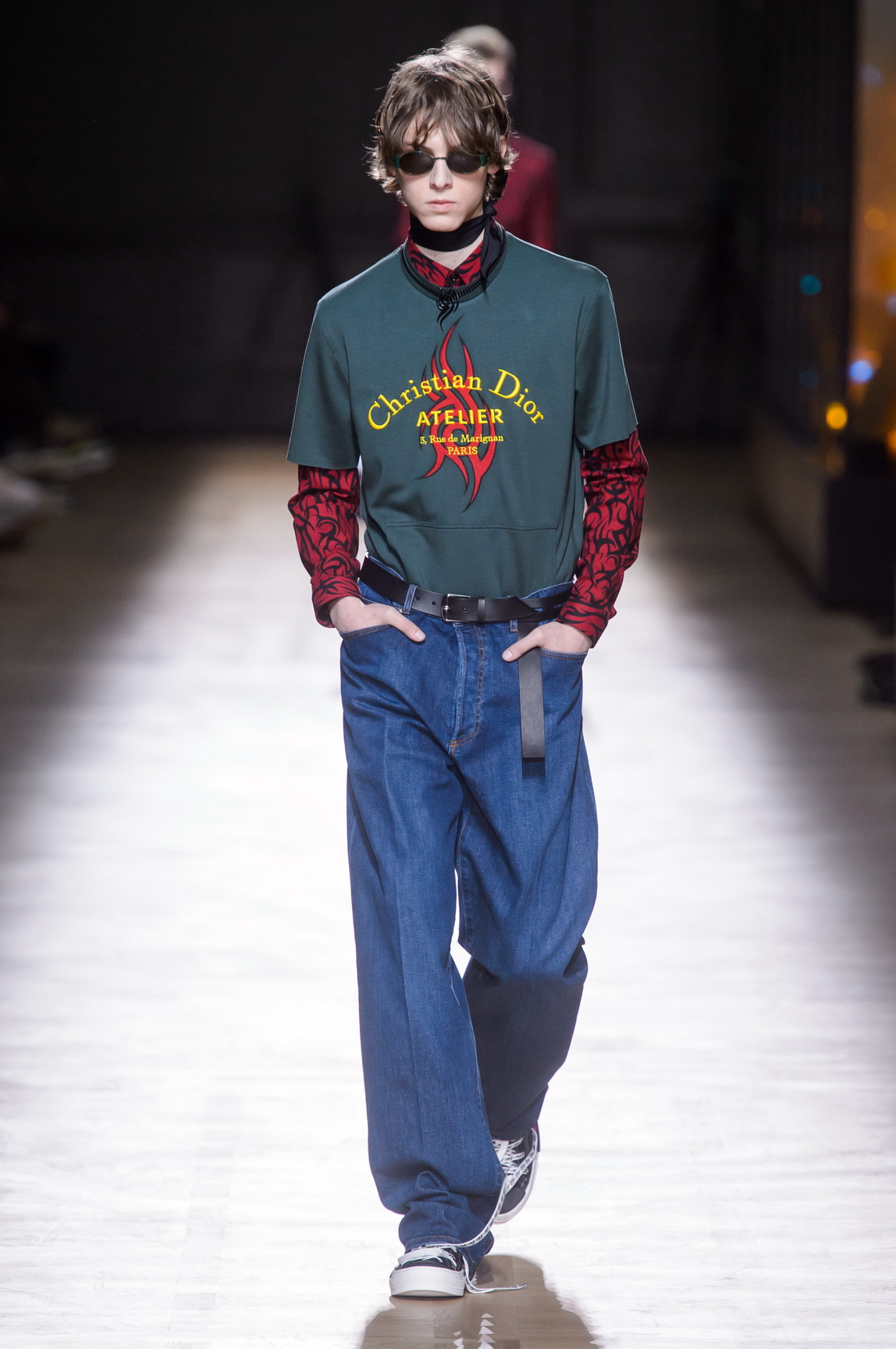 Across these autumn/winter 18 men's shows and recent seasons before them, there's been no escaping a renewed 90s nostalgia. From the baggy denim to layered T-shirts and oversized scarves, Van Assche embraced his own rose-tinted memories. "The 90s are always a key reference because that when I started to go clubbing. The show is called Forever Young and it's me looking back to my teenage years with a degree of romanticism, me being 40-something now but still forever young. It's about taking those good memories and updating them for today." As the soundtrack blasted Alphaville's 1984 classic with a megamix of 90s and 00s pop and club songs -- taking in everything from Take on Me to Pump the Jam -- the optimism that is so tightly bound with you was infectious. Let's all be Forever Young.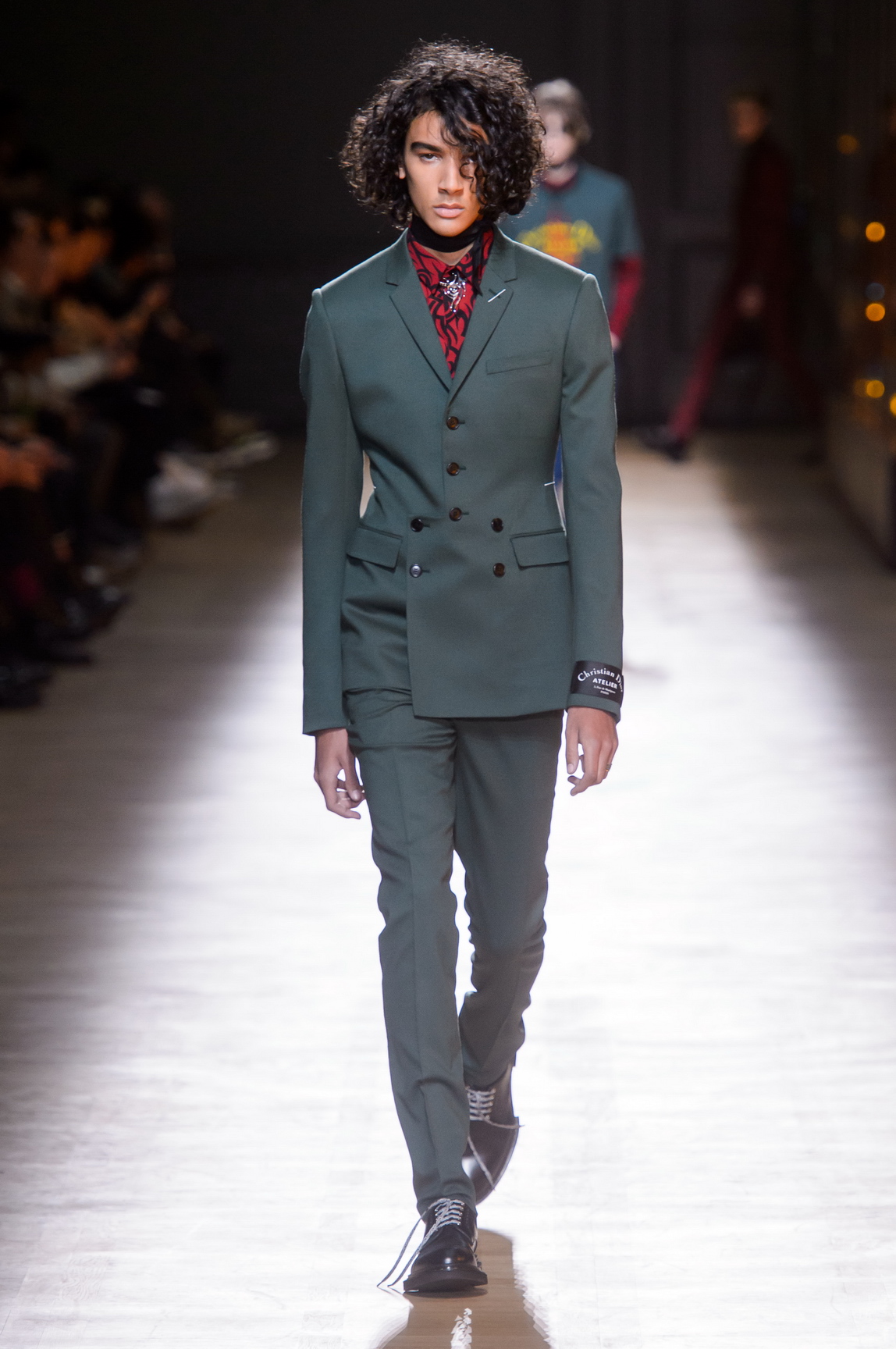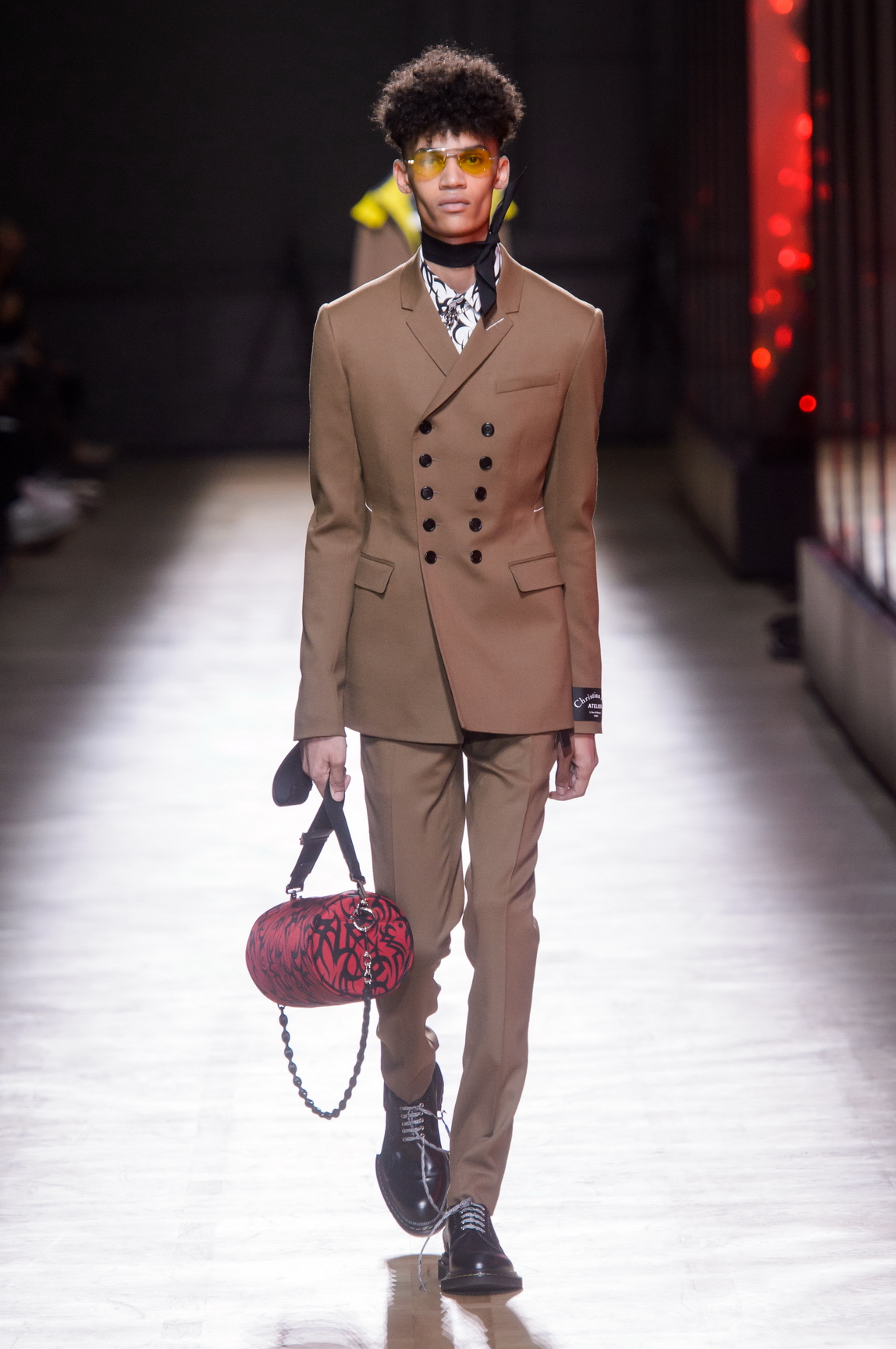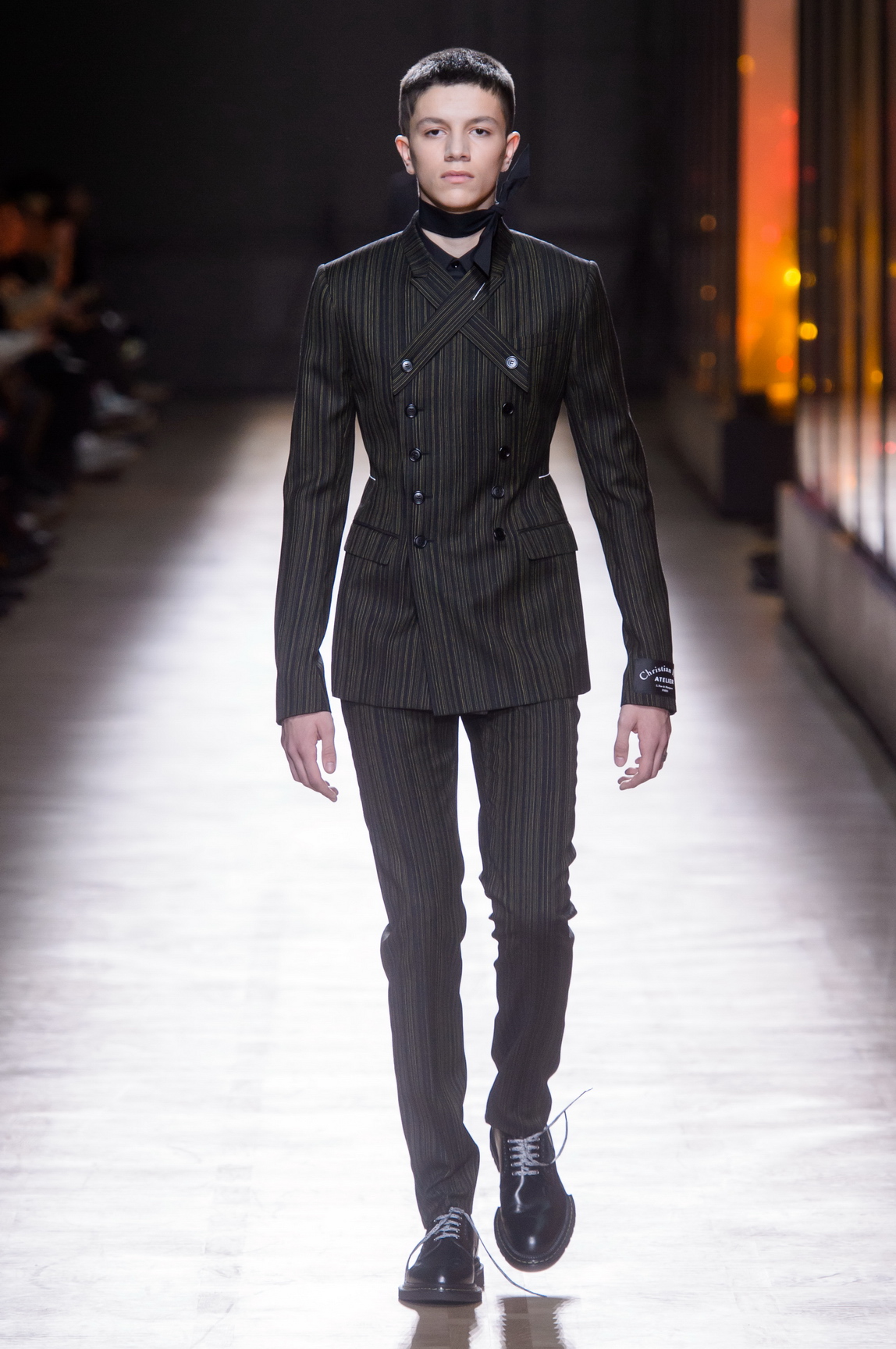 This article was originally published by i-D UK.
Credits
---
Photography Mitchell Sams