"more is more" – gully guy leo gives us his top five style tips
Ahead of Tyler, the Creator's new GOLF le FLEUR* drop, we sent Instagram streetwear star @GullyGuyLeo around London to show us how to wear them.
15-year-old Leo Mandella is polite, softly spoken and keeps his beanie on at the table. He's also an Instagram streetwear star with 496k followers and a wardrobe that most hypebeasts would give their selfie arm for. Leading the pack of well dressed London youth, the Insta-icon (better known as @gullyguyleo) stumbled upon his then hobby, now career, in the same way most kids discover anything these days: the internet.
So what does he actually do? "It's quite difficult to describe, because there's so many things," he explains. "There's the style influencer thing, but I also model, photograph and work on creative projects with my friends." Given his multi-talented tendencies, it made sense to put him in the designs of another polymathic prodigy -- Tyler, the Creator. The rapper, designer, festival thrower and TV show host has just released his latest collaboration with Converse, the new GOLF le FLEUR* trainer. Following his reinterpretation of the brand's iconic One Star trainer last year, the musician has just dropped a fresh batch of beauties in three new colourways -- Geranium Pink, Jade Lime and Bachelor blue. They're all adorned with his signature floral detailing and the pastel hues that Tyler has become synonymous with -- his album was called Flower Boy after all.
For Leo, the design fits in with eclectic London style: "You could see someone in a Tyler One Star with a matching jacket and a bright outfit, and then see another person in a full dark outfit and it would look just as good. It's whatever fits someone best." Ahead of the much-anticipated drop on 18 January, we caught up with Leo to pick his brains about Converse, his style tips and how to get the perfect Instagram shot.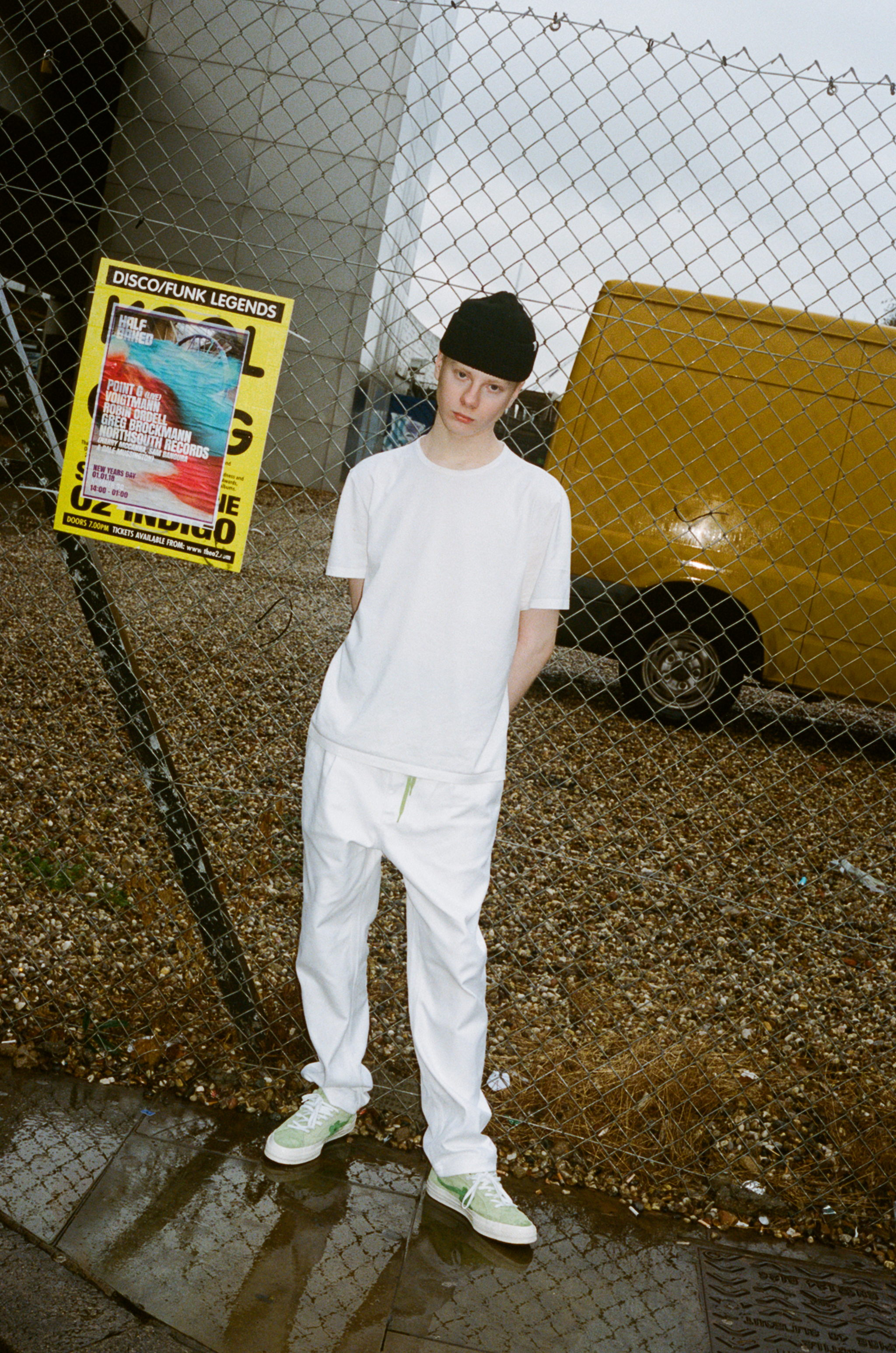 Leo, what's your favourite thing about your job(s)?
The fashion and style. It's always been something I've been interested in, so for me it would be that and the idea of matching clothes. I have the most fun doing that.
When did you start getting in to fashion?
About two years ago, but then it took off maybe a year and a half ago. My auntie used to live in Brighton so I was introduced to skate culture there from quite early on. I used to see a lot of skaters dressing a certain way and I started to look into it more.
How would your friends describe you?
It's weird, a lot of them have known me from before this so they don't see me how other people on the Internet might. But a lot of them just see me and think it's cool that I'm doing what I want to do. Basically, they'd describe me as someone who's not listening to other people and just doing whatever, doing what I want to do and going down a path I want to choose. But a friend who I met in fashion may describe me as... What's the word for a person doing everything -- a polymath.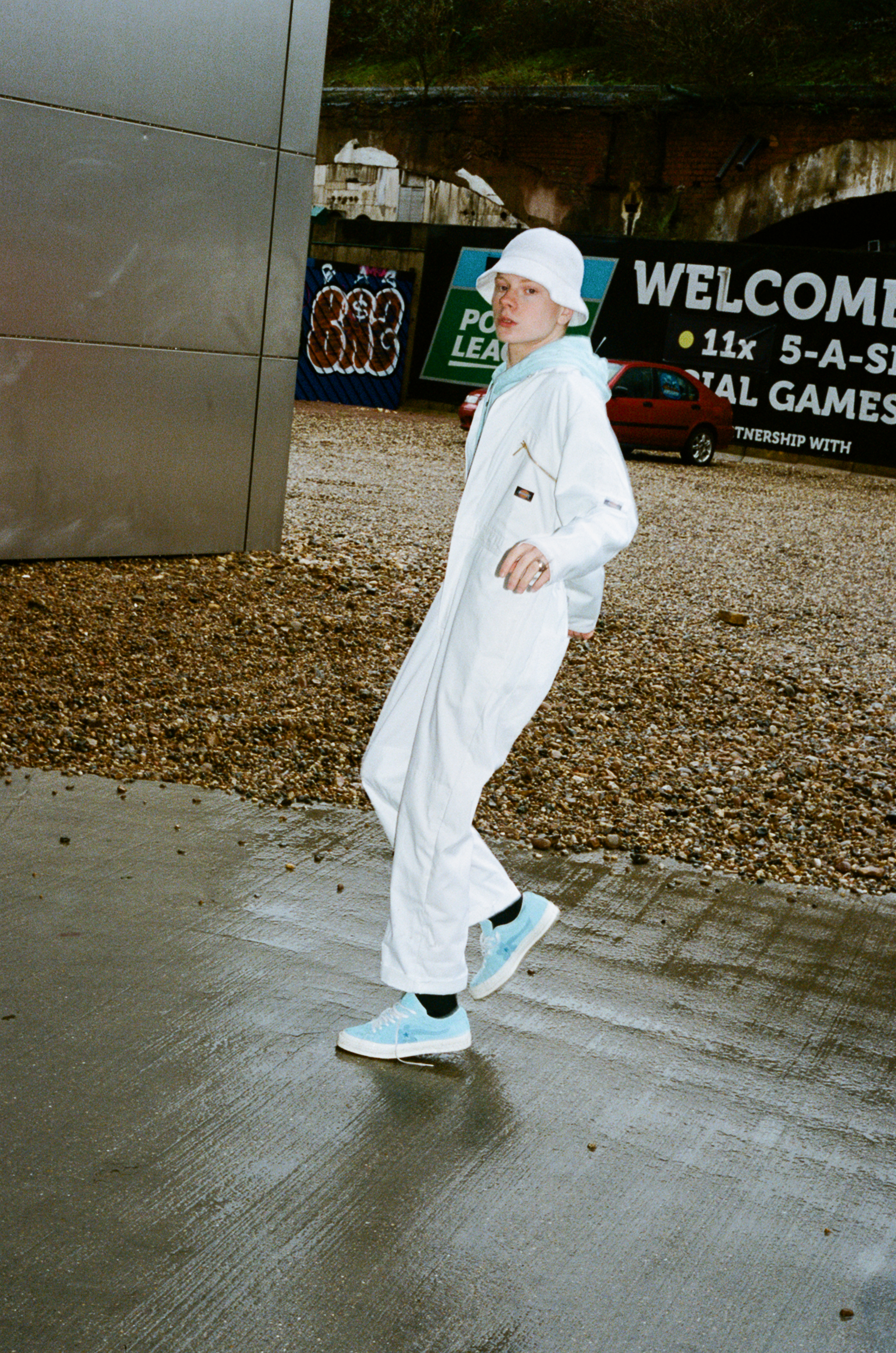 What's the best thing about being young today?
When you're young you have an advantage because you have so much time ahead of you. If you get in to something -- doesn't have to be fashion -- you're at an advantage because you have so much time.
Do think being into lots of different things makes you a better role model?
Yeah, like Tyler's known for lots of different things, and the shoe shows that he can make music as well as design. When other people see people they look up to doing loads of things, it becomes more normal to be known for doing loads of things. Everything leads into everything, like fashion leads into music.
What do you look for in a trainer?
I like bright colours, I like a colour that pops out. A nice material, like a suede -- something that's individual. And then something that's just wearable, not stupidly big or narrow.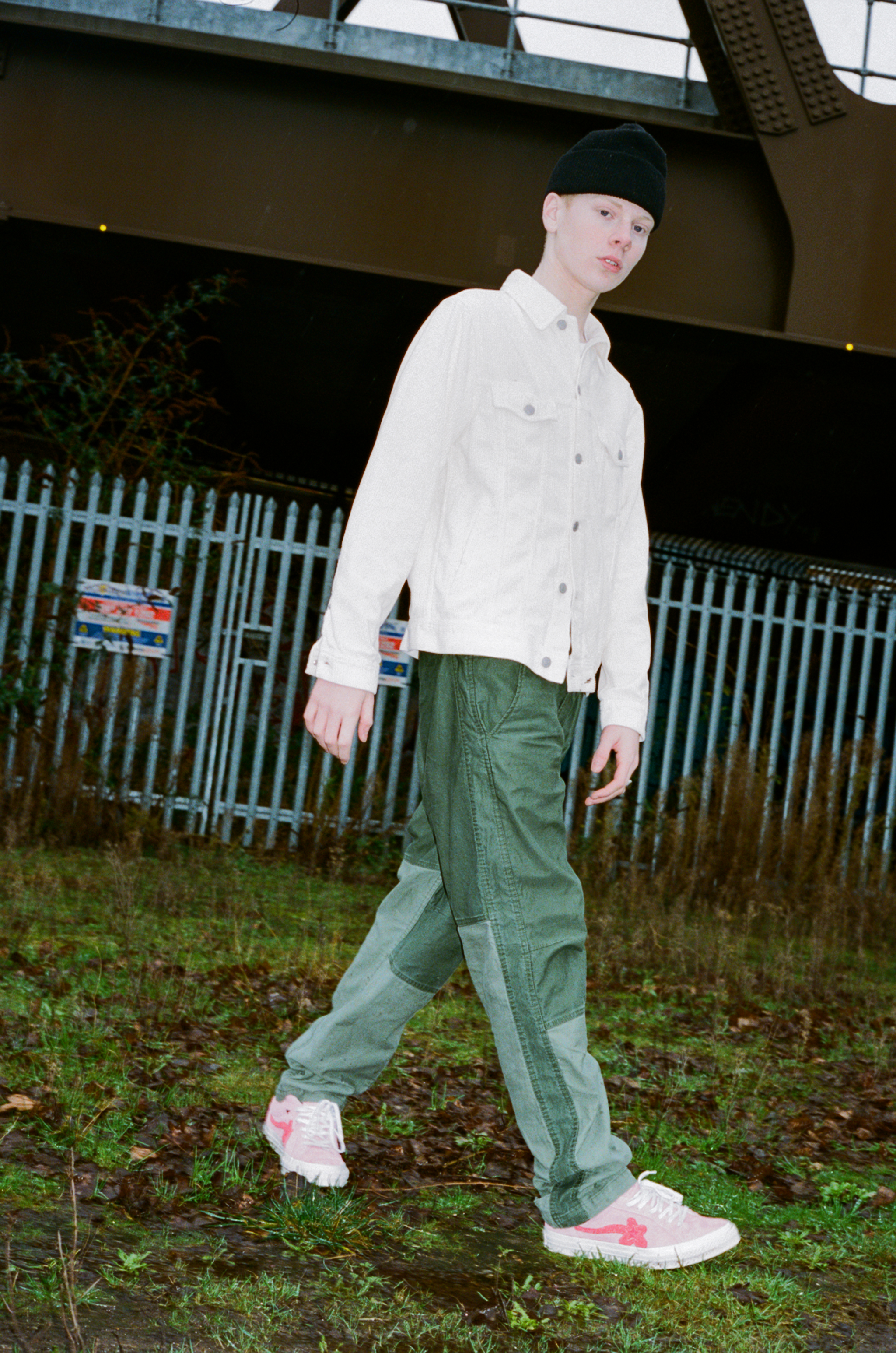 Box fresh or worn in?
I'd say worn. I like to see a shoe when it has a story, when it's got scuffs on and stuff. If you look at it and think, oh I remember when that happened, that's fun. Box fresh you don't really have anything with it, it's just a shoe. But when you've worn it in it's your shoe.
If you could trade wardrobes with anyone who would it be?
It's not someone people would expect -- it wouldn't be another streetwear person. I was just at Pitti in Florence, and there's people who stand there in suits and just hang around. I think I'd trade with someone like that -- a person whose forte is suits, like mine is streetwear.
If you were an animal what animal would you be?
A kangaroo. They do boxing, they look cool, they keep babies in their pouch. They're quite a fashionable animal because they have a pouch built into them, so they can put all their stuff in there.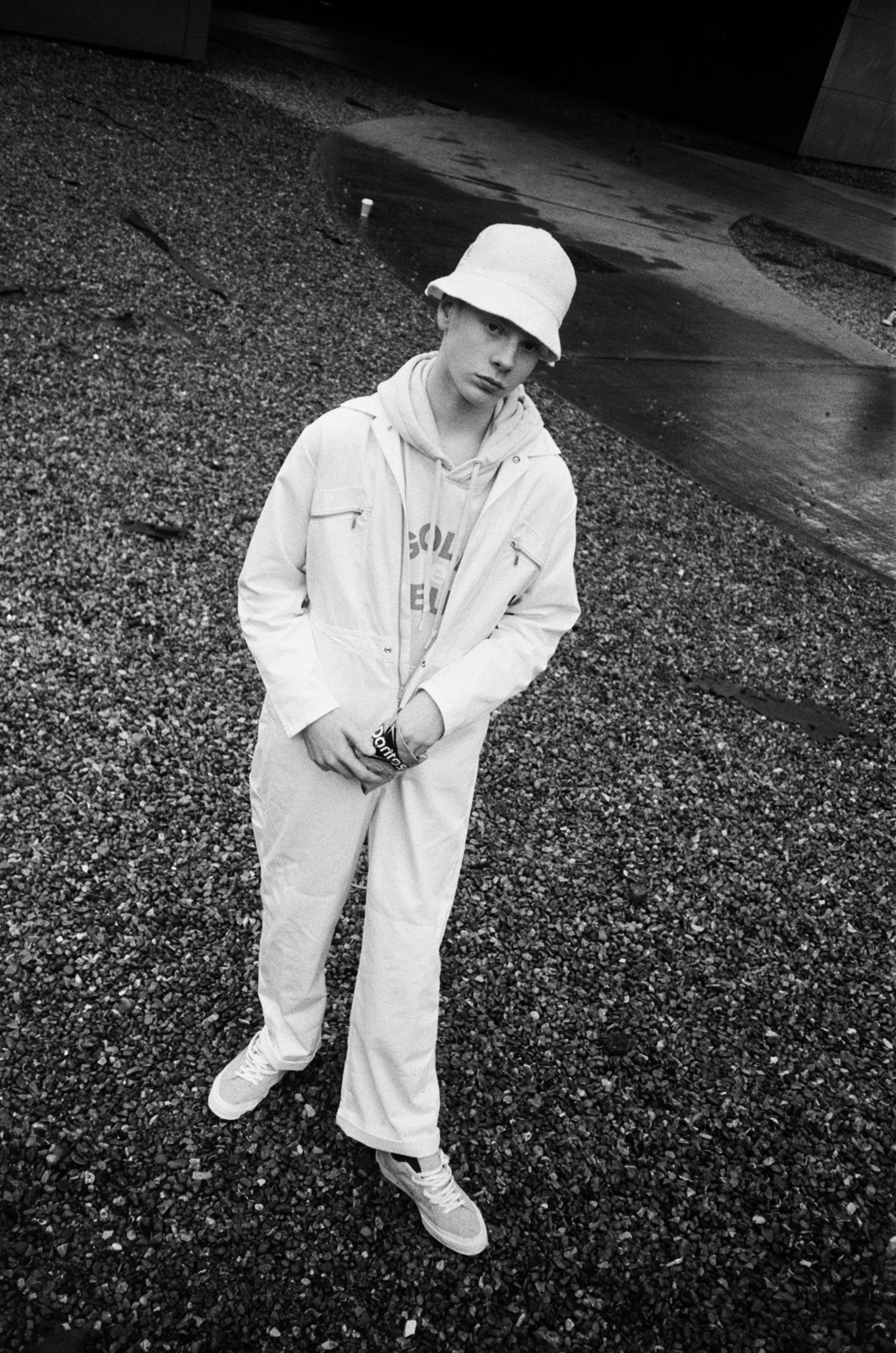 What're your top five style tips?
1. Start at the bottom
"Your whole outfit goes around shoes. Normally for me it'd be one of Tyler's GOLF le FLEUR* trainers -- the green or the pink. Something that's bright or vibrant."
2. Be comfy
"It's good to be comfy because you feel better in your clothes."
3. More is more
"I'm really bad with rings, I lose them all. But when I have them on I like having a few and stacking them, I think they look so good with outfits. Some people think less is more, but I think more is more. It stands out."
4. Mix and match with caution
"Unless it's a tracksuit that's the same material, I personally think putting the same bright on bright colour doesn't look that good -- like if you had a cord pink jacket and denim pink jeans. But colours that go well together are a dark denim blue with a yellow, a red and blue, pink and blue. Primary colours all go nice together, and go well with pastel."
5. Keep your head warm
"I'm known for my hats. Usually I wear a black beanie, and that's standard, but if I've found a beanie that matches my outfit I may wear that. But I also like bucket hats, and I think berets are cool right now too."
The latest GOLF le FLEUR* collection will be available from 18 January on converse.com
Credits
---
Photography Finn Constantine
Stylist Daniel Pacitti