Photography Mitchell Sams
fendi want you to dress like suited and sexy 70s karl lagerfeld
Silvia Venturini Fendi celebrates Karl Lagerfeld her style icon.
|
15 January 2019, 11:08am
Photography Mitchell Sams
After more than five decades of designing Fendi women's, Karl Lagerfeld just shared his first men's sketch.
The strong-shouldered double-breasted jacket, with nipped-in waist, had a shawl collar on one side and a notch on the left. In one simple doodle, your favourite multi-tasking octogenarian had encapsulated the duality of menswear today as a new sartorial revolution of modern elegance continues sweeps the season. Following this sketch, Silvia Venturini Fendi dedicated Fendi autumn/winter 19 men's to the greatest hits of Lagerfeld's personal style.

"After several seasons collaborating with guest artists, it was natural for me to turn to Karl," Silvia Venturini Fendi explained backstage. "So, I asked him if he wanted to draw a new a new silhouette and he immediately said 'yes'." The next day, she received the sketch and yesterday, an incarnation of it opened her autumn/winter 19 men's show.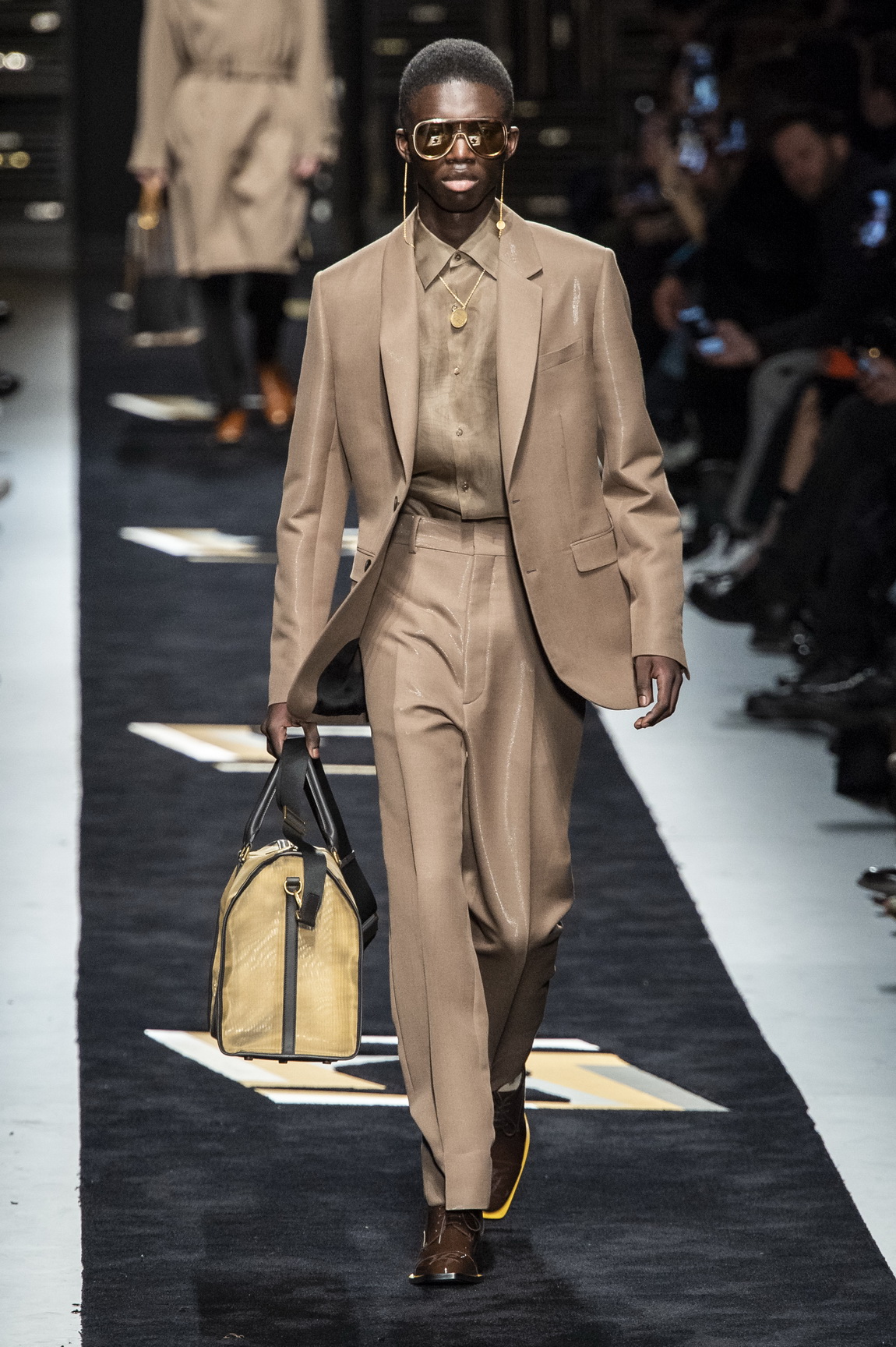 As i-D contributor James Anderson reminded us in our everything you ever wanted to know about Fendi feature, the Rome-born luxury house is "first and foremost about family" and, after more than 50 years with Fendi, Karl Lagerfeld is definitely family. After its beginnings as a leather goods store and fur workshop by Adele and Edoardo Fendi, each of their five daughters pushed the family-business forward, most notably in the decision to hire a young German designer named Karl Lagerfeld to join them in 1965. Today, with Karl now a king and accompanied by Silvia Venturini Fendi (the granddaughter of the founders), it's one of the major Italian luxury fashion houses. In recent seasons, the men's line has harnessed the power and energy of creative collaborations. After fun and fruitful creative coming togethers with UK-born artists in Sue Tilley, John Booth and @hey_reilly, Fendi looked closer to home and called upon Nico Vascellari -- partner of jeweller Delfina Delettrez and son-in-law of Silvia Venturini -- for autumn/winter 19 and decided to keep it in the family once more.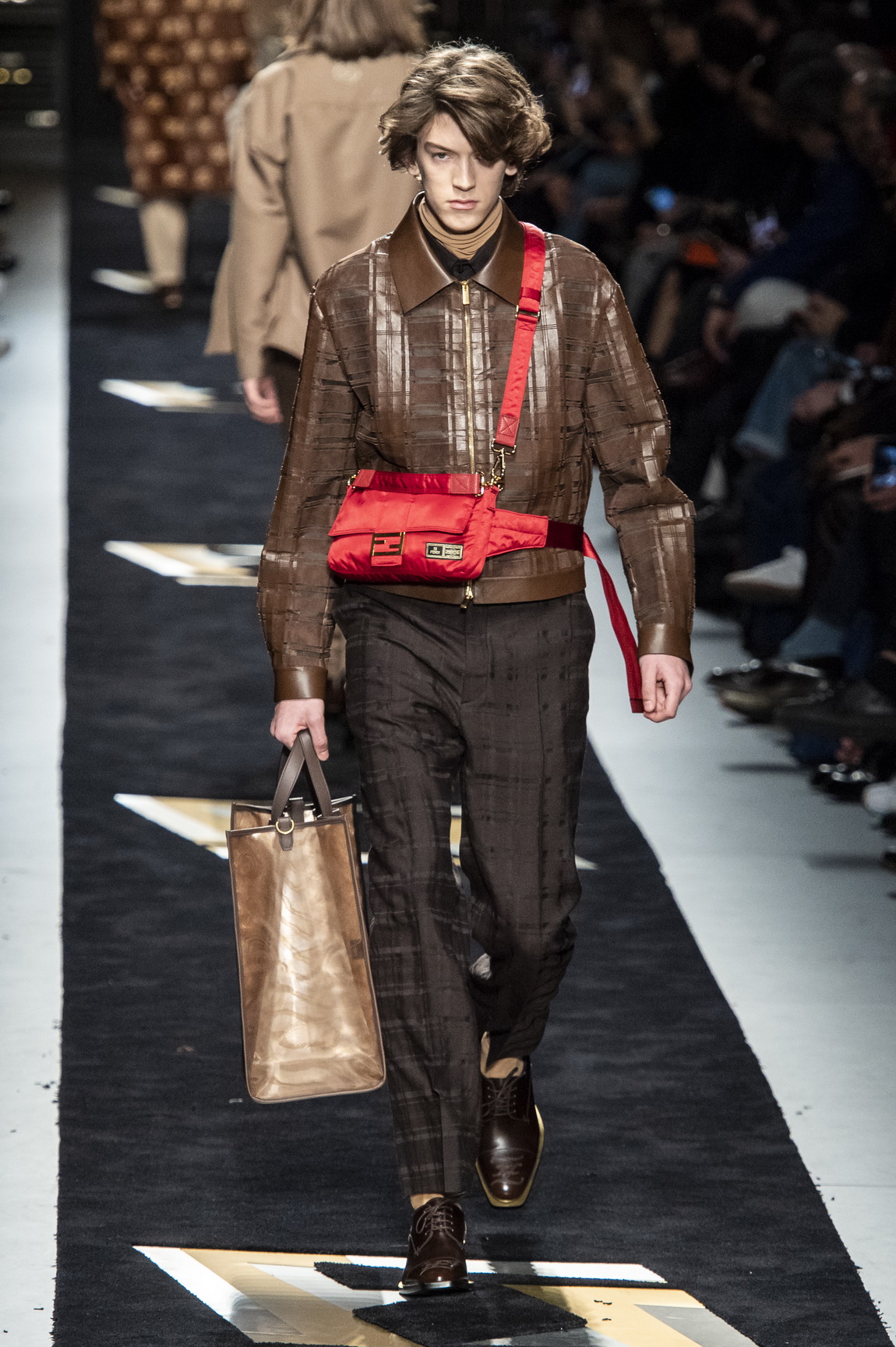 "In my fantasy world, Karl is the only man related to Fendi," Silvia Venturini continued. "He is the man in my life. He's a style icon, and his way of dressing inspires me." From the made-to-measure Caraceni suit years through to the silhouette shifting Hedi Slimane for Dior Homme years, this autumn/winter 19 men's collection was a love letter to the wardrobe of Karl Lagerfeld, filled with handwritten notes, collages of images and doodled daydreams that celebrate the man and the storied house he's renovated. "I'm always asked what it's like to work with Karl and this is an answer to that question." This collection hinted at the everyday encounters, iPhone shares and close connection between two personalities. "Dualism is in the DNA of FENDI, under every form," Silvia Venturini added. As a futuristic FF logos alternated with a calligraphic one, some jackets were split 50/50, others juxtaposed structure and form while parkas were cut in organza as futurism and classicism continually collided. This was no more apparent in the first-ever men's take of Fendi's legendary Baguette bag.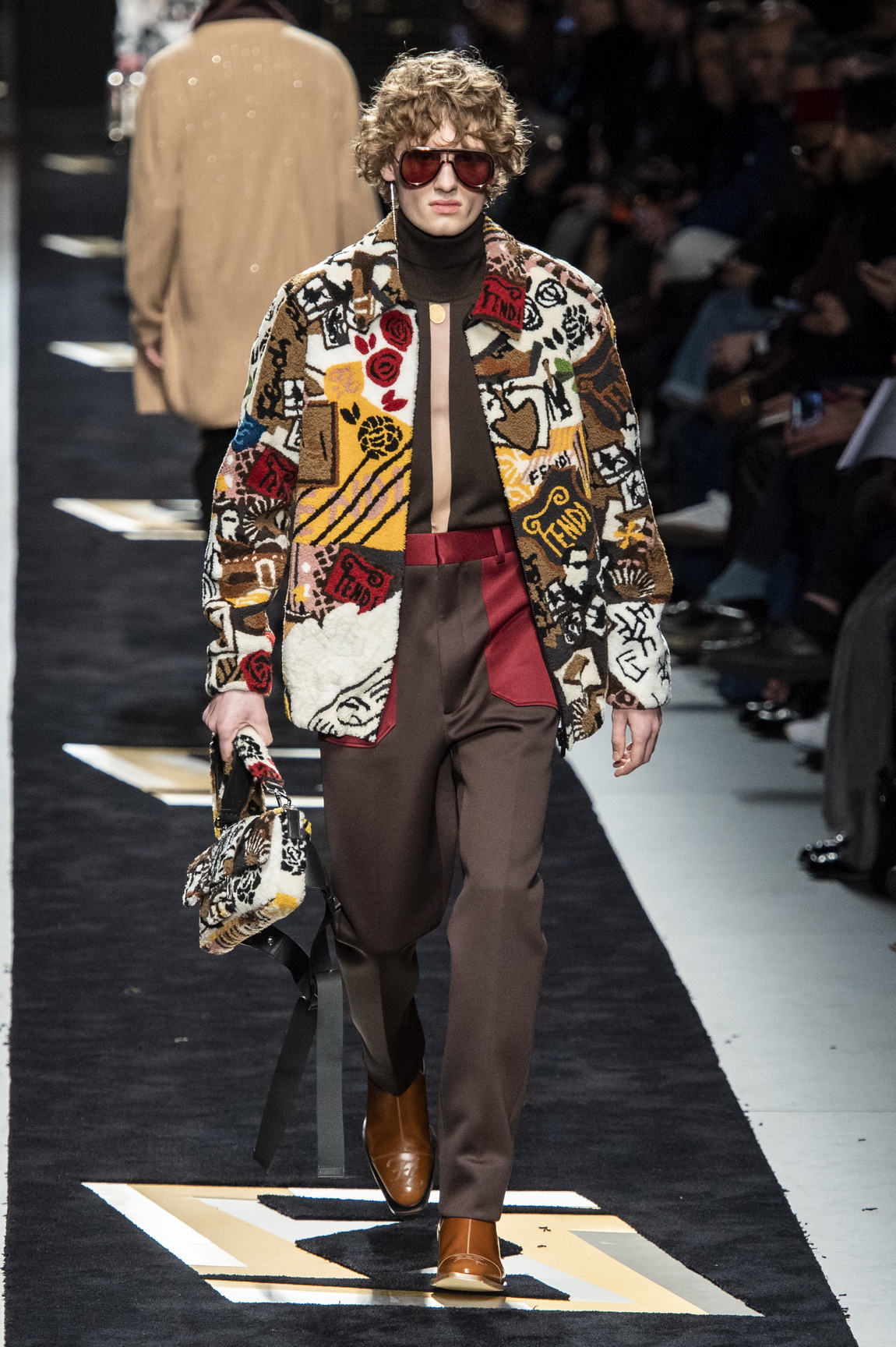 Reimagined in collaboration with Tokyo-based tech luggage specialist Porter, the Baguette-for-boys was designed to be worn cross-body, in the hand or as a belt bag.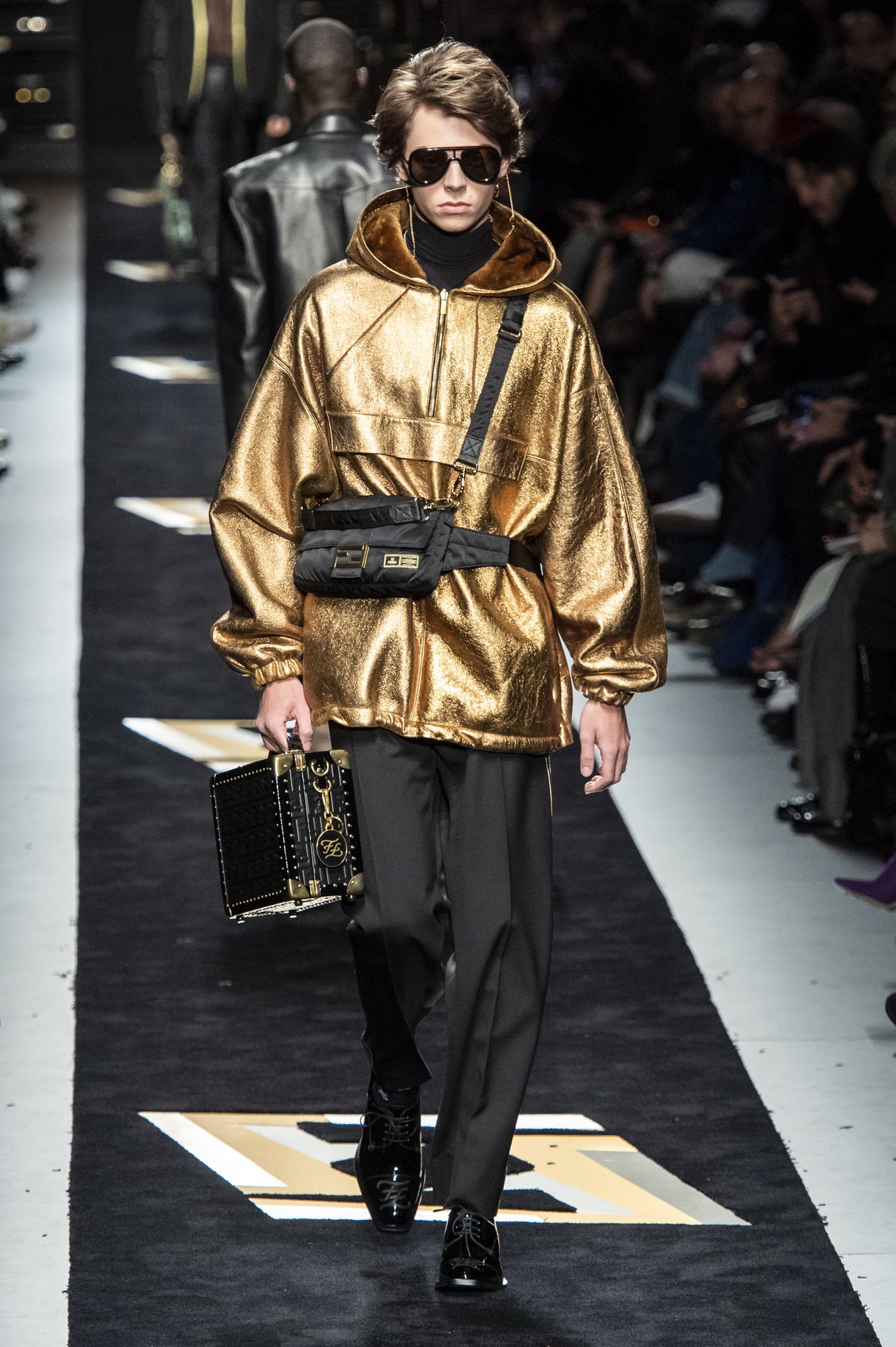 According to Silvia Venturini Fendi, the moment is ripe to bring sartorial formality back to menswear. "Today, the most subversive thing a kid can wear is tailoring," she explained. As streetwear's stranglehold on the shows is loosening, it's time to be seduced by a new elegance.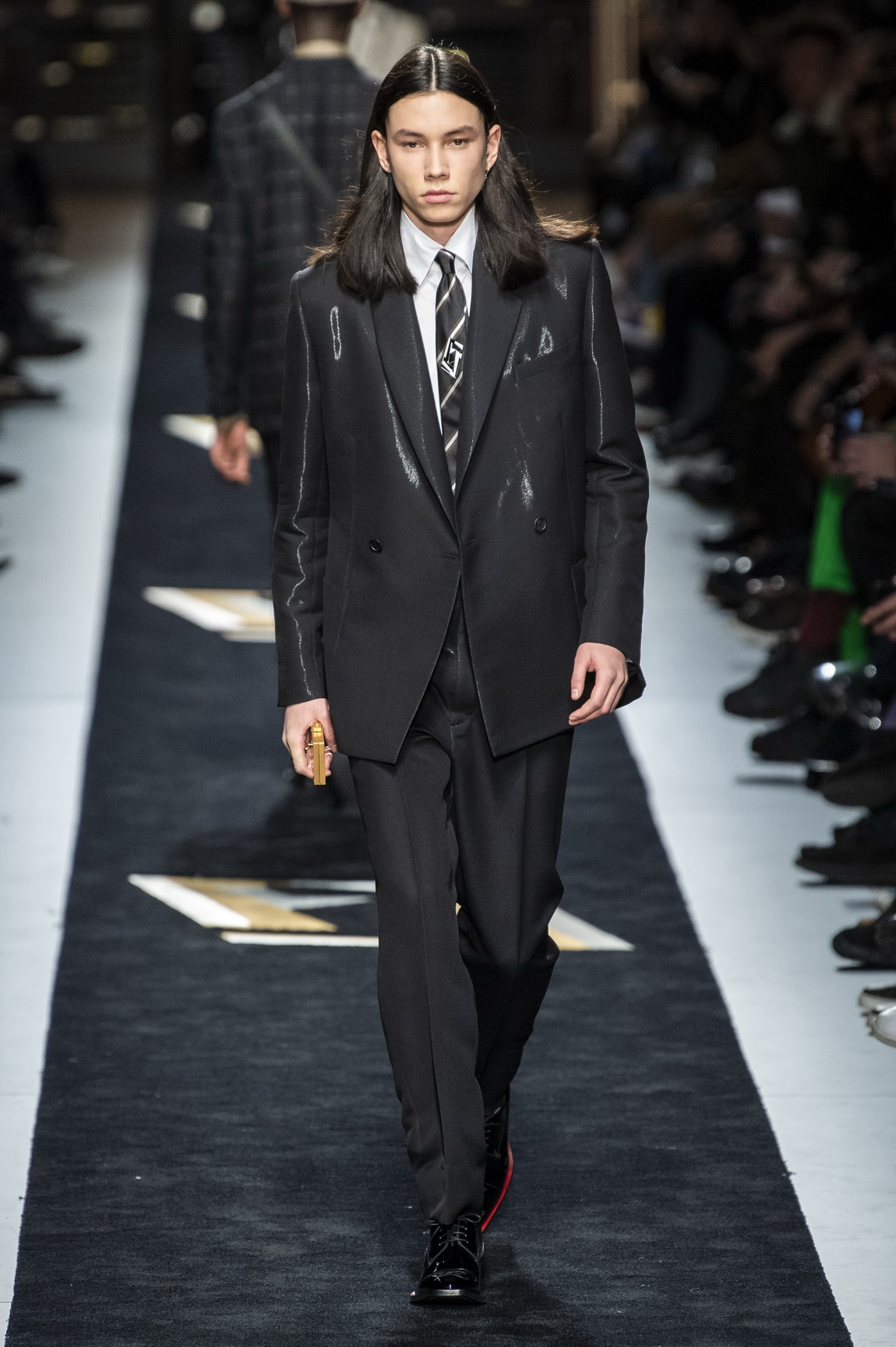 Credits
---
Photography @mitchell_sams
This article originally appeared on i-D UK.