Chefs are hot
These days the sluttiest thing a man on TV can wear is a white jacket.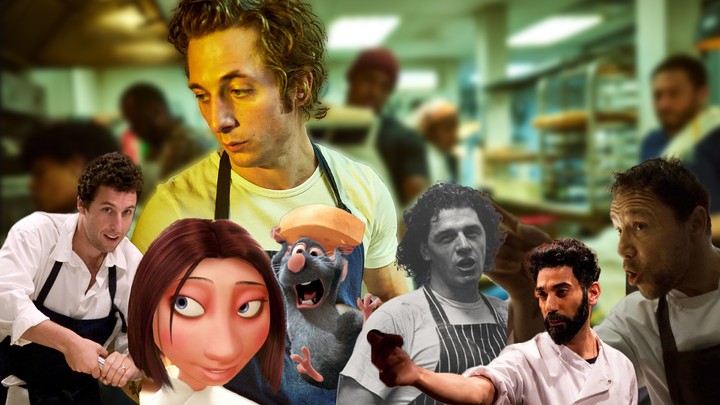 There's a scene in Jon Favreau's 2014 cuisine-based comedy Chef I think about a lot, in which Carl Casper (played by John Favreau, who also wrote the script) cooks some late-night pasta for his maybe-girlfriend Molly (Scarlett Johansson) who is lounging demurely in his bed. After some luxurious shots of garlic sizzling in a pan and Carl chopping parsley, he presents the Instagram-worthy plate of spaghetti aglio e olio to Molly, who
takes a bite, flashes Carl a knowing look, and moans appreciatively. Aside from the inherent hilarity of John Favreau casting literally Scarlett Johansson as his on-screen lover aside (he also cast Sofía Vergara as his ex-wife…) the scene does speak to a wider, universally acknowledged truth: there is nothing sexier than a man who knows their way around a kitchen.
It's no surprise, then, that eight years later social media has gone absolutely feral at the sight of Jeremy Allen White as beleaguered chef Carmen 'Carmy' Berzatto in Hulu's The Bear. He's cute, he's sad, he's got tattoos and knows how to make a dish that involves comfiting plums – that's essentially catnip the terminally online (and people whom, like myself, freak out when presented with a recipes that involves anything more complex than chopping an onion). But Carmy is far from the first hot fictional chef to have audiences in a chokehold. In fact, he's part of a grand tradition that speaks to our obsession with competent, frenetic, knife-wielding cooks who make food prep look a little bit lethal.
There's a lot of real-world inspiration to draw from when it comes to hot chefs – in the 90s Marco Pierre White changed the slightly stuffy public perception of the profession, branded the enfant terrible of the London restaurant scene when he became the then-youngest chef to earn three Michelin stars. Long before he was crusading against sausage rolls and banning turkey twizzlers, Jamie Oliver based his entire brand around the 'Naked Chef' moniker – one obviously calibrated to titillate his predominantly female fanbase. Stanley Tucci, renowned foodie and Negroni maker, is delightful in Searching for Italy, which combines food discovery with his own cooking expertise.
And, of course, no hot chef is as beloved than the maverick Anthony Bourdain, who shared his skill and love of food with countless fans through his various television series and books before he sadly passed away in 2018. Bourdain was a talented cook, but his real gift was how passionately he spoke and wrote about food; his curiosity and enthusiasm inspired countless others to take on new culinary experiences and broaden their food horizons.
If IRL hot chefs captivated us though, audiences have always held even more of a candle for the fictional cooks. As far back as 1991, Al Pacino entranced us as a hot chef in Garry Marshall's underrated nineties rom-com Frankie and Johnny, in which ex-con Johnny finds employment as a short-order cook and eventually finds love with a waitress named Frankie (played by Michelle Pfeiffer!); Tsutomu Yamazaki is the Stetson-wearing, cigarette-smoking Gorō in Tampopo, who helps to turn around the fortunes of a struggling noodle shop.
There's 2004's Spanglish, which starred unlikely sex symbol Adam Sandler — the precursor to unlikely sex symbol Pete Davidson — as the sandwich-loving John Clasky. An honorable mention goes out to Nicolas Cage in 1987's Moonstruck, in which he plays a surly, overdramatic but secretly sweet one-handed baker Ronnie Cammareri who wins the affections of Cher's iconic Loretta Castorini; technically not a chef, but hot all the same. (He also plays a disillusioned ex-fine dining chef in the Michael Sarnoski's devastating 2019 porcine revenge drama Pig.) You get the idea: fictional chefs have always been hot.
But in recent years, the profession has captivated the worlds of cinema and television more and more. Last year short king and national treasure Stephen Graham delivered a performance a performance that's equal parts compelling and terrifying in Philip Barantini's one-take drama Boiling Point, in perhaps the most stellar example of the genre pre-The Bear. He played Andy Jones, a stressed-out, coked-up head chef running service at a fancy restaurant on the busiest night of the year, whose life disintegrates spectacularly over the course of one disastrous shift. Okay – it's not hot exactly, but it's definitely mesmerising.
Other actors have defined most of their careers by working hard for decades to further the Hot Chef agenda: case in point, Bradley Cooper. In 2005 he played Jack Bourdain, based on culinary babe Anthony Bourdain, in short-lived sitcom Kitchen Confidential (essentially using his Rocket Racoon voice), and while that show didn't last past 13 episodes, someone saw the potential – a decade later he starred in John Wells' Burnt, about a remarkably talented but disgraced chef trying to save his career. The film itself was pretty widely panned, but Bradley's performance is a lot better than the material he's working with, and the cooking scenes do a lot of the heavy lifting.
TV and film's ongoing obsession with the figure of the sexy chef though, has its inevitable blind spot. While there are a fair amount of hot female chefs on our screens too — Ali Wong in Always Be My Maybe, Kate in No Reservations and, of course, Janeane Garofalo as Colette in Ratatouille spring to mind, as well as Ayo Edebiri who plays Carmy's sous chef Sydney in The Bear — these never seem to capture the imagination of social media in the same way a good-looking man with a saucepan does. As modern audience we're currently failing the hot female chefs of the world (although The Bear at least shows Sydney is every bit as talented as her male counterparts).
Regardless of their gender (or, in the case of Ratatouille, species) a recurring theme among these characters, and our corresponding unquenchable thirst for them, is their emotional instability, which is matched only by their skill and passion. They might be volatile in the kitchen – in The Bear, Carmy often alienates his colleagues due to his temper – but their talent is an indelible fact. So is it Carmy's dedication to a gruelling, technically-difficult career and assertiveness in the kitchen that appeals to us as viewers, or just his big, sad eyes and tiny tattoos?
In the three decade-long canon of hot chef media, we haven't yet figured that out. Fortunately, we still have time. The Bear just got renewed for a second season following rave reviews in the US: Hot chefs are on the menu, and we are all eating well.