All photos courtesy of Saint Laurent
Saint Laurent just staged its SS23 menswear show in the Morroccan desert
Marrakesh, the place where Yves Saint Laurent the man came to relax, set the scene for Anthony Vaccarello's most relaxed menswear collection yet.
All photos courtesy of Saint Laurent
Fashion shows, in all their blazing spectacle, are back. Though it may seem that only yesterday designers were experimenting with videos and digital presentations — in the case of Saint Laurent that meant models hiking across sand dunes and frosty glaciers — the full-blown fashion moment has returned with gusto this year, accompanied by an audience to witness it wherever in the world it may be. For his SS23 menswear show, Anthony Vaccarello set up camp in the Agafay desert, an hour's drive from Marrakesh, for a show that has been years in the making. It was a full-blown mirage — not the result of light passing through layers of micro-climates, but the work of British artist and set designer Es Devlin, who designed the mirrored amphitheatre, dusky red seats to echo the architecture of Marrakesh, and the circular pond of water from which a giant ring of light emerged like the activation of the Stargate. The show kicked off as the sun set through dusky clouds and ended with gusts of wind billowing across the night sky. It was one of those you-can't-quite–believe-it moments that must have taken months of preparation and infinite resources.
Why Marrakesh? Yves Saint Laurent first came to the ancient Moroccan city with his partner Pierre Bergé in 1966, and it became a lifelong sanctuary where he would go to escape Paris. It was here that he would design his collections by hand, entertain his circle of bohemian jet-setters in a decadent cloud of hashish, and lovingly cultivate the most exquisite collection of African and Middle Eastern art and furniture. Having grown up in neighbouring Algeria, Morocco became somewhat of a spiritual homeland for the couturier. The love affair was mutual — today there's a street named after him in the ancient quarter of the city, an entire museum dedicated to his work, and the historic Majorelle Gardens, which he and Pierre preserved, are one of the city's most visited attractions (it's where Anna Delvey struggled to pay the bill in Inventing Anna).
Today, with both Yves and Pierre gone, the city is part of Saint Laurent's rich heritage. Given that this is one of the hottest summers on record, staging a show here offered a delicious paradox of an ostensibly simple setting — a round pond in the vast expanse of the desert – and the increasingly frenetic pace of more and more fashion shows in far-flung locations. A boy in a fur coat and Cuban-heeled boots traipsing across the desert? It speaks to both the new realities of air-conditioned globe-trotting and soaring temperatures in urban environments. Remember, there was once a time when a desert would simply be recreated in Paris for a 15-minute show. Now, it's all about authenticity, the fashion equivalent to the experience economy.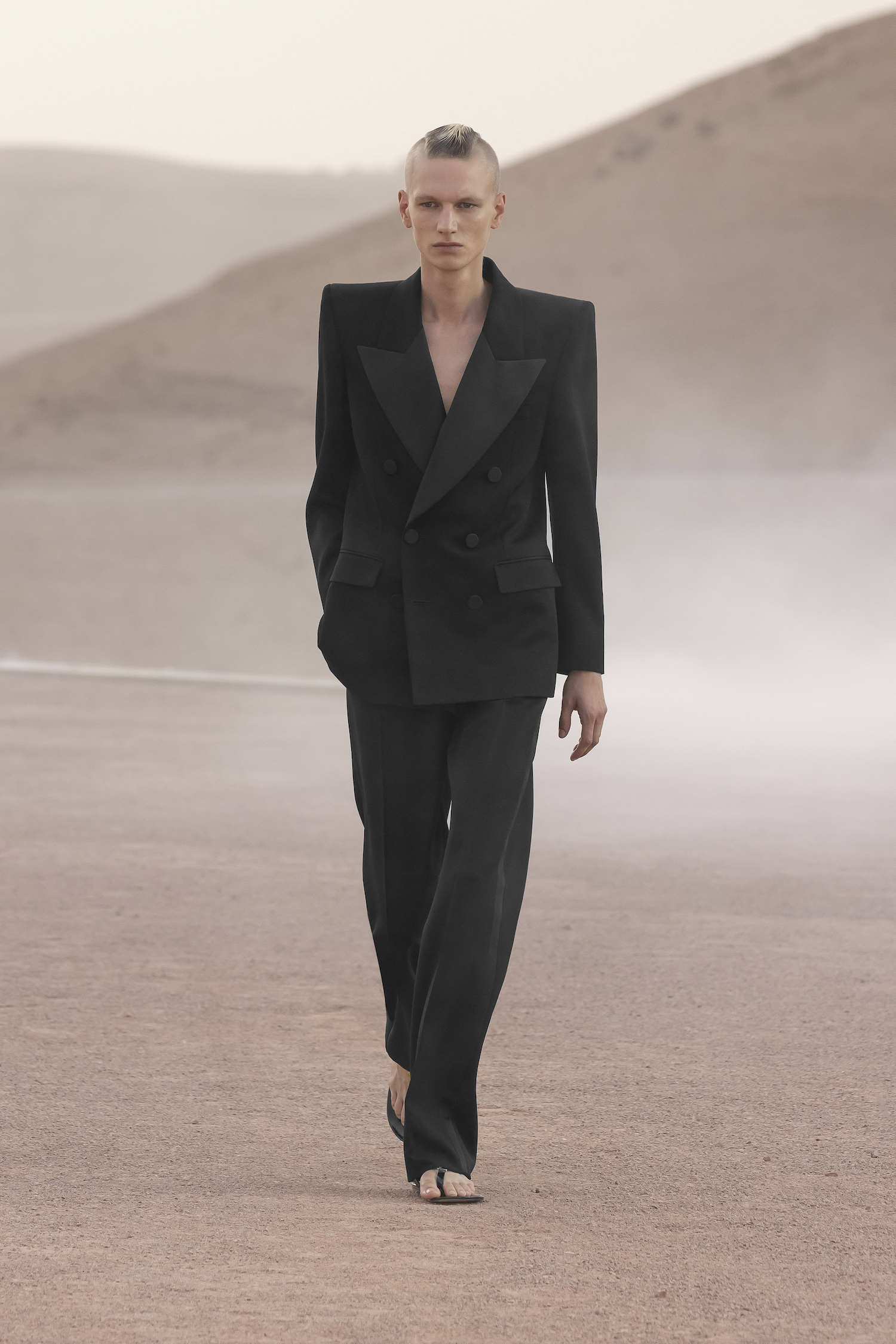 Beyond the spectacular backdrop, however, the show offered up brilliant clothes for whatever the forecast. Anthony was keen to avoid all the clichés that come with staging a Saint Laurent show in Marrakesh: those of Yves and Pierre Bergé in Marrakesh (too obvious); the pervasive sandy wardrobe of striped-cotton djellabas, desert linens, safari suits (too resortwear); or even the trap of covering Parisian staples with Moroccan embroideries with a lengthy lecture about the importance of global craftsmanship (too generic). Instead, he chose to reflect on his own misspent youth around the early 2000s — "for the first time, my most personal" collection, as he put it. But this wasn't the Y2K look that we've seen blow up on TikTok. Back then, the Belgian designer was a student in Brussels at La Cambre, obsessed with indie music and the equally indie glamour of Antwerp's fashion scene. "It was how I dressed in 2000," he said of the predominantly black, slightly gamine silk shirts and slender tailoring. "It was a look that I loved, and I wanted to recreate that spirit; I was missing that"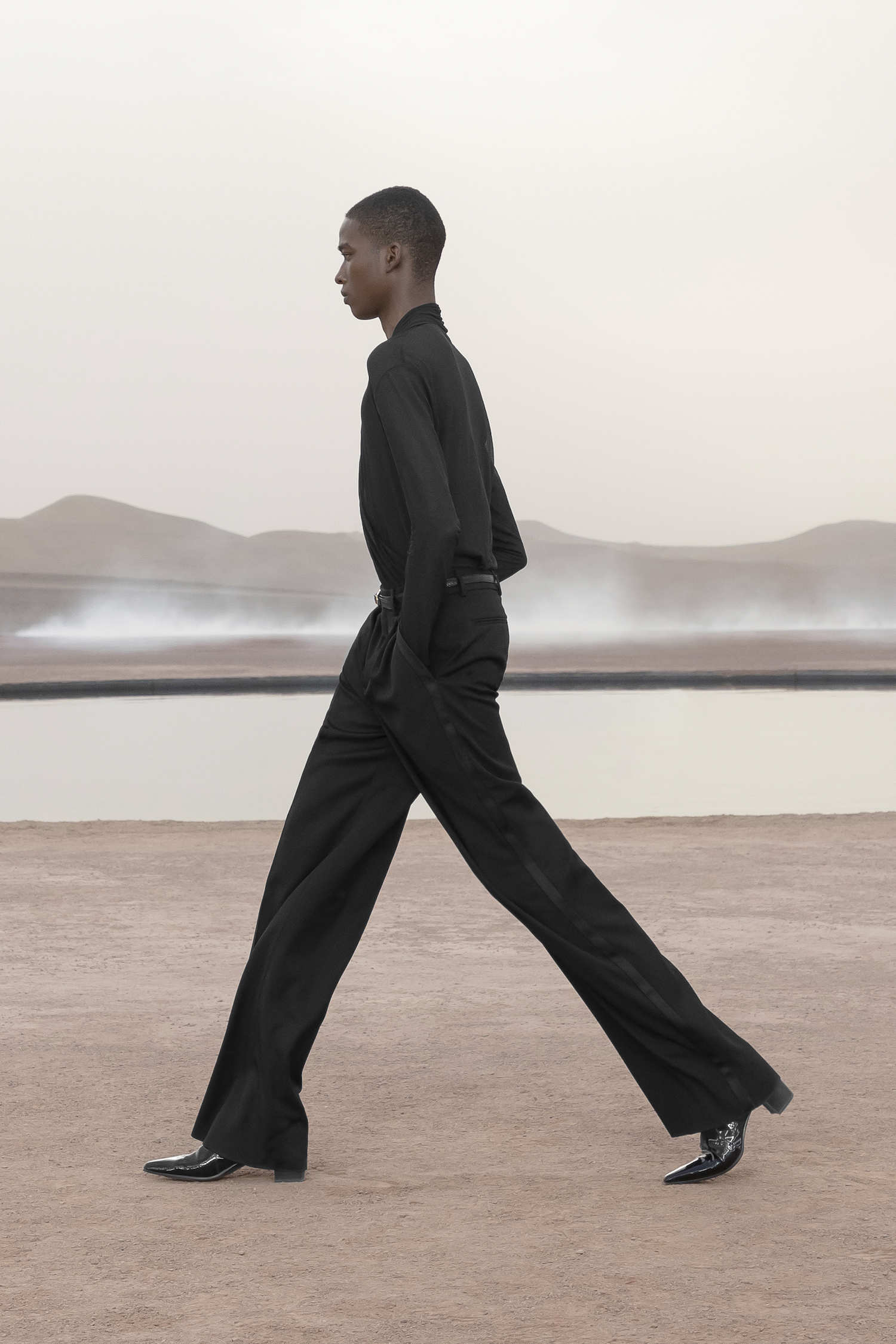 Letting the desert do the heavy lifting, the 50 looks were a masterclass in restraint, the sartorial equivalent to chic whispers in contrast to the roaring showmanship of a giant ring light emerging from desert water. The collection offered an elegant take on masculinity that speaks to a generation of men unafraid to pair traditionally feminine blouses with butt-clenching high-waisted trousers — and don't want to label it as anything as contrived as "fluidity". Anthony preferred the word "dissolving", and having noticed Saint Laurent's menswear clients shop the womenswear floors, he started work on the collection by experimenting with putting boys in looks from his previous womenswear one, a sculpted black wool coat here and a silk shirt there there. Underneath many of the flared trousers were patent boots with fierce stiletto heels. He did so because he loved the womenswear collection, so why not? Clothes are clothes, he seemed to shrug. Gender binaries now seem prehistoric.
After all, this is Saint Laurent! Anthony is simply continuing the grand tradition of androgyny that Yves experimented with in reverse, inspired by a tuxedo-wearing Marlene Dietrich in the 1930 movie Morrocco to create his revolutionary le smoking. Just as Yves encouraged a generation of women to wear trousers, Anthony might do the same with men and gauzy blouses, pussy bows diaphanously blowing in the wind, and wasp-waisted, perpendicular-shoulders suits worn with nothing but plunging masculine décolletage. It was a more louche, breezier take on le smoking, a departure from the strict Giacometti silhouettes of Anthony's earlier years at the house. The new mood is softer and more silken: gossamer silk tanks with trailing bows, satin trench coats billowing in the wind like capes, roomy shawl-collared pyjama suits and the occasional tunic-style blouson (just don't call it a djellaba), and luscious velvet trousers with satin stripes and a generously wide stride. After all, this is Marrakesh, the place where Saint Laurent the man came to relax — it only makes sense that, sartorially speaking, Saint Laurent the brand would do the same.