Marc Jacobs on diamonds, dogs and Studio 54
The iconic American fashion designer also discusses the queer origins of the phrase "Breakfast at Tiffany's".
|
20 December 2021, 8:00am
This story originally appeared in i-D's Out Of The Blue issue, no. 366, Winter 2021. Order your copy here.
What do Marc Jacobs and Audrey Hepburn have in common? Well, they both look great in ropes of pearls. But, for fashion freaks and pop culture pundits the world over, both of them represent an iconoclastic vision of New York City. Marc Jacobs, the man and the brand, is fashion's Statue of Liberty. Earlier this year, the designer staged a catwalk comeback – after a few seasons off during the pandemic – with a collection of covered-up, puffed-out silhouettes, shown at the New York Public Library (another great landmark).
But increasingly, as followers of his Instagram will have noticed, it is his jewellery that often takes centre stage in his personal style. Whether it's his custom grillz or ladylike ropes of pearls, Marc Jacobs is leading a glittering revolution of men in jewels, not seen since the days of Renaissance gentlemen and diamond-dripping Maharajas. But despite the serious bling, he's still got his trademark sense of humour (the man has a Spongebob tattoo, for crying out loud).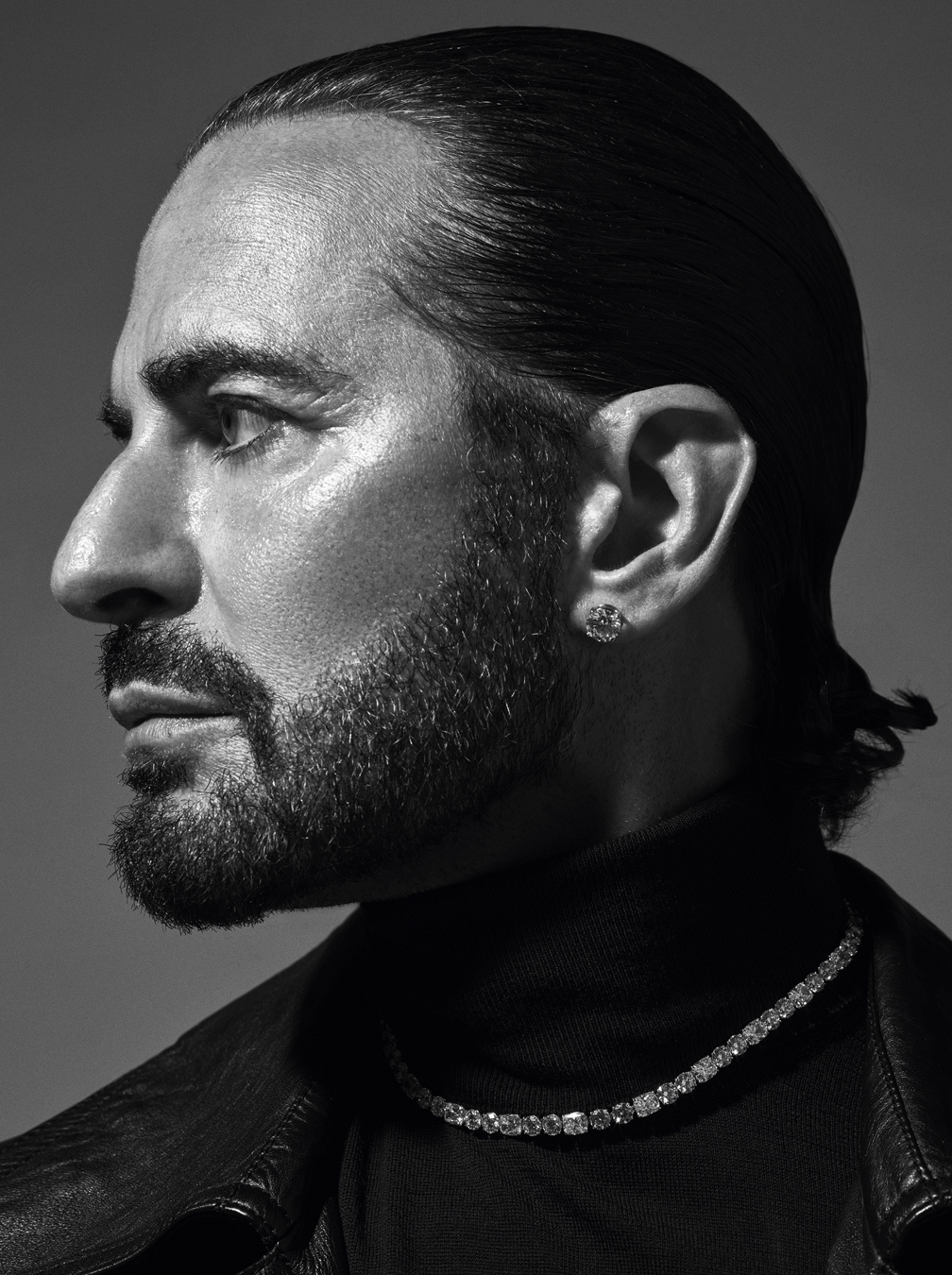 What is your most treasured piece of jewellery, besides your wedding ring?
Well, it's probably this Andrew Grima watch from the 60s.
Why is it so special to you?I remember, I was at Louis Vuitton, and Mrs. Prada had this watch on by Andrew Grima and I just fell in love with it. I tried to track it down and became friendly with his family – his wife and his daughter – and they managed to find me the exact same watch. I was just over the moon and it's the most special piece that I have.
**Are you sentimental when it comes to jewellery?
**I mean, I have some diamond earrings that I bought when I was in rehab for the first time. And those are very special to me because of when I got them. And recently, you know, I had two Grillz made and those are my current favourite pieces of jewellery, too.
**Are they comfortable to wear? Can you eat in them?
**You can't eat with them. But it's funny because the first one got me in a little bit of trouble. I really wanted that Tiffany blue and gold with diamonds, and some of the individual teeth were Tiffany blue. Gaby Elan, who made the piece, called it that on her Instagram post, but Tiffany reached out to say you can't call it that. The second one is really special – it's gold with diamonds and Black Onyx – I wanted to make it look like I had a chipped front tooth, you know. I sketched it and they executed it really beautifully. I wanted this beautiful version of bad teeth.
**Why the Tiffany blue?
**I love things that are classic and iconic, and I like to kind of play with taking them out of context.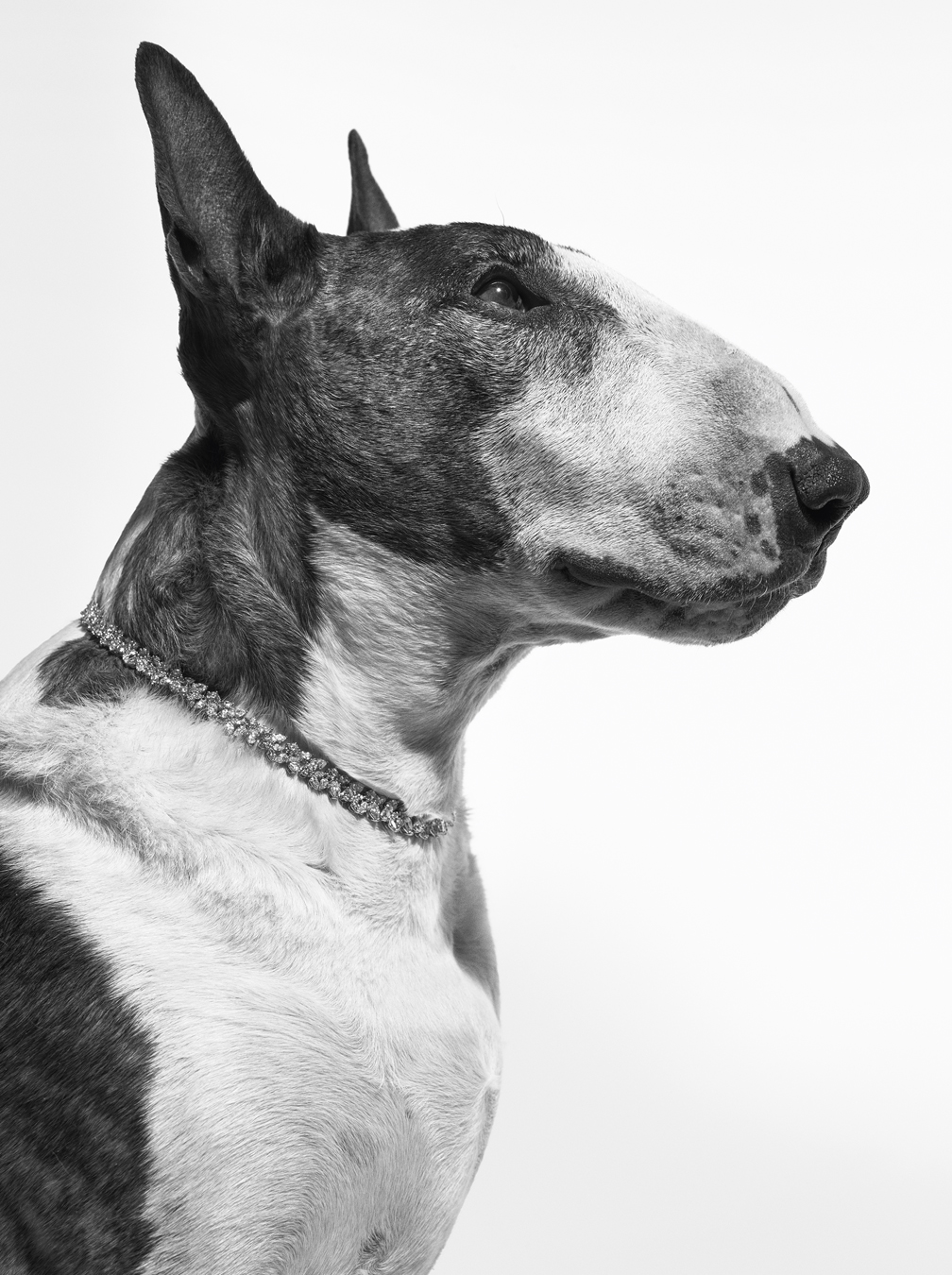 **Have you ever had breakfast at Tiffany's?
**There is no such thing! But I love the story behind that. Do you know the story of how Truman Capote coined the phrase? So, I believe that the story goes that when the sailors landed in New York, all the gay guys would get really excited, because the sailors were young and handsome and drunk. So he picks up a sailor – this sailor was a bit of a hick – and after a night of sex he said in the morning: "What would you like do?" The sailor doesn't know New York, he isn't sophisticated or anything. He has no idea and the only classy thing he can think of is Tiffany. So he said, "Well, I'd like to have breakfast at Tiffany's."
What's your idea of the perfect date with your husband, Char? Well, on a typical night he usually cooks dinner, and then he makes a nice fire, and we sit by the fire with the dogs and we watch a movie.
**Are there any you watch over and over again?
**Any kind of movie by Bob Fosse, like Sweet Charity, you know, or Cabaret. I'd say that Cabaret is probably the movie I've seen the most.
**What do you love about Bob Fosse?
**He's somebody I really look up to, his precision and vision. I wish I could've met him, talked to him about his struggles with making work. I relate to him a lot, although we're completely different, I relate to him in terms of his process and in that desire for a certain stylised result.
What song gets you going?
"There But for the Grace of God I Go" by Machine. When I did go out dancing, I mean, really early on, I was like sixteen or seventeen years old and I would go to Studio 54. When that song came on, I would go completely insane. I still, to this day, like even in the bathroom when I'm in a really good mood and I'm showering and getting really amped up, I'll play that on my phone.
**What was it really like being at Studio 54?
**The thing is, I think, when people hear about it or watch a movie about it or whatever, there's the sense of, 'Oh, my God, it would have been amazing to be there, all the celebrities, all the glamour, all the kind of crazy characters'. And that's exactly what it was. It was a real door scene, it was so difficult to get in. So when you got in you were going to have just the most brilliant time and it never disappointed. The music, the glamour, the decadence. It really delivered all of that, you know?
**Where do you go out to let your hair down now?
**My bathroom.
**Do you have a favourite jewel-related story?
**Yes! I can never remember who the two women were, but I think it was Sarah Bernhard, the famous actress in Paris – not Sandra Bernhard – and there was this other woman and they were really competitive. They were going to some ball or something, and so one of them decided that in order to outdo the other she would wear her entire collection of jewellery, which she did. And then the other one showed up with a black dress, no jewellery and had her maid wearing all of her jewellery. So she outdid the other by not wearing any of it. I love that.
Credits
---
With thanks to Tiffany & Co.
Photography Mario Sorrenti
Fashion Alastair McKimm
Photograph of Marc Jacobs
Hair Bob Recine
Make-up Kanako Takase at Streeters using Addiction Beauty
Nail technician Honey at Exposure NY using Chanel
Photography assistance Kotaro Kawashima and Brett Ross
Digital operator Chad Meyer
Fashion assistance Madison Matusich, Milton Dixon III and Casey Conrad
Tailor Martin Keehn
Hair assistance Kazuhide Katahira
Make-up assistance Aimi Osada
Production Katie Fash, Layla Néméjanki and Steve Sutton
Production assistance William Cipos
Casting director Samuel Ellis Scheinman for DMCASTING
Photograph of Neville Jacobs
Photography assistance Kotaro Kawashima and Brett Ross
Digital operator Johnny Vicari
Fashion assistance Madison Matusich, Milton Dixon III and Casey Conrad
Tailor Martin Keehn
Production Katie Fash, Steve Sutton and Layla Néméjanki
Production assistance William Cipos
Casting director Samuel Ellis Scheinman for DMCASTING
Tagged: