Triangle of Sadness just won the Palme d'Or at Cannes Film Festival
The movie about models and the rich trying to survive after being stranded on an island got a 7 minute standing ovation. Here's everything we know.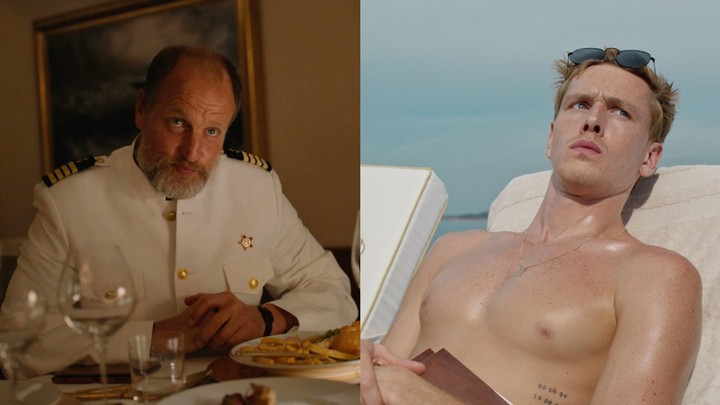 There were several movies premiering at this year's Cannes Film Festival that we've been excited about for some time now — from the gruesome Kristen Stewart-starring body horror Crimes of the Future by David Cronenberg, to Paul Mescal vehicle Aftersun and the trippy 70s horror, Enys Men (Check out our reviews from the festival!). But one movie that really came out of nowhere to capture the hearts of the Cannes audience and the intrigue of the internet though, is the new project from Ruben Östlund, entitled Triangle of Sadness. Now, it has won the festival's most coveted award, the Palme d'Or.
This is the second time Ruben has won the prize, the first being with his 2017 movie The Square. Triangle of Sadness, though, is his first English-language output, and had to pause production twice in 2020 due to the pandemic. Billed as a dark comedy that is reportedly best viewed going into it blind, it stars Harris Dickinson (Beach Rats, 2017) as fashion model Carl who is invited with his influencer girlfriend Yaya, played by Charlbi Dean (Don't Sleep, 2018), on a luxury cruise for the uber rich run by Woody Harrelson's marxist Captain Tom Smith.
The few short clips released so far show a shirtless Carl at castings and a bunch of rich people on a boat making jokes about communism and equality while staff pour them champagne. It's giving White Lotus. But the decadent merriment doesn't last long, and after a few of them are left stranded upon a deserted island, the models and hot rich people must use their good looks as currency to survive. According to Ruben, the movie explores male beauty, masculinity and gender norms.
"Ruben Östlund voodoo dolls the SHIT out of the super wealthy and the instafamous for 2.5 hours in TRIANGLE OF SADNESS and I had a really fucking great time!! Raucous and repulsive, very much his usual territory, but my god he knows it well." wrote i-D's Douglas Greenwood on Twitter. It's also apparently very messed up. "Just a wild, rapturously unsubtle ride — shipwrecks, projectile vomit, shit projecting out of toilets, knowingly on-the-nose big D class Discourse, pirates with grenades, arms dealers murdered with grenades. In yer face madness. Loved it," tweeted Jack King.
It seems those lucky few film writers who have seen it at Cannes are already obsessed. "Triangle of Sadness has been my favourite film of #Cannes (so far)," said Luke Hearfield, who called it a "rapturous delight". It's a sentiment shared by i-D writer Iana Murray, who listed it as one of her top three films of the festival so far. "Triangle of Sadness is insane and over-the-top but brilliant. With so many twists and turns in the narrative, political and social comedy is explored through humour that will have you non-stop laughing. A must watch," wrote Amy Smith while Caspar Salmon called it "easily my favourite of Ruben Östlund's films," and that "Harris Dickinson is sublime."
As of yet, we don't have a release date for the movie although it has been acquired for distribution by Curzon, so we expect an announcement will follow. Hopefully that will mean a trailer and more clips of the hot people being hot and/or fighting each other. Who needs Love Island when you have this?
Follow i-D on Instagram and TikTok for more on the movies at Cannes Film Festival.