Photos by Jeff Kravitz / FilmMagic and Ron Galella / Ron Galella Collection, both via Getty Images, and still from Scooby Doo 2: Monster's Unleashed
7 of Sarah Michelle Gellar's most iconic outfits
'Scooby Doo 2: Monsters Unleashed' was a fashion film, actually.
Photos by Jeff Kravitz / FilmMagic and Ron Galella / Ron Galella Collection, both via Getty Images, and still from Scooby Doo 2: Monster's Unleashed
Name a more famous 90s actress than Sarah Michelle Gellar, we'll wait. She dominated the decade; making a name for herself as the it-girl who stole the scene no matter what role she was in or who she was in a movie with. As well as becoming one of the 90s most iconic scream queens, with legacy-defining roles in movies like I Know What You Did Last Summer (1997) and Scream 2 (1997), she also completely circumvented the blonde-girl-horror trope by being the hottie you don't want to mess with in Buffy the Vampire Slayer and as Daphne in the Scooby Doo movies. But Sarah played the villain just as expertly well, from baddie Kendall Hart in All My Children, to the cunning, manipulative queen bee Kathryn Merteuil in Cruel Intentions (1999).
But just as iconic as her roles were the wardrobes that went with them. Sarah's iconic style, both in character and IRL, are now being rediscovered by new audiences through TikTok and Instagram, with accounts dedicated to documenting the leather looks and vampy fashions of Buffy and the infallible, all-purple fashions of Daphne Blake. In between she also had some fun red carpet moments and award show looks for us to obsess over too. Here we take a look at seven of Sarah Michelle Gellar's most iconic outfits both on and off-screen.
Rollerblading on the streets, 1994
Before she was a household name, Sarah Michelle Gellar starred in All My Children, a soap opera that ran from 1970 to 2011. For those of us not old enough to remember (ie. all of us), the show was set in a fictional suburb of Philadelphia and followed Erica Kane (played by Susan Lucci) and her partners over the years. From 1993-1995, Sarah Michelle Gellar took on the role of Kendall Hart, Erica's estranged daughter whose resentment at being cast aside at birth made her a classic soap opera 'bad girl', known for Anna Delvey levels of scamming. Like her character's wardrobe that consisted mainly of double denim looks, leather and cute fitted crop tops, the teenage Sarah's own street style was very grunge. Pictured here, her fashion looks effortless in mom jeans, a black turtle neck vest and a flannel shirt hanging from her arms.
As Helen Shivers in 'I Know What You Did Last Summer', 1997
Playing teen beauty pageant winner turned retail queen Helen Shivers, Sarah and co are plagued by a hook-handed, rain mac-wearing killer who knows what they all did last summer (something bad). SMG's turn in this eerie 90s slasher is the first movie in her Scream Queen repertoire. It's a pretty iconic look for it too. Fresh off her crowning, a tiara still adorning Helen's head, she covers up in the cool night air of the harbour-side village wearing her boyfriend's oversized leather baseball jacket over her cut out dress. It's the ultimate y2k it-girl look.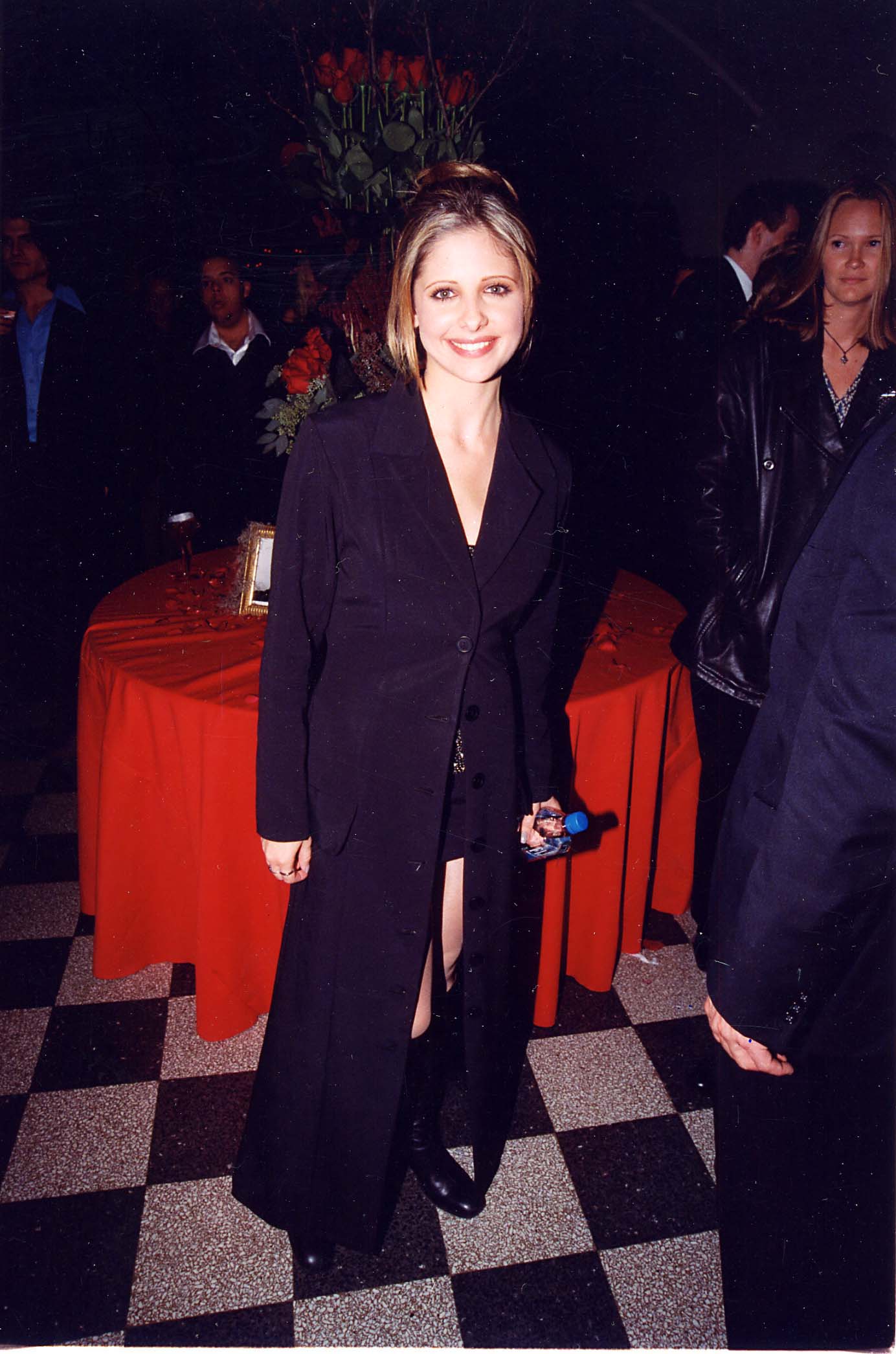 At the 'Scream 2' premiere, 1997
It makes sense that Sarah Michelle Gellar would take on one of the early bait and switch kill scenes in the Scream franchise, the role nearly always went to the biggest stars, like Drew Barrymore, Jada Pinkett-Smith, Kristen Bell and, most recently, Jenna Ortega. Turning up to the premiere of the most beloved horror franchise ever, SMG had a fun vampy look on – very on-brand for her Buffy era – with a black trench loosely done up with a black miniskirt and knee high boots peering out between the gap.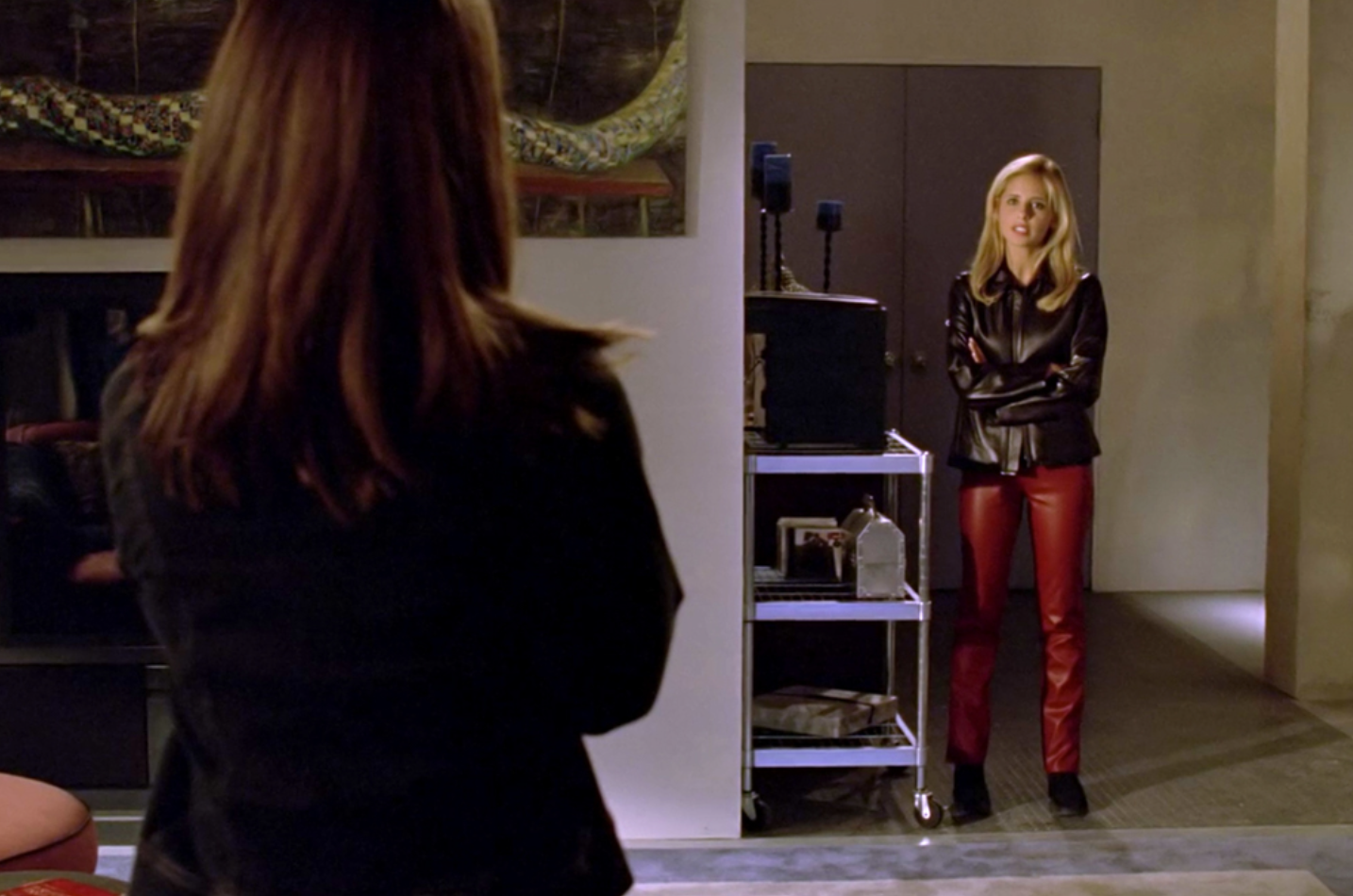 As Buffy Summers in 'Buffy the Vampire Slayer', Season 3, 1999
If there is one garment Buffy the Vampire Slayer will be remembered for (along with being the Sunnydale Class Protector of 1999), it's leather trousers. The show itself was a bit obsessed with the humble leather pants, which were seen upon the likes of Faith, Spike, Angel and, of course, Buffy herself. In turn, as TikTok introduces a new audience to the beloved 90s show, the garment is also having a bit of a renaissance in our street style, as well as in the biker style trend of the AW22 runways. While there are many great leather trouser moments in the show's history, the most renowned will have to be this sleek blood red pair worn by Buffy along with a black halter vest and black shiny leather jacket as she goes to fight the chaotic evil icon Faith. Is it the most suitable of materials to go into battle in? No. But hey, at least she looks stunning whilst saving the world.
As Kathryn Merteuil in 'Cruel Intentions', 1999
Cult classic movie Cruel Intentions will be remembered for being more than just a brooding 90s teen drama (or for that Ryan Phillipe nude scene), it will also be remembered for its bougie Hamptons-core fashion. Think: Selma Blair with pastel knitwear draped over her shoulders, Ryan Phillipe in Matrix-style sunglasses and Reese Witherspoon in Catholic school girl looks. The best moments, though, came from SMG as Kathryn (the ultimate anti-Hamptons girl), from her alt crucifix necklace with a secret use (cocaine), to her oversized Balenciaga-esque suits and, of course, this lace and leather corset outfit she seduces her step brother in, which kind of looks like it could have come off Madonna's Blonde Ambition Tour.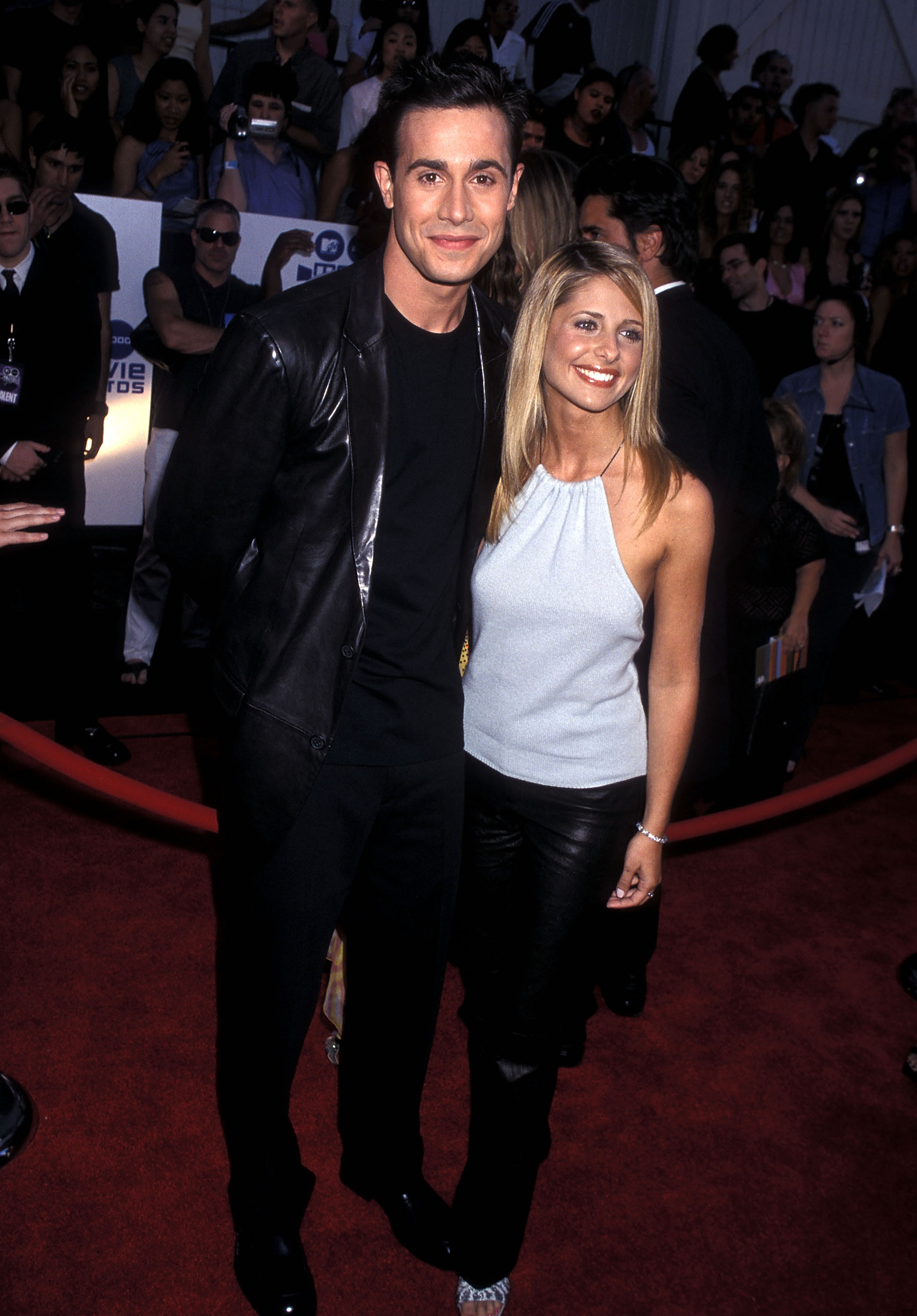 With Freddie Prinze Jr. at the MTV Movie Awards, 2000
Of all the y2k celebrity couples walking arm in arm in matching looks on the red carpet, none were quite so cute and wholesome as Sarah Michelle Gellar and fellow actor Freddie Prinze Jr. The two met on the set of I Know What You Did Last Summer in 1997 but did not start dating until 2000. Here, in one of their earliest appearances, the two subtly compliment each other in matching leather accents. Did Freddie purposefully dress like SMG's lovers in Buffy the Vampire Slayer, Angel and Spike? In our fantasy yes he did. The two would get married a year later and adorably have been together ever since, continuing to work together, most notably in the Scooby Doo franchise.
As Daphne Blake in 'Scooby Doo 2: Monsters Unleashed', 2004
Never has there been a more perfectly cast movie than the live action Scooby Doo movies and no one could have filled the role of smarter-than-she-seems, fashion girlie Daphne than Sarah Michelle Gellar. Playing off of the renowned lilac fitted dress and green scarf worn by the cartoon, the cinematic Daphne had an array of magenta hued iconic 00s outfits to mix and match. From a wine-toned corduroy jacket to a soft purple Juicy Couture esque tracksuit and cute baby tees with her own face adorning them. Very main character energy. BTW, no one talks about why, in that Velma makeover scene, Daphne just happens to have an orange latex jumpsuit lying around. This is very off-aesthetic girl, what's going on?
Follow i-D on Instagram and TikTok for more on 90s and 00s fashion.