All images courtesy of Fendi
Fendi AW22 was as hard as concrete and as soft as chiffon
Kim Jones latest collection traversed through Fendi's archive to create androgynous sharp tailoring and hyper-femme lingerie.
|
24 February 2022, 12:01pm
All images courtesy of Fendi
Chiffon and concrete! Tough leather tailoring and lingerie! Hand-crafted hardness and delicate softness! Oh, the duality of womanhood! Kim Jones' latest collection for Fendi was a celebration of extreme opposites: the toughness of tailoring and the intimate softness of lingerie; the codes of masculine dress and hyper-femme details; the past and present of a fashion house on the precipice of a new future. It all started when Delfina Delettrez, a fourth-generation Fendi woman who designs the house's jewellery, walked into the design studio wearing a blouse stolen from her mother, Silvia Venturini. It turned out to be from 1986, from a collection that the late Karl Lagerfeld imprinted with references to his beloved collection of Memphis furniture and design objects.
"I took it straight off her back and put it on the research rail because she looked so good in it," Kim explained after the show. Elsewhere, he said: "The best place to explore the Fendi archives is through the Fendi wardrobes." Since joining the Fendi family last year, Kim has made no secret that it is the Fendi women who have been his guiding light in understanding the Roman house — and filling the ginormous pointy-toed shoes of the late Karl Lagerfeld.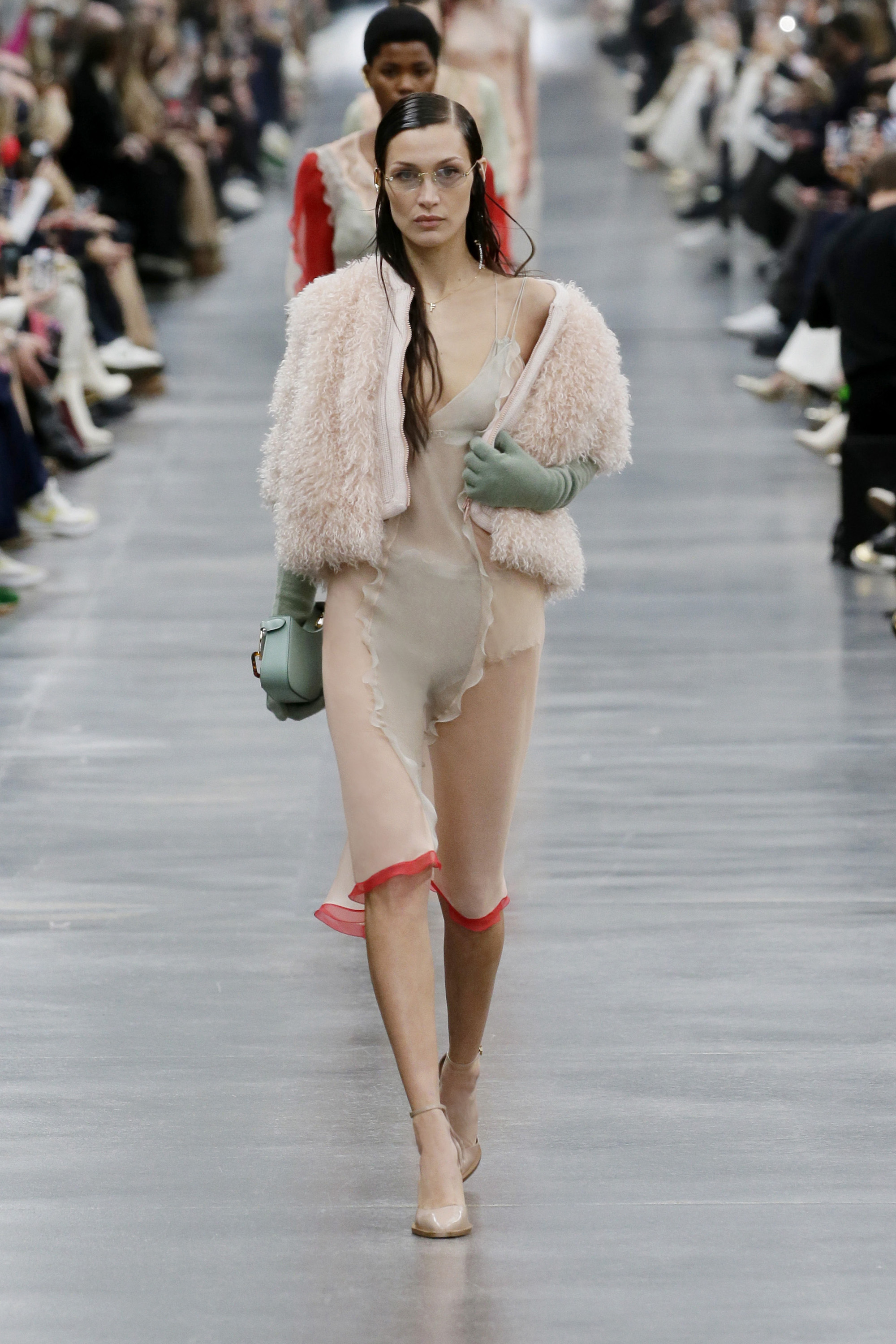 One of the things that made Karl so hard to replace is that he was famously not nostalgic, constantly looking forward and riffing on esoteric references while tapping into whatever youth culture of any given moment. For Kim, however, the legacy of one of fashion's giants is hard to ignore. Especially given that it spanned 54 years of the house he now works for. Instead, he's following his instinct and absorbing more than just the archive of the house — but the attitude of it, through the women who bear its name.
Besides, right now the most modern thing is to look back and do so by scrolling down the pages of fashion's rising resale platforms. The most desirable fashion is old and rare, collectible and cult — just like the Fendi bags that came with almost every look in this show. Kim's collection tapped into the current thirst for pre-loved fashion, and what people are buying from Fendi, old and new. "When I first came to Fendi, I knew the handbags before I knew the clothes," he admitted with the kind of directness that benefits his perspective. Just last month, for instance, Kim announced a collaboration with Sarah Jessica Parker to re-edition the sparkly baguette bag that Carrie Bradshaw famously had stolen in the fourth series of Sex and the City. It was resurrected in the And Just Like That reboot — alongside the new collaboration. See! Old or new, who can tell?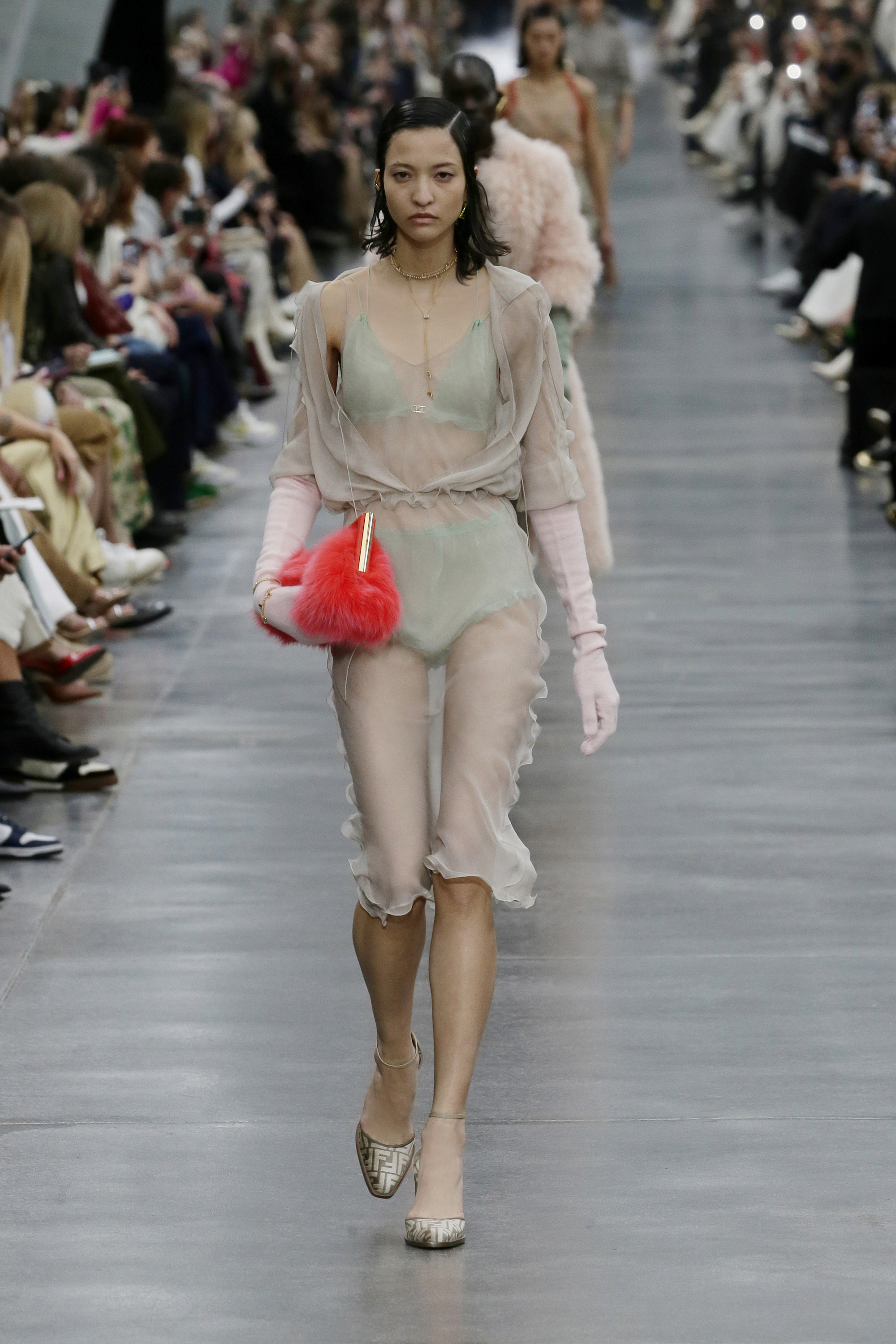 But, back to the clothes — though he borrowed the hard-shouldered, curved-lapelled tweed tailoring from that 1986 collection, Kim had the brilliant idea of juxtaposing it with references to another Lagerfeldian triump: SS00's patchworked and overlocked chiffon dresses, lingerie-like in their gossamer lightness. They couldn't be further apart. Think of all those strappy, wispy dresses that every 20-something designer is making right now — yep, Fendi did it first, or at least way before. Given that the 2000s is trending among Depop-obsessed shoppers all over the world, it felt like a prescient move that would resonate with hardcore fashion geeks and Y2K newbies. "I'm not a fan of nostalgia, but when something is really good and feels right — I do it," Kim said. He didn't mention that he had streamlined and chopped up the tailoring with sculpted corsetry and micro proportions, and sharpened the lingerie-inspired chiffons with diametric colour-contrasts (brown and mint green, red and peach) — but either way, it helped bring it to the here and now.
There was also a recurring theme of contrasts throughout: those lingerie-like diaphanous dresses were worn with long, wintery cashmere gloves and tough-leather jackets. Menswear-inspired tweeds and striped poplin shirting were inbuilt with hyper-femme corsetry and abbreviated by micro-length shorts. The set consisted of brutalist concrete arches, the soundtrack of thumping basement techno — but most of the clothes were as sweet and soft as candyfloss. "Women know what they're doing," Kim smiled when asked about the juxtaposition of concrete and chiffon. It was interesting to see Kim — who has decades of experience as a menswear designer — start to introduce some androgyny into the mix, albeit with a whole lotta leg.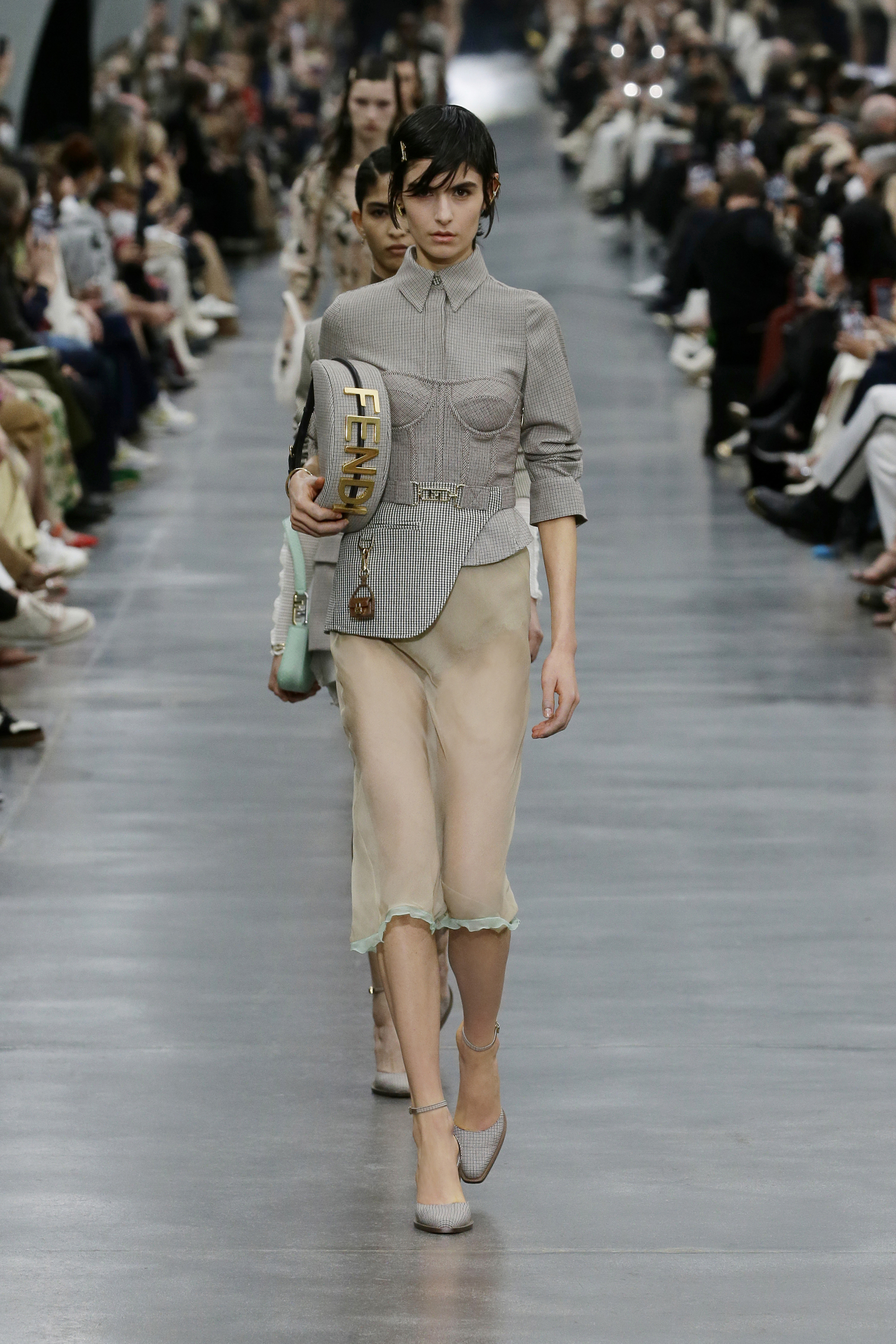 And though this probably wasn't a direct reference, the collection had the air of the 1930s — what with all those bias-cut chiffons, Mitford-flavoured tweeds, and Art-Deco-via-Memphis prints. Considering the world might be on the brink of World War III, perhaps that's just a strange coincidence — but more likely it's to do with the gorgeousness of that era of Italian fashion, when Fendi was in its infancy, and when women were starting to wear the trousers — high-waisted and leg-elongating, just like the ones in this show.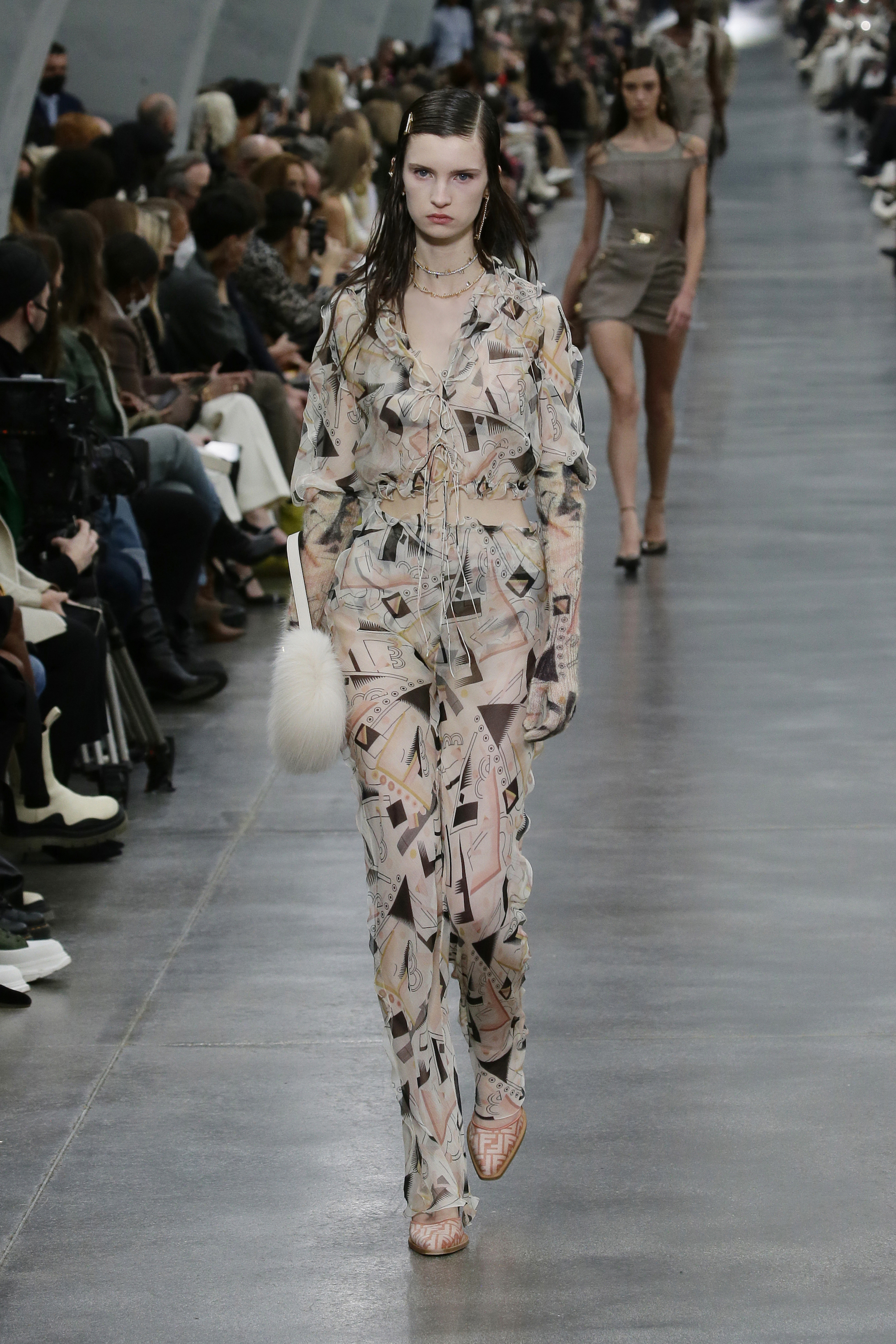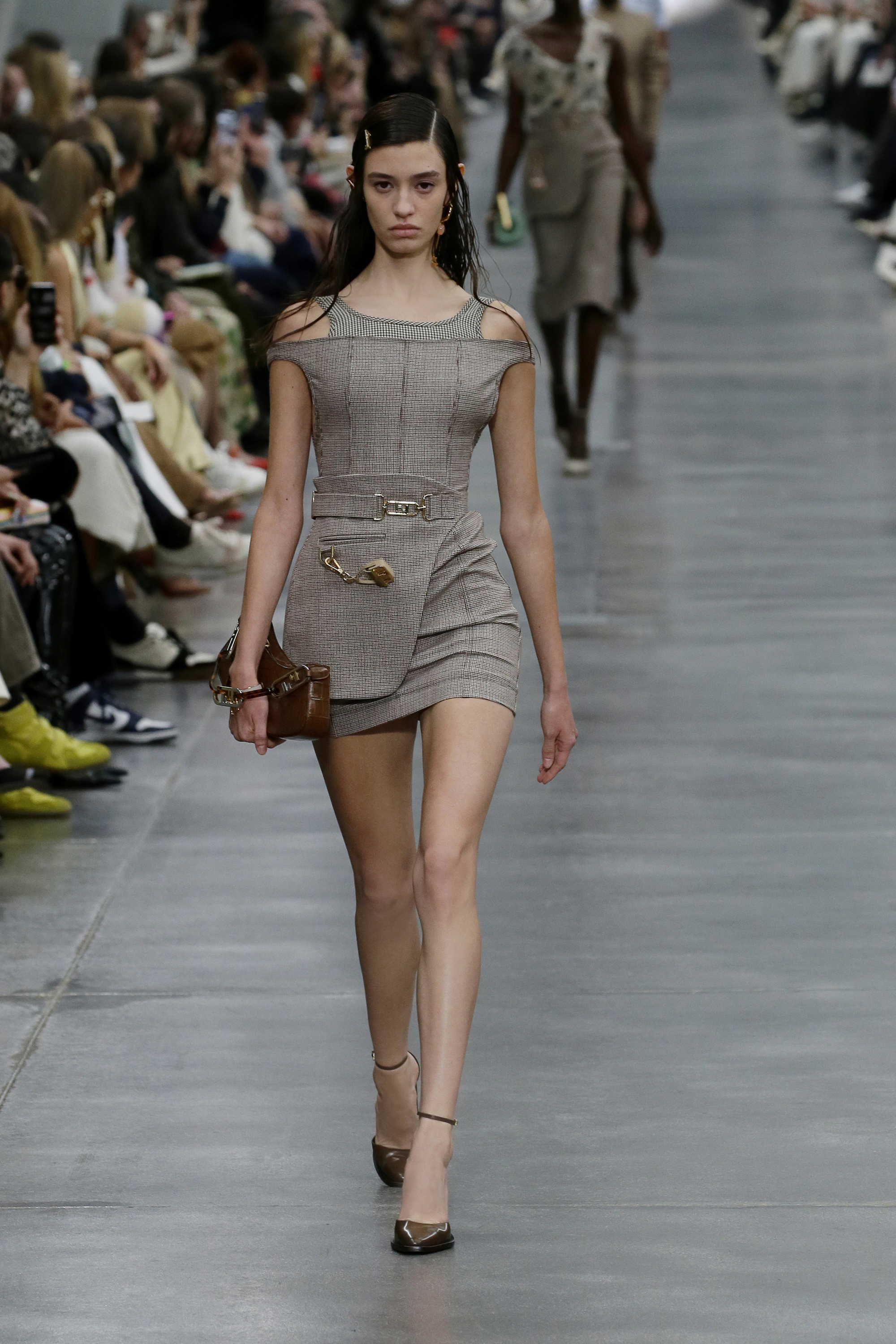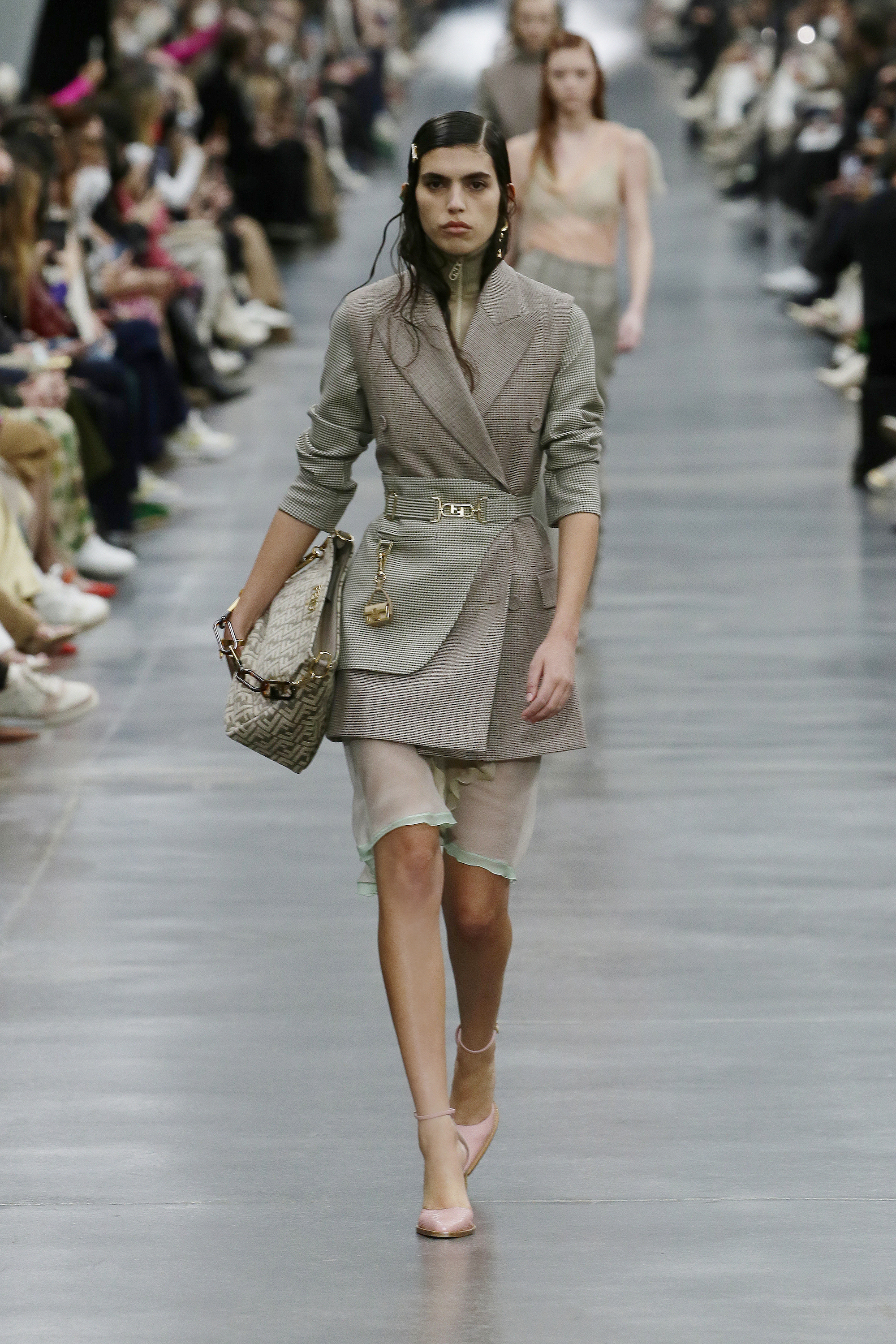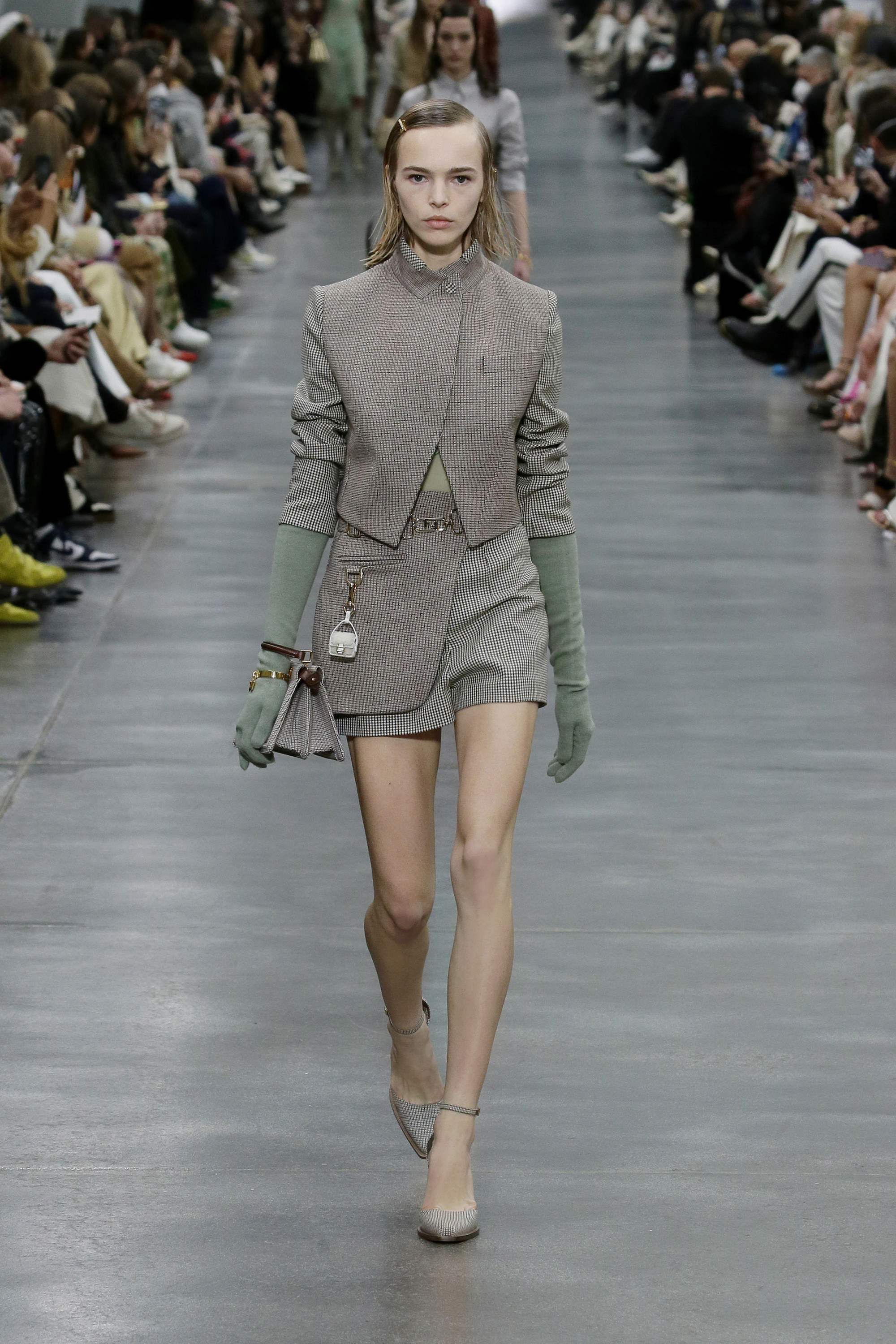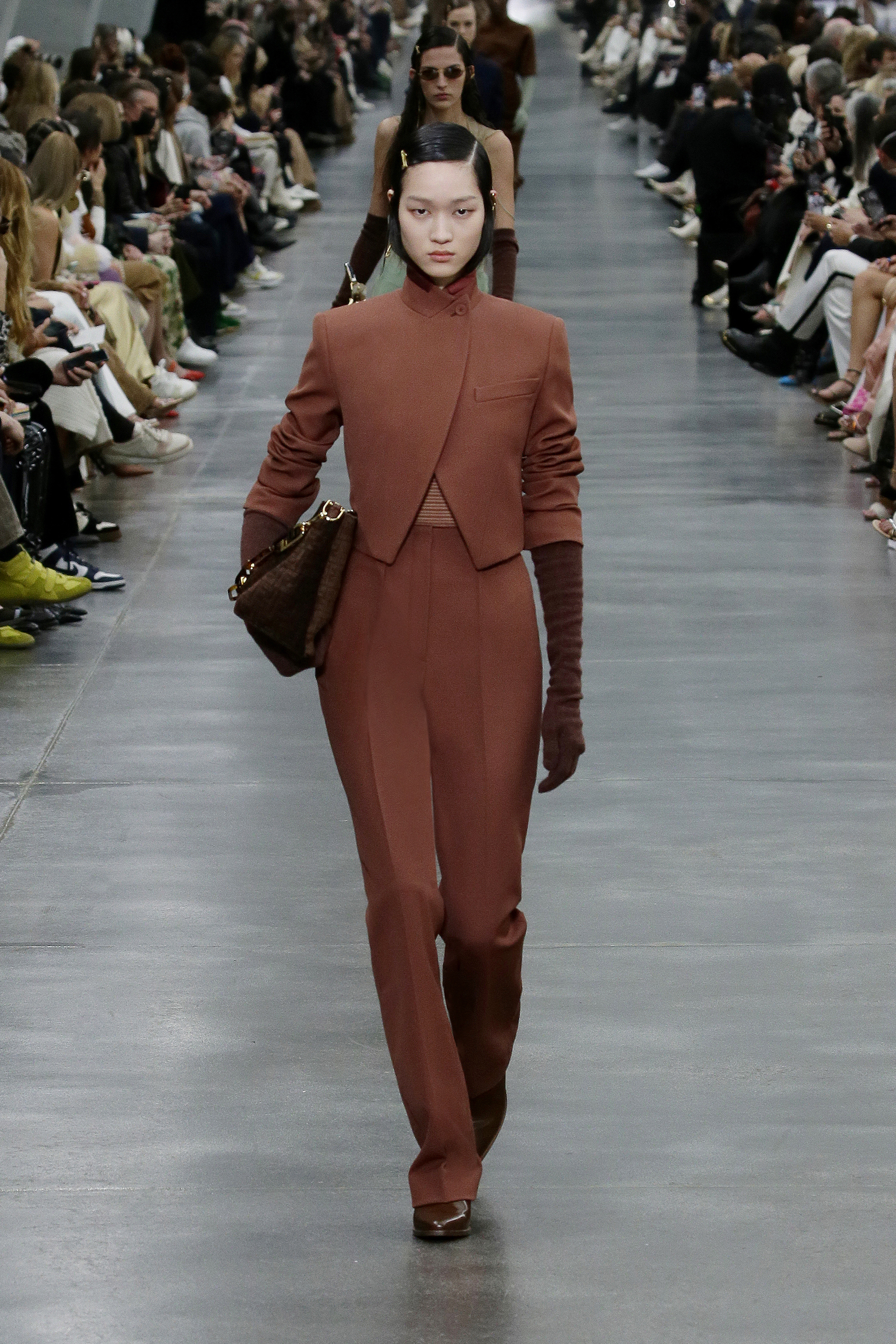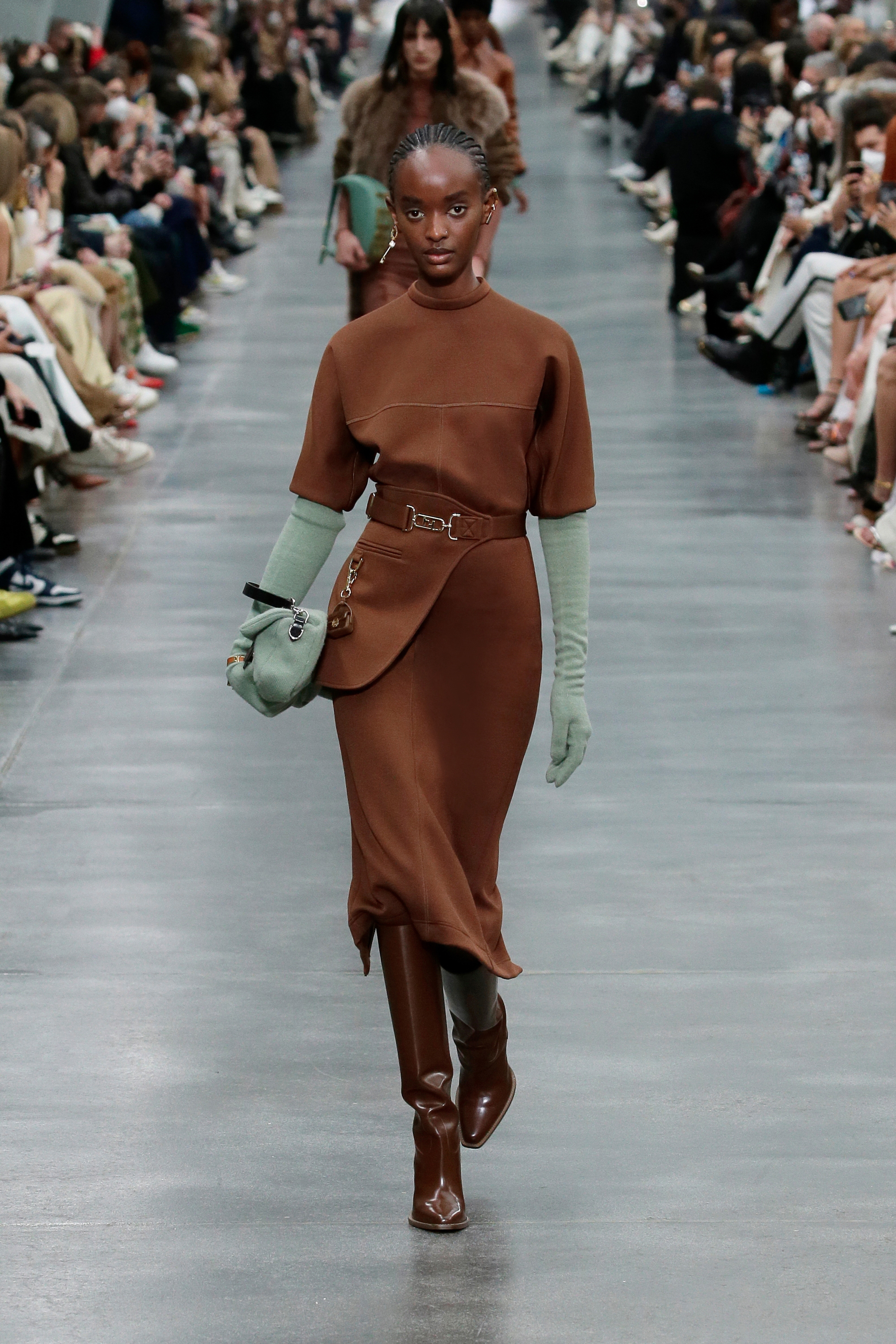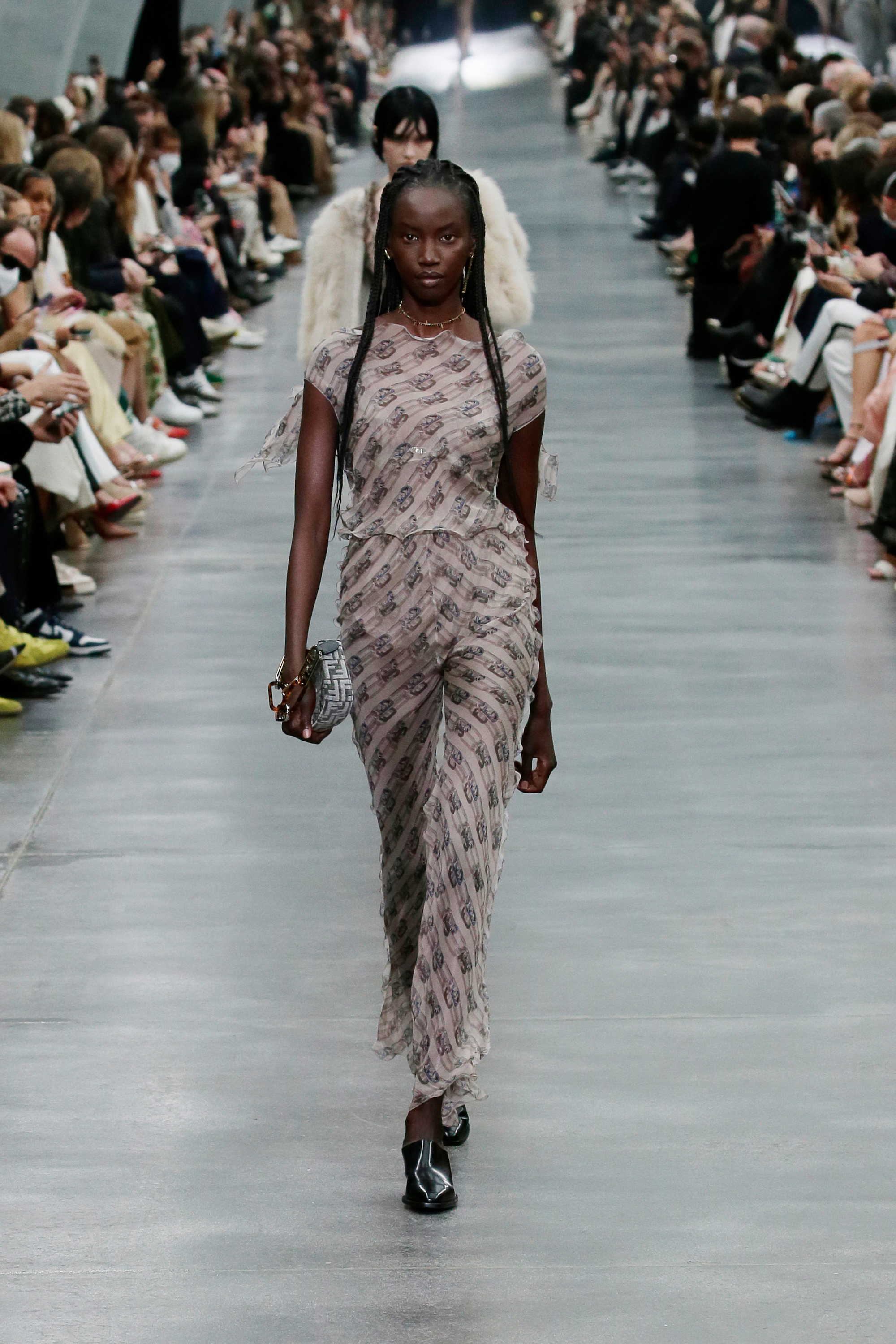 Follow i-D on Instagram and TikTok for more on Milan Fashion Week AW22.
Credits
---
All images courtesy of Fendi.
Tagged: