Images courtesy of Loewe and Palace
Loewe's first collab and Palace x Elton John: What's in Fashion?
Your one-stop-show for this week's fashion news to know.
Images courtesy of Loewe and Palace
Fashion month may be over (touch wood!), but does that mean that fashion stops? Hell no it doesn't! Even though you've barely had time to catch up on all of the stunning collections that have been offered up for AW22 (and if you've not yet started, then here are our handy digests for New York, London, Milan and Paris), the wheel keeps on turning, bringing with it a hot new batch of terribly exciting fashion news! On this week's menu, we have everything from hot new collabs courtesy of Loewe, Moncler, Palace and UGG, a new Diesel campaign, and an intro to one of the new names to know in the London jewellery scene. Et voilà, here's what's in fashion.
Alexander McQueen's "Lucia: Jewel Satchel" film has us screaming!
Are you in the mood for a horror movie? Always, ofc! Well, Alexander McQueen's new short film in celebration of the house's stunning jewelled satchel bag is an ode to the neo-noir horrors of the past. Close up monochromatic shots echo Psycho (1960) whilst ooky-spooky, disorientating scenes with blood-red and inky black tones are reminiscent of Gaga in American Horror Story: Hotel. The scream queen star of this movie is musician Lucia Fairfall, who creepily drags her sharp acrylics along the bag's leather, swings its chain handle about like a demon-possessed soul and performs on stage with her rocking-out band. Directed by Sophie Mueller, who has been behind some of our fave pop girl music videos in the last few decades (Annie Lennox, Sade, Lana Del Rey, Beyonce, Selena Gomez to name a few), the film is just the first of three works coming in the next year that celebrate the Alexander McQueen woman in all her Horror-loving, alt-fashion glory. TG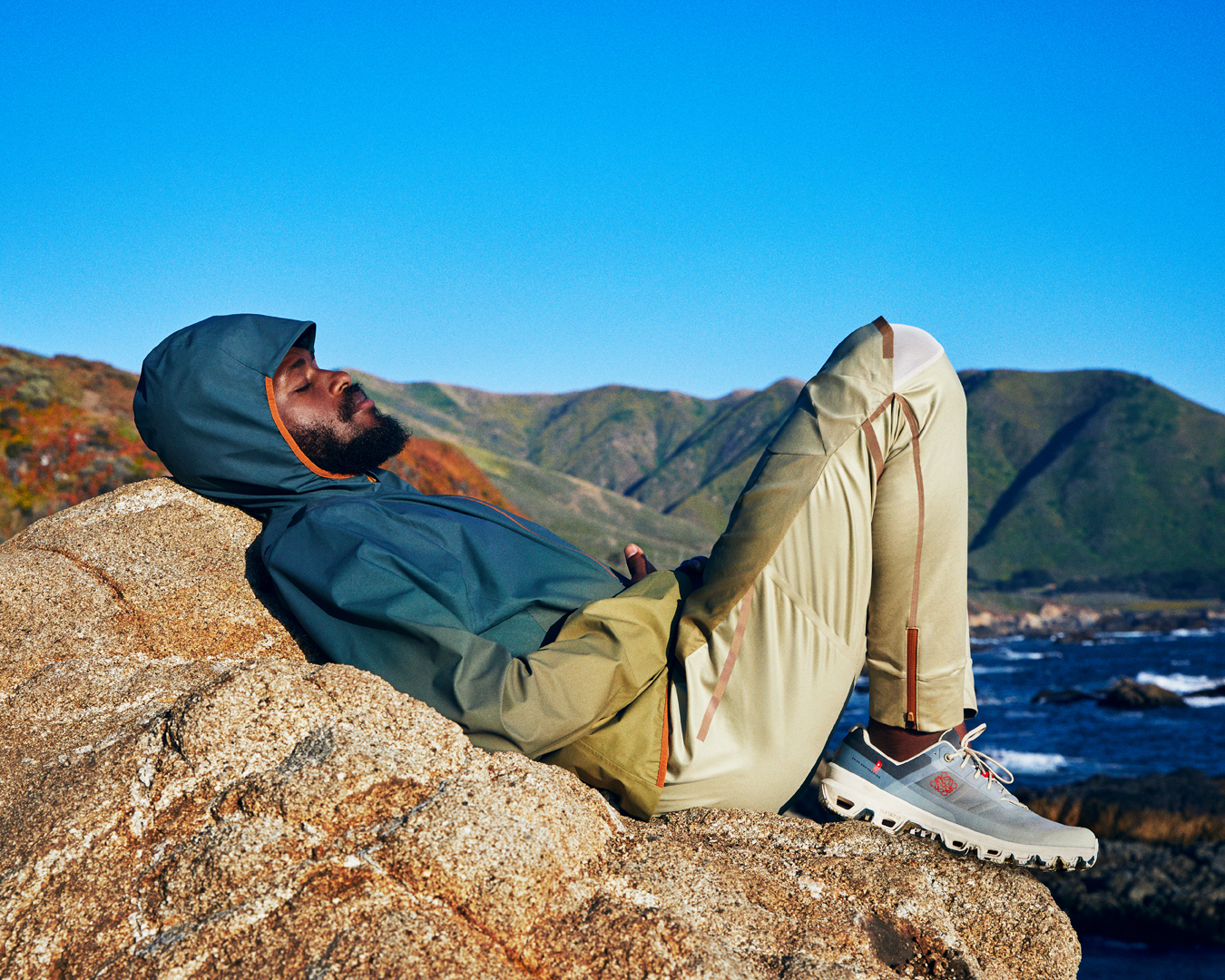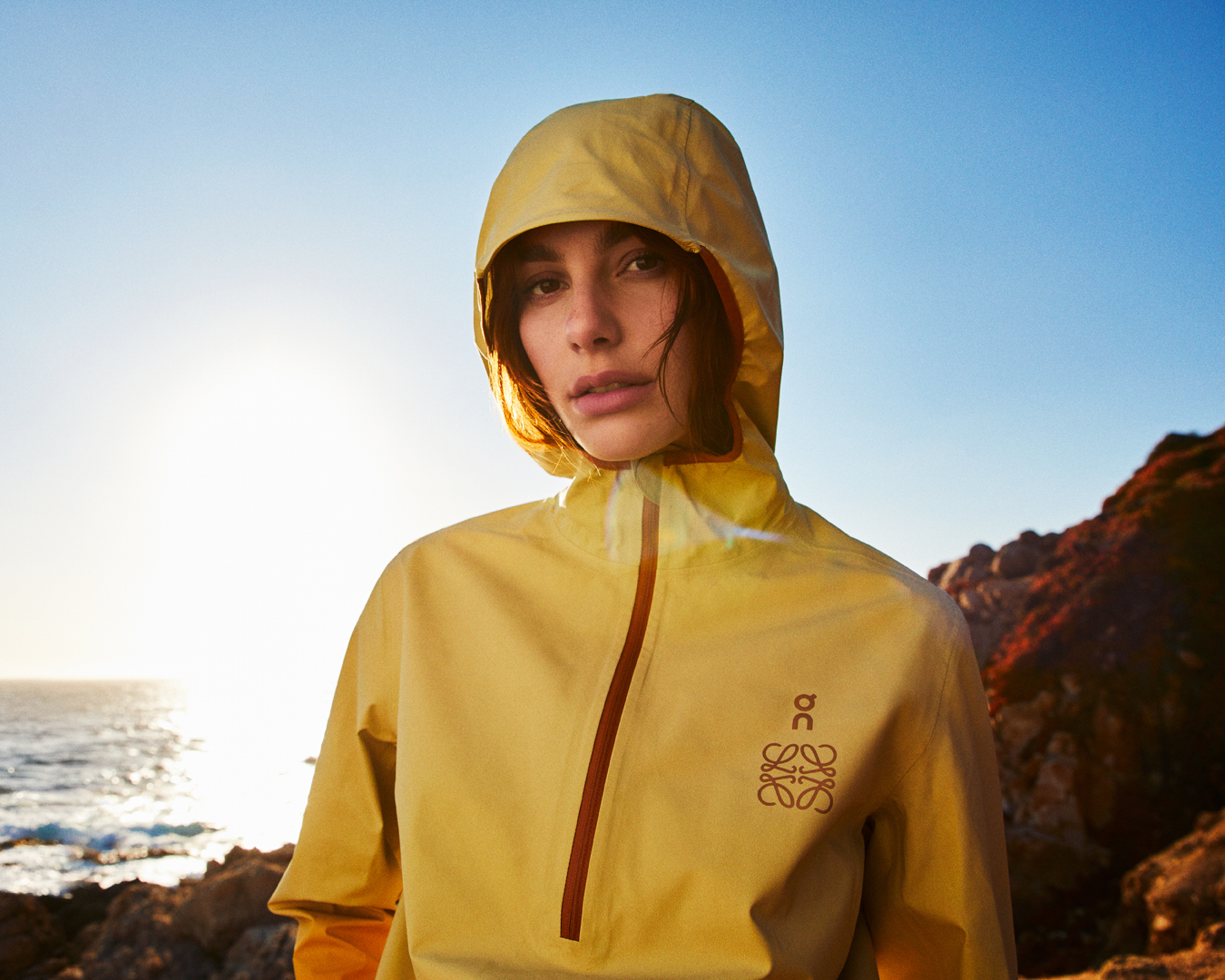 A good reason to run to your closest Loewe store
With all the puffing, panting and battling with the capricious whims of the great outdoors, running isn't usually considered a particularly chic sport. Well, not till now it hasn't! That's right, thanks to a glam af link-up between Swiss performance brand On and everyone's fave Spanish fashion house, running is officially in. For J-Dubz' first official collaboration at Loewe (we know, right?!), he and his studio team have given On's Cloudrock and Cloudventure performance shoes a makeover in five dreamy colourways. But that's not all! Alongside the snazzy sneakers, there's also a capsule of ready-to-wear. Featuring six pieces for women, and seven for men, the running pants, parkas, anoraks and t-shirts on offer make the best of the respective brands' know-hows, with On's weather-hardy pieces reimagined in Loewe's heavenly gradient prints. Looking for a way to flex on your next lap around the local park? Well, head here to cop, and become the envy of your fellow joggers! MS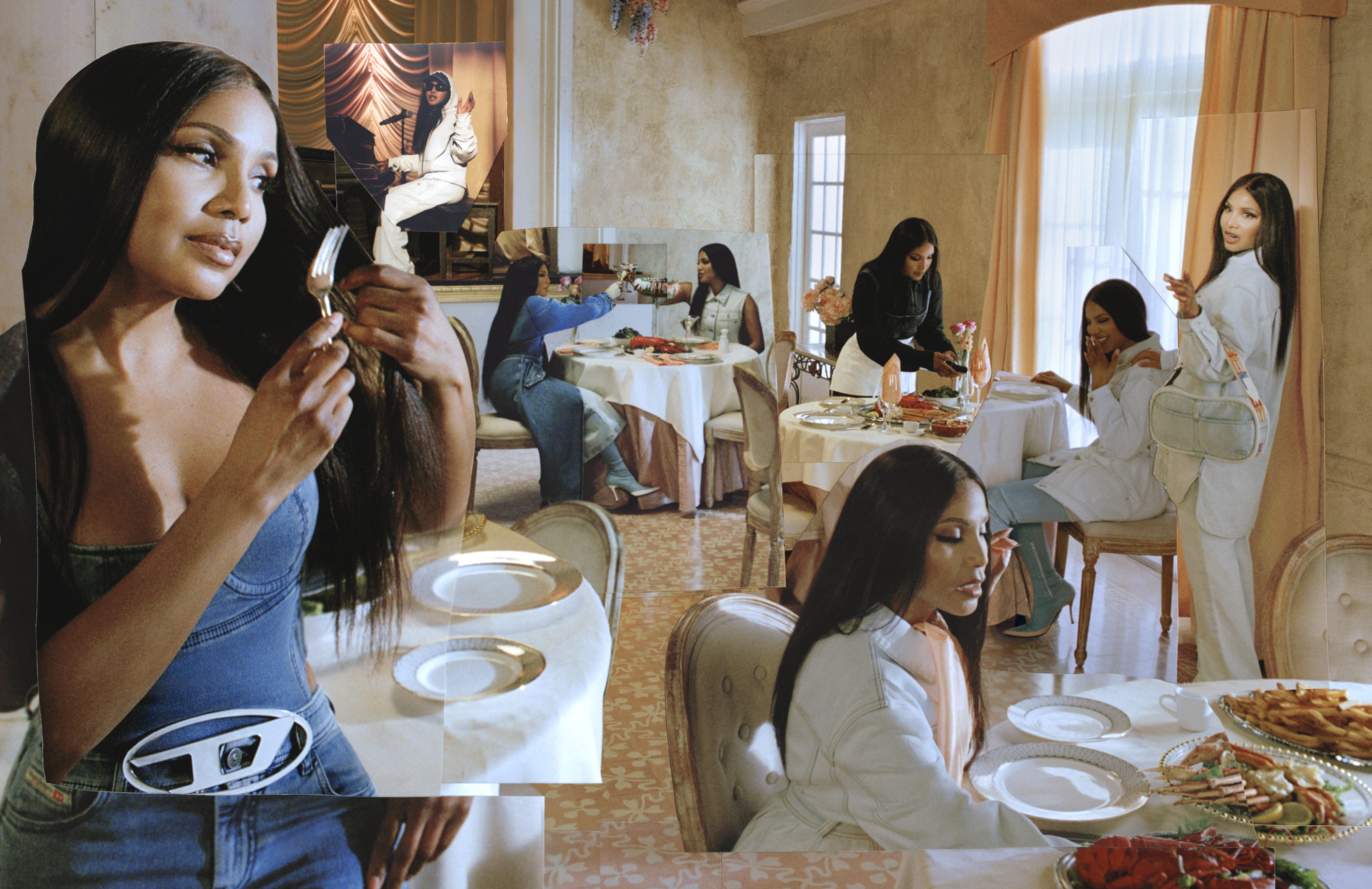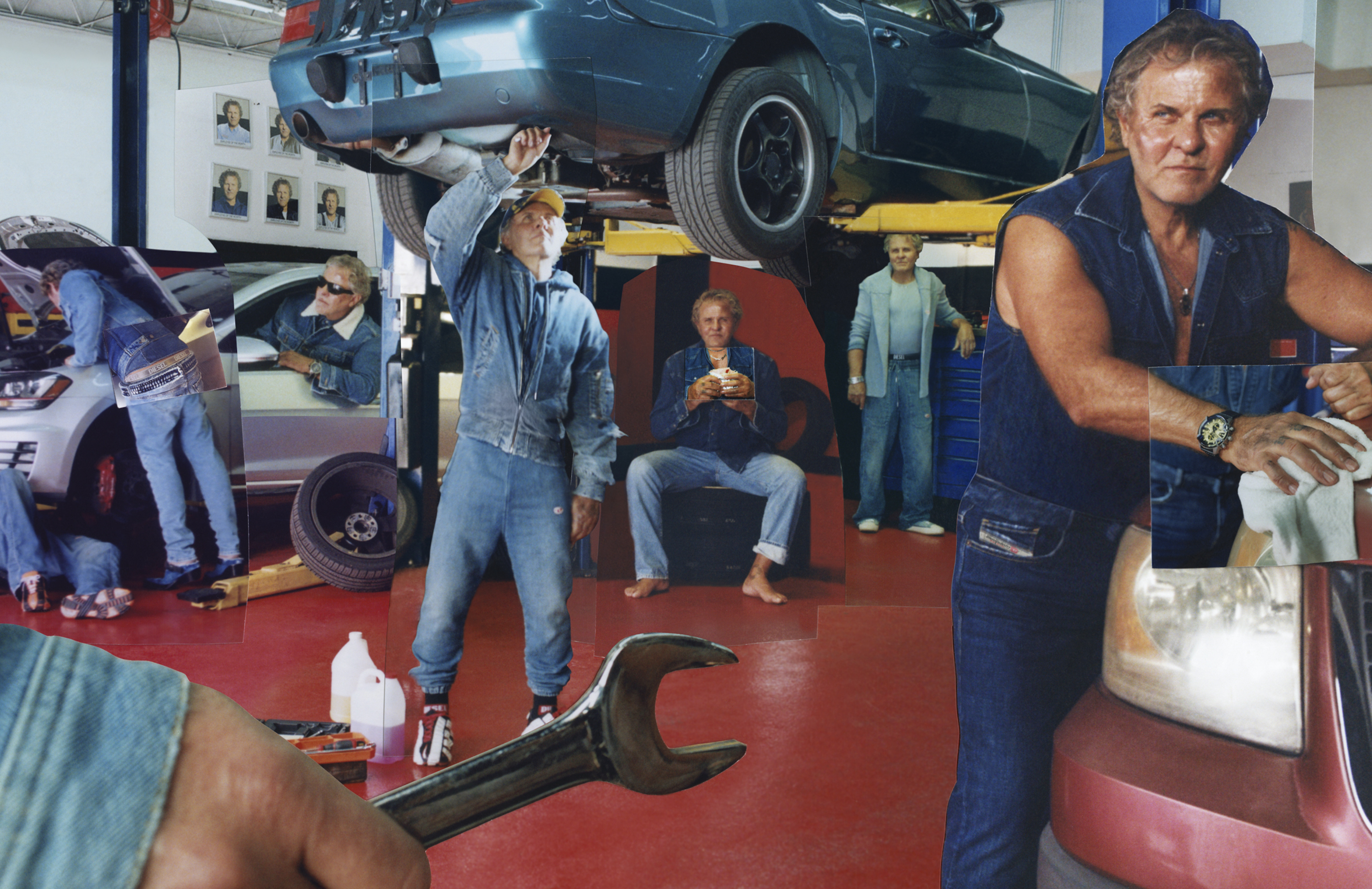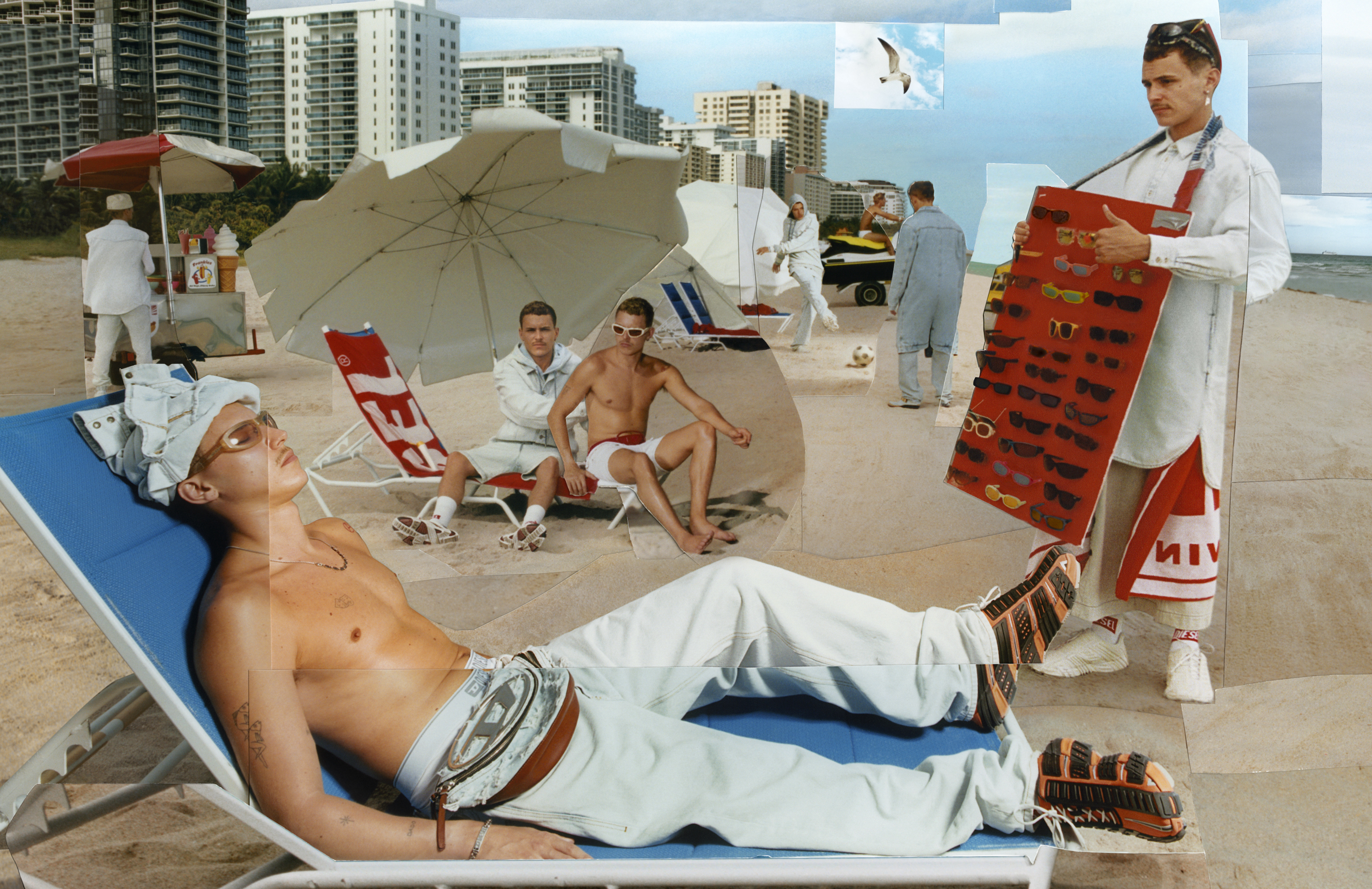 Diesel Library debuts its first-ever campaign
If there's one brand that wins the award for making the rise from 'not' to 'hot!' in record time, it's Diesel. Indeed, with fresh wind in its sail since the arrival of Glenn Martens at the helm, the Italian lifestyle label has become a go-to for any Y2K-revivalist hottie out there. That said, ahead-of-the-curve as Glenn's vision for the brand may be, it's one with staying power. Proof of that can be found in Diesel Library, the label's made-to-stay line, comprising a repertoire of responsibly-made, genderless classics – pieces created to live far beyond the trend cycle. The line's very first campaign, shot by Frank Lebon, showcases the breadth of personalities that Diesel Library is for. ​​Featuring iconic singer Toni Braxton with her sons Diezel and Denim Braxton, Diesel's scarlet-headed muse and model Ella Snyder, and even the brand's very own founder Renzo Rosso, it's a witty testament to the generations that have adored Diesel over the years, and those that will continue to over the years to come. MS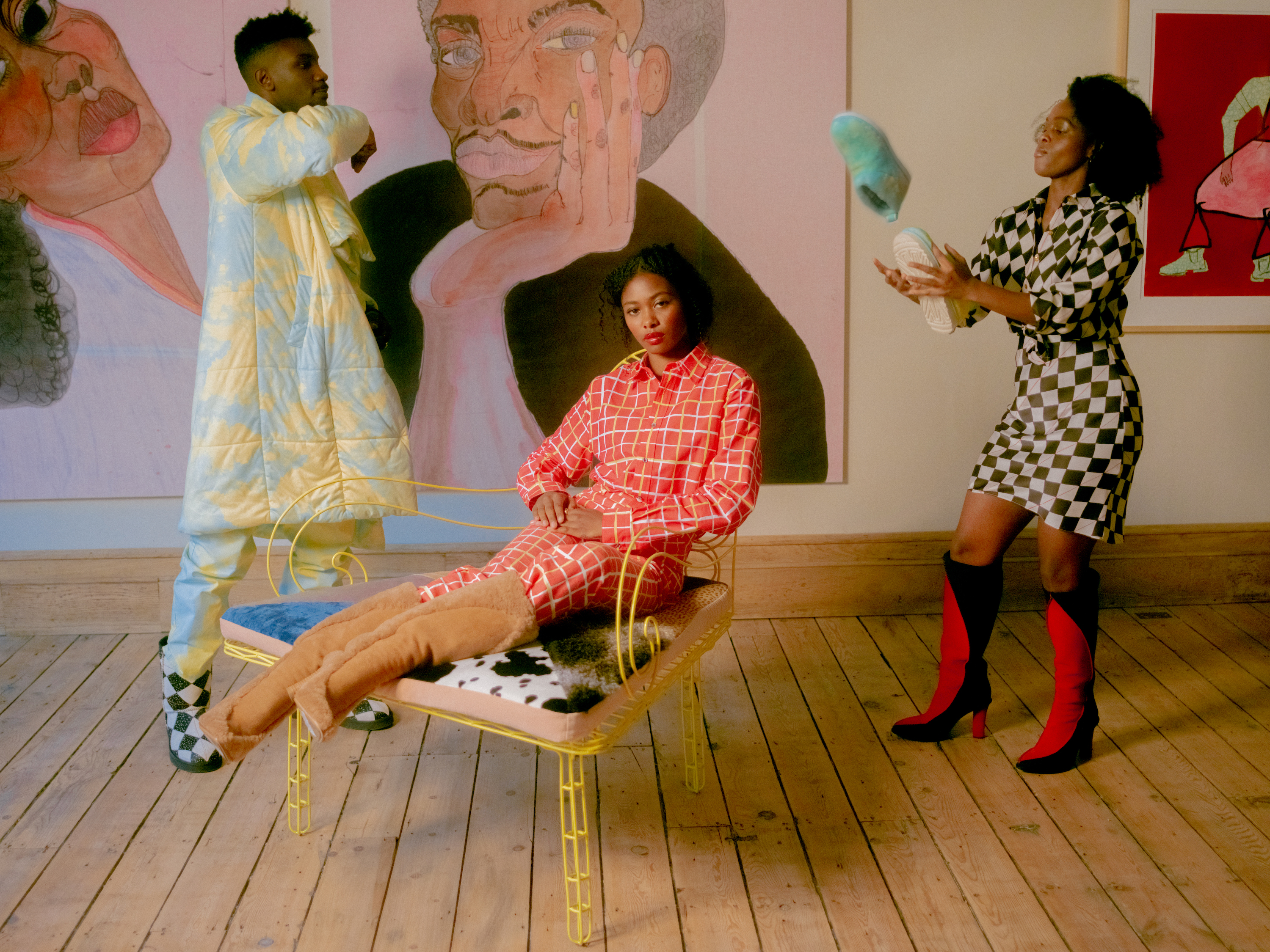 UGG dips its toe into the art world
UGG has been at the top of the collab game for a while now. There were the collaborative capsules with Eckhaus Latta, Telfar, and Molly Goddard. And of course those campaigns with Cher and the late, great André Leon Talley. Now, the So-Cal sheepskin bootmaker has dipped its toe into the art world, pairing up with one of the most exciting artists in New York right now: Tschabalala Self. Exploring ideas around the body and craft, as well as the complexities implicit in artistic traditions, her work spans genres and disciplines, with her most recognisable creative output being her mixed-media canvas-based works. It's from these that she's lifted the hues and collage effect that make her de-and reconstructed interpretations of UGGs classic silhouettes so distinctive – think: low-rise boots in stipes of camel brown and pastel oranges and pinks; knee-high heels that expose both sides oft he shearling. Is fashion art? Well, that's a thorny old chestnut, but these boots make a convincing case that it sure is! MS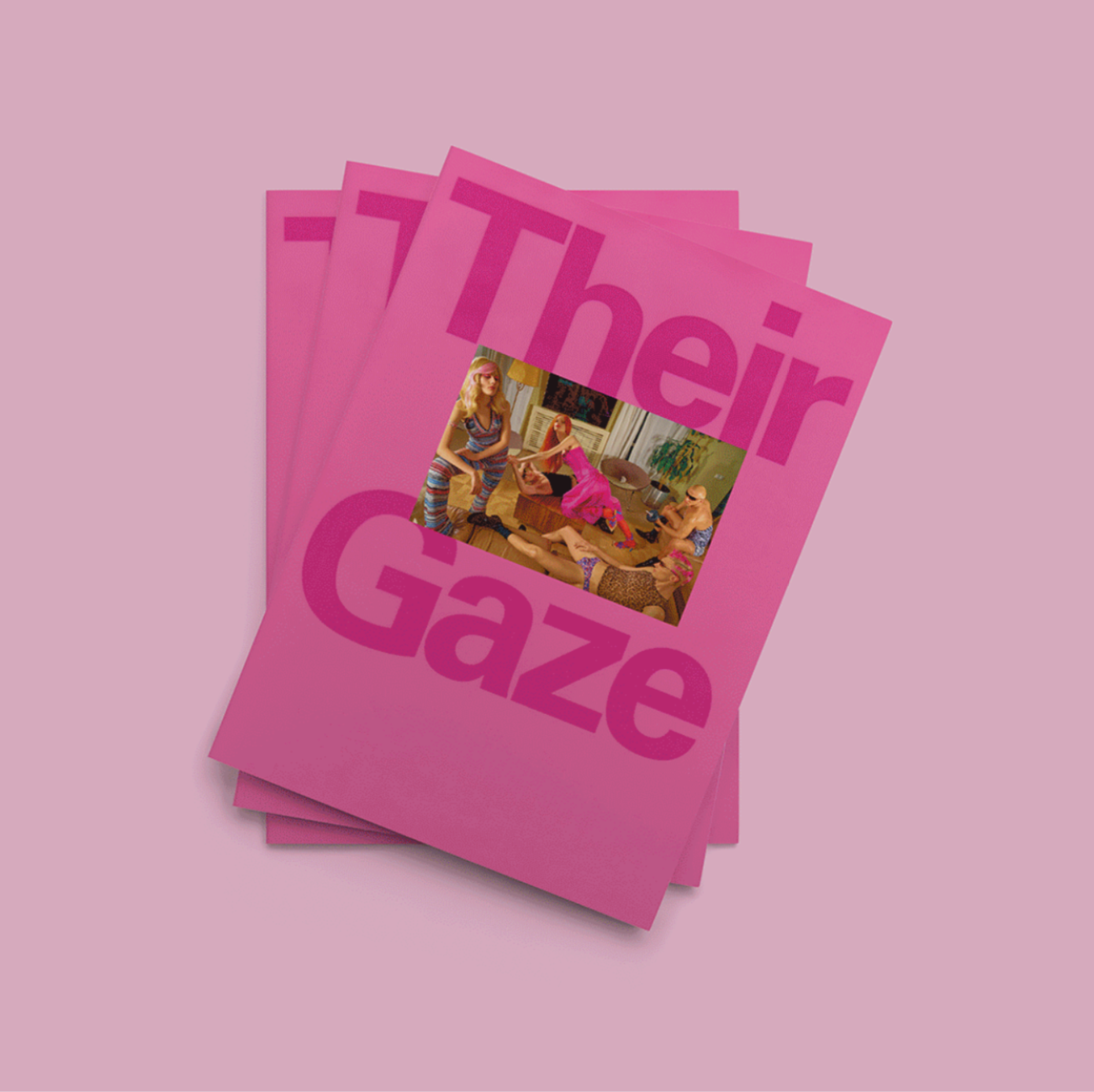 Miista have launched a zine in support of Ukraine
During the glitz and glam of fashion month, the ongoing war in Ukraine has been an elephant in the room as brands try to figure out how they can meaningfully help the Ukrainian people. One of those ways is by supporting charities and amplifying voices on the ground and a new zine from East London-based brand Miista is doing just that. Back in December, prior to Russia's invasion of Ukraine last month, they launched a photography series called Their Gaze, with four female imagemakers contributing works that spoke to womanhood and fashioning the female body outside of capitalism and consumerism, through Miista's new womenswear collection. One of those featured was Julie Poly, a Kyiv-based visual artist who has been speaking out about the situation her country currently faces. In solidarity, Miista released the series as a zine on International Women's Day, with all proceeds going to the UN's crisis relief and additional prints included from Julie to raise further awareness. At £20, you can pick up a copy of Their Gaze Zine from Miista.com, or at stores in Paris, London and Barcelona. TG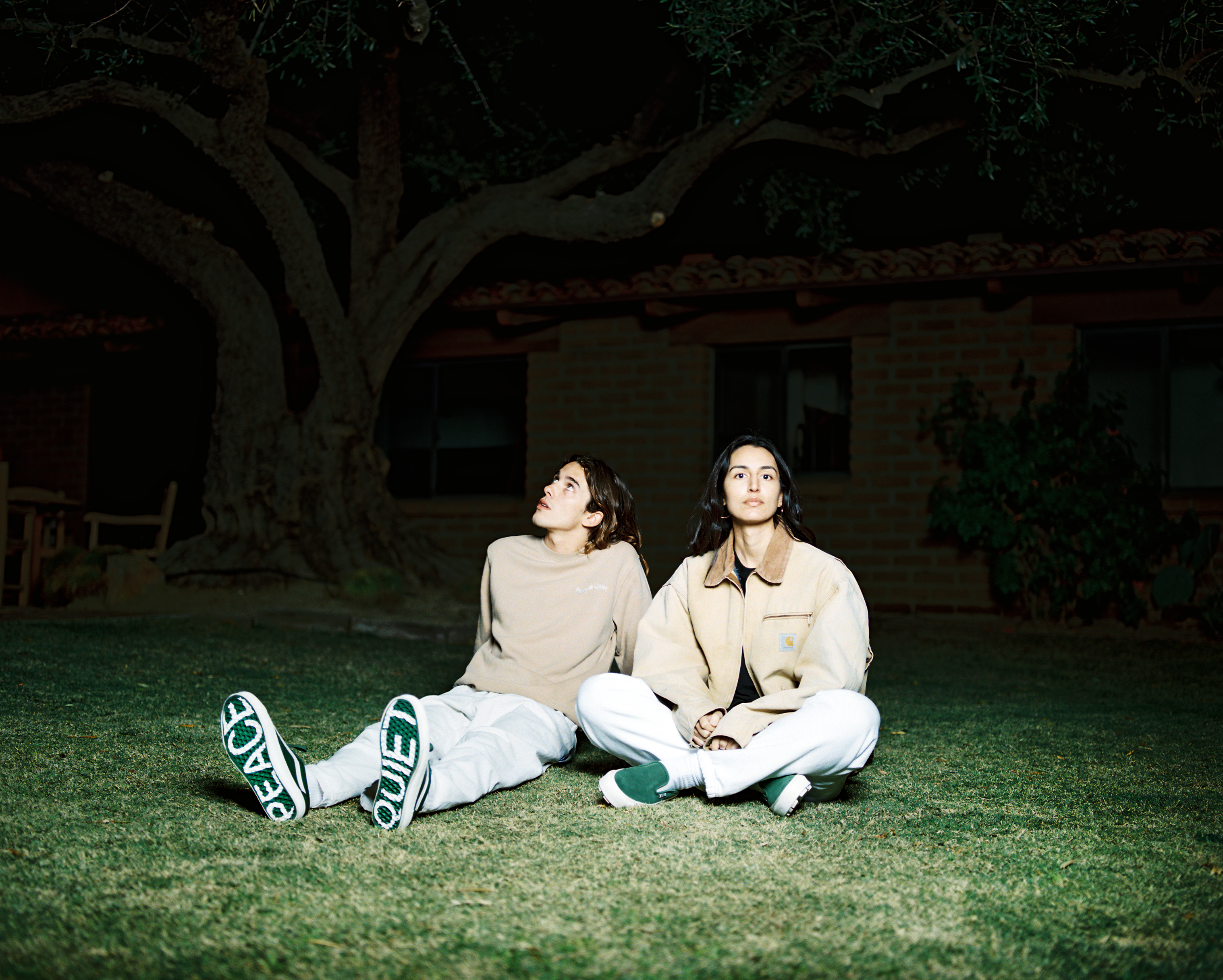 Vault by Vans opt for tranquillity in their new collab with Museum of Peace and Quiet
We obviously love big, theatrical glitter-and-frills-everywhere spectacles, but sometimes we need a bit of zen, too. Clothing that releases tension and realigns our chakras just by its calming appearance. This was the aim behind a new Vault by Vans collaboration anyway. The iconic skate shoe brand aligned with Museum of Peace and Quiet, both a fashion brand and quiet space intended to bring a minimalist simplicity to our lives and objects. Designers Christion and Ashley Lennon of the latter looked back to the first pair of Vans they bought fifteen years ago to give the shoes a nostalgic, personal feel that hits close to home. The result is four pairs of trainers, two lace-ups and two slip-ons, in varying combinations of a rich mossy green, a serene sandy tone and calming off-white. "I think this collaboration is a perfect mesh between both brands. Vans have been a go-to staple shoe for as long as we can remember. Staying true to our brand boasting a pure, uncluttered aesthetic inspired by the stillness and serenity of nature." Christian said in a statement. Make the chaotic journey through Soho to pick up a pair of these soothing trainers at Dover Street Market London or check them out online at museumofpeaceandquiet.us and select Vans retailers worldwide. TG
Palace has paired up with… Elton John?!
If you're not really the sort for meditative calm, then this is one for you. Bringing a hefty dollop of sparkle into our lives, this week London-based label Palace announced a fresh collaboration with none other than the king of glam himself, Sir Elton John! Granted, the iconic British pop star and the label more often associated with London's rave and skate subcultures don't necessarily make for an instinctive pairing, but it's the unexpected natureof it – just as was the case with Palace's pre-Christmas Harrod's link-up – that makes it all the more fab. Featuring a sumptuous velour tracksuit with dual branding, a knitted jumper bearing Elton's likeness, and t-shirts printed with images of iconic Elton moments – including his landmark concert at LA's Dodger Stadium – and even an Elton John board (!!) this is one for the Elton megafans and pop culture cognoscenti alike. "I'm so excited about my collaboration with Palace," Elton says. "I'm always looking to the future, but the range brings back some fantastic memories - It really captures the essence of youth and freedom from my time on the road in the '70's. I've never been a skateboarder but that's not going to stop me wearing the lot." Nor us, Elton! Head here for the goods. MS
5 Moncler Craig Green is a ride through the world's oceans
Craig Green's work alongside Moncler across five collections has created some of the ever-innovating Italian ski-wear brand's most iconic fashion moments. After re-inventing the puffer jacket in breathtaking silhouettes, his sixth collection pays homage to the seven seas, spanning everything from gigantic, intricately detailed pieces resembling life rafts and nautical equipment to zero-waste, recycled nylon jackets and organic tees printed with the circle and square symbols used by ocean trekkers. There are also some world map-printed hoodies and hideable backpacks with whistles attached that are uniquely pragmatic for the fashion world, even by Moncler's standards. The whole collection is available to buy now! Not sure how you're gonna get one of those life-raft coats delivered though. TG
Sheltersuit's clothing for the homeless took over Paris Fashion Week
One of the most prescient issues facing the global community right now is the homelessness crisis, with over millions of people worldwide currently living without a fixed roof over their heads. Sheltersuit started as the vision of one student designer, Bas Timmer, creating innovative clothing for those living on the streets that worked as both protective outerwear from the elements and as a comfy sleeping bag at night, but has since become a larger movement helping the unsheltered across Paris using deadstock donated from Chloe and LVMH brands. Last week, at the Palais de Tokyo in Paris and supported by Gabriela Hearst, Sheltersuit debuted a line of durable and reusable clothing with graphic call-to-action messages. Made mostly by former refugees in the Sheltersuit family, hundreds of the label's garments were then distributed across the city. In a statement, Bas explained the project's importance: "Purpose and profits are inextricably linked, and only through collective action can we deliver the scale of change and transformation the world needs." Hopefully, with its new Fashion Week stage, the Sheltersuit foundation will only grow and continue to fight for the homeless the world over. TG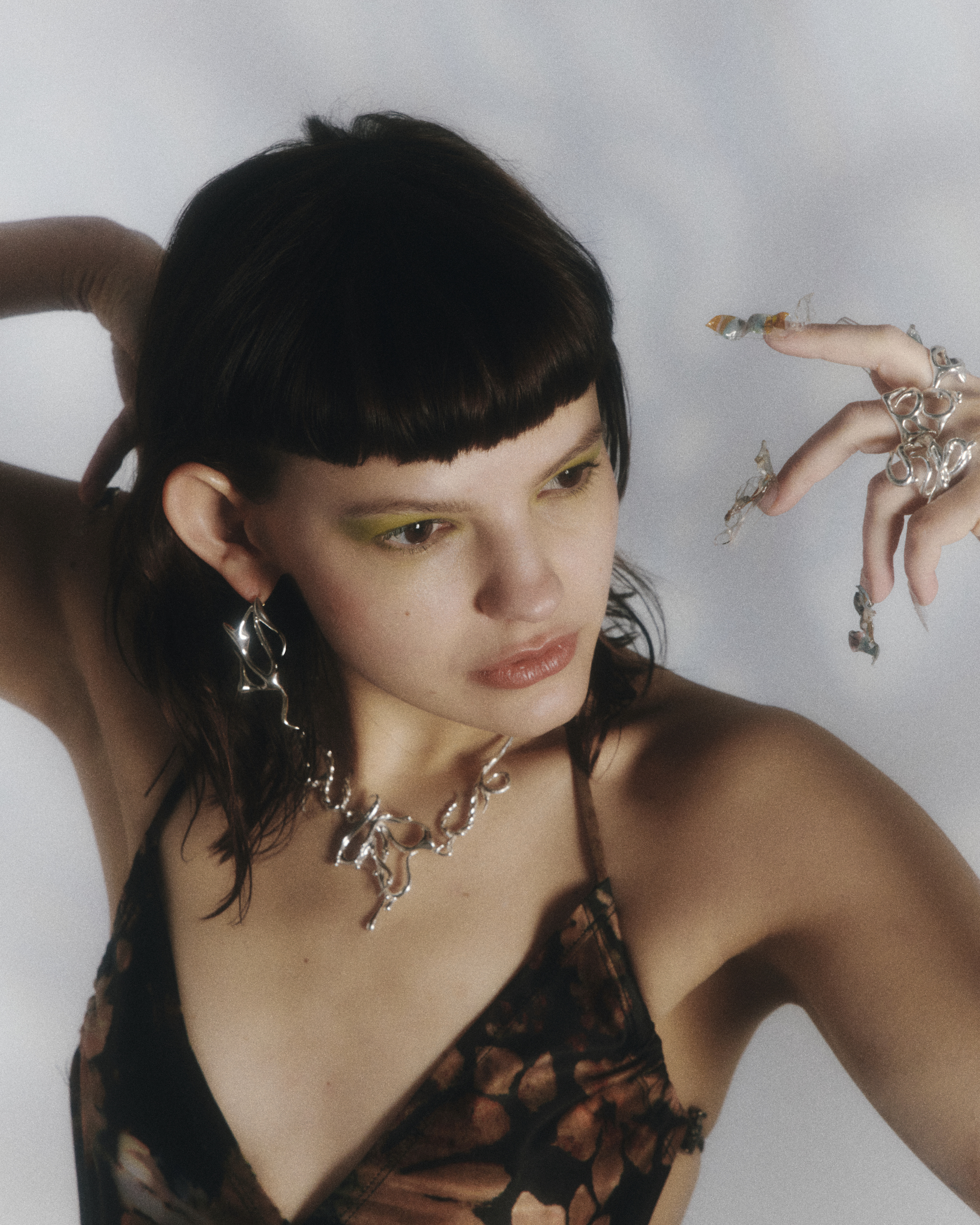 Meet the jeweller alchemising the spirit of the swamp
As you well know, we here at What's in Fashion? love nothing more than supporting young fashion talent. Typically, that means spotlighting designers whose focus is on the garment-making side of things. This week, though, we're thrilled to introduce you to one of London's most exciting young jewellery designers: Freya Douglas Ferguson. A former collaborator of Gareth Wrighton and KNWLS, she's just released 'Sap', her very first collection of pieces under her own name. Drawing inspiration from nature at its most wonderful and weird, her cast pieces are must-haves for any high-end swampcore queens out there. Given that we count ourselves as members of that very niche, we just had to find out more!
Hi Freya! Tell us a bit about yourself. How did you first start designing jewellery? And what first drew you to it?
Hey! I'm a sculptor and jeweller working in London. I started making jewellery in 2019 after having to abruptly leave my post-graduate in stone carving because of the pandemic. Without a studio and working mostly from home, it became necessary to make smaller work. The jewellery developed from sculptures becoming increasingly small enough to wear, so the two disciplines are very much connected for me.
Before leaving my postgraduate, I was also spending a lot of time in the school's metal workshop where I grew increasingly absorbed in lost-wax casting and metalsmithing. When I left, I got chatting to an old friend and blacksmith, Peter Myers, who kindly let me use his workshop from time to time. It was a huge old barn full of endless materials and tools (I don't think he had thrown anything out… ever); a rusty metal heaven. I learnt to forge metal there and used it as a sculpture playground so it holds a very special place in my heart.
I think somewhere between those days of my early small-scale work at home and experimentation in the workshop, my jewellery's visual language started to form. It was a gradual and winding development that suddenly, once started, has felt fast and exciting.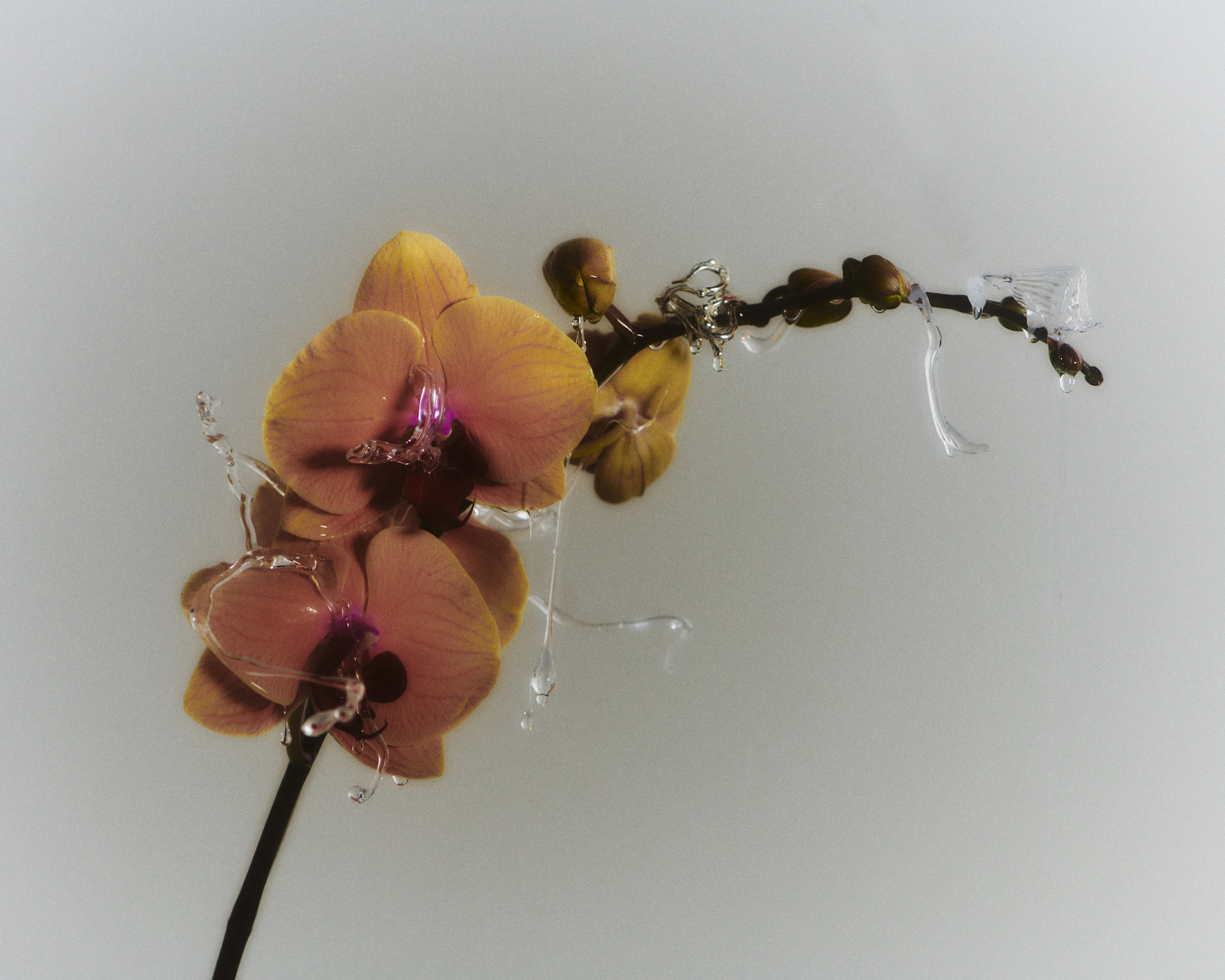 What films, books, artworks or objects encapsulate your design aesthetic?
I think the things that most encapsulate my work are probably found in a Nature Encyclopedia… flick to slugs mating, carnivorous plants, chrysalises, etc.
As for inspiration, I'm constantly trawling the internet for visual references so there's quite a vast list! But to name a few, artists Audrey Large, Marguerite Humeau and Hector Guimard (and art nouveau in general) have inspired me because of their use of flowing biomorphic shapes. I'm also very inspired by Large's innovative work with 3D printing and its material boundaries. And although I read this a while ago, Night at the Circus by Angela Carter was pretty seminal for me as an introduction to magic realism. I like working in that liminal space between fantasy and reality.
To finish the list off, Nautilus cups are incredible historical objects. These decadent examples of craftsmanship are essentially cups made from a nautilus shell and mounted in ornate gold or silver. The shell is often carved back to reveal patterns of their pearly interior. They're totally over the top and weird!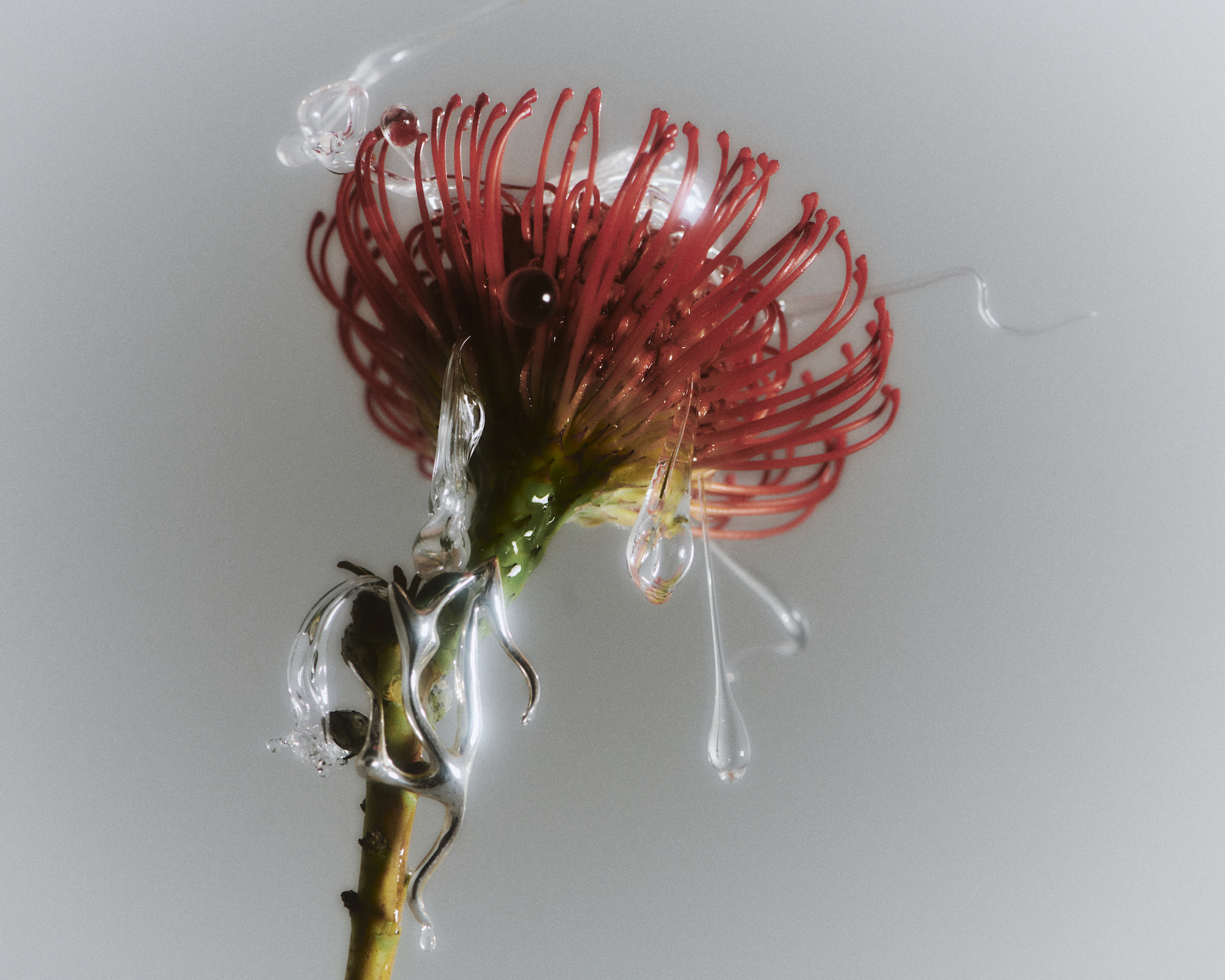 How would you introduce your first collection? What was the jumping-off point for it?
My first collection, 'Sap', explores themes surrounding wetness and metamorphosis. Jewellery making, specifically lost-wax casting, has a transformative quality to it where a metal sculpture is formed from an identical wax one. I wanted to sculpt jewellery evocative of something growing or transforming, and in doing so, sweating, melting or secreting. My visual references ranged from dewy flowers, streamline classic cars, gnarled roots and primordial symbols; I'm interested in the illusionary quality created when the organic is placed alongside the artificial, culminating in an elemental and otherworldly object. I want the jewellery to feel at odds with its own material properties, where highly polished silver and gold forms appear fluid and uncontained.
You've collaborated with some exciting young London fashion figures. How has collaborating informed your approach to working under your own name?
Yeah, I feel very lucky to have worked with the people that I have so early on. KNWLS was the first jewellery collaboration I ever worked on and I am extremely thankful that they trusted me to be a part of their collection. Collaboration is something I really enjoy and always want to pursue; working as an artist can become fairly solitary so I find it a great way to keep my work from becoming too habitual or comfortable.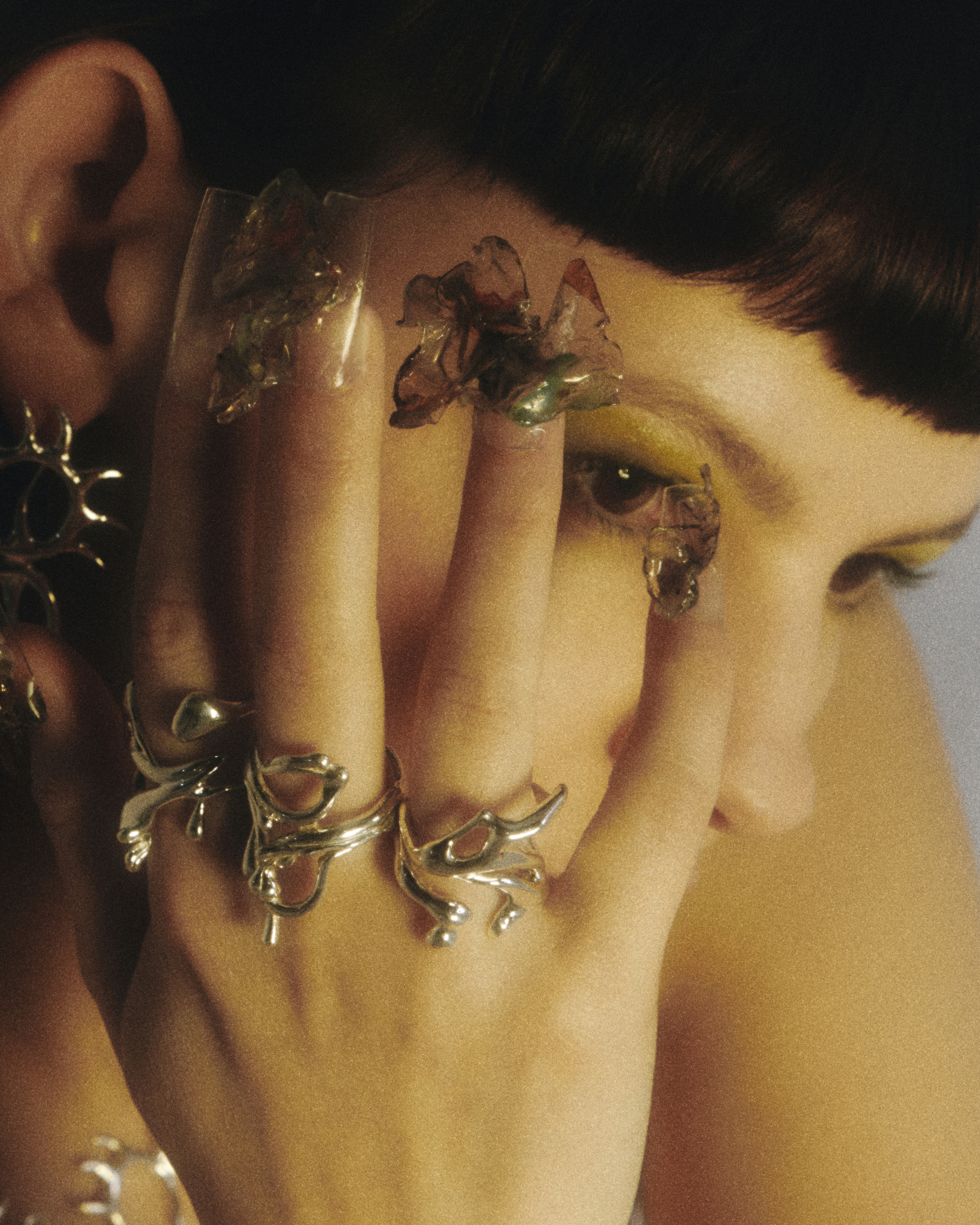 Where can we get our hands on a piece?
The collection is available to buy on the wonderful APOC Store – who have been endlessly encouraging and supportive of me as an emerging designer. I've also launched my own store on www.freya-douglas-ferguson.com and my Instagram.
Credits
Photographer Brian Rankin
Makeup Artist Kuno Mari
Set Designer Theresa Bates