Harry Styles is dropping a new song on Friday
Called 'As It Was', the new song will be on the upcoming album 'Harry's House'. Here's everything we know about both so far.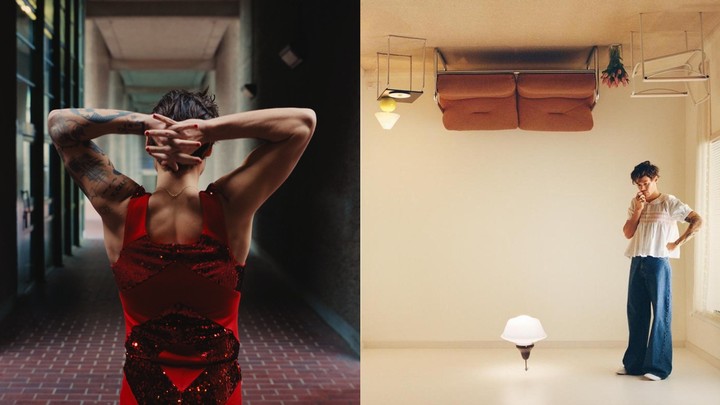 Twitter @harry_styles
Attention Harry Styles fans! It may have been literally years since we were last blessed with new music from our fave, but after weeks of Harry teasing us with rumoured TikTok burner accounts and fans sleuthing the backend of Harry-owned websites for clues, the Fine Line star has now confirmed the rumours are true. The album is coming, and it looks like a new song will be dropping this week!
Called "As It Was", a tweet from Harry's official account shared that it will be released 1 April alongside three thirsty pics of the singer's back as he stretches his arms, whilst wearing what could be a deep red, sequin-embellished wrestling outfit by the designer Arturo Obegero. We presume a music video will be dropping the same day too, if not very soon after.
Last week, in a new post on Instagram, Harry also shared the album artwork and title, Harry's House, along with a release date of May 20th, whilst a press release confirmed that the new release will have 13 new tracks. Exciting!
The post to Instagram shows Harry, in a custom white frilly blouse and billowy jeans from Molly Goddard SS22, standing on the ceiling of a beige upside-down room decorated with just a sofa, armchair, side table and some flowers. In her own Instagram post photographer Hanna Moon confirmed she was behind the stunning image. A trailer for the album was also released, featuring ethereal music and sounds of the city alongside fleeting shots of daffodils, balloons, traffic and concerts. The video culminates in Harry himself standing alone on a stage in an empty theatre as a house backdrop is raised behind him. Very Lexi's play in Euphoria energy.
The house theme fits with the narrative that fan's rumours have suggested thus far. A music video Harry was spotted filming featured him lying in bed, while chaotic, ostensibly contextless posts on the secret TikTok burner account have featured a fruit bowl in a kitchen, a pink staircase and wholesome local runs. While it hasn't been confirmed the account belongs to Harry, one of the videos does feature his crucifix hand tattoo.
Just last week, Twitter account @stylesfeature uncovered what they claimed to be more evidence — after unpacking the backend of a website believed to have been bought for the next album launch, youarehome.co. The website itself is fairly unassuming, currently only leading to a page with a beige-toned door, opening slightly to reveal a different scene behind it each day — from leaves to sunset gradients, spacey shots of the earth and drawings of different mushroom varieties. Interestingly, mushrooms were also central to the aesthetic of of Harry's beauty brand Pleasing's latest drop.
So what should we expect from Harry's Home? Is he going to be getting intimate on this new album? Last night, @TheHarryNews noticed that Harry had followed the You Are Home accounts on Instagram and Twitter, the latter of which contains lyric-like tweets that tell followers, "in this world, it's just us, you know it's not the same as it was" and "the door is open, come on in" which certainly suggest Harry will be taking us into his personal space on these songs.
With Harry headlining Coachella next month, hopefully we'll have heard at least a couple of new singles before the album drops in May. In the meantime you can pre-save Harry's House here.
Follow i-D on Instagram and TikTok for more on Harry Styles.
Tagged: