Images courtesy of Moncler
Moncler + DingYun Zhang are reimagining what a puffer can be
The Italian fashion house and the buzzy CSM graduate have teamed up to create a capsule of out-of-this-world padded looks.
|
10 February 2022, 9:20am
Images courtesy of Moncler
Often, when we see an especially creative young designer's work, we often ponder which house they would one day be best placed to take the reins. Well, when we first saw DingYun Zhang's hulking puffer looks file down the runway at the Central Saint Martins' MA show in 2019, our unanimous answer was Moncler. Three years on from then, it would seem that our prediction has come true.
Well, somewhat. Rather than for a creative directorship, the buzzy young name — founded his namesake label just last year — has been tapped by the Italian house for a collaborative capsule. A fusion of DingYun's futuristic aesthetic and love for out-of-this-world volume, and Moncler's impeccable savoir-faire when it comes to all things puffa, it's hard to think of a better-aligned fashion partnership — and that's really saying something, given how frequently collaborations come and go these days! With the collection launching today, we had a quick chinwag with DingYun to learn more about what it is about Moncler that speaks to him, the challenges of working with padding, and how he's reshaping the notion of what a puffer can be.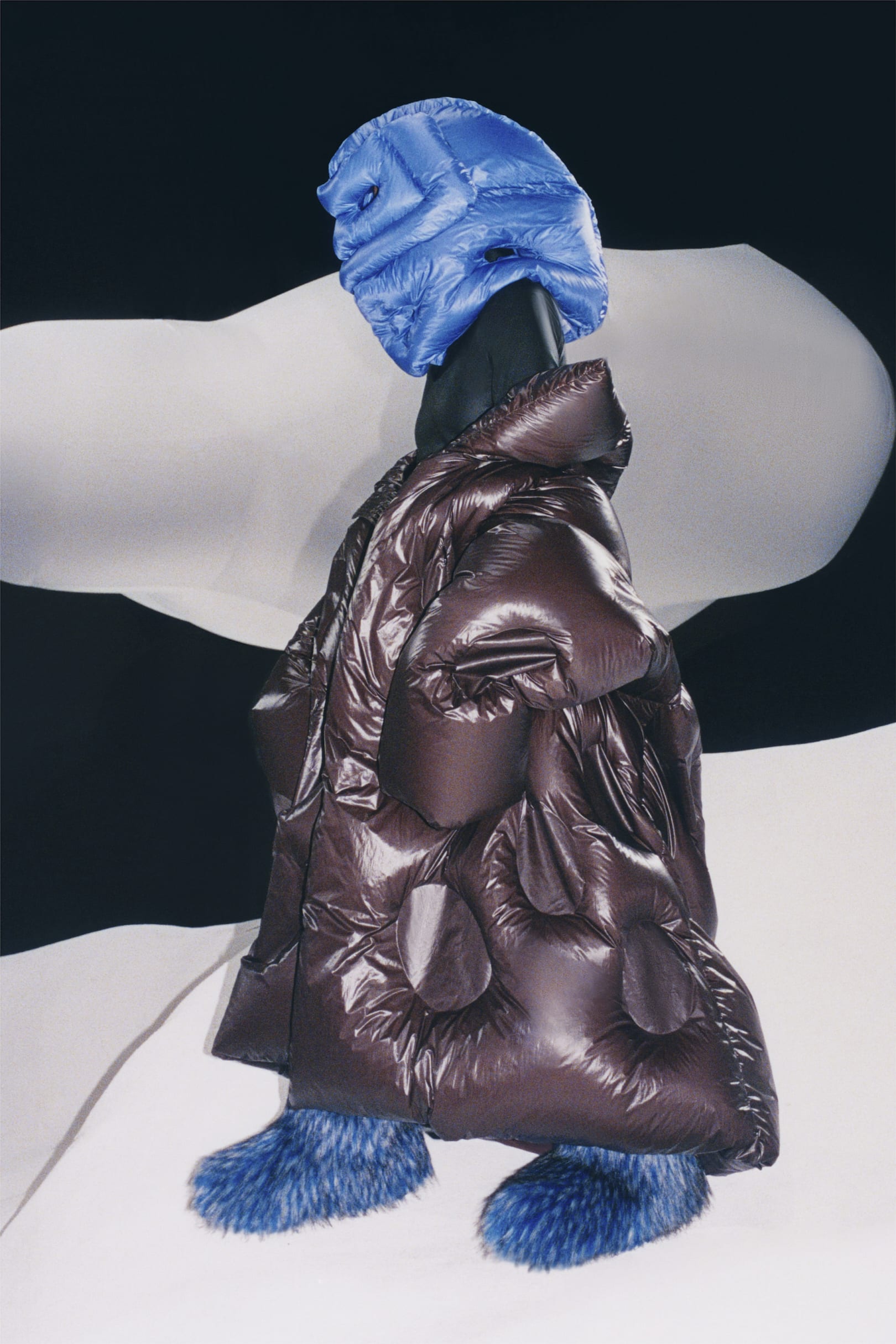 What are your first memories of Moncler?
I got my first Moncler jacket around 2013, which Introduced me to the quintessential Moncler detailing. Pocket placements, high-quality trimmings and cartoon patches with washing instructions had stitching in one direction. This showed an attention to detail and lack of mistakes in the craftsmanship — which was unlike the outerwear of most other brands. Around the same time, Pharrell released a collaboration with Moncler which I was strongly drawn to. That concept of function in the padded bulletproof vest, and puffer vests with patch pockets, combined with the Moncler details and Pharrell's own print design really provoked my interest.
What especially inspires you about Moncler?
As a designer, I appreciate the consistency in the quality of their construction and trimmings, and how they've been able to maintain traditions and heritage. The origins of the brand were in padded jackets for climbing expeditions and mountain explorers, and it's inspiring to see how they've kept that tradition. Creating and advancing a brand that allows people to connect with nature is a concept that I connect with, and trying to make a reality for my own collections.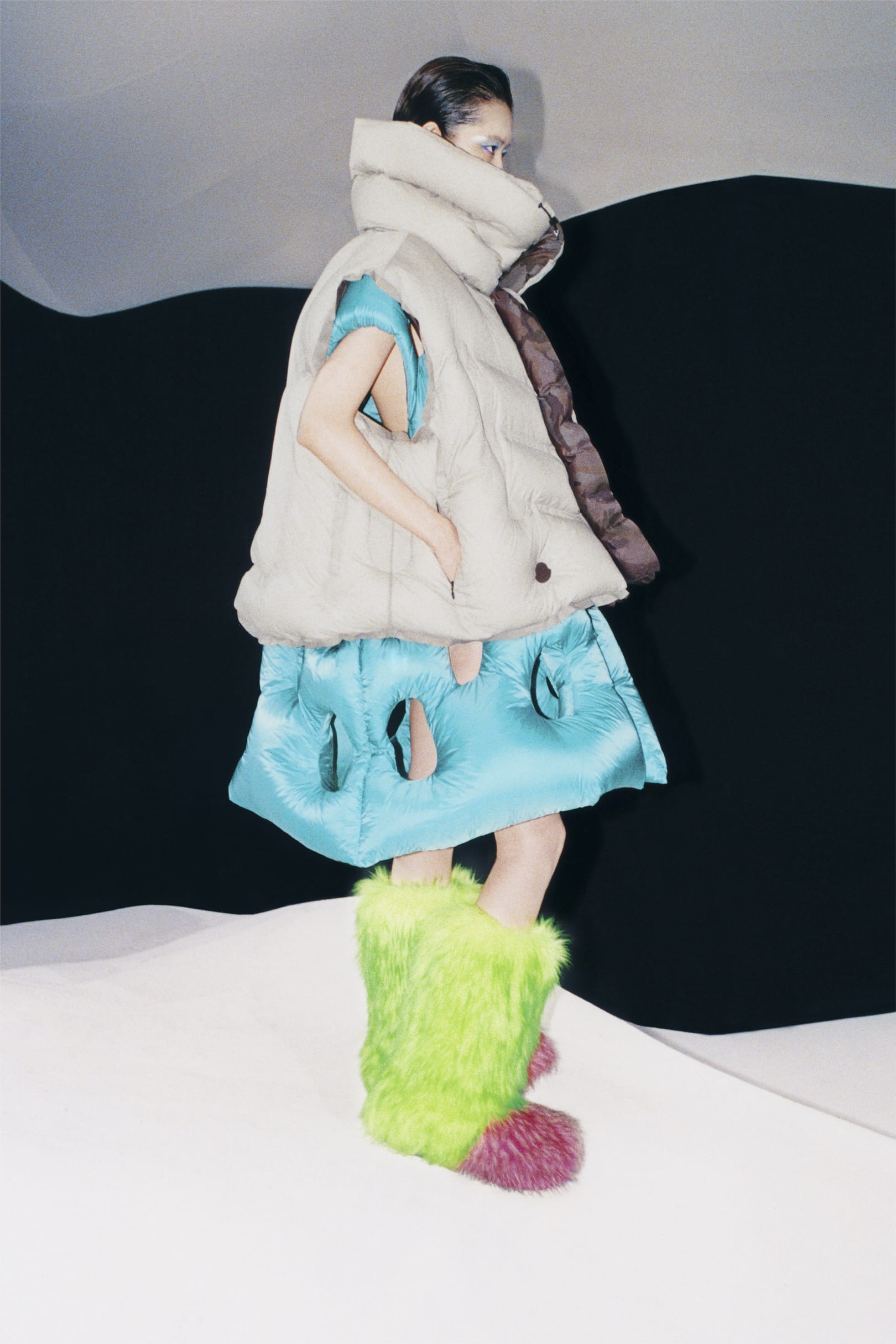 Is there anything about it that's particularly challenging?
Each piece had its challenges with production and planning, which is normal for any collection or collaboration. When working separately from Moncler's team in Milan, due to covid restrictions, all parts of the process had to be as clear and straightforward as possible. Connecting my interpretation of Moncler's details with my own design elements, such as the construction of stitched openings and holes with clean edges, meant that production planning for each piece was a technical journey of trial and error to finally end up with the products that we see today.
There's obvious common ground between your work and Moncler, but could you tell us how you brought your unique signature to the collaboration?
In keeping with the idea that "there is no present or future without past", my joint effort with Moncler was an opportunity to express my connection with their customs and legacy, and using my own vision to abstract it for now and the future. I utilised their craftsmanship and imprinted that language with my own. For instance, utilising my bonding techniques to make a drainage structure on the coat, helping the downward flow of water off of the wearer's body. Throughout the process I explored the clashing of our two worlds, in the end, creating a simultaneous harmony between us.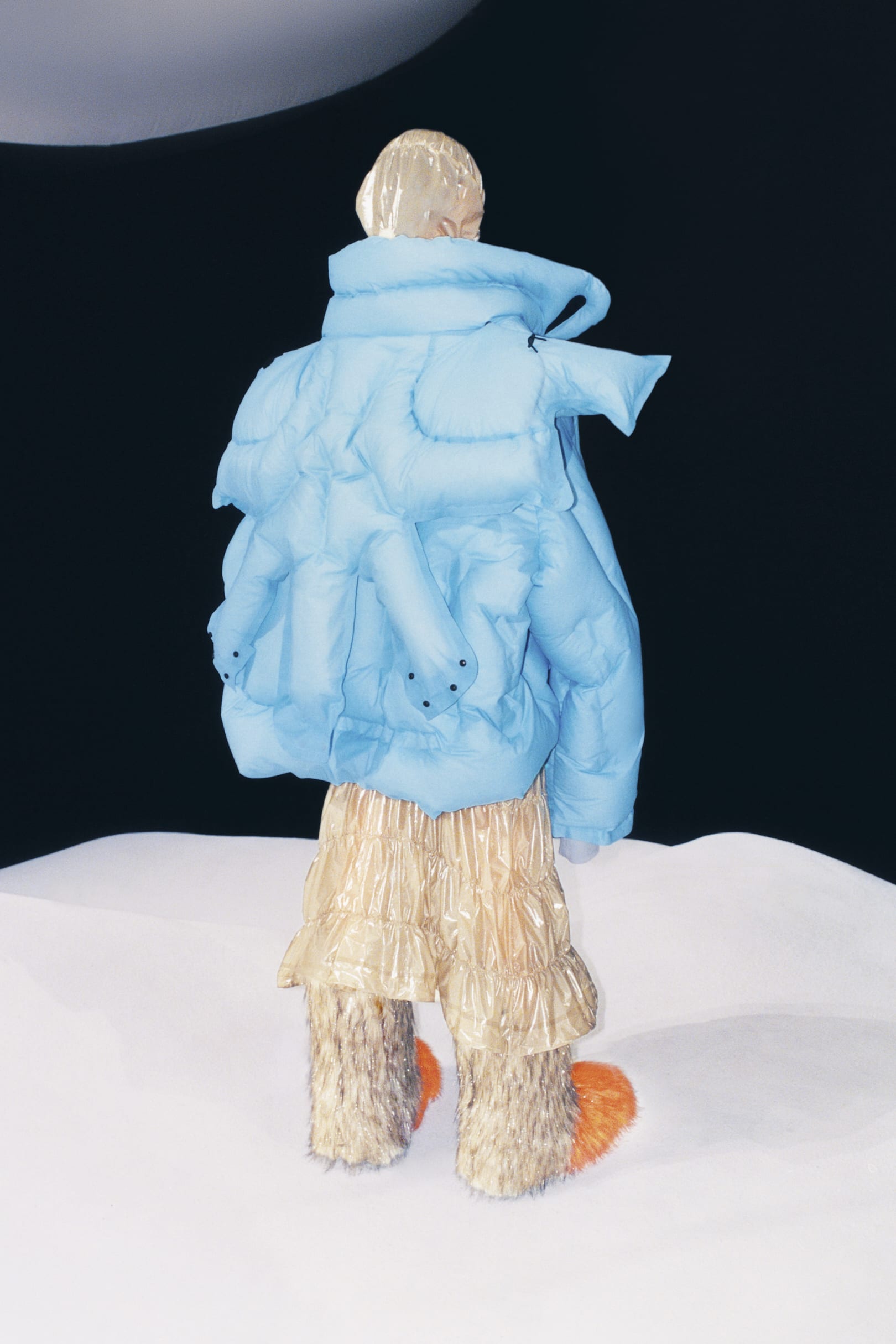 How would you describe the collaboration capsule in five words?
Heritage. Environment. Metamorphosis. Illusion. Timeless
What do you think are the biggest misconceptions around puffer garments?
To really push the conversation forward with puffers, and challenge what they could be as garments is a lot more difficult than many people think. Following a trend or satisfying a category is one task, and attempting to innovate puffer design is another — brands like Moncler that have developed their infrastructure and resources are great to work with because of this. There's a lot to be considered when it comes to producing anything outside of common puffer silhouettes — it requires a lot of planning and prototyping to bring an ideal to reality.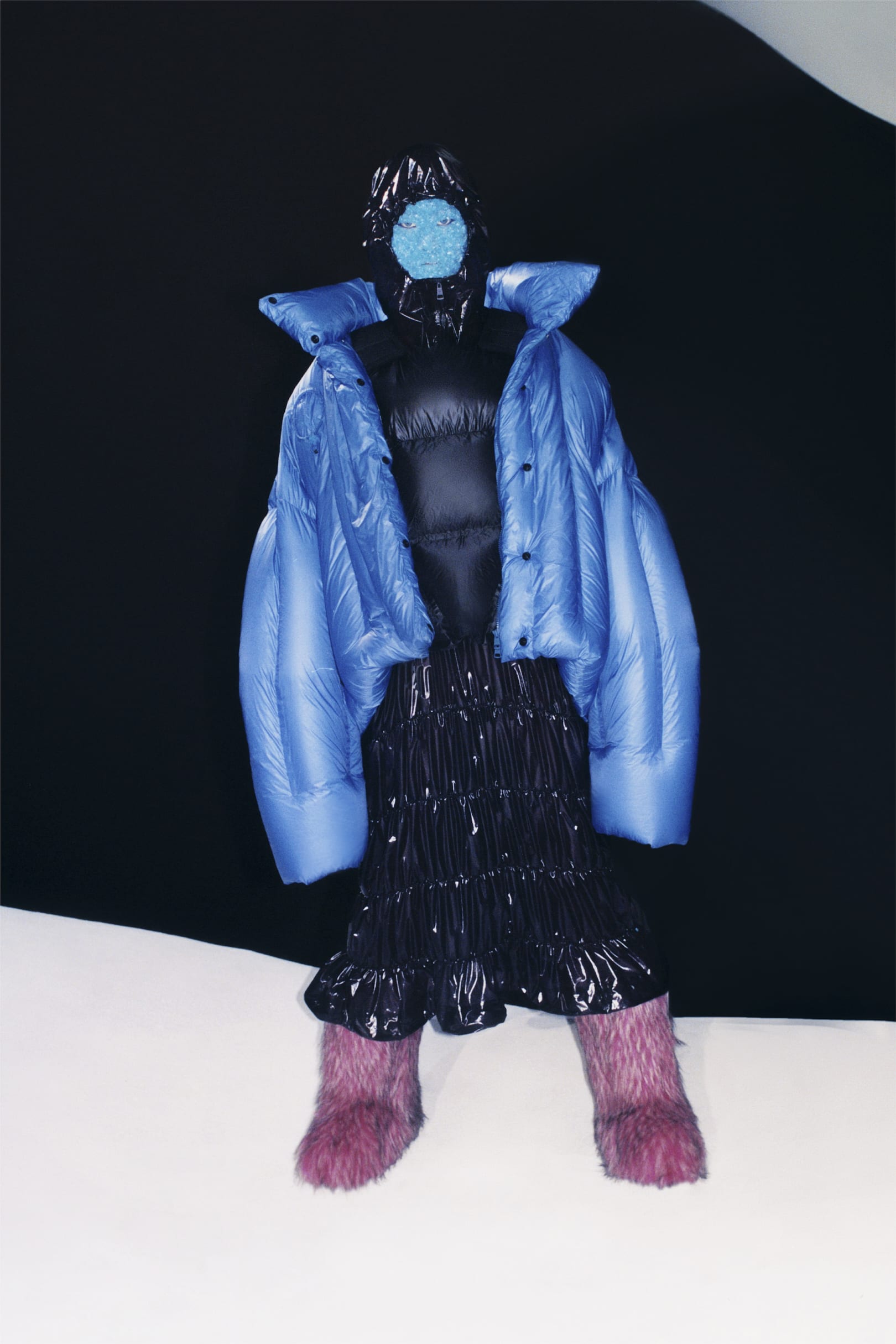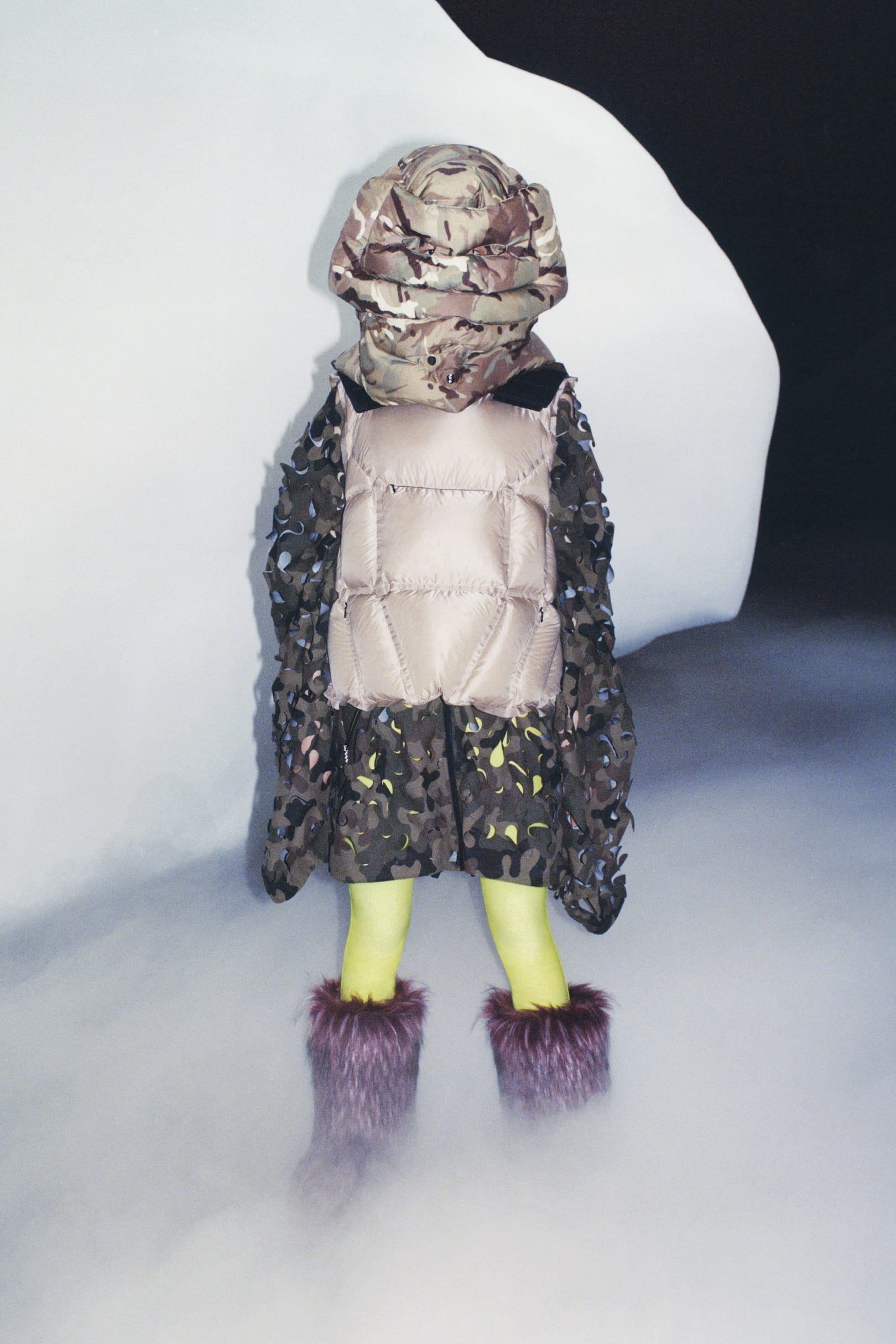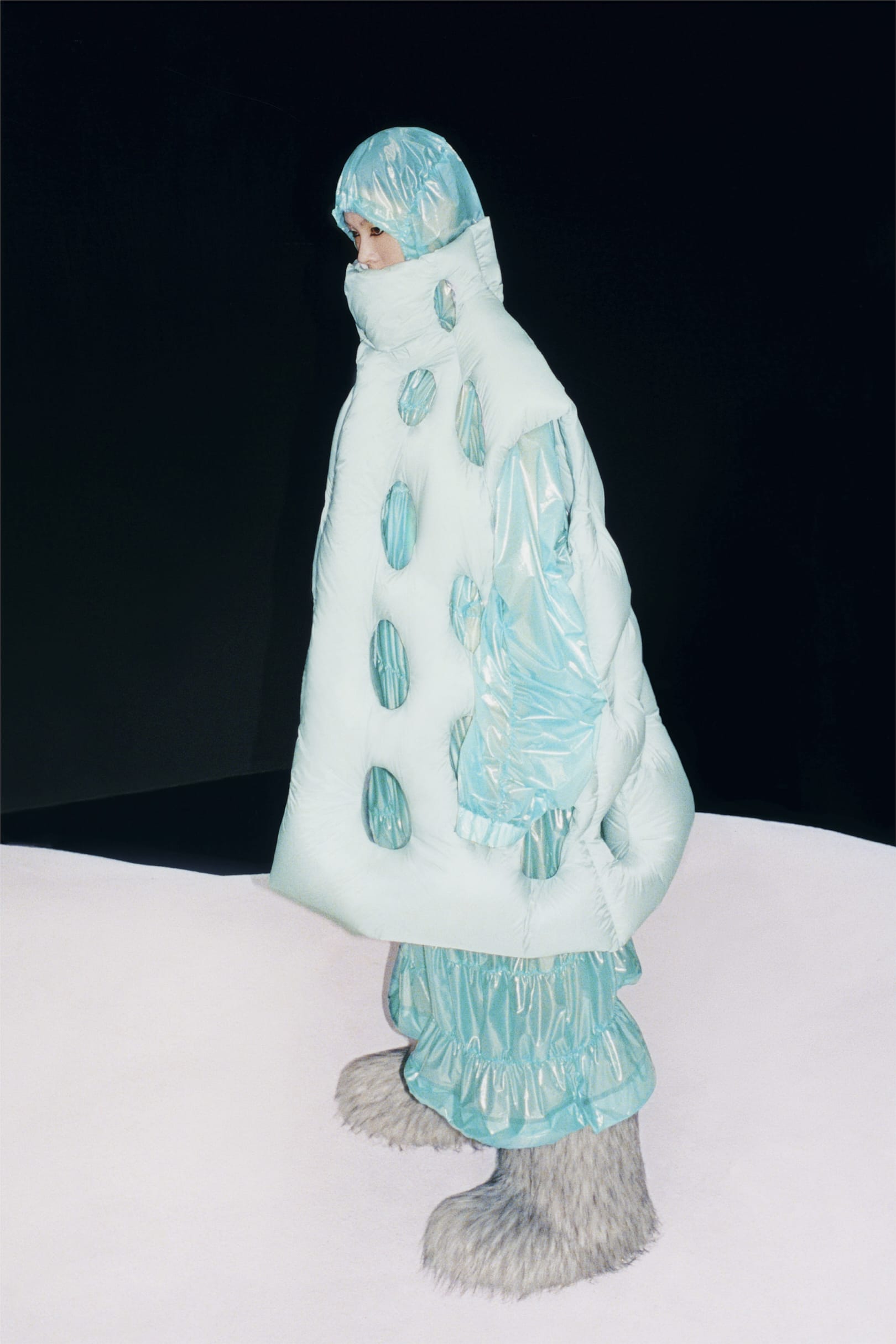 Tagged: