Photos courtesy of Mugler
Dominique Jackson and Bella Hadid just tore up the runway for Mugler AW21
Creative director Casey Cadwallader discusses his latest knockout collection, why film trumps runway and fashion's duty to entertain.
Photos courtesy of Mugler
"With Mugler, and Casey [Cadwallader, Mugler's incumbent creative director], it's never about a uniform march of models — it's about the individual, the personality, the look and letting these moments propel a narrative," say David Toro and Solomon Chase, the filmmakers better known as Torso. Want proof? Look no further than the short film that the Parisian house has released today to showcase its AW21 collection. The result of a collaboration between the directorial duo, Casey and stylist Haley Wollens, it's the effective successor to the internet-breaking film they put out six months ago for SS21. Here, a number of the standout personalities that made that first film such a raucous success have returned — Dominique Jackson and Bella Hadid among them — though they're joined by a cross-generational set of some of the most captivating faces on runways right now — think: Lourdes Leon, Amber Valletta and Kai Isaiah Jamal.
Of course, in a season where so much focus has been on the return en masse of brands to IRL runways, Casey's proactive choice to stick with film as the house's presentational means of choice is noteworthy. There's more to it than the fact that that last season's shot was such a runaway success, though. For starters, there's the closeness it allows you to the raw material at the heart of any fashion show, no matter its format — the clothes. After watching the film embedded below, we challenge you to come up with a better way to capture the liquid shimmer of second-skin catsuits cut from a high-sheen techno jersey — a stretch fabric "somewhere between vinyl and velvet," Casey says — and the old-slick drapes of gloves that slink up the arm, around the chest and tie at the neck, or the borderline-bohemian flair of jangling snake chains and leather jackets with fluttering scarf-like trails.
At first glance, it's clear that Casey and co. had real fun playing with the inherent theatricality of fashion presentation — which makes the experience of watching it damn good fun, too. That's especially the case with the series of stunt-double-style poses — pulled off by the models themselves, albeit aided by a team of mysterious white-clad helpers. "We love using practical effects that are done IRL rather than fully in post — and also exposing the trick for what it is," David and Solomon say. "One starting point was to expose the production elements that create a commercial image. Rather than conceal the BTS in post-production, we wanted to show and abstract how a commercial image is made. This led to a 'crew' wearing custom Mugler white chroma suits that disappear in high-key light, and reappear when the lights change — also revealing the imperfections in the floors and walls of the film studio. Sometimes it's like giving away a magic trick, and in a way this highlights the fashion itself — the effort put into an effortless look, the perfection of an imperfect model and the collective labor that creates an image."
While they may have exposed the secrets behind the trick, in no way does that diminish the magic's effect. Hours before its release, we sat down with Casey Cadwallader to discuss Mugler's spellbinding new film, his qualms about returning to the runway, and his commitment to creating entertaining fashion — not fashion as entertainment.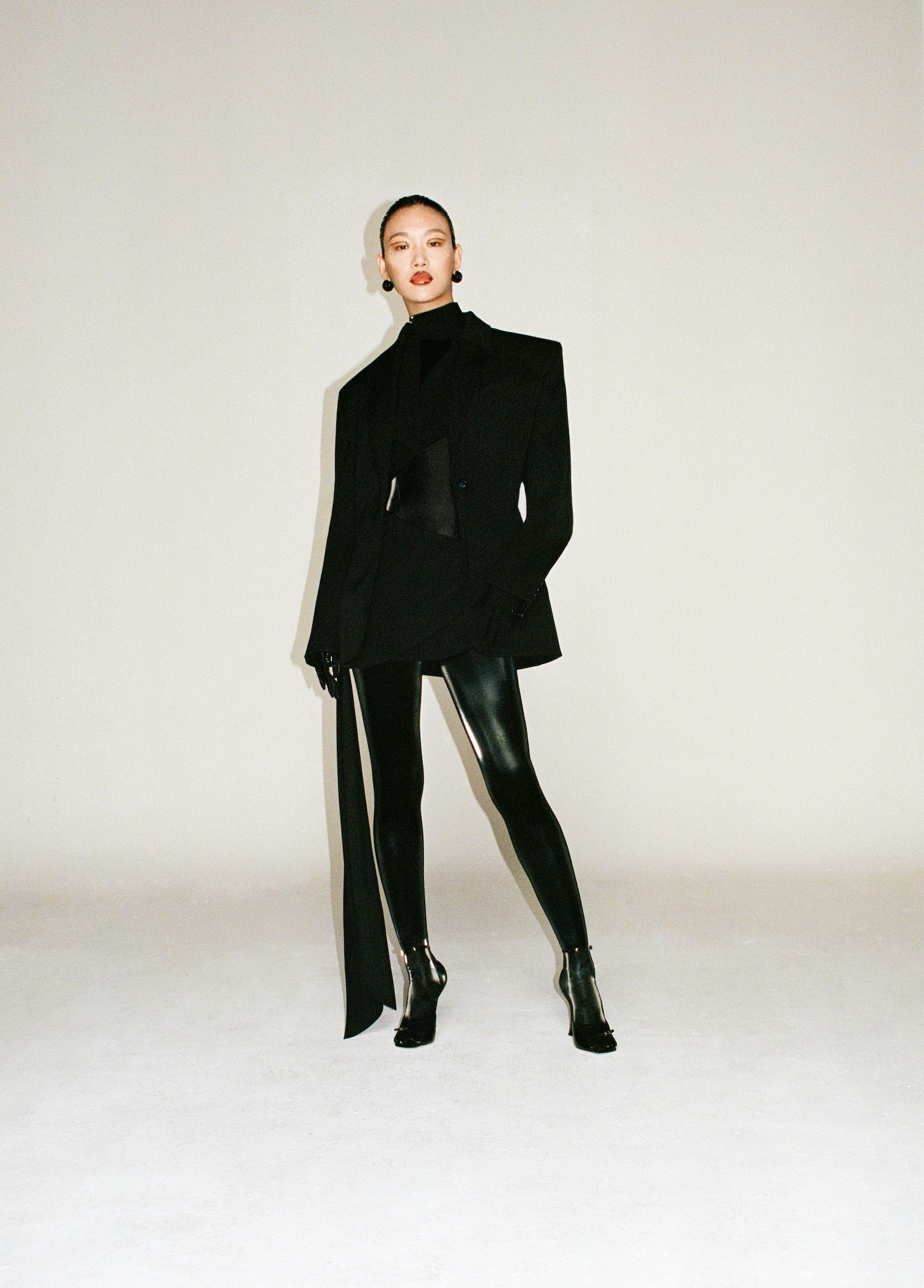 So, it's show day! How are you feeling?
It's time! Finally! It's such a different way of working — typically, you're used to racing to finish the clothes and then BOOM, you show them. This time, though, we finished the collection back in June, so we had this really long gestation period — you really get to think about it for a long time!
Well, since they're on your mind, let's start with the clothes. There's a sense of flow and movement that really stands out compared to previous work we've seen of yours. Why did you want to bring that energy to the table this season?
It's about oppositions, really. We're so known for garments that are close to the body at this point — and I love refining that — but any good collection should always be balanced and have elements of surprise. I really wanted to express motion in the draping — to create something that felt pulled and had a sense of reaction to it. Also, when you're working, you don't want everything to be flat — especially in fall, you want to be able to play with layers.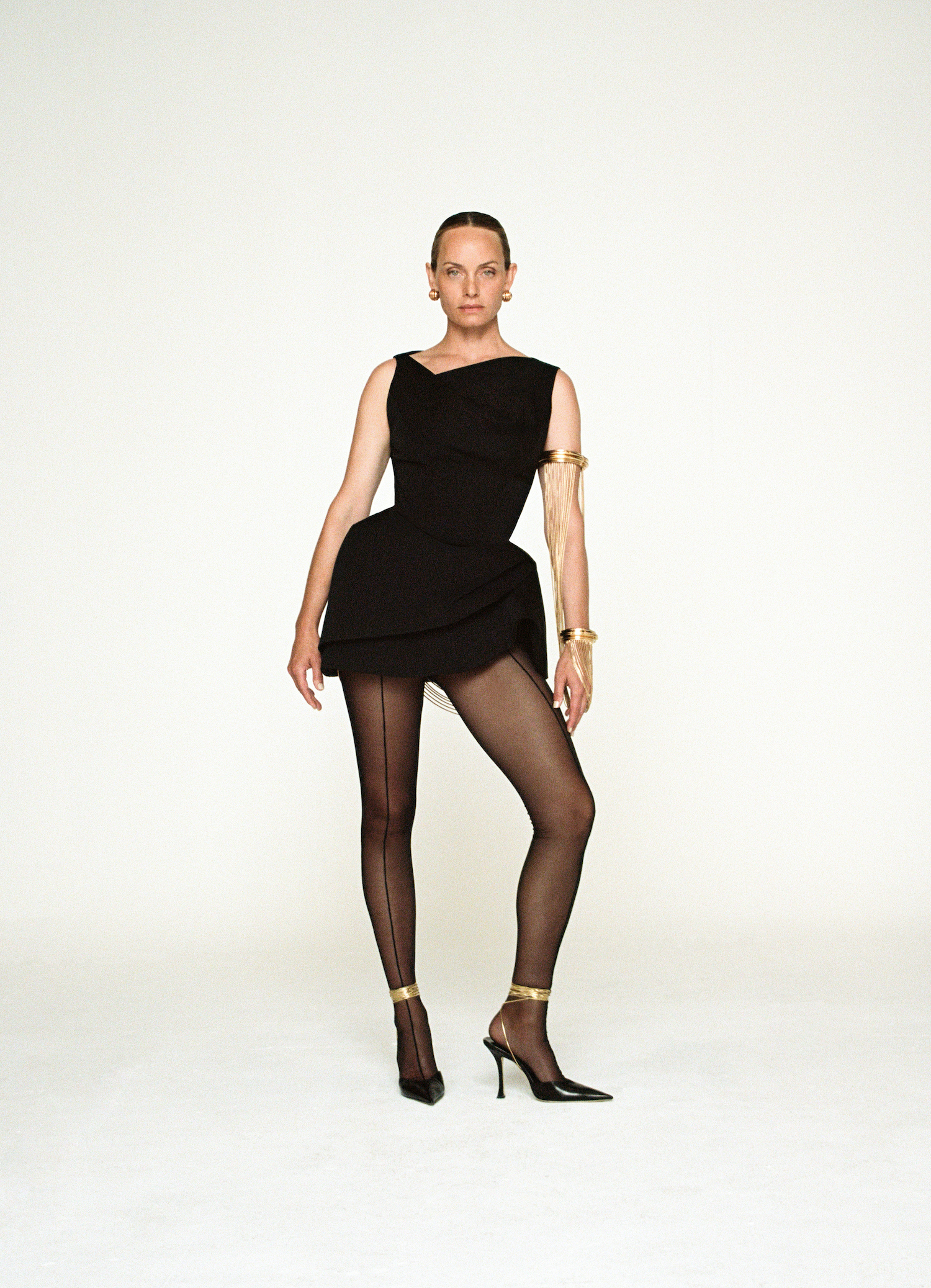 Another standout feature here is, of course, the casting. There are some familiar faces in there from last season, and you've previously spoken about how you often choose to work with people from your close circle, or that you really admire. Were there any other considerations that you took into account this time around?
We're always looking for confidence, but then there's a certain sort of performative confidence that I'm always looking for. I can be like, "Hey, Amber, how do you feel about running across the room, flipping in the air and landing in the arms of four dancers?", and then know that I have this amazing, brave woman with the most amazing character, who will say, "Yeah, I'm down!" Even if I was doing a straightforward runway, that's still the vibe that I'm looking for — this really strong presence. Also, this season, more so than before, we really twisted the looks for each person. It was much more about who wanted to wear what and then we edited it based on lighting effects and movements. What I love is that it all became this unified, blurred message of all the aspects of the collection. You see so many different characters flash by, and maybe you connect with one because of what they're wearing, or with someone else because you identify with them as a person. There are so many points of access to it.
This season has been the return to the runway for many. What swayed you towards film? What else is it about the medium that aligns with your vision for Mugler?
There's a big conversation going on in my own head about this. Initially, we wanted to do a film again because we didn't know if things would be back to normal in September or October. Towards the end of July, if became clear that most people were showing again, but I really didn't want to. Something's changed for me, and the last thing that I want to do is have a banal, white box runway show.
Even with the most amazing cast, you're not going to see them the same way. I don't want them to walk silently in a room — I want them to stare you down, to connect with the audience. And I want the audience to appreciate their character instead of just the way they look. For me, this whole company and my own brain have really changed in the last two years. It has to be about bringing people in and making them feel something, rather than just being a fancy brand doing a fancy show.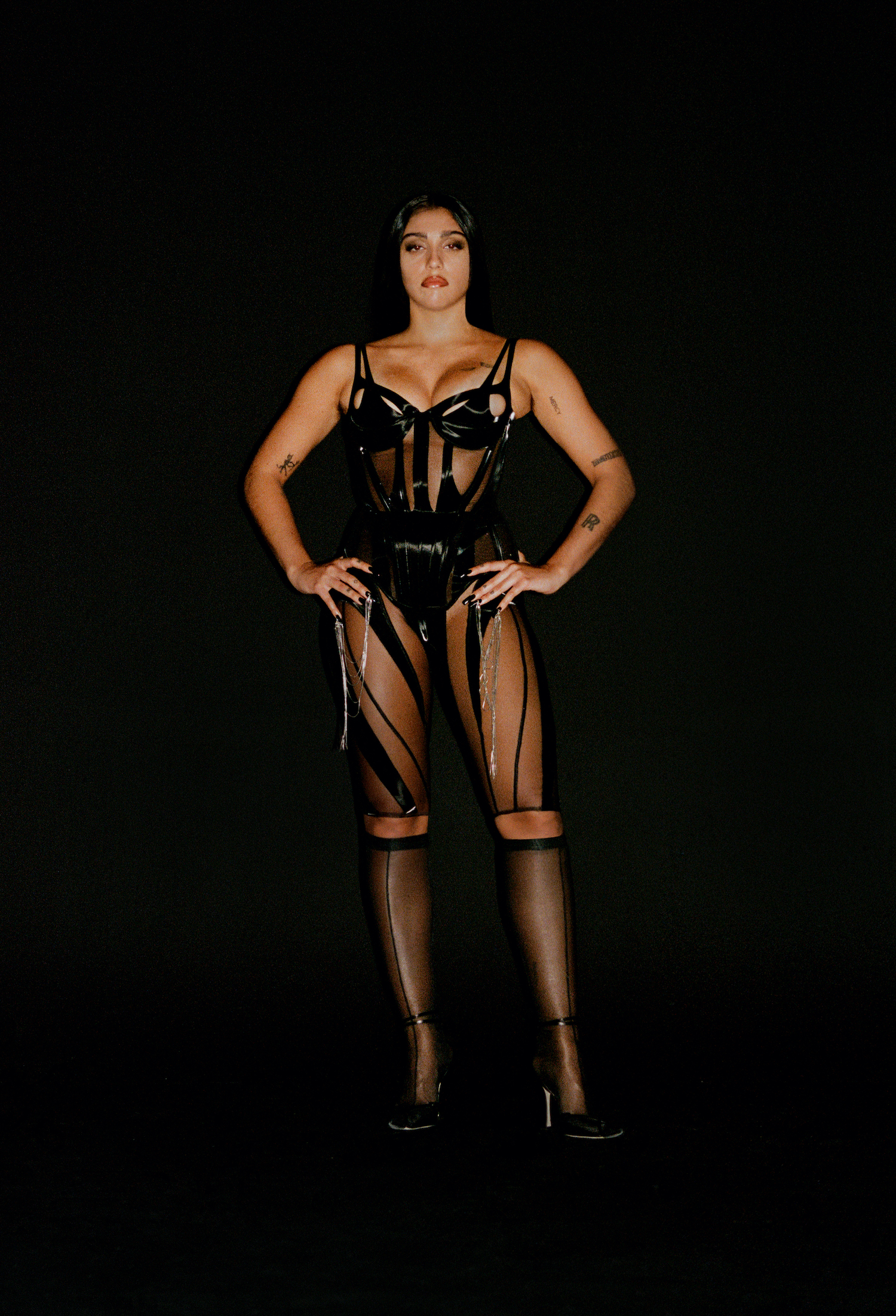 What conversations did you have with Haley, David and Solomon when it came to the creative direction of the film?
A lot of it was the excitement of being like, "Okay, we did that, but what would we do if we started over?" Last season, we really focused on this very default, centre-of-the-room runway approach, and shot it accordingly. For me, my main criticism was that I didn't feel the clothes enough. So this season, I really wanted to get up in there. I want to see the chains bouncing off someone's butt when they walk — I want to see movement! But when Haley, Torso and I get together, we go crazy — I think we really know how to talk to each other, and how to throw more fire on the fire, and get each other really excited about something.
David and Solomon were like, "What about thinking about how most brands present in a white box, and abstracting that?", so we tried to bring a new energy to that context by making it sort of endless. We had models walking on a white treadmill and so that the camera could get in really close on the shoe or pan around a look. And I was really thinking about extreme poses — poses that models can't really do without being supported somehow, which is how we arrived at the idea of having these dancers in white catsuits, sometimes supporting the models and being creepy, and following them around at others. We always want there to be a little bit of an eerie vibe going on, just because it's very natural to Torso and very natural to me.
The music's always been a really distinctive element in the films you've done so far — this season's no exception with Tinashe, Amaarae and Ms. Carrie Stacks included in the mix.
It's so important. It's something that Torso, Haley and I all really appreciate, and then you bring Ashland [Mines aka Total Freedom] in the mix, and we all know what a genius he is. Last season was our first time working with him, and there was a moment where I was like, "Okay, it's too hard. It's not sexy enough. I need only something more sultry — I need to feel the woman walking!" And that's when he pulled out "Tic" by Maureen. There has to be femininity to it, even if we are going hard and there's this consistent energy level across different genres of music. It's such a thread that holds the whole film together.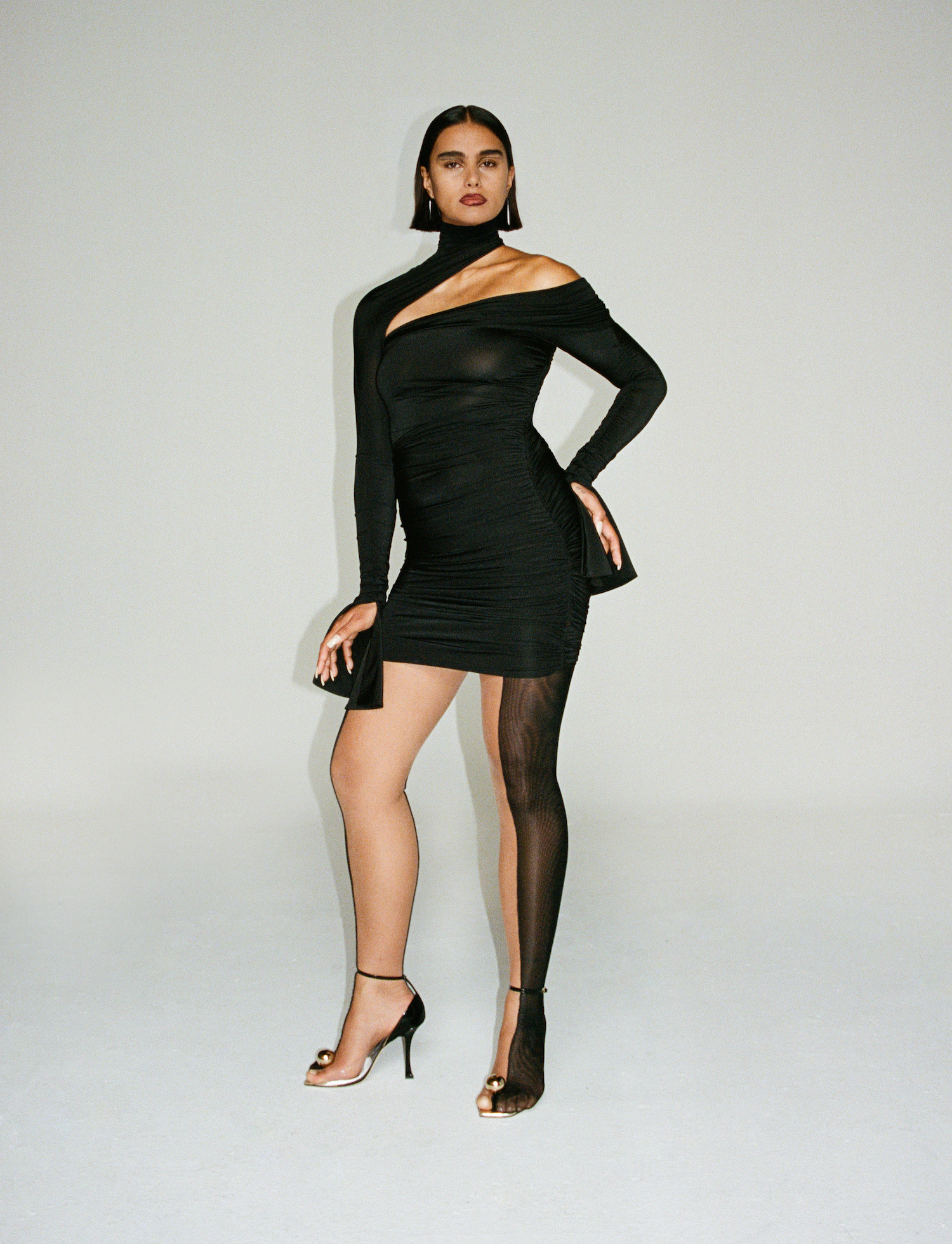 There have been so many conversations of late about the idea of fashion as entertainment. What are your general thoughts on the topic, and how do you position your work at Mugler, and the new cinematographic direction you've taken, with respect to it?
Well, I don't think it's necessarily new. I mean, think of Thierry Mugler's shows at the Zénith with everyone you could possibly imagine. That said, is it becoming more predominant now? Yes, and I think that has to do with the predominance of the media channels that every human being is now using to consume fashion. It used to be that brands were trying to get into hotels and lifestyle, and now what's booming is Netflix and Instagram, and so people are trying to find a way to creep into them. For me, though, I'm just trying to be entertaining. It's asking a lot of someone to watch a six-and-a-half-minute show, and I want it to be exciting enough to not turn it off. So I guess, my approach is a bit more simple. I want them to see the work, to see every cast member, to hear the tracks…
So fashion that's entertaining, rather than fashion as entertainment?
Exactly!