Images courtesy of Lanvin
Lanvin SS22 was all about the high-low clash
For SS22, Bruno Sialleli built the bridge between Lanvin's 1920s golden age and the 2020s of now — via his childhood love for comics. 
Images courtesy of Lanvin
Bruno Sialleli's work at Lanvin is rooted in three eras: the golden age of the house in the 1920s; his childhood in the 80s and 90s; and the present, where his works lives and exists. His work is at its best when he succeeds in finding common ground between these eras, using their likenesses and dissimilarities to reveal something new about the world we inhabit.
So, what's new now? Much has been written too about the return of the Roaring Twenties, the decade of social and artistic freedom following the First World War, as we emerge post-pandemic into this new decade a century on. We are ready for hedonism and excess and more and more and more. We want to dance and revel and enjoy ourselves.
The heart of this collection was Bruno bringing the aforementioned Lanvin of the 1920s into the 2020s, finding some equivalence to the glamour and luxury and modernism of Jeanne Lanvin's designs for now.
In the opening looks Bruno did this by taking the dramatic sweep of a gown into something cuter, shorter, with exaggerated shoulders, which were mirrored in the following looks, trench coats that become almost sculptural in their severity, bugling at the shoulder and nipped in at the waist to create imposing proportions. Menswear borrowed from the ease and silhouette of streetwear throughout but Bruno rendered it in couture fabrics and details, elevating it.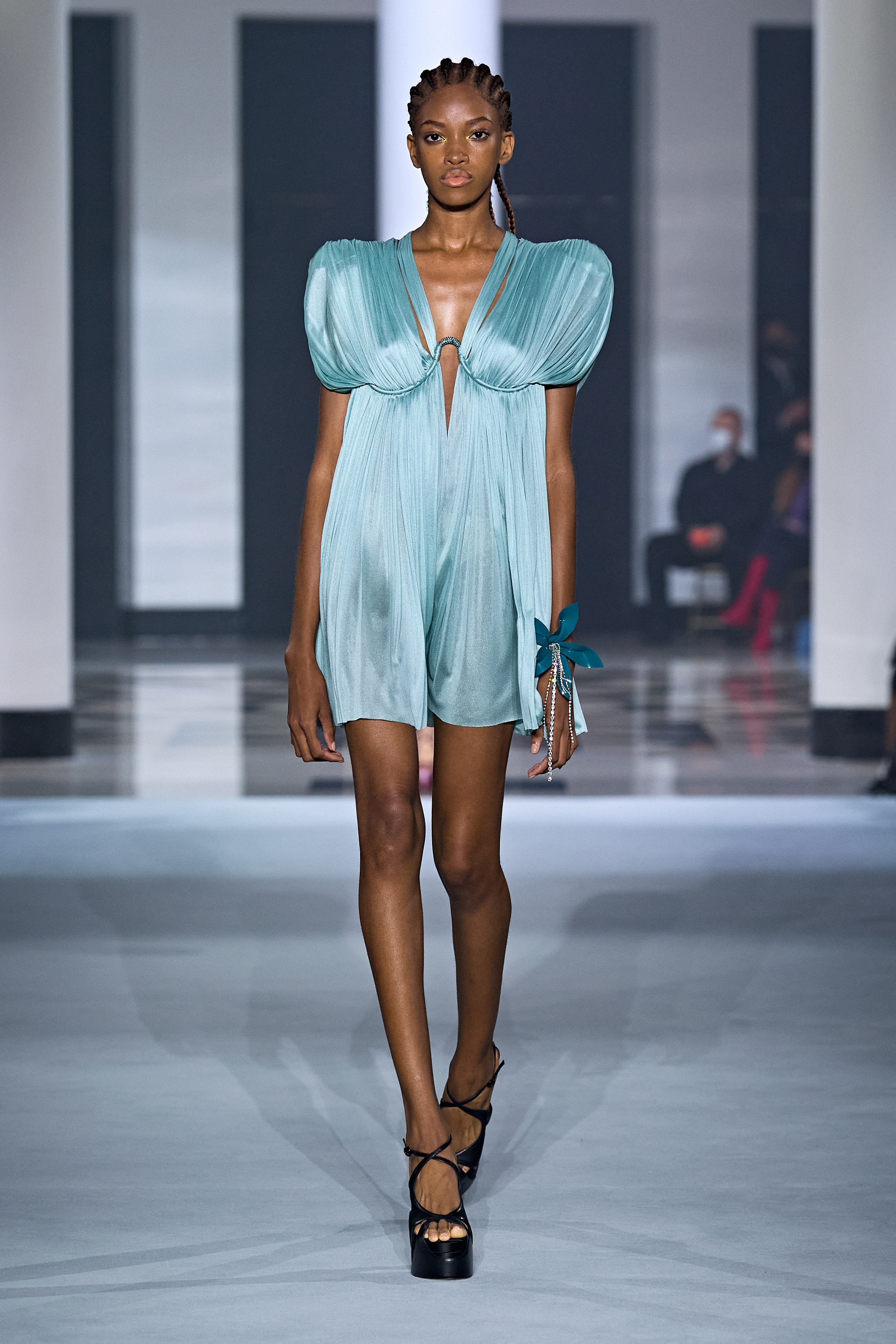 This clash between high and low has also been a constant source tension and creative excitement in Bruno's work at Lanvin. He's skilfully played with these ideas, realising that sometimes the only way to temper more is with more, and in that excessiveness and decadence you can reveal something, and it takes skill to pull this off.
An unexpected collaboration this season is a case in point, and came in the form of Batman. It started from Bruno's obsession with the Tim Burton film versions, and cartoons taken from the comics found their way into print on lopsided shirts, the tongues of trainers, the batmobile became the shape of the bag. It became a semi-transparent print in a few womenswear looks, disappearing into the garment itself. It was most obviously a comment about the heroic, our need for heroes, but also the way Bruno layers references and clashes bad taste with good, high with low.
But all these references — including those to Lanvin's history — are all handled lightly, the reverence is only to the present moment, to creating meaning for right now. And that is also carried by the casting, the people whom the clothes come alive on, and this is what really elevates its modernity; Paloma Elsesser, Precious Lee, Naomi, these are characters who have the strength and individuality to carry and embody these clothes and define this moment.