WINDOWSEN is creating fantastical futuristic couture
Designer Sensen Lii tells i-D China about breaking the mold of what Chinese fashion is supposed to look like.
The fashion industry is experiencing a worldwide, much-publicised reckoning with racism, sexism and various other kinds of ignorance. Having said that, its Eurocentric point of view is seemingly unshakeable. Unbeknownst to many outside of China, in the past decade the Chinese fashion industry has diversified from its manufacturing base and now exports ideas as well as clothes, yet many still associate it with stereotypes of copycatting and plagiarism. Worse yet, this impression backfires on its domestic consumers, some of whom still view local designers as second best.
Granted, this kind of mentality doesn't come out of nowhere. Because of a historical quantity-over-quality approach, Chinese fashion has a heavy legacy to overcome. The Chinese fashion industry, however, wants to believe it have learned its lesson and become all the wiser. Instead of focusing on the 'was' and 'bad' in history, it wants to look forward.
This year, i-D China have seen some brilliant designers present their latest creations at Shanghai Fashion Week. WINDOWSEN is one that stood out with its avant-garde, alien-like couture.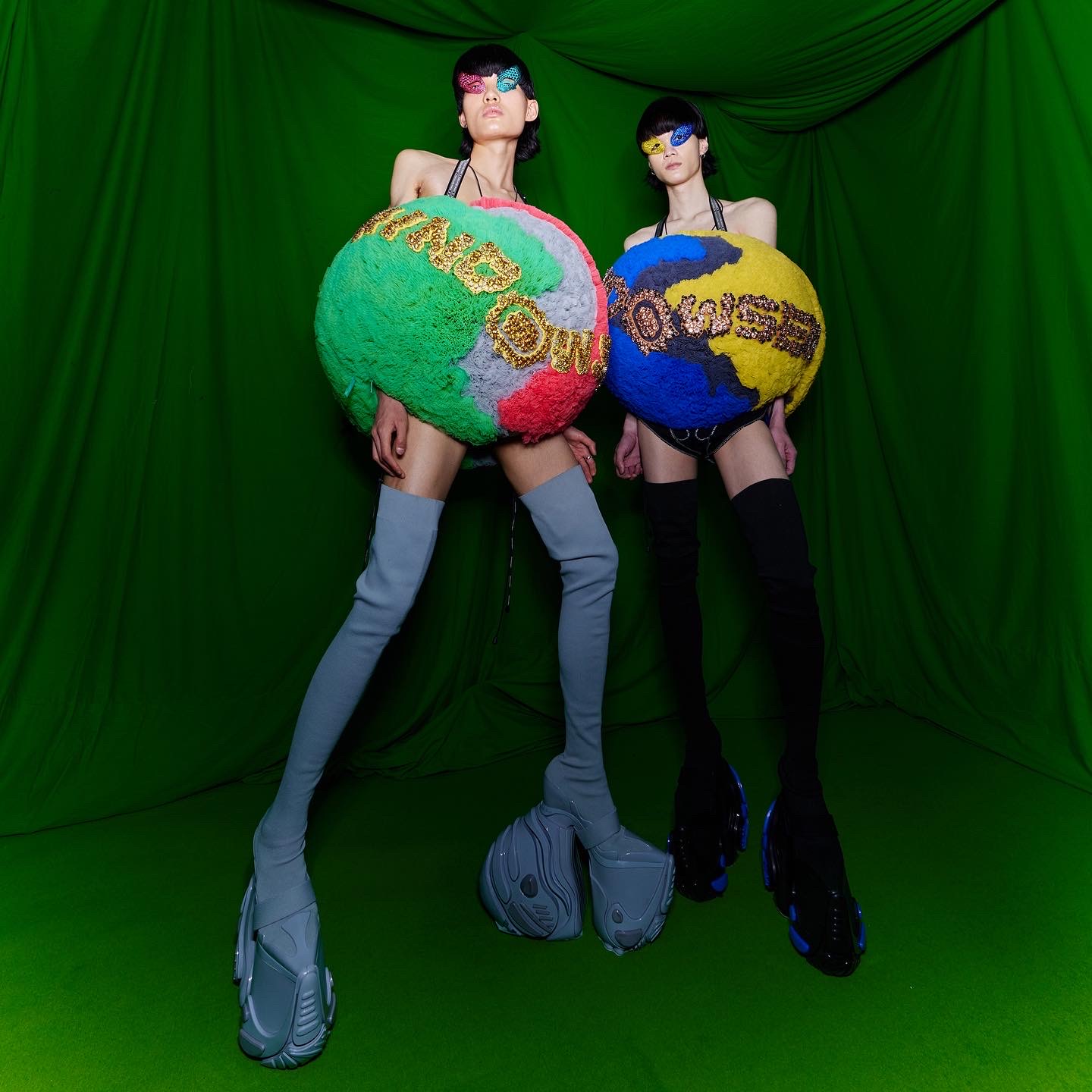 WINDOWSEN designer Sensen Lii is not worried if the world is ready for him, he is not one to stick in the comfort zone of monochrome palettes, and he's not concerned with being flavour of the month. When you see his custom-made pieces, you can't help but feel a kind of joy; from the colours, the liberation, or just the shock to the senses. Sensen has gained everyone's attention with his fantastical creations, and at the same time the designer is breaking stereotypes around Chinese fashion.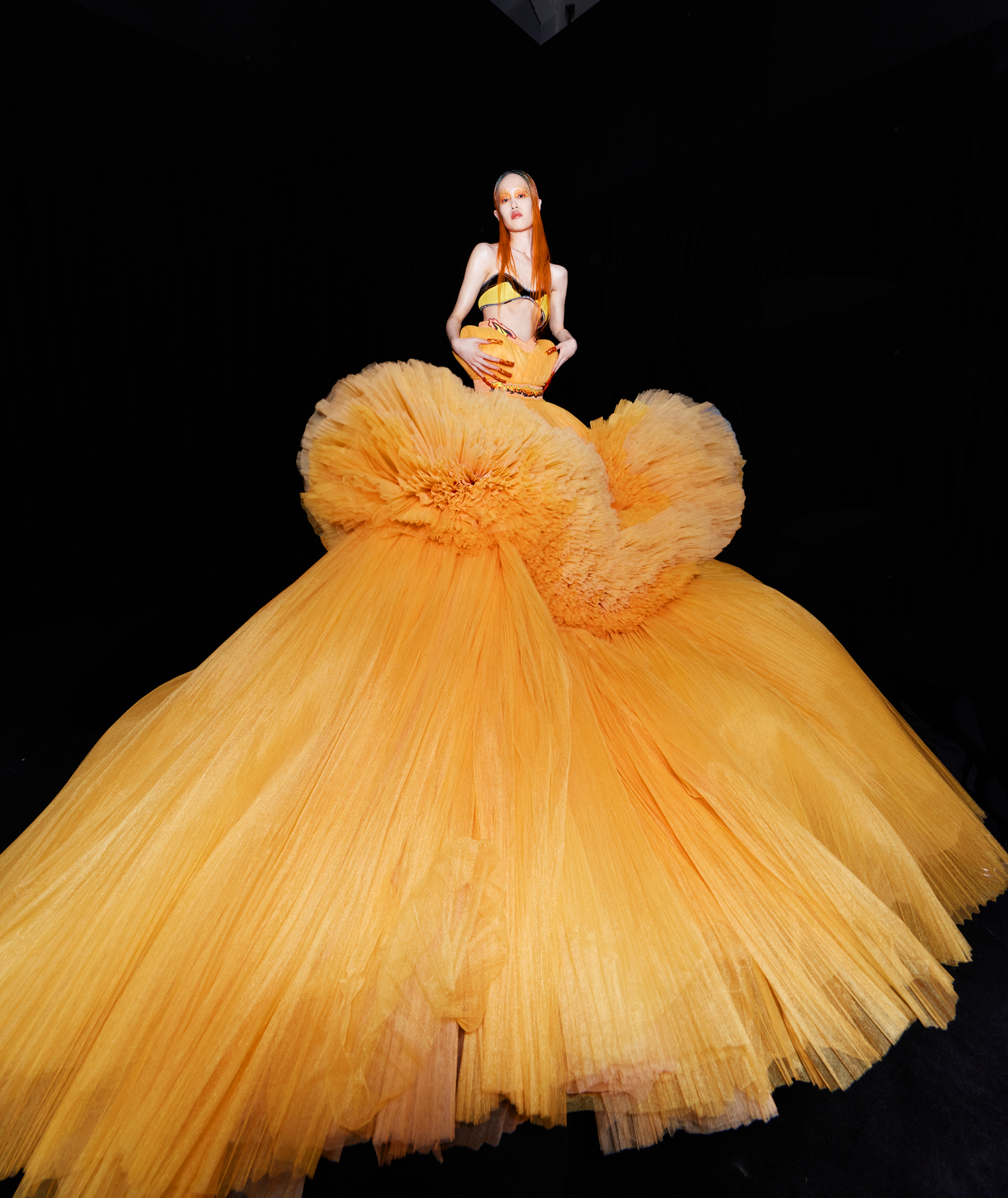 In an exclusive interview, Sensen shares with i-D his coming-of-age experiences, design philosophy and how he sees fashion in China today.
Congratulations on your AW 21 collection. Did you feel the pressure to put on a magnificent sophomore show after your debut?
I think it's more about fulfilling my dreams and how to achieve what I want to do rather than about how others feel. Of course, I'm very happy when people like me or support me, but I think designers need to have their own independent worldview, so what I'm trying to do is to create a dimension, and to tell my stories within this dimension and deliver my messages.
The collection has so many details, from the designs to the actual production. How do you get through a mental block, or when things get frustratingly hard in the middle of this long process?
I think for most of the independent designers who are just starting out, everyone is struggling but maybe just with different things. For example the shoes in this collection, we came up with the drafts before the pandemic but it took us two years to develop the model because the shoes are too big for machine production. I wanted to make a prosthetic athletic heel, but I didn't know things could get this complicated and I would have to invest this much energy and money when I made the draft. But when you're stuck, you can't stop doing what you're doing, you have to push through.
For the prosthetic athletic heels, I actually used 3D printing to make more than a dozen of models, each in a different shape because going through every little adjustment would change the whole dataset. The higher heels have about 60 different parts to be assembled and the lower ones have around 20 parts. It's quite similar to LEGO. I wanted to create a new category that has no gender features. It is not female or male but a unique, stand-alone existence.
Designers have to deal with mental health problems a lot in the process of delivering their vision and eventually presenting their stories. For you personally, is it important to handle this issue well?
I think it is very important, but people have not handled it very well. Especially when I studied in the Royal Academy of Fine Arts Antwerp, everyone has a really toxic schedule and the whole vibe at the school is very unhealthy and full of stress, which leads to many mental problems in us even to this day. But everyone has their own solutions, and everyone reacts to these problems differently.
My reaction is: I don't have a private life; everything in my life is about WINDOWSEN. My personal and social life is very simple and all my emotions are expressed through my works. When it comes to stress and mental health, the best way to deal with them for me is to sleep. I have my whole room painted black and I sometimes would just hide in my room. I feel quite comfortable in this confined space.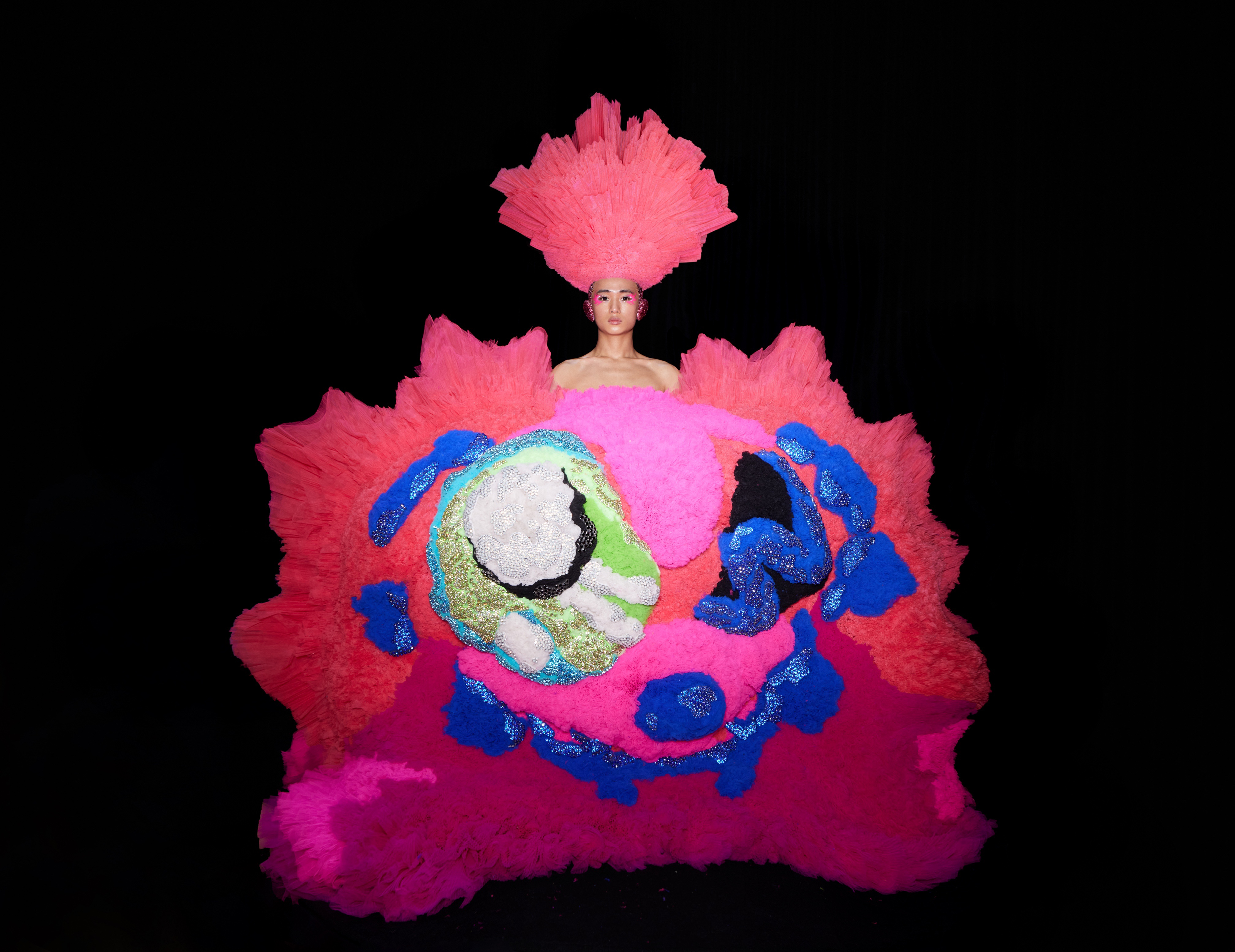 Speaking of your experiences abroad, have you faced any prejudice while living/studying in Europe? If so, how did you deal with it?
A lot. Because our school is quite different from other fashion schools. It is a very small community and it is not in a big country like the UK and the US. The entire campus is on the same floor and the faculty all comes from Antwerp. Most of them are racist, for example one of the faculty members could openly talk about how he disliked Chinese people and thought that wool made in China is bad because of the environment the sheep are raised in.
My problem is that I stood out as a Chinese student among my classmates because I got the opportunity to show my second-year collection at VFiles during New York Fashion Week. I had to make around 15 to 20 looks for that show and I didn't rest for a day throughout the entire summer break. I remember very clearly the show was on the 6th and 7th of September, but school started on September 2nd. After I was done with the show, I had to stay in New York a bit longer to settle things down and when I was back on campus I was already a week late. I didn't do my summer assignments either. The first thing my instructor said to me when I was back on campus was "You're still coming back for school?!"
They think that if you've had some achievements outside of the school, that's because you've got [financial] support. In fact, I've never received support. I repeated freshmen year because they didn't let me pass. I remember one of the instructors showed my textile sample to a classmate next to me and said you should work on your sample like he does in a final session. But I failed the class and that classmate passed. When I was repeating the year, I wasn't late for one class and gave my best on everything. That year was very stressful because I wouldn't be able to graduate had I failed it again. At the end of the year, I was ranked no.1 in the class.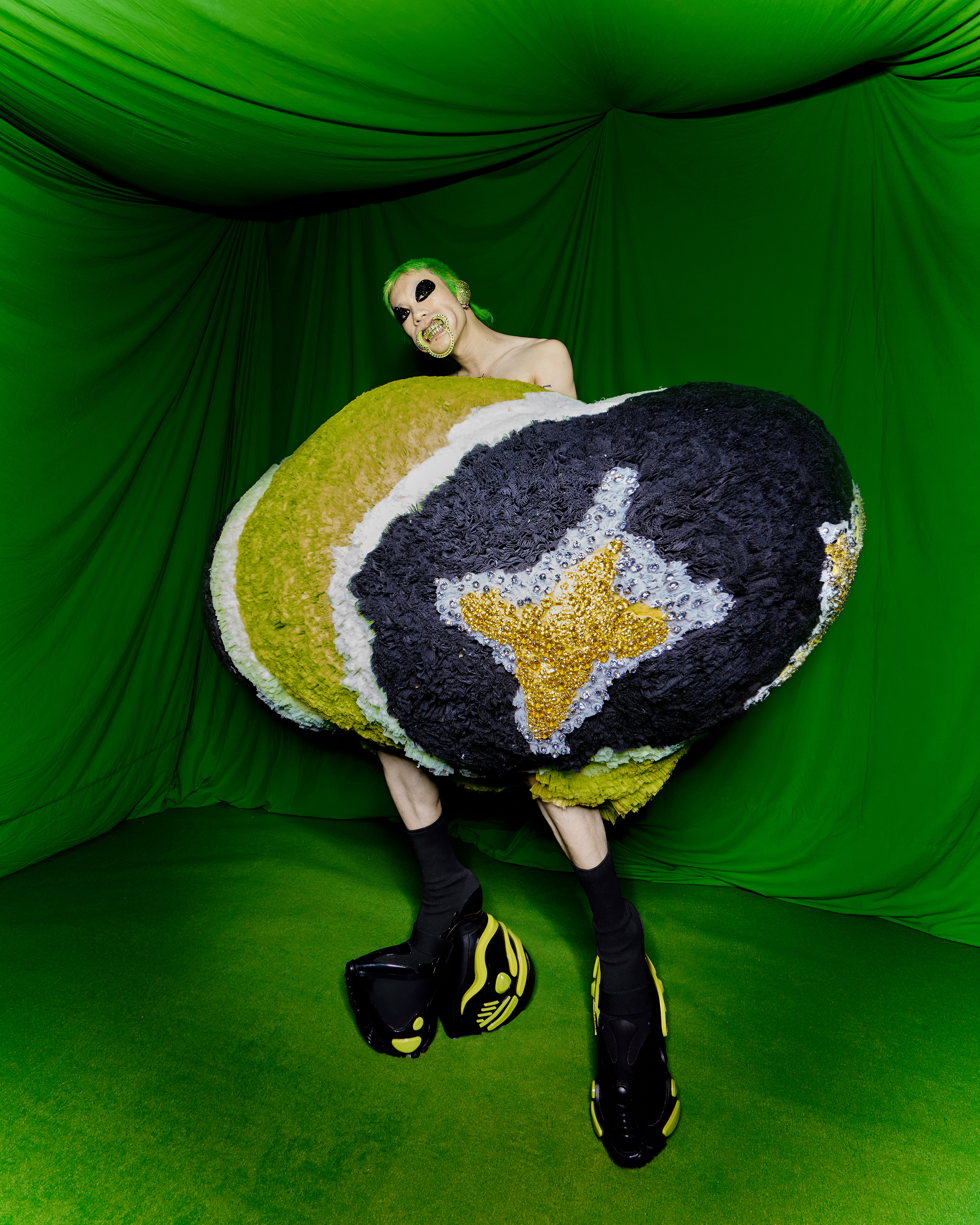 Now you're on the right track. Your success is your response to them: I'm going to show you what I can do. Actions speak louder than words.
Yes. In the last month of my junior year, I had to take the exams right after the show. I am a fairly hardy and resilient person and I don't usually find myself getting involved in any conflicts. But that time after the show, I grabbed my bag and took off right away. I didn't take my final exams because I couldn't take it anymore. It just so happened around that time Sammi Cheng asked me to do her styling and costumes for her tour. I took the job and went off to Hong Kong right away.
I have to admit that school motivated me in another way. But the time I spent working at GROUND ZERO before going to school helped me grow the most. It made me realize what I wanted to do in the future and what my goals were studying abroad. It's not about getting a diploma because a diploma doesn't mean anything to me. Of course, everyone sees their lives differently. But when it comes to design, the branding philosophy, and the message I want to deliver, I think I've always had a clear mind in that regard.
As a designer who is constantly trying to push boundaries, do you feel the struggle on creating something new?
Every day is a challenge, especially for designers like me. You want to create different things and carve out new categories, so the design and production processes are really quite challenging. I do not have anything as a reference. I need to constantly experiment with my work and try to make myself understood. I treat every season of my work as my last.
I have many ideas I want to bring into reality. For example, I hope every year I get to shoot a video that has a narrative, in which I will get to connect all of them together at the end of my career, just like what happened in Black Mirror, where it becomes something like a series. I don't worry about when my career will end or to what extent, I just try my best at my work. My pieces are just a vessel laced with my aesthetics, but what I really want each collection to showcase is something new and interesting, a deeper message.
My pressure does not come from making new pieces, but from finding out what I want to do and consistently doing it. The level of dedication I put into my work and the satisfaction I get out of it as I look back at the end of my career is unparalleled. Just like any artist, nothing in the world quite compares with their own work when it comes to the ecstasy and excitement it brings. I come back crestfallen every time a shoot or a show is finished.
What are some of the things or lessons you know now but wish you knew sooner?
I don't think you need to know everything. My parents used to say to me when I was younger how to avoid detours in life. But these things really didn't help me much. Personally, I find people's experiences and trajectories vary. It's just like a romantic relationship. Some people close themselves up after getting hurt from a bad breakup, while others stay intact. I am the type who stays intact and opens up my heart completely.
I really don't want to know too much. This is why I like to work in a closed space. I can select and filter what I take in. But as soon as I walk out that door, things get out of hand really quickly with all the influx of information. Everything becomes uncontrollable.
Credits
---
Photography by Li Sihao
Tagged: