Black Sand is the California surf crew fighting for justice on the water
Brick, Gage and Tre'lan met through their mutual love of surfing. Now they're determined to change the status quo of LA's white-washed surf culture.
This story originally appeared in United States of i-D, a series in celebration of diverse communities, scenes and subcultures across America.
In Los Angeles' South Bay, the affluent community of Manhattan Beach rests on four square miles of idyllic coastline that looks straight out of a TV title sequence. Streets lined with surf shops, restaurants, and the omnipresent Starbucks lead centerfold to panoramic ocean views where surfers and their technicolor boards can be seen dotting the horizon. Known as El Porto, it's LA's most reliable surf spot — whether you're just starting out or are a seasoned pro. But synonymous with the beach's inviting waves is its hostile reputation towards newcomers who don't exactly look the part.
When producer, DJ and creative director Justin "Brick" Howze picked up a surfboard for the first time last September, El Porto seemed like the obvious place to find his footing. Acquiring new skills during the pandemic wasn't anything new for Brick, but after trying out a bunch of sports in search of a new hobby, it was a street vendor selling boogie boards that would inspire him to try surfing. "I did a lot of soul-searching in 2020," Brick says, waxing his board and preparing for the day's waves. "I tried tennis, I tried running and after I picked up that boogie board I haven't stopped surfing since."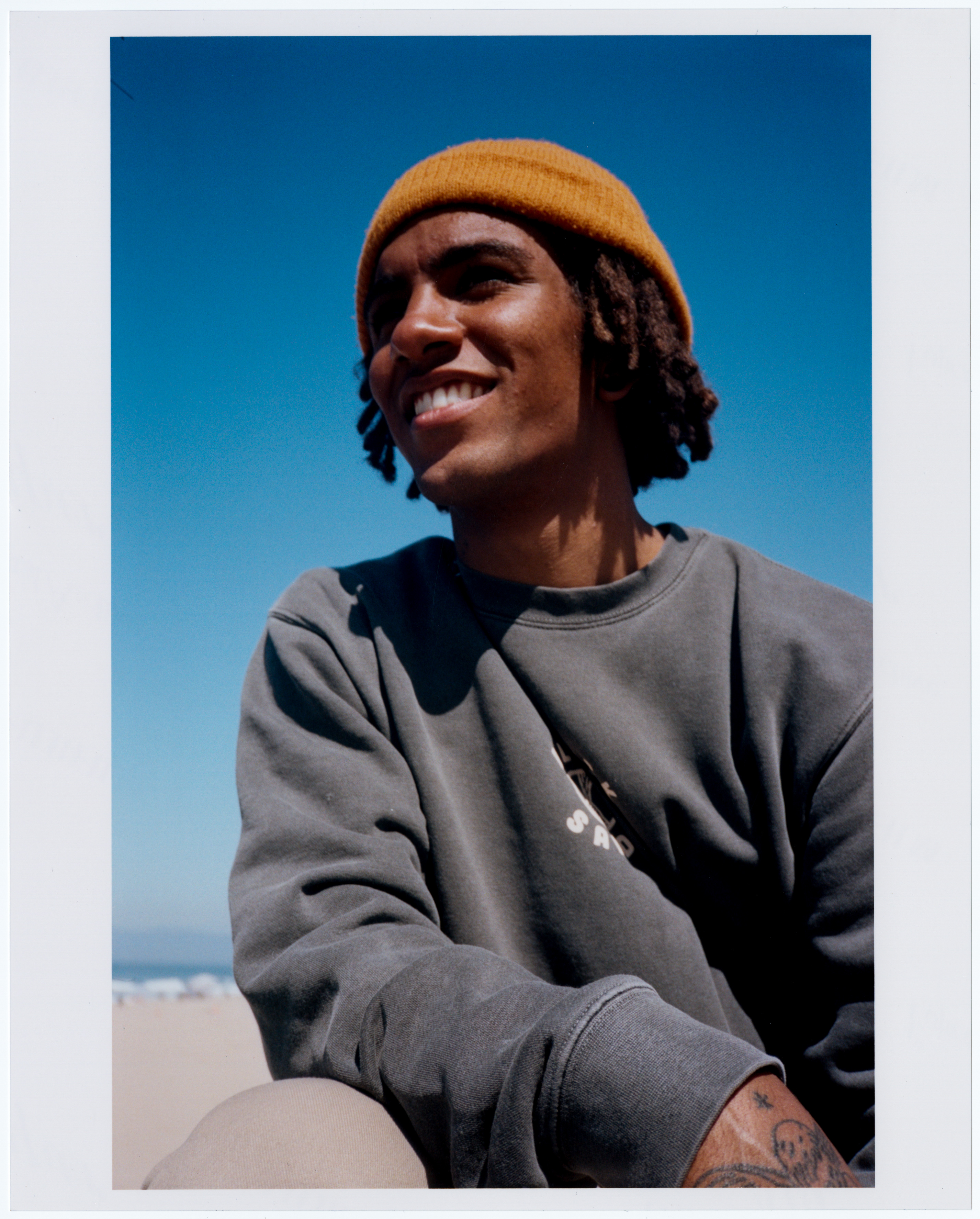 When he was just starting out, Brick used YouTube to learn the ropes. Then he began posting surf videos on his own Instagram. As though it were fated, Gage Crismond sent him a DM and proposed the idea of surfing together. The pair were excited to meet given they're both Black guys who surf — a rare sight in the white, male-dominated surf scene, especially at Manhattan Beach.
Gage had been surfing for only a few months when he first came across Brick's videos. And despite being from different backgrounds — Gage from Michigan and Brick a California native — they hit it off instantly. Gage had been a choreographer in Chicago, where he found an outlet for his creativity after calling it quits on college. When he moved to LA in 2017, things got rocky. A broken-off engagement left him displaced and living out of his car, while taking odd jobs in restaurants barely kept him afloat. Things started to piece back together again once he began surfing with Brick. "I sort of found myself through surfing," he says.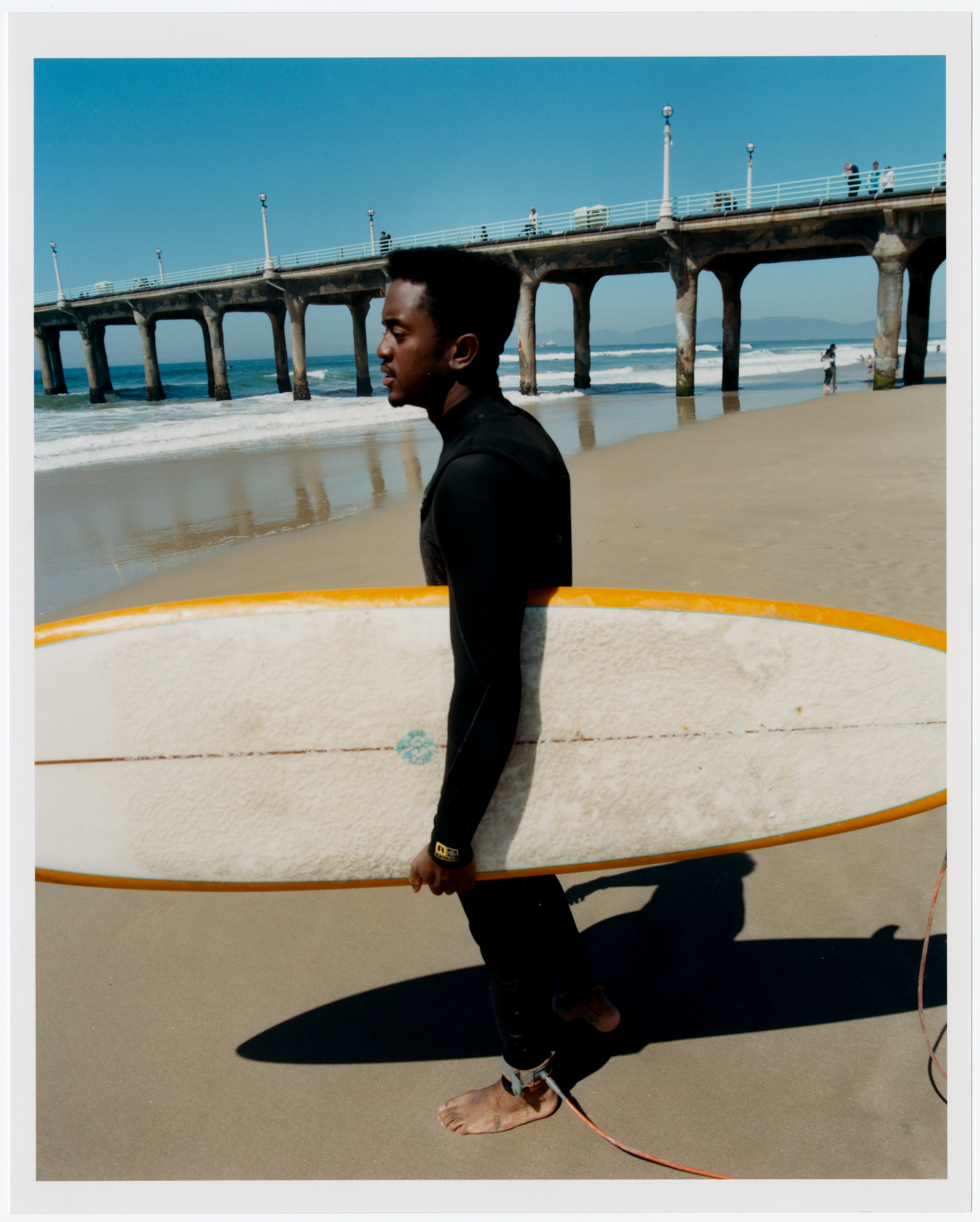 As Gage and Brick continued to document their surfing journey, they met Tre'lan Tillman in the DMs and the three of them formed a surf collective which would later become Black Sand. Tre'lan, who's originally from Tulsa, Oklahoma, lives in Hawaii and learned to surf with affiliates of pro-surfer Andy Irons in Kauai. "I surfed with his generation of guys. All the guys who wanted to be the best, NFL-level surfers," he says. "It's not easy to come up in those ranks." A few dislocated ribs and some years later, Tre'lan would head to Maui where he saw guys surfing 50 to 60 foot monster waves. "From that moment forward, my biggest goal in life has been big wave surfing," he adds. Talking with him, the calm, meditative nature of his demeanor reflects an enviable inner peace — something he credits to using Ayahuasca for mental healing and spiritual journeys, which provide him with a sense of clarity essential to conquering bigger waves.
Having surfed the longest out of the three, Tre'lan acts almost as a sensei for the group, advising on best practices and general ways of the sport. Before Tre'lan and Brick ever met in person, he would send Brick tips and hand-drawn illustrations to help instruct him on technique. But the teaching is mutual, having mostly surfed in warmer waters, Tre'lan comes to California to master cold water surfing, something Brick and Gage know well.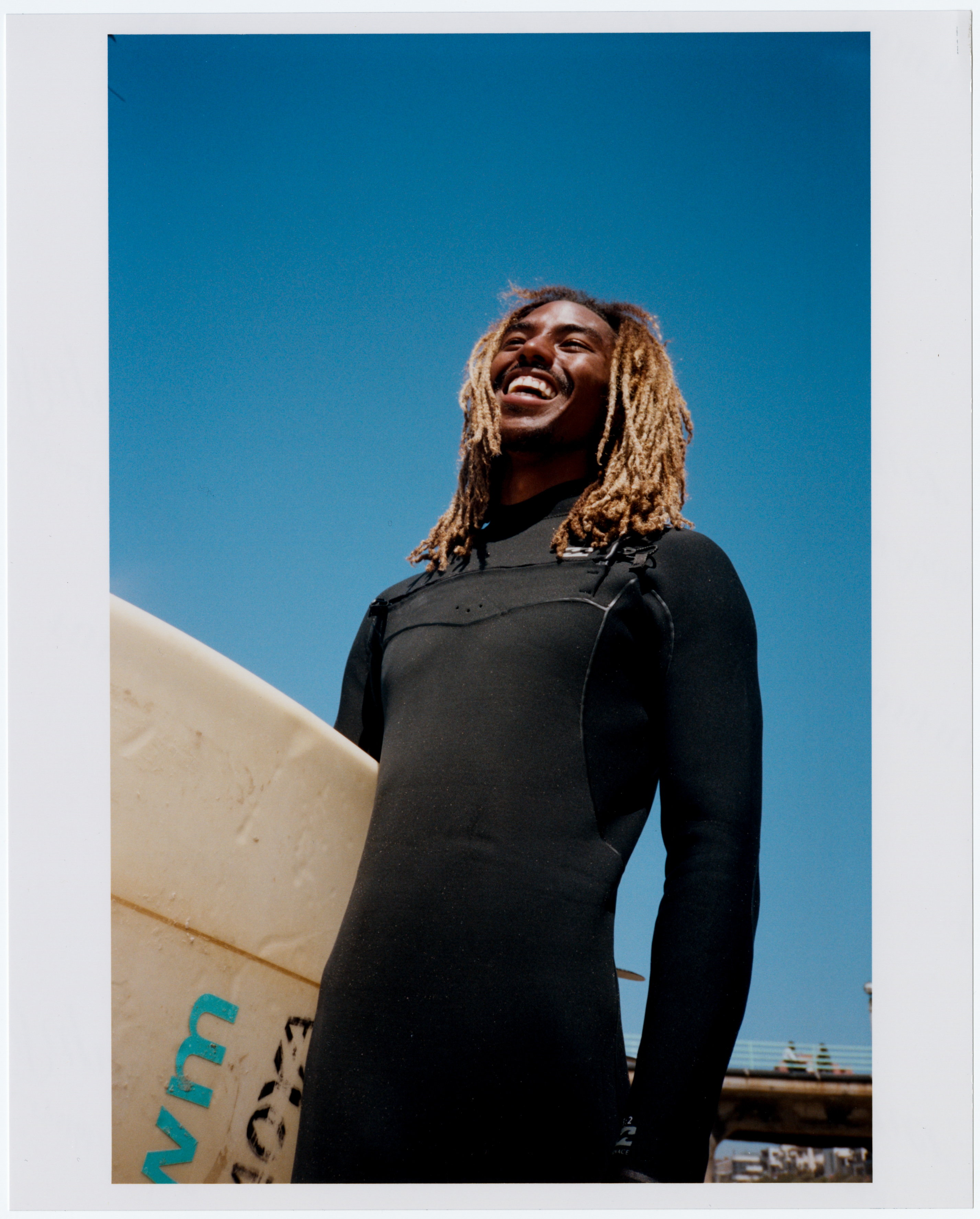 If the California Coast is cold, the surfers are colder. Even on the often crowded waters of El Porto, localism reigns — public breaks become private property as regulars get defensive of their waves. This turf mentality makes discrimination all too common in surfing, and in a sport that has largely been reserved for white people, localism can easily be worn as a cloak for racism.
On February 15, 2021, Brick and Gage went out to catch a wave like on any other Monday. But just as Brick started to paddle into one, he collided with another surfer. The older surfer confronted Brick and an argument erupted, where the man shouted the N-word at him while splashing water. Gage also faced homophobic slurs because of his painted nails. All of this happened while a group of mostly white onlookers gathered around them, refusing to step in. The man told them both to "Go back to the streets," and to "Go down where the Blacks used to surf," referring to Bruce's Beach, the once Black-owned, beachfront property taken through a battle with the city over 100 years ago. Known then as a place where Black people could surf peacefully, separate from the whites-only beaches they were excluded from, the now repurposed property stands as a phantom reminder of Manhattan Beach's segregated past.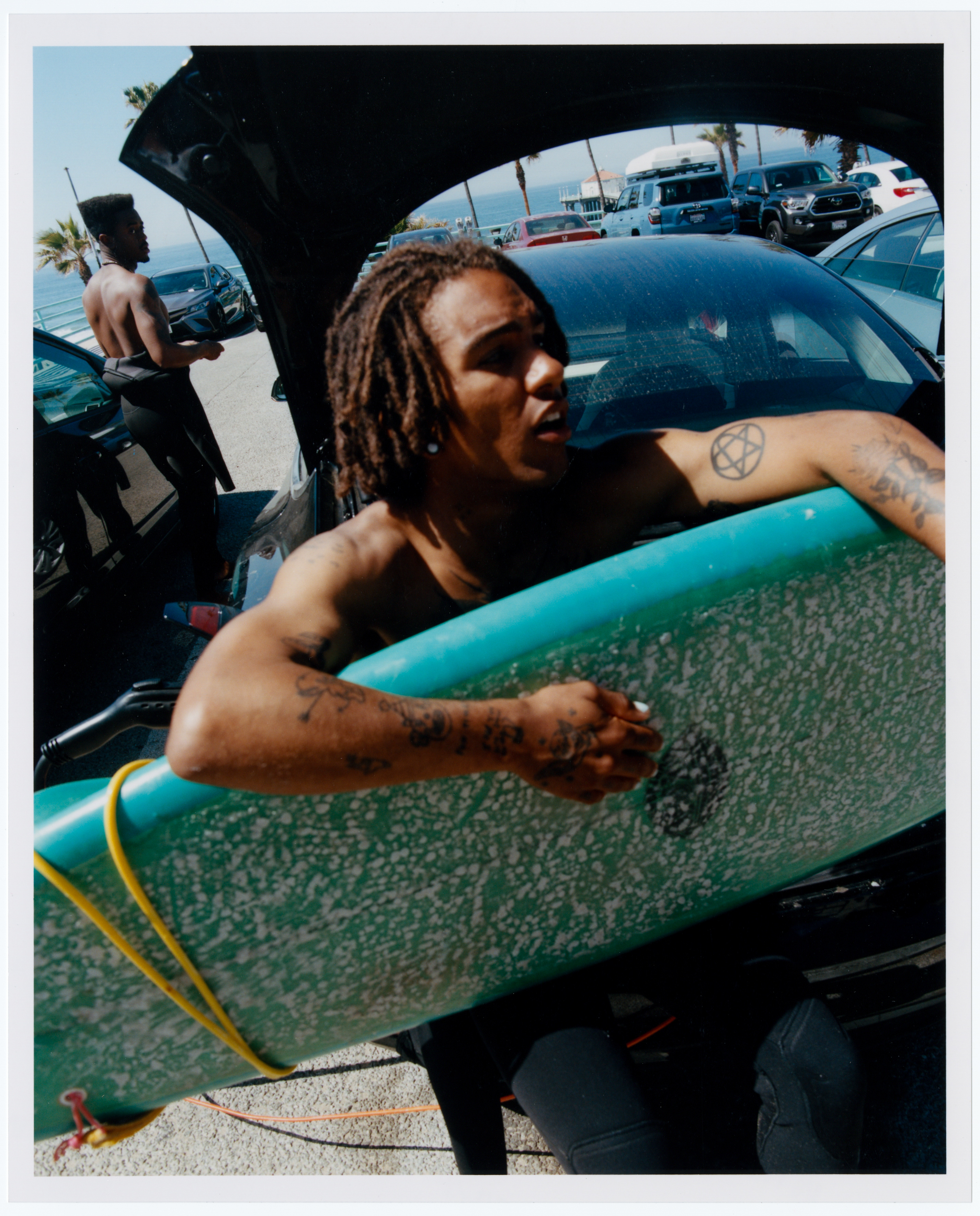 Photos, videos and testimonies of the incident went viral. After an enduring year of civil unrest and Black Lives Matter protests, a cry for justice erupted on social media and the Black Sand Instagram became a conduit for action. When the guys officially formed the collective last October to establish community through a mutual love of surfing, taking a political approach to their experience wasn't something they anticipated. Brick's initial excitement of simply being in the water and learning to surf left him oblivious to the possible frictions of the environment. "The water itself is chaotic," he says. "When I first started learning, I went on a really heavy day, so I never thought about race or being Black in the water. My only focus was on the water itself… not the people in it." The visibility from the altercation led Black Sand to take a new stance, one that was intolerant to discrimination of any kind. An outpour of support from fellow surfers and beachgoers quickly followed.
With such a united response to their posts, the boys decided to host a Peace Paddle in February, poignantly on the same stretch of beach where the N-word was shouted at them days prior. It was a peaceful gathering open to surfers all across California to show solidarity against racism and hatred on the water. Over 200 people showed up and El Porto was filled with surfers of all ages, genders and backgrounds who wanted to support Black Sand. Although the area was too full to catch a wave without collision, many attendees noted it was the freest they had ever felt in the water.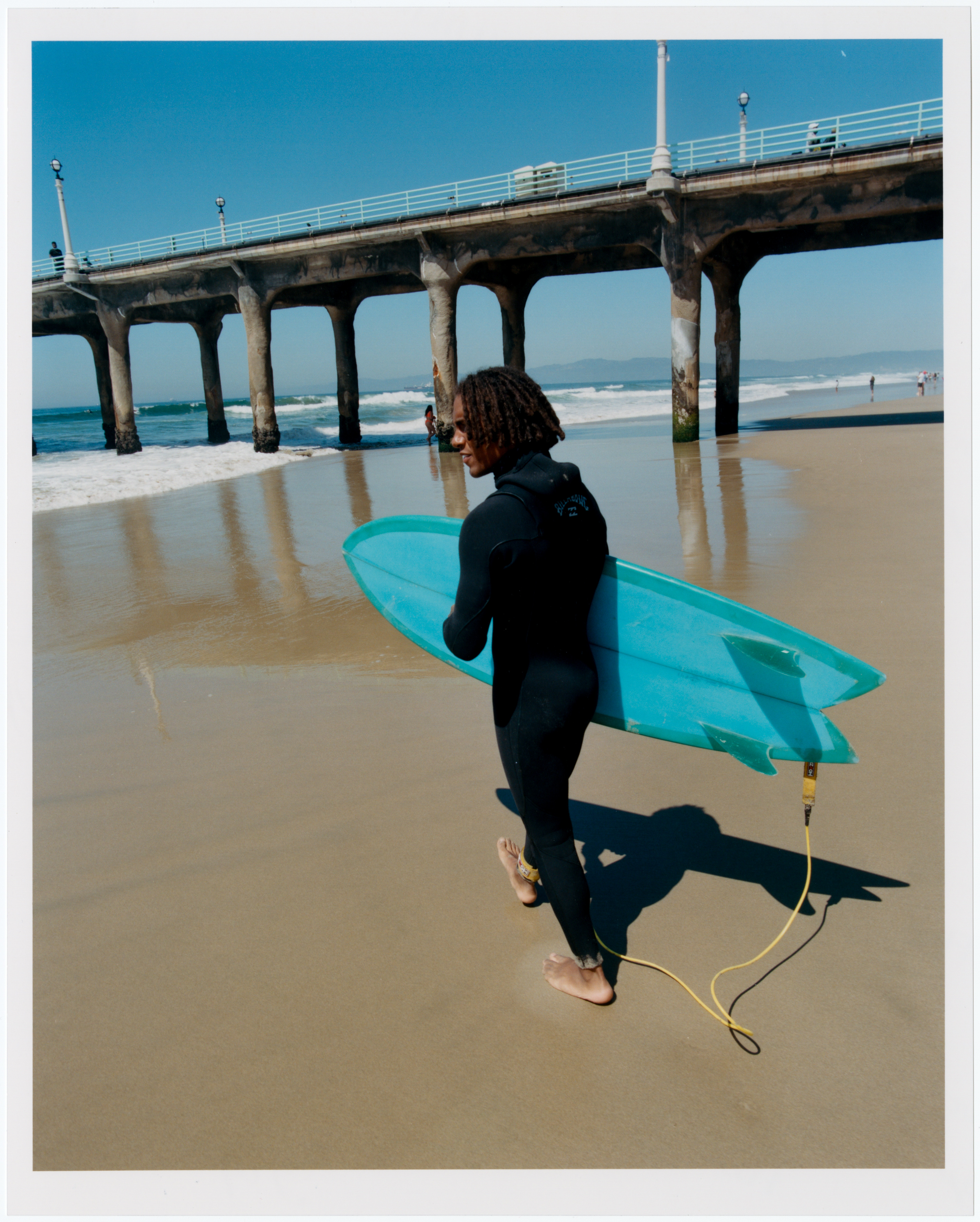 This sense of belonging among BIPOC surfers is exactly what Black Sand aims to create with their collective, both through meet-ups and by using their platform to advocate for equality. They've also designed a selection of logo tees and sweatshirts, as part of their 'Peace Paddle Collection'. Proceeds from the sales of the clothes go to BIPOC surf-affiliated organizations, and Black Sand hopes to provide community-backed resource distribution in all aspects of surfing as they expand.
Though the group is still in its early stages, Brick, Gage and Tre'lan have already begun to make their mark on surf culture in their homebase of Manhattan Beach. As for the future of Black Sand, Tre'lan says the mission is simple: "Freedom for every human on the water."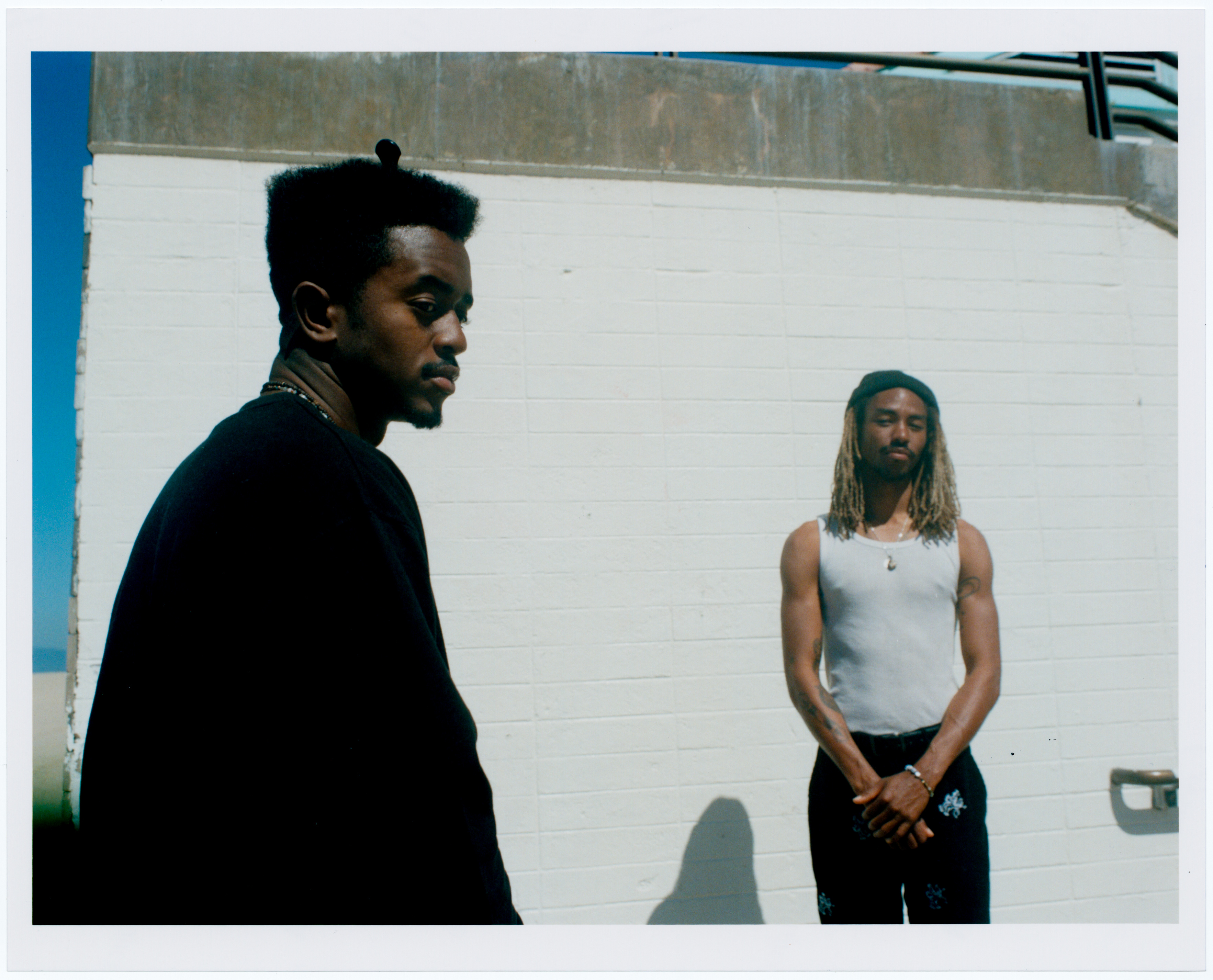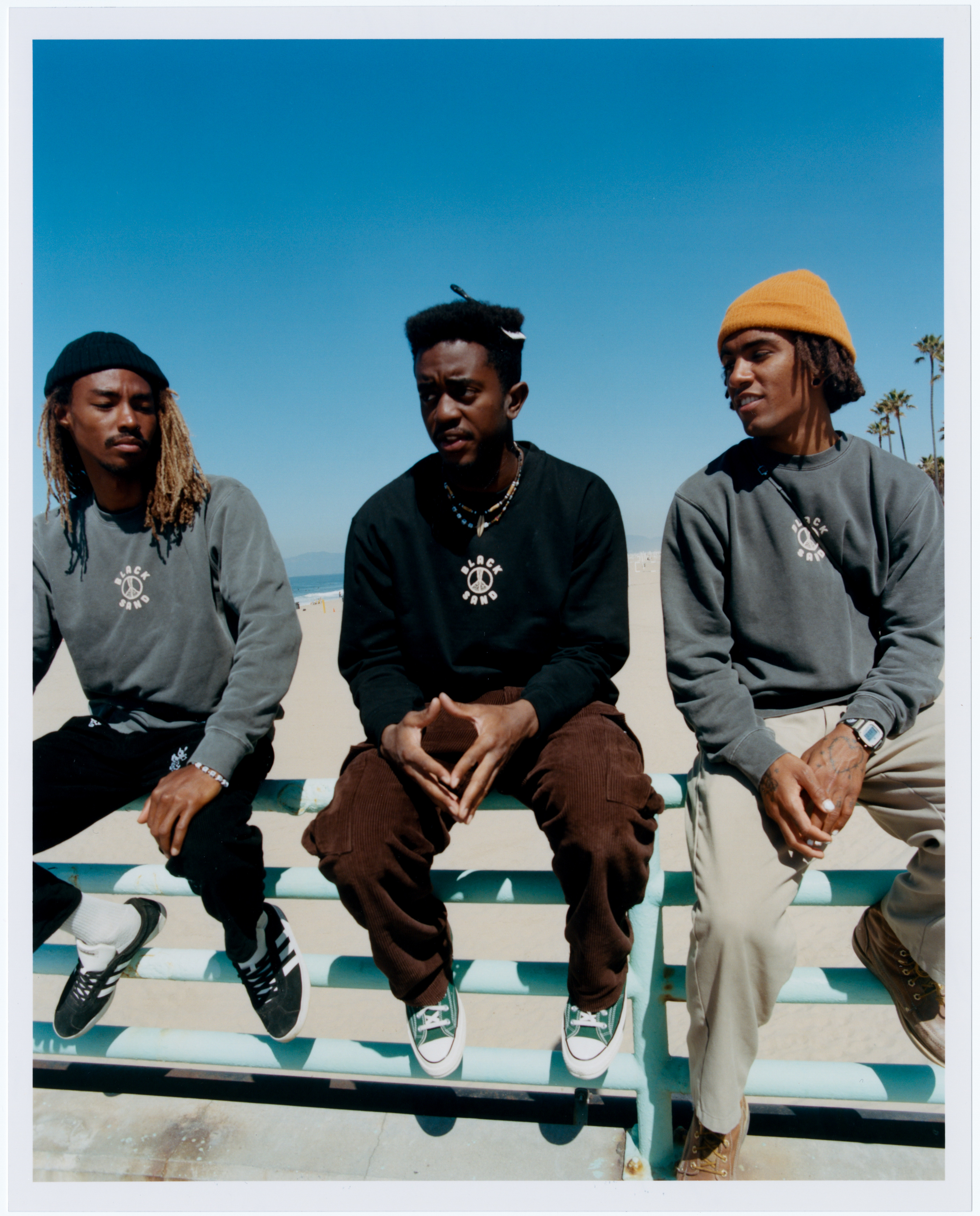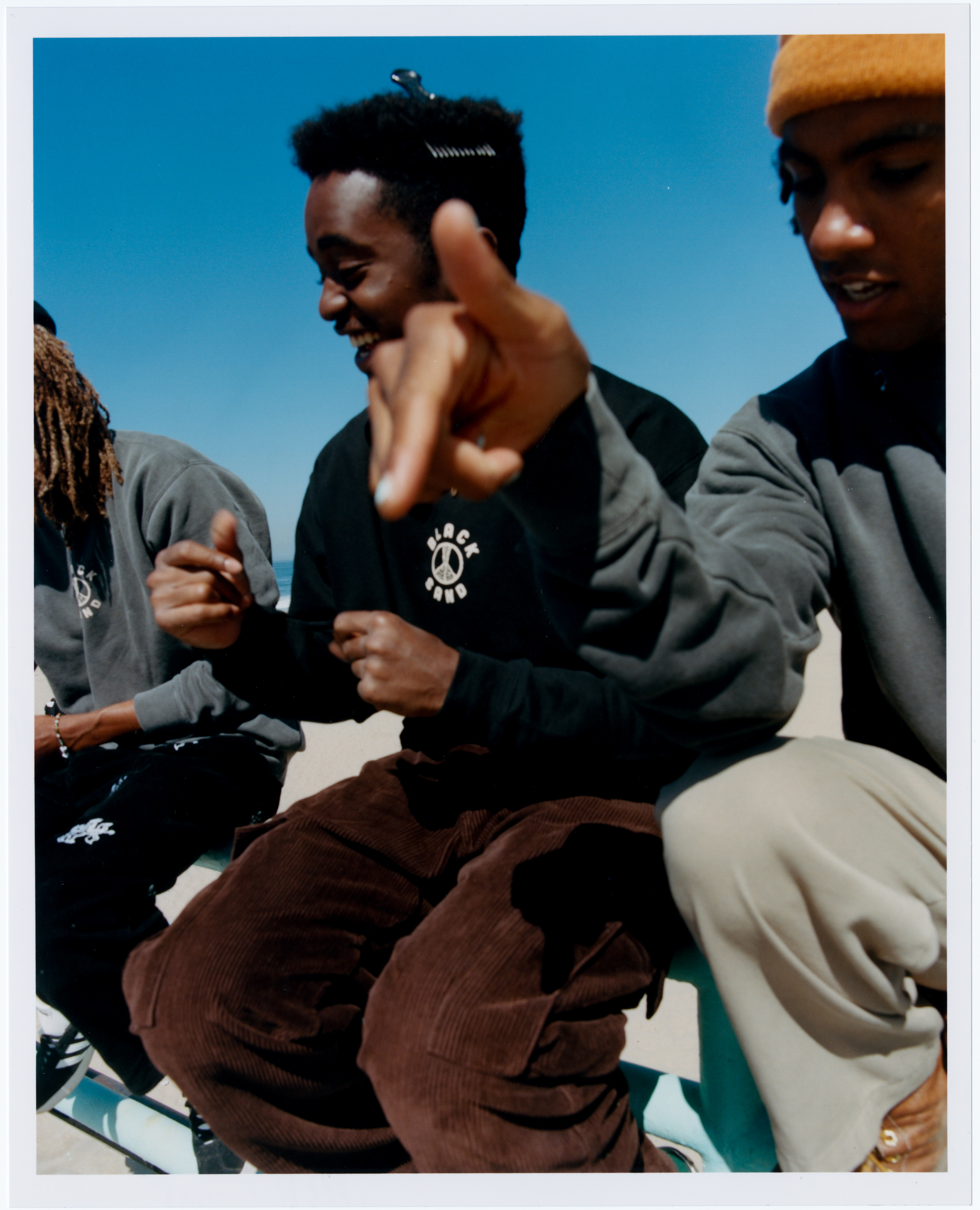 Follow i-D on Instagram and TikTok for more culture. Tune into United States of i-D here.
Credits
---
Photography Daniel Regan.
Creative Production Frank Nesbitt
Tagged: