Photography Mario Sorrenti. Image courtesy of Burberry.
Adam Driver for Burberry and toilet stalls: what's in fashion?
Your one-stop-shop for this week's fashion news to know.
Photography Mario Sorrenti. Image courtesy of Burberry.
It's that time of year again. The sun is out, the parks are full, and we're constantly torn between wanting to wear nothing and having nothing to wear. Ah, summer, how we've missed you sending us into emotional, physical and sartorial meltdowns! Thankfully, this week fashion is serving up looks for every warm-weather mood. There's the sexy, topless centaur look courtesy of Adam Driver and Burberry; there's the trippy-hippie tie-dye courtesy of Levi's' latest collaboration; there's gothic glamour from Rick Owens… Hell, there's even shearling-lined skiwear from Emma Corrin and Miu Miu. Global warming, eh? Here's what's in fashion.
A big, buff week for Burberry
Now, there's no way that you've made it through the week without gawping at House of Gucci star Adam Driver's equine romp in the campaign for Hero, Burberry's latest men's fragrance -- and if you haven't, honestly, where have you been?? -- but it's just too fab not to post again here. First of all, there's its sheer theatrical value -- if Adam Bloody Driver metamorphosing into a centaur out at sea isn't good enough for you, then we don't know what is! Secondly, just look at that torso. No, seriously -- look at it. Deep body insecurities aside, the only feeling that Adam Driver's adonis form rouses is a mother-may-I thirst that can only be quenched by a bottle of Riccardo Tisci's first fragrance for the British house. If you happen to be in London, then the hottest place to pick one up right now is Burberry's equally sexy new flagship store, No.1 Sloane Street. Sat just across the street from Harvey Nicks, the three-storey emporium boasts the full gamut of Burberry bounty -- from beauty to an Olympia bag installation to an entire trench coat room! Form an orderly queue, girls! MS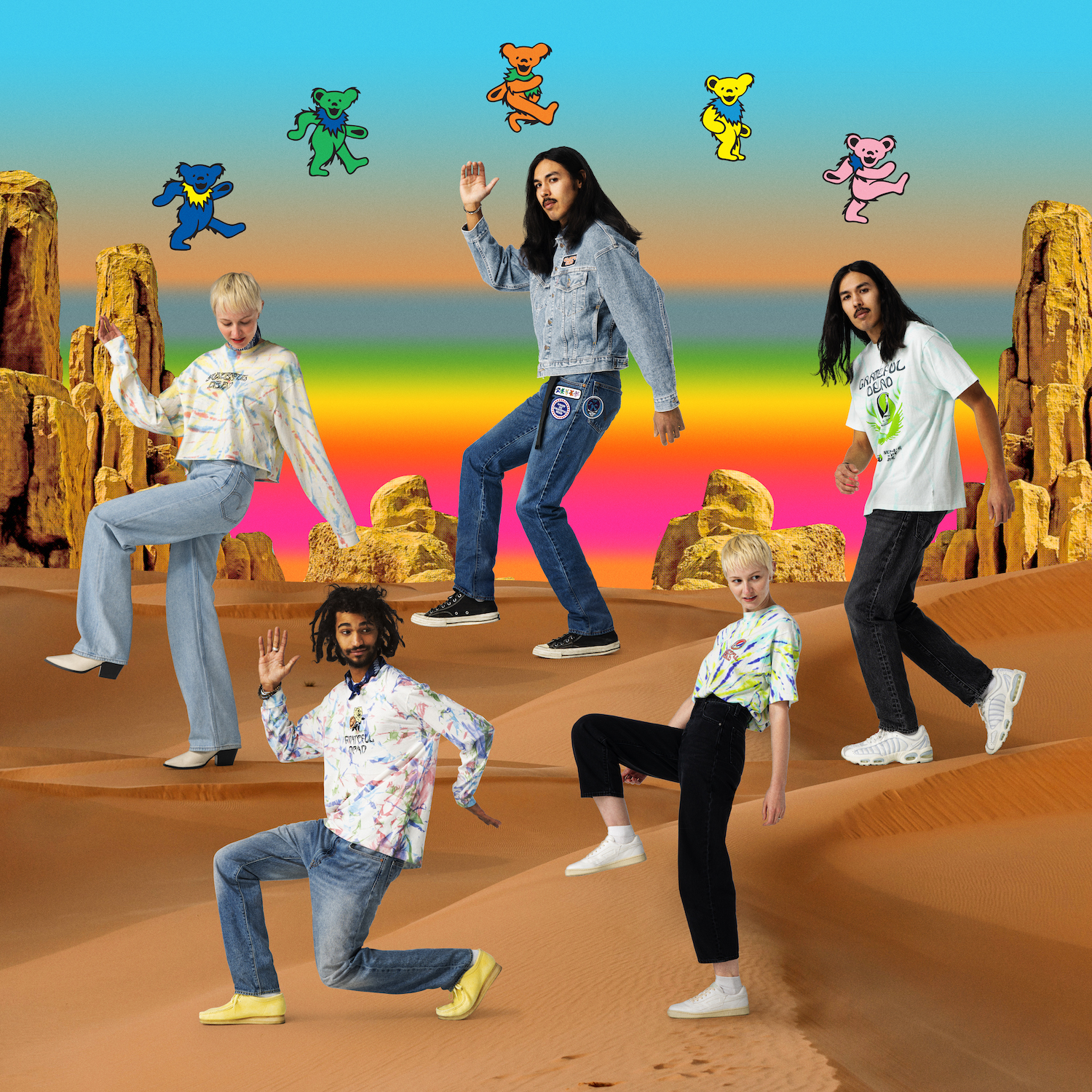 A new line of Deadhead-worthy denim
You don't have to be a Deadhead to love Levi's' latest collaboration. The American denim brand has partnered with an equally legendary band, the Grateful Dead, on a new line that brings together the pair's San Francisco origins. It couldn't be a better fit — bootcut, if you're wondering — least so because generations of Deadheads have applied their crafty, hippie motifs to Levi's jeans and trucker jackets, whether it's the ubiquitous Deadhead tie-dye, bumper stickers or the Dancing Bears emblems of the band's 1971 namesake album (AKA 'Skulls & Roses'), which celebrates its 50th anniversary this year. Not familiar with the Grateful Dead? All the more reason to dive into their work. Back then, thousands of fans would follow the band on tour and create their own homegrown merchandise. More than a band, it was a countercultural community. Listen to their iconic 1977 concert at Barton Hall, then buy the T-shirt with the graphics taken from the flyer to the show. OA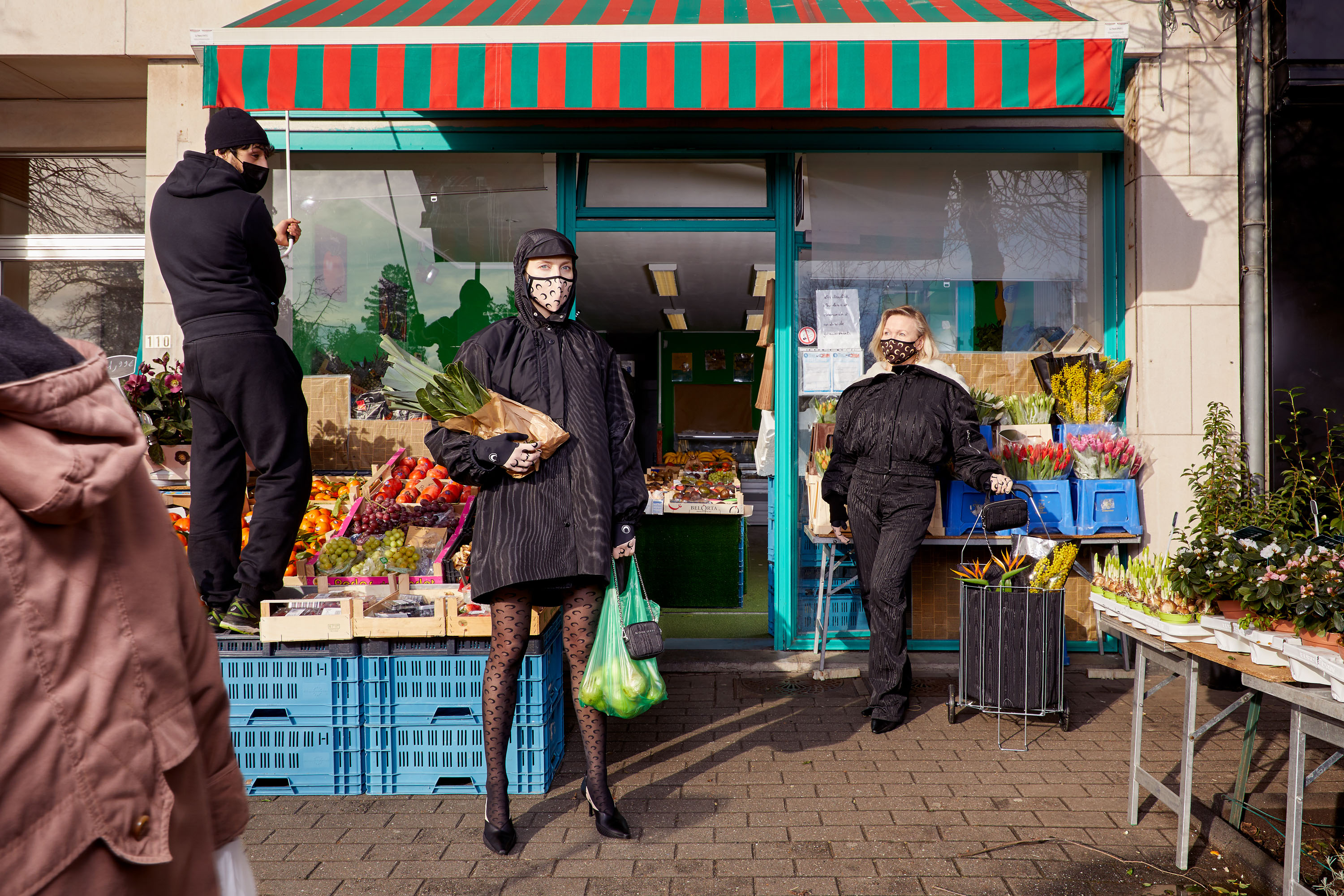 Marine Serre campaign is all about its core values
In a season that was awash with fashion films that have since become a blur, one of the AW21 presentations that will forever stick in our minds is Marine Serre's epic feature-length documentary, CORE. Presented by way of an interactive web platform, it offered a holistic insight into the innovative regenerative processes that result in the Parisian label's consciously made clothes -- tailoring wools are woven from recycled fibres, and unwanted blankets, carpets and denim jeans are artfully patchworked and given new life. More than that, though, it showcased the clothes on members of the Marine Serre family as they went about their daily lives -- shopping by the Seine or pottering about the garden. Rather than attempt to distract us from the still realities of our lives back in February, Marine and her team did something that's rare to see in fashion today -- they mirrored life just as it's lived. This week, the label revealed its campaign for CORE, diving deeper into the same theme. Just ahead of the launch, we had a quick chinwag with Paris' queen of eco-couture all about it. MS
Hi Marine! Tell us about the campaign -- how did the concept come about?
After a year of difficult times where the whole world has been questioning itself, I felt it was important to continue our narrative, as everyone now takes the state of urgency that we're in more seriously. For me, what was essential was to go in the opposite direction to what was shown in Amor Fati [Marine Serre SS21] — which was a mystical, utopic transformed reality — and do something that felt seamless with reality and very close; something that makes people feel less alone in the present. As for the people you see in the images, since the beginning, we've been working with friends and family, creating a kind of tribe around us. It's really important for me to build loyal relationships with the people who work with us and have walked in our past shows — they're the symbol of, and the energy that fuels, the brand. They're really part of the team.
How does the campaign represent the ideas at the heart of the AW21 collection?
The CORE campaign images are taken from our documentary, which is divided into two main chapters. The first documents our material regeneration processes, and the second -- titled "Muses" -- is where all the materials are presented in their final transformed shape -- as garments worn by our muses in their day-to-day life.
Everyone is presented in their own private environment, and, together, we chose the garments in which they felt most themselves and most comfortable according to their daily routine. We wanted to keep it as natural as possible, to show that it's really possible to wear regenerated and recycled garments in real daily life. It was an homage, in a sense, to these muses and friends; an homage to the trust they gave us by welcoming us into their homes and their private life.
What do you hope people are able to take away from the campaign?
To enjoy and to look at the core values of life. To spend time with friends and family. And to do simple things like cooking or gardening.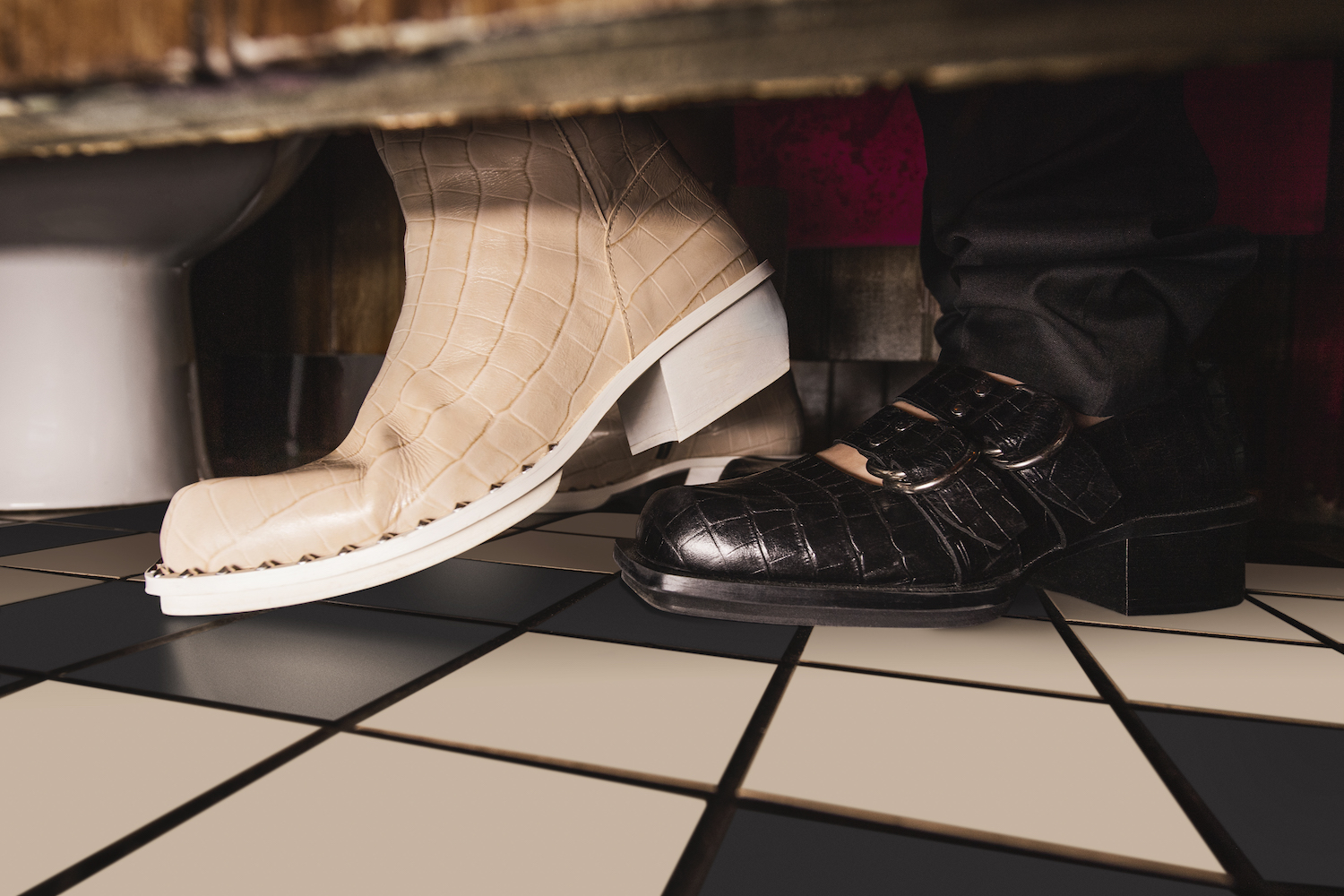 Jordanluca get hot and flushed for their new shoe campaign
Post-Freedom Day, a sacred social rite of passage has at long last returned. Yes, that's right -- hooking up with strangers! Covid safety of the act aside, anyone who really knows how to have a good time knows that, when needs must and you're far from home, there are few more fitting places for a spot of red-blooded passion than a respectable establishment's bathroom stall. Two people who know this to be true are Jordan Bowden and Luca Marchetto, the duo behind London-based luxury menswear label and GucciFest alum Jordanluca. Partners in life as well as labour, their first meeting took place in the men's lavvies at the iconic (and sadly since shuttered) east London gay venue, The Joiner's Arms. "We were both on first dates with other people but at the end of the night, just as we were about to head back, we locked eyes in the toilets," Luca recalls. "Jordan was in Seditionaries jeans, and I was wearing a kilt, so we got to know each other quite quickly!" And that's that on that! In any case, for the launch of their SS22 shoe collection in collaboration with SIX London, they decided to draw upon their saucy meet-cute for inspiration, enlisting Jason Lloyd-Evans to shoot the collection's leather derbies, boots, clogs and sandals as if peeped in pairs through the bottom gap of a toilet cubicle. Consider this a surefire sign that Hot Boy Summer has gone off with a bang! MS
Samuel Ross comes through for British POC artists
It's no secret that making it as an artist today is a tough grind, but for aspiring POC artists that grind is tougher than it for most, and through no fault of their own. The data around the structural barriers faced by non-white creatives pursuing careers in the arts speaks for itself, and yet so much remains to be done to dismantle the systemic inequities they face. In the near-absence of institutional actions to address the issue, individuals like Samuel Ross have stepped up to do their part. This week, the A-Cold-Wall* founder announced on Instagram that he'd be giving away ten £2,500 grants to Black British and POC artists working across a range of disciplines. Established with the aim of addressing the fact that "the vanguard of Britain's soft power, on a global stage, is missing far too many Black, POC, non-linear voices". The fund — which is supported by the Royal College of Art, the Design Museum and the British Fashion Council — is now open for applications here. MS
Fashion's dark prince puts out gothy new kicks
Remoulding classic pieces for a new generation of rebellious youth, Rick Owens and Converse have paired up to introduce the TURBODRK, a square-toed silhouette which that originally debuted in Rick's AW21 menswear collection in Venice. The sneakers, which will be released in two monochromatic colourways, merge Rick Owens' dark glam with a classic Converse look, making these far from your average Allstars. To mark the launch of the collaboration, Montreal-based artist duo Fecal Matter have been enlisted as the stars of both the campaign and Instagram filter -- punk chic at its best! KK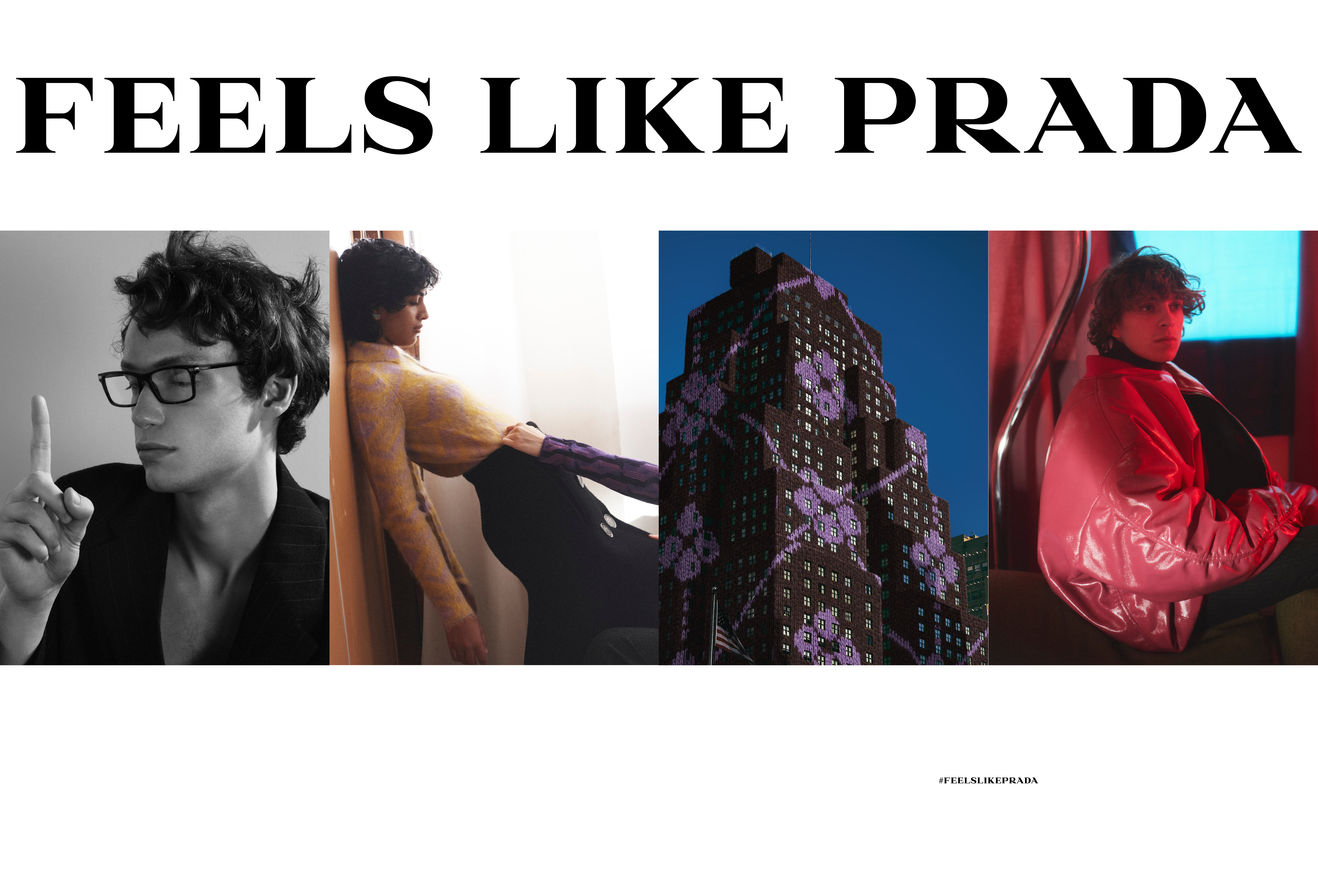 What feels like Prada?
What isn't actually Prada, but feels like Prada? A building covered entirely in brown-and-lilac knitted fabric? A crumpled duvet in the corner of a minimalist hotel room? A tattoo of a teddy bear next to one of an angel on a svelte torso? Well, yes, all of the above. "Feelings — emotions and senses, intimacy and tactility" are the true stars of Prada's new AW21 campaign. Photographed by David Sims, each image sits within a collage, "implicitly a fragment of an independent narrative — yet presented in serial, laid side-by-side, these photographs form a new abstract story of their own, expressing emotion," as the accompanying statement explains. "Deeper than appearance, this campaign is about what feels like Prada." Ultimately, it's about things that can be touched, continuing Miuccia Prada and Raf Simons' exploration of tactility and protection that begin with their menswear show in January. And of course, this being Prada, it feels like the most beautiful fabrics: chubby leather bombers and nylon bags, slinky wallpaper knits, and luscious faux fur. You've got to touch it to feel it — which must mean the campaign does its job. OA
… and what does Miu Miu mean?
And just when you thought Miuccia was done pushing our sensorial buttons, along comes another tingle-inducing campaign… this time, for Miu Miu! Starring none other than actress Emma Corrin, photographed by the legendary Steven Meisel, the campaign follows from where the show left off in the snowy peaks of Cortina d'Ampezzo in the Dolomites Alps. It's clear that Miuccia may have a bit of a girl-crush on Emma — the notes to the campaign wax lyrical about her "paradoxical bravery in showing her own vulnerability" and her "courage in her abandonment, whole-heartedly, to every role". They go on to explain that her "gaze in each [image is an] echo of female archetypes — joyful and reflective, serious or seductive". A series of five short films put Emma's acting skills to good use, allowing her to reinvent herself as different characters. She reads aloud a series of anecdotes and recollections, some true and other imaginary. "Lines are blurred," the notes continue. "Is Corrin acting, or actual — are these her words, or a script?" The clothes also throw a spanner into the mix. Is she hot or is she freezing cold? The crochet bonnet and shearling-lined parka say one thing, the braided-leather bralette another. OA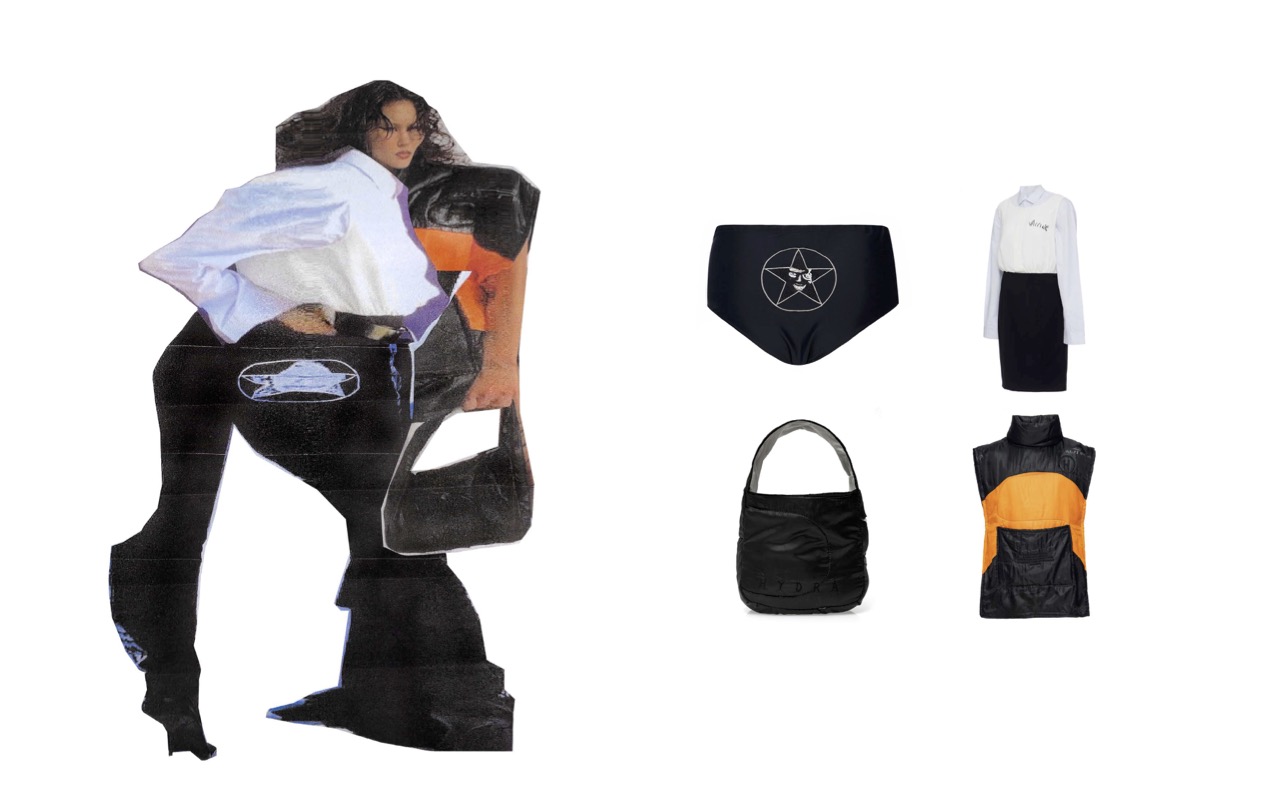 Garms that support good causes in Brazil
Close to a year ago, we brought you the story of REIF NON, an initiative that linked international communities of fashion creatives with São Paulo-based artisanal makers, whose work-streams had been severely affected by the ongoing pandemic. By setting up this global collaborative network, they produced a collection using exclusively upcycled garments, with the proceeds then distributed among the artisans and a range of aid distribution organisations working to support particularly hard-hit communities in the Brazilian states of São Paulo and Amazonas. Now, after a successful first run, REIF NON is back with a second drop, this time with a roster of designers that includes Yves Tumor, punk anti-fashion collective Estileras and cult avant-gardist Vava Dudu. There's also a printed fanzine curated by Richard Kennedy and Marcelo Alcaide, REIF's founder, within which you'll find poetry and visual art contributions around the theme of "regeneration and common ground". Garms for a good cause? Yes please! Head here to cop. MS
Credits

Artistic Direction: Marcelo Alcaide for A. CO
Design and Direction: Melanie Glueck for A. CO
Executive Production: Mariana Rollo
Collages by: Adriano Costa & NIKKRIA
Regenerated base imagery:
Photography: Cassia Tabatini
Mirrorage Hair Art: Janice Mascarenhas
Beauty: Suyane Abreu
Styling: Victor Borges
Poetry: Ricardo Domeneck, PAJU (Bruno Mendonça, Felipe Caprestano e João Paes), Fernando Casablancas, Sophia Le Fraga, Danielle N Calhoun, Aris - Justine Kirby and Rami Karim - works curated by Richard Kennedy.
Casting: Onyinye moneke, Luke, Salada, Miranda Luz, Mayumi Ishihara, Angelica Erthal and Pedro Comuana
Made possible with the support of Richard Kennedy, Mariana Rollo, Cassia Tabatini, Gabriel Lima, Andre Hidalgo, Eduardo, Alzira, Grafica Cinelandia, LEMA, Mirrorage, Bruno Mendonça, Antonio Onio and Melanie Glueck.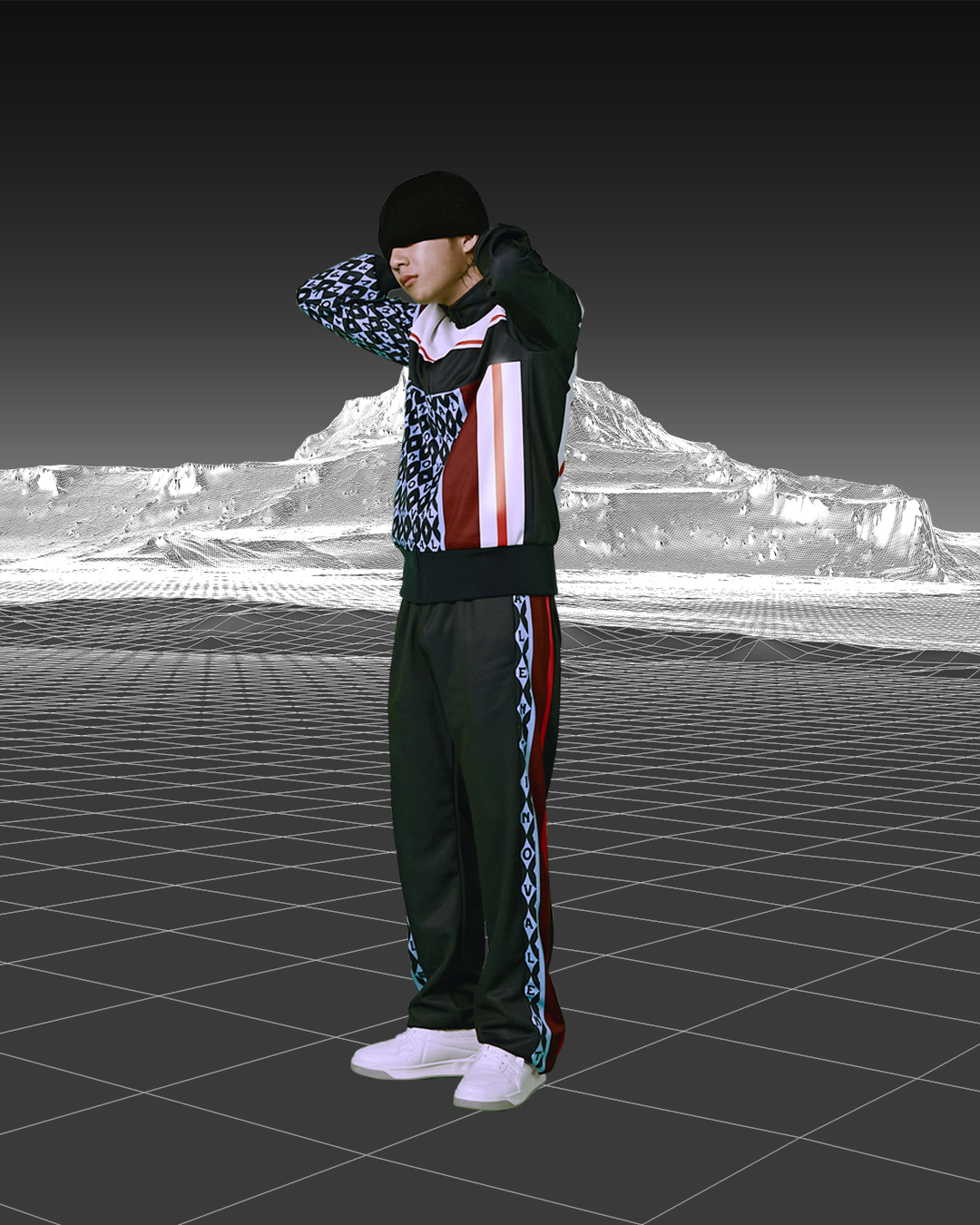 Valentino get the party started with Boiler Room
Valentino and Boiler Room are bringing the party vibes to you this summer. Following the success of their debut collaboration in December, the pair have joined forces once again to announce a second series of hypnotic online performance sessions. Who needs nightclubs, right? The series is set to take place in a distinctive, 3D landscape created by artist Masha Batsii, and kickstarted on Friday with a live performance from South-Korean rapper Woo, who will be performing his exclusive unreleased single "Peaceful Place". The killer line-up also includes some of your favourite artists, such as Claire Laffut and upcoming singer Bree Runway. The talent doesn't end there as rappers Blanco and Ichon will also be taking the stage in Valentino's AW21 collection, faces beat with the new Valentino Beauty make-up collection, which is set to drop this August. Boiler Room? More like ballroom, sweetie. KK