12 essential early-00s pop-punk albums
Sure Olivia Rodrigo and Machine Gun Kelly are great, but have you heard the real deal?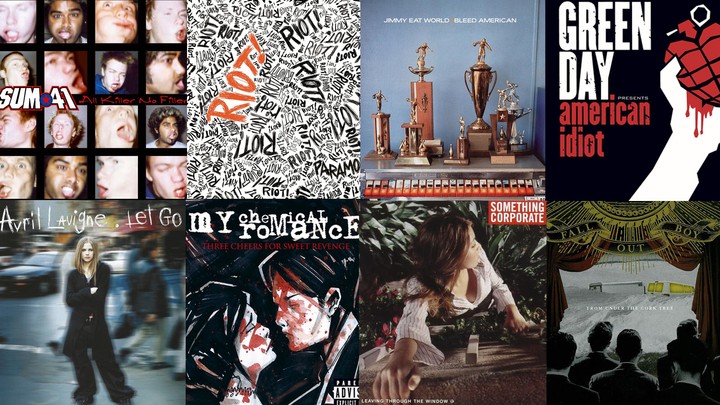 "Trends come and go, but history does tend to repeat itself," Avril Lavigne told i-D recently, reflecting on the recent resurgence of pop-punk, a genre she helped bring into the mainstream with her chart-topping, Grammy-nominated debut album Let Go in 2002. And she's not wrong! Pop-punk — musical bedfellow of emo and something that'll trigger flashbacks of house parties and skate parks and the best teen movies ever in millennials — is indeed back. Olivia Rodrigo is injecting it into her poppy little veins, and well, Blink 182's Travis Barker is not only dating Kourtney Kardashian but lending his musical insight and production skills to nu pop-punk adopters including Willow Smith, LilHuddy and Machine Gun Kelly.
So if you've been loving the revival but aren't too familiar with the past from whence it came (we don't blame or judge), here's a round up of some of the biggest and best pop-punk albums from the early 00s. Apologies in advance because, yes, there are a lot of white men on this list.
1. Sum 41 – All Killer, No Filler (2001)
When it came to naming their first major label album, Sum 41 did not lie. Out of almost nowhere, the young five piece from Ontario, Canada were suddenly all over MTV, performing on SNL and featuring on soundtracks for cultural touchstones like American Pie 2 and Tony Hawk's Pro Skater 3. Show us a video that's more 2001 than "In Too Deep" with its band geeks vs. jocks diving competition. Name a more iconic opening riff than that of lead single "Fat Lip". Inform us of a pop-punk marriage more holy than the all-too-brief union between frontman Deryck Whibley and Avril Lavigne. We'll wait. Listen here.
2. Blink-182 – Take Off Your Pants and Jacket (2001)
Like much of their discography, Blink's fourth album -- a follow up to 1999's incredible Enema of the State -- is an ode to teenage life and all the emotions that fuck with it. Lead singles "First Date" and "The Rock Show" were huge hits about good times, and yes, the record's name is a joke about wanking. Listen here.
3. Jimmy Eat World – Bleed American (2001)
If you had to guess, what do you think 12-year-old Taylor Swift was listening to on her bus ride to school? Apparently, "The Middle" -- the most successful single from Jimmy Eat World's fourth album, Bleed American -- was one of her go-tos. "I felt comforted by it," she told Rolling Stone, "because I never felt like I really fit perfectly into any clique." Beyond that, the events of 9/11 unfolded just weeks after release, leaving teens feeling like the world was a cruel, dark place. But here was their favourite band, reassuring them over and over that everything would be alright in the end. Listen here.
4. Avril Lavigne – Let Go (2002)
Like she read all of your ridiculous teenage diaries and turned them into something far from embarrassing, Avril Lavigne's debut album Let Go was a real game-changer. At just 17, she quickly began topping charts, breaking records and racking up a total of eight Grammy nominations for awards including Best New Artist and Song of the Year for "Complicated". Not only that, she also guest starred on 2002's coolest teen show, the OG Sabrina, the Teenage Witch -- performing "Sk8er Boi" at a club that Melissa Joan Hart and pals were at. Sick. Listen here.
5. Something Corporate – Leaving Through The Window (2002)
A bunch of friends from Orange County bagged themselves a record deal by writing incredibly catchy songs about their local park, the girls they fancied and the kids that hated them in high school. Something Corporate's Leaving Through The Window -- the first of just two albums before singer Andrew McMahon started a new (also short lived) band called Jack's Mannequin -- blessed us with "Punk Rock Princess". The single popped off, particularly in the UK where it entered the Top 40 and the hearts of, ahem, teenage punk rock princesses up and down the country. Listen here.
6. Good Charlotte – The Young and the Hopeless (2002)
According to an NME review at the time, with this, their second album, Good Charlotte created a "sudden extra fold of punk-pop's cerebral cortex… the evolutionary leap into an unexpected maturity". And sure, it's a pretty great album. Just look at "The Anthem" which was exactly that for a generation of teens with lip piercings, dead set on not becoming their parents. "Lifestyles of the Rich & Famous", meanwhile, was an angsty cry of EAT THE RICH with a side of Benji's best hairstyle ever. And yes, Benji and Joel Madden, the brothers at the heart of the band, now have children with Cameron Diaz and Nicole Richie respectively. Funny how the world works out. Listen here.
7. The All-American Rejects, self-titled (2003)
When you've got Tyson Ritter and his perfect face fronting your band, does it even matter what you sound like? Well for those who believe that yes, it does, you're in luck. Oklahoma band The All-American Rejects sound good too. "Swing Swing" -- which featured on The OC soundtrack -- is the real stand-out here, full of heartbreak and girls with plugs hanging out under the bleachers before garage band practise. Please take us back. Listen here.
8. Green Day – American Idiot (2004)
"We live in a really fucked-up time period," said Green Day singer Billie Joe Armstrong in a 2004 interview promoting their "punk-rock opera", American Idiot. The west was at war with Iraq and things didn't look too great, but damn they sure got worse. The anti-capitalist title track -- which has since unfortunately and bizarrely been adopted by Republicans -- articulated the band's frustration with the state of the world; while "Wake Me Up When September Ends" has lived a double life as both an anti-war protest song and a tale tracking Billie's grief after the death of his father. Samuel Bayer (also responsible for Nirvana's "Smells Like Teen Spirit") directed Evan Rachel Wood and Jamie Bell in the latter single's music video. Listen here.
9. My Chemical Romance – Three Cheers for Sweet Revenge (2004)
If you ever felt alone, rejected, confused, lost, anxious, wronged, unclean, angry, ashamed, curious or used, this platinum-selling masterpiece is for you. All the angst of your miserable high school years, bottled as pop-punk and sent spiralling in a deliciously emo, post-hardcore direction. "I'm Not Okay (I Promise)" is perfect. "Helena" isn't far off from that either. Listen here.
10. Fall Out Boy – From Under The Cork Tree (2005)
Midway through the 00s, Chicago band Fall Out Boy released an album that frontman Pete Wentz described as being about "the anxiety and depression that goes along with looking at your own life". And in fact, just months prior, he had experienced an incredibly dark period in his own. The record's lead single "Sugar, We're Goin' Down" was a hit and the band swiftly entered the mainstream. But did you know that their record label had tried to tone the single down before release? Apparently they found the chorus "too wordy" and the guitars "too heavy" but luckily Fall Out Boy and ultimately fans everywhere disagreed. Listen here.
11. Panic! at the Disco – A Fever You Can't Sweat Out (2005)
Imagine this: you send some demos to the aforementioned Pete Wentz over LiveJournal (hello 2005!) and he's impressed. You're immediately signed to his record label and proceed to record and release what ends up being a hugely commercially successful debut album. Oh and you literally just graduated high school. That's pretty much the story of Panic! at the Disco and A Fever You Can't Sweat Out. Racing through lyrics like they did career progression, their lead single "I Write Sins Not Tragedies" won MTV's Video of the Year for their depiction of a messed up steampunk wedding. Listen here.
12. Paramore – Riot! (2007)
Nashville school friends Paramore were seriously talented teens. And when, in 2007, they released their second album Riot! (packed full of karaoke classics) the world discovered just how talented that was. "It's more honest than anything I've ever written," singer Hayley Williams said of "Misery Business", whose attitude-drenched lyrics were straight out of her own diaries. The single is still inspiring listeners today, including, it seems, Olivia Rodrigo, who has added Hayley and former bandmate Josh Farro to the writing credits of her latest hit "Good 4 U" after all that plagiarism drama. Phew. Listen here.
Tagged: