Lee Jung-jae really wants to come back for Squid Game season 2
Squid Game: Squid Harder, Squid Games, Squid Game: Here We Go Again!...ok we'll stop now.
|
16 October 2021, 11:28am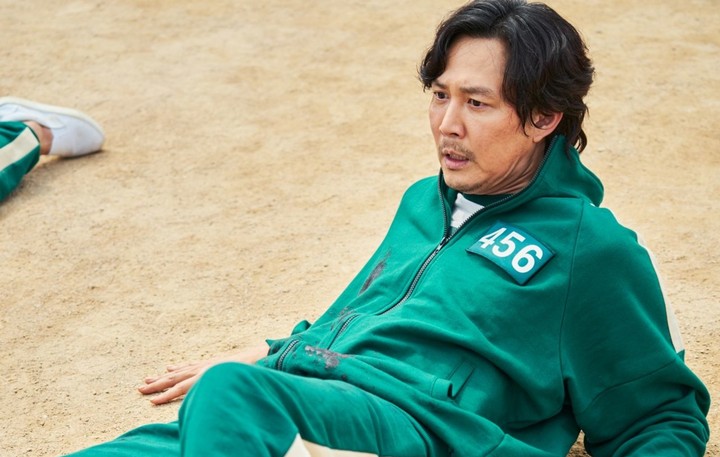 Image courtesy of Netflix
warning: this article contains spoilers for Squid Game (if, for some reason, you haven't already seen it)
Squid Game's Lee Jung-jae has spoken about his desire to return to the Netflix phenomenon for a second season.
Listen, he just really wants to do it, alright?
Since the original series' launch last month, Squid Game has become the most popular Netflix show in over 94 countries around the globe. Netflix themselves announced that over 111 million viewers had tuned into Squid Game, making it the streaming service's biggest launch for a show ever, out-pacing previous record holder Bridgerton.
In the show, Lee plays the put-upon Gi-hun, who is convinced to enter an elaborate compe to win a life-changing amount of money after getting into debt. All he has to do to win is play increasingly frantic versions of children's playground games…with deadly consequences, of course.
Despite Squid Game's record-breaking success globally, Netflix have yet to announced a second season, although series creator Hwang Dong-hyuk previously spoke about having an idea about where a continuation of the storyline could lead.
Now, speaking to Entertainment Weekly, Lee said that "I've received so much love and support from [fans], of course I have to play [Gi-hun] again if there is a season two."
There is a catch to all this of course - and that's that Squid Game's lead actor knows just as much about a second season as the rest of us…sweet FA, basically.
"I don't know anything right now," Lee confirmed. "And I also don't know whether if Gi-hun's role [will] still be the main role or like a minor role on the side. But whatever it's going to be, of course I would have to say yes."
We mean…with 111 million people watching how could you say no?!
Of course, Squid Game did leave things open for a second season. At the end of the first series, Gi-hun does walk away with the money, but instead of boarding a plane with his daughter and a new life in America, he decides to head back home and find out more about the people that actually orchestrated the Squid Game, and the casual deaths of hundreds of people.
Squid Game's themes and allegories are not hard to spot (capitalism! It was the enemy all along!) but it would certainly make sense for the disgruntled masses that were so fucked over by the game (and life under a capitalist society in general) to dismantle the power structures that trapped them in the first place. Sounds like a good idea for a second season to us!!
Tagged: