LilHuddy's evolution from TikTok royalty to rockstar
18-year-old Chase Hudson discusses finding a creative medium that makes him proud. But just how far can 30 million TikTok followers get you in music?
"When I was a kid, I had my life all planned out," Chase Hudson — or as he is better known to his 30 million TikTok followers, LilHuddy — tells us over Zoom. "I wanted to build rollercoasters." He laughs as he recounts drawing whimsical rides on paper, exuding the warmth and effortlessness that has helped make him one of TikTok's biggest stars. For Chase, the humour in the anecdote is in the "randomness" of this career interest. To the outside world, however, it seems to be an apt prophecy. Despite being just 18 years old, Chase has spent the past few years riding a professional rollercoaster of his own creation — one characterised by unthinkable speed, dramatic twists, surprising turns and the enthusiastic screams of passengers along for the ride.
Chase grew up in Stockton, California, which he describes as "a town where you get made fun of for being different". At age 16, he headed for Los Angeles — since becoming a quietly revolutionary figure in the industry and a leader among a new generation of media talent. "I didn't embrace the artsy side of myself until I came to LA and wasn't ashamed of it anymore," Chase says. "Since then, it's just kind of exploded." He's racked up numerous impressive identifiers in addition to TikTok star since the 2019 move, including Hype House founder, E-Boy style icon and teen heartthrob.
But these accolades of social media mastery were merely pit stops on his ascent towards an alternative professional climax: the launch of his pop-punk music career. The opportune timing of the pivot made his musical debut this January feel like a rare eclipse, when the star of the moment and the sound of the moment perfectly aligned, amidst a fertile cultural landscape. But just how far will 30 million followers get you these days, as an aspiring musician?
TikTok has only recently overcome its pre-pandemic reputation as a cringey and questionable playground for teens, and established itself as the definitive platform of both the present and the foreseeable future. This widespread shift in perception in the wake of Covid has dramatically benefitted early adopters like Chase, whose followership has more than tripled since January 2020. And while TikTok's ability to catapult lesser known artists to the top of the charts has been well documented since the app's first big splash of popularity in 2019 (Lil Nas X, case in point), it seems the music industry is only just now grasping the true value of a pre-existing TikTok fandom — and how effectively a position of power on the app can translate to record sales, streams and (one day, perhaps) tours.
Last year, music agent Adam Mersel, who has worked with artists like Bebe Rexha and Robin Thicke, signed Chase to Immersive Records, a new subsidiary of Interscope Geffen A&M. "I've been looking for people to work with in the music industry since I arrived in LA. Then I just happened to meet the right people at the right time," Chase says. Though he had no experience or background as a musician at the time, Adam calls the decision to take him on a "no brainer".
"There isn't anything like it in the business," Adam says, explaining how valuable TikTok is to the music world. "TikTok has the most active engagement I've ever seen on a platform." Not only is music a pillar of the app's identity (making it an ideal place for promotion), TikTok has also given rise to a legion of alluring performers. Unlike Instagram influencers, who mostly garner attention and clout with still images, TikTok creators succeed by creating captivating videos, making them somewhat ideal contenders for offshoots into various sectors of the entertainment industry. "That's the thing about influencers turned artists: they've built their audiences from no one outside of themselves. They've earned their visibility," Adam adds. "And I think, for [Chase] especially, that was an incredible place to start from."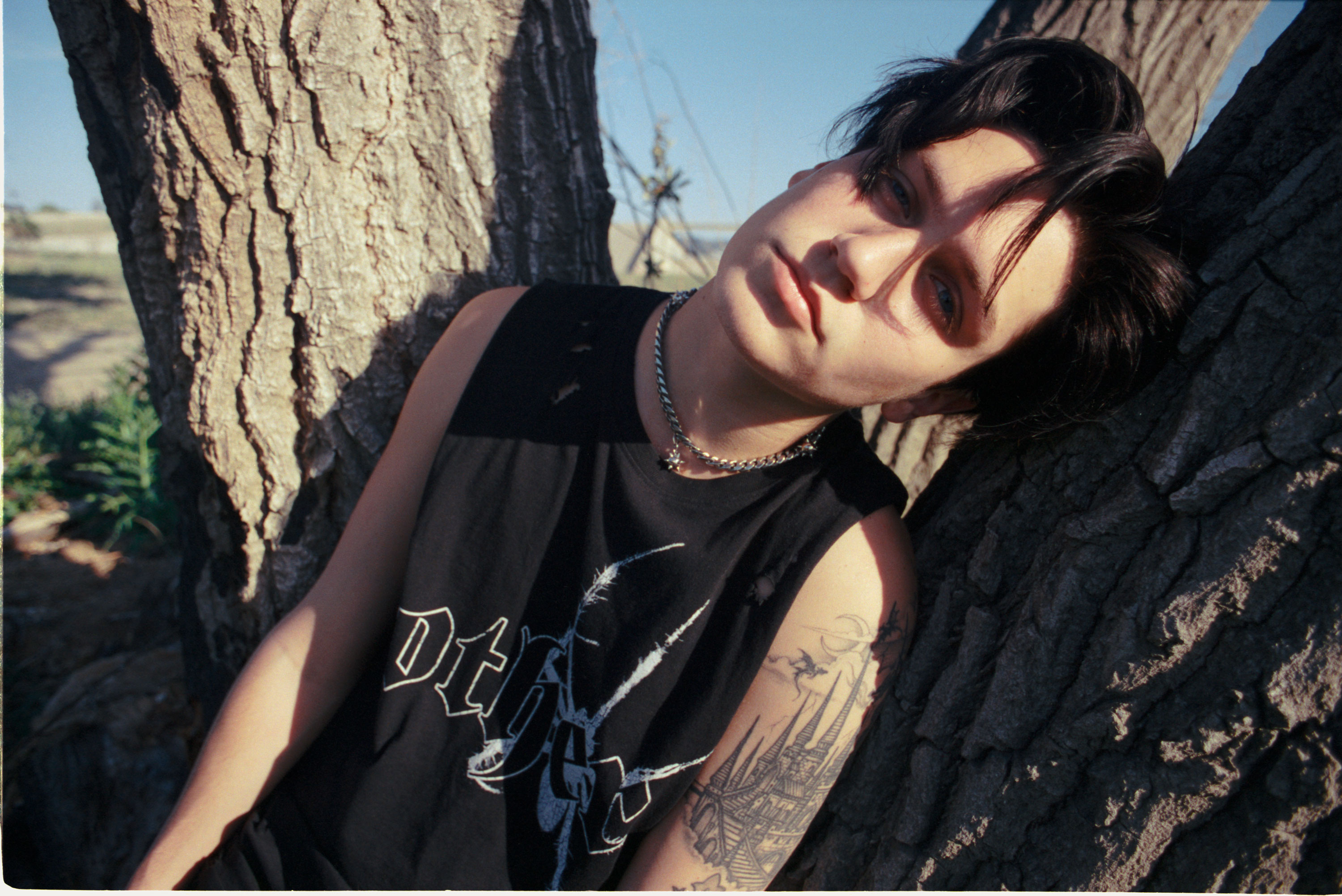 Chase entered the scene having already earned the endorsement of the leaders of Gen Z's pop-punk revival: Machine Gun Kelly, who cast Chase as the lead in his 45-minute music video Downfalls High, and Blink-182 drummer Travis Barker, who has produced all of the tracks on Chase's upcoming album (due out this summer). Chase describes the process of working with one of his childhood idols as surreal: "Travis is a big fan of the work that I'm creating, which is something I couldn't have even dreamed up. I really looked up to him as a kid."
Capitalising on the zeitgeist of pop-punk's second coming, LilHuddy's first single, "21st Century Vampire" (which he dropped just days after MGK's film premiere) embodies both the nostalgic sounds and deceptively simple lyrics of some of the most iconic high school tracks of yesteryear, like "I'm Just a Kid" and "Teenage Dirtbag". In February, Chase followed his debut (which has already been streamed over 10 million times on Spotify alone) with an infectious breakup song, "The Eulogy of You and Me". Elegantly capturing Gen Z's twist on the late 90s/early 00s musical movement, the track marries the darker lyrical themes and gothic imagery of emo with that brighter, danceable pop-punk sound. It's on regular rotation on SiriusXM Hits Radio, who also named Chase their latest "Hits 1 to Watch" artist.
Although Chase is one of many elite TikTokers — alongside Addison Rae, Dixie D'Amelio, Jaden Hossler, Nessa Barett and Ondreaz Lopez — to sign record deals in recent months, his musical ambition and persona seems the most authentic of the bunch. Thus far, Chase's transition from TikTok royalty to rockstar appears remarkably unlabored, even natural, rather than executive-engineered. Though he tells us of a gruelling schedule that demands 12-hour stints in the studio, in addition to voice and music lessons, the teen is glowing with a fervent optimism and a sense of genuine fulfilment. "Social media was always a fun thing for me to do, but I don't feel the same reward or passion in making a video as I do when I make words on paper into a song," Chase says. "It gives me something to invest myself in fully, and truly be proud of."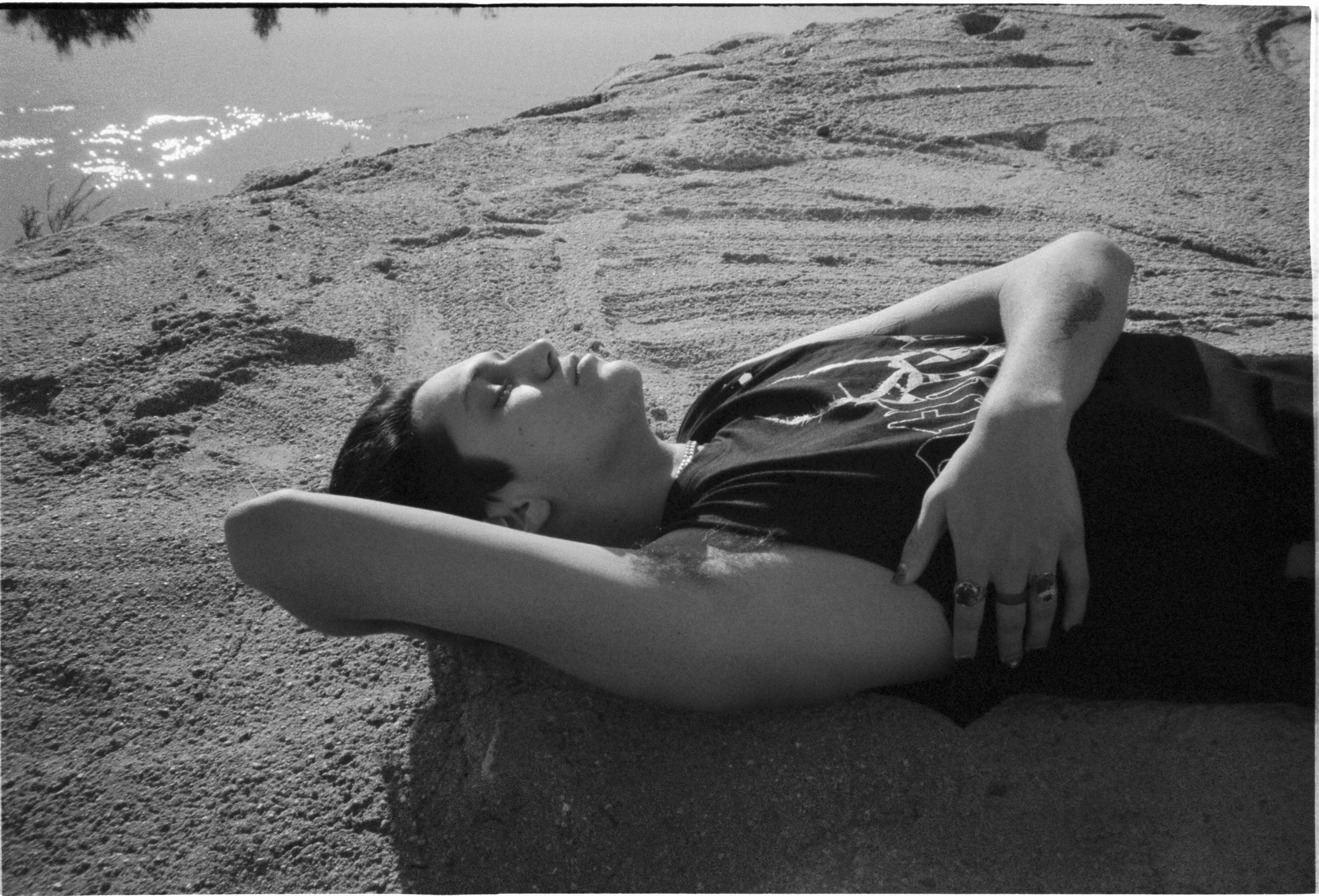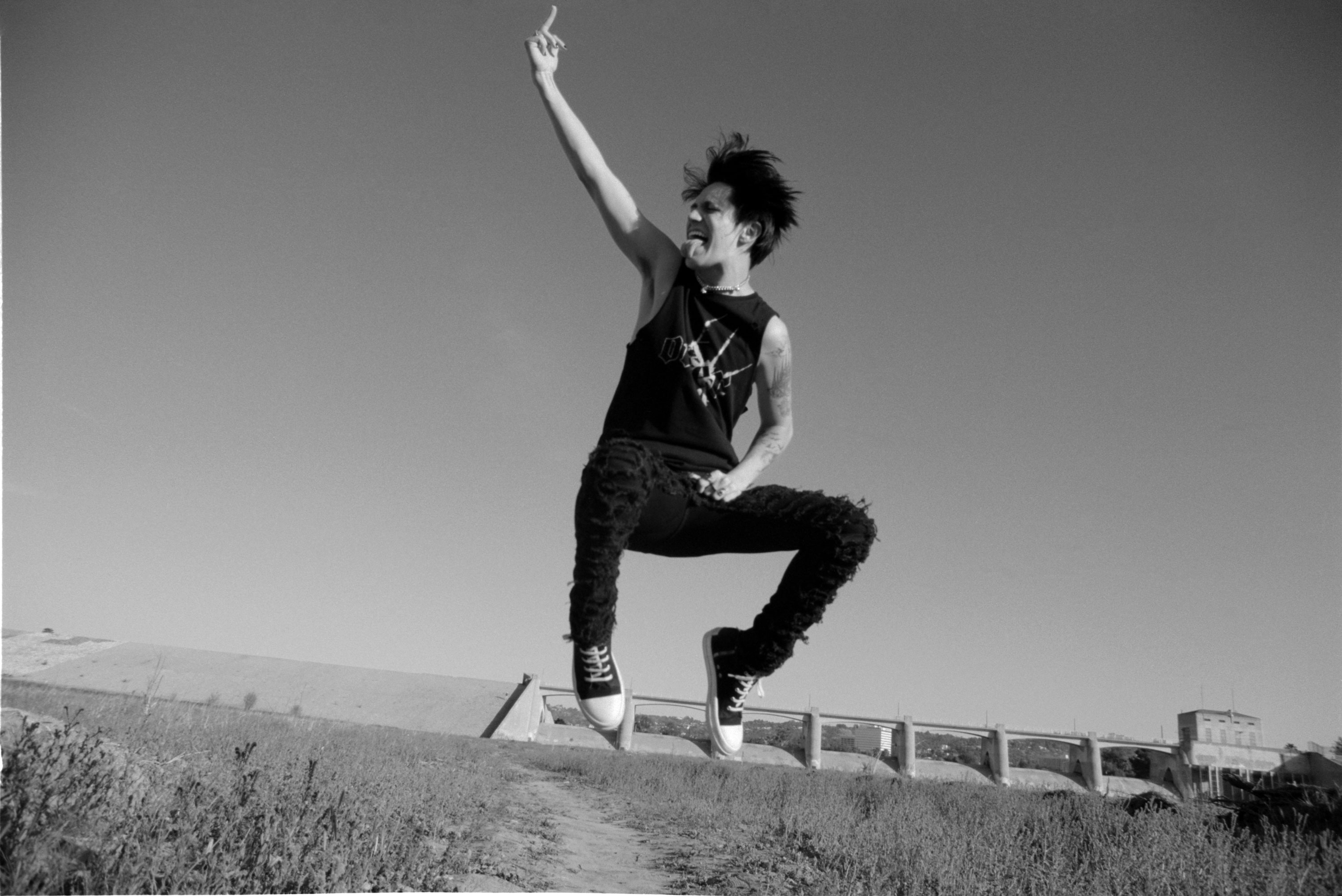 Chase opens up about how bizarre it's been to watch the digital benchmarks of his career success (like follower count, streams, views, likes, merch sales, etc.) skyrocket, while the physical world remains motionless in Coronavirus limbo. "I've actually broken down about it a little bit," he says. "It doesn't feel real to me in a way, because I've just been surrounded by numbers and stuck at home for such a long time. I'm not able to meet the people that love and support my stuff, or to even live this so-called fame." As we continue to wait for indoor gatherings to be safe again, Chase and his team are attempting to "bridge the gap to the stage", by creating content for fans that's reminiscent of the live music experience, like a recent acoustic performance he did at the iconic (and empty) LA rock venue, Whisky a Go Go.
When asked why Chase has managed to captivate so many young people around the world, Adam Mersel attributes it to his willingness to be flawed and vulnerable with his audiences. "I think some of the songs on the album might shock people," he says, describing Chase's lyrical candor. "The fact that he has the bravery and vision to share it all, and bear it all, is what's really going to make him stick with this next generation and become a timeless artist." And for Chase, the potential reward of connection is what makes the risk of transparency worth taking. "Talking about your feelings online is always something that people are going to joke about or look down upon. But when you can say it the right way through music and not be corny, it's like preaching to the choir."
Though we are still in the early days of Chase's career experiment, the takeaway is already clear. Industry gatekeepers and TikTok's general naysayers can no longer afford to reject, overlook or devalue the power of the platform and those who are most influential on it. Thirty million TikTok followers will certainly give you a head start in the music industry today, but when a platform that imposing is matched with genuine zeal and determination, it's enough to go the distance. "Anything can be built off of TikTok. If you want it and are willing to work for it, it's there," Chase says. "You just have to have the right heart for it."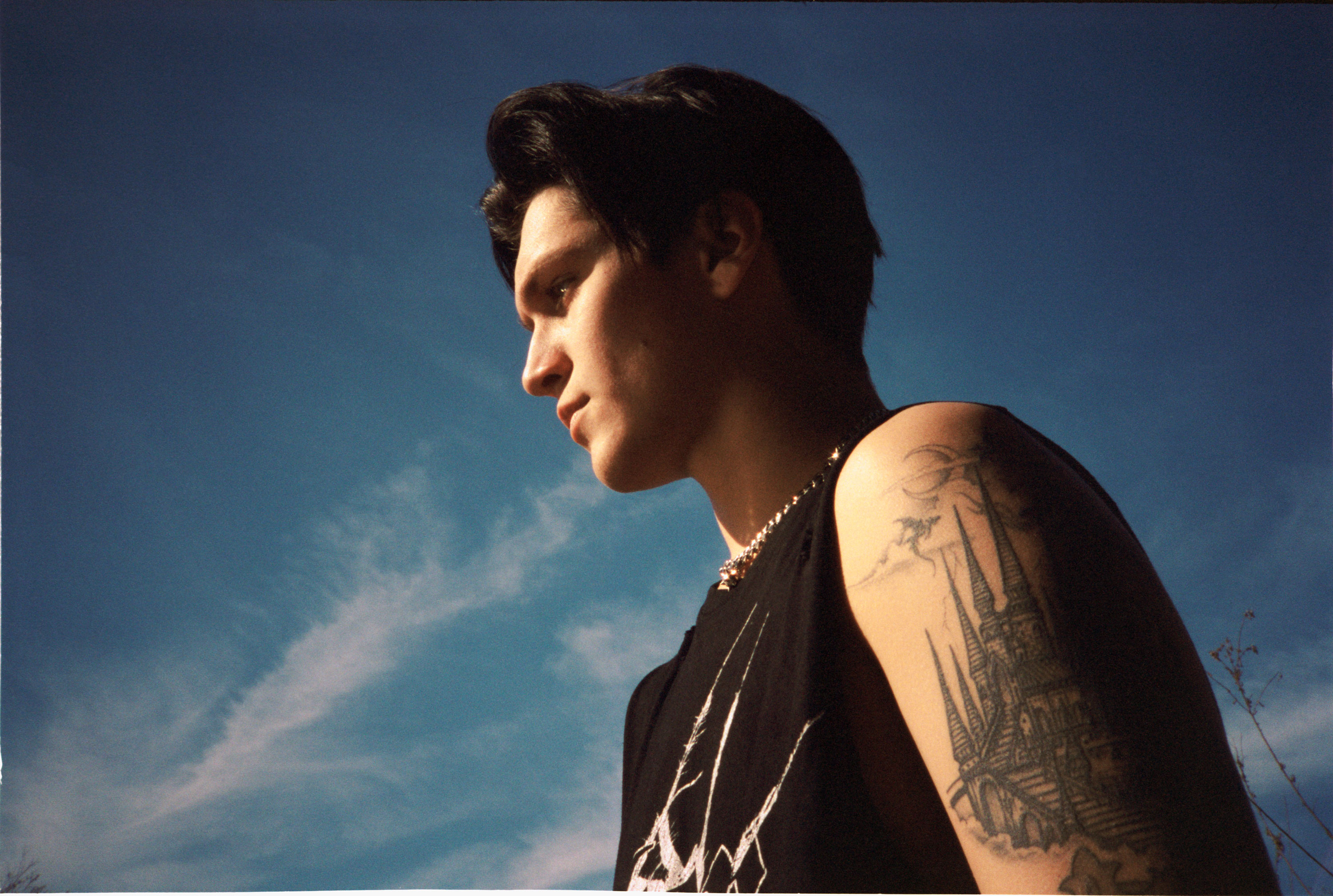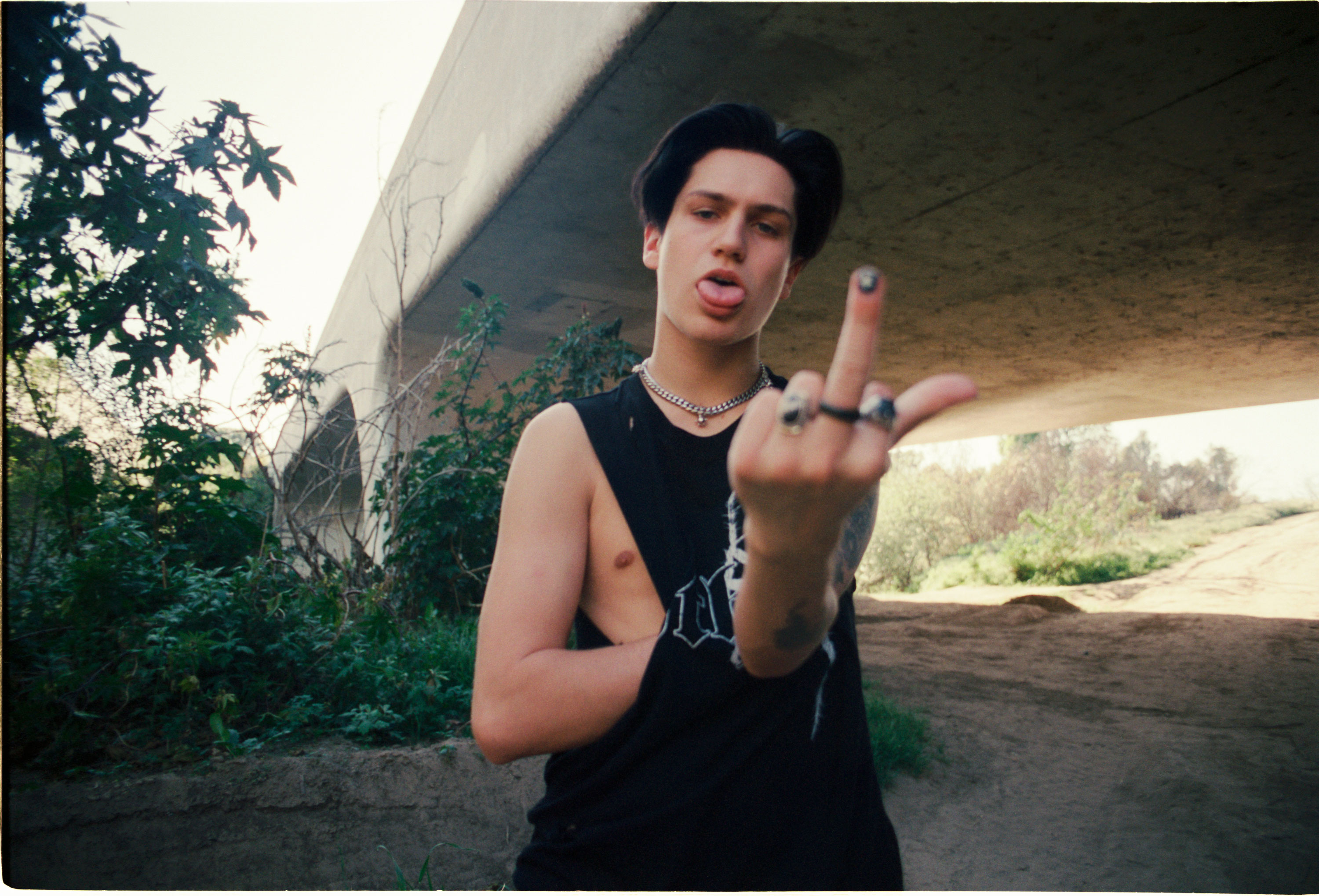 Tagged: