Zoë Kravitz is directing a thriller called Pussy Island
She explained how the movie got its provocative title too.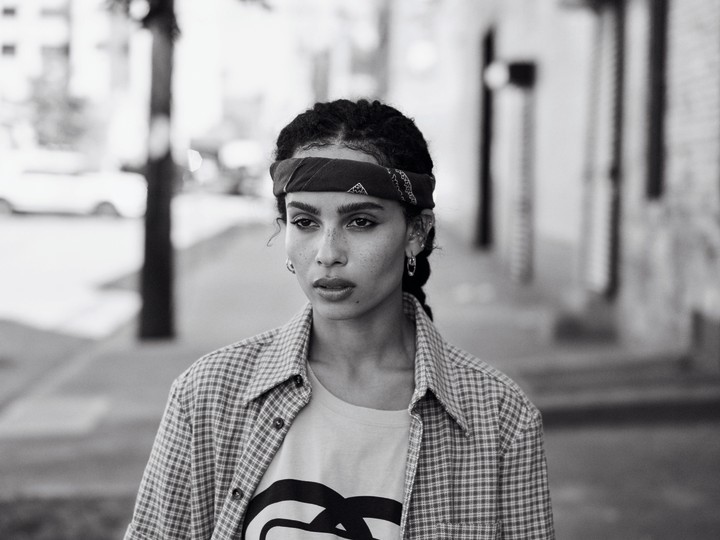 Photography Gus Van Sant for i-D's The Post Truth Truth Issue, no. 357, Autumn 2019.
Zoë Kravitz, the actor, model and i-D cover star, has revealed she is working on her first movie as a director. The project, titled Pussy Island, has been in the works for four years, and is based on a script written by Zoë and her High Fidelity co-writer, E.T. Feigenbaum. What's more, everybody's favourite heartthrob Channing Tatum is set to play the male lead.
Zoë discussed the provocative title in an interview with Deadline. "As a woman in general, and a woman in this industry, I've experienced some pretty wild behaviour from the opposite sex," she said. "The title was kind of a joke at first, this place where people would go, bring women, party and hang out. The story evolved into something else, but the title wound up having multiple meanings. And it alludes to this time and place we claim to not be in anymore, in terms of sexual politics. People are evolving and changing but there is still a bad taste in a lot of people's mouths from past behaviour. It's a nod to that, but it's also playful, and a really playful film in a lot of ways. I like that the title leads with that and has some heavy meaning beneath it."
The plot follows Frida, an LA-based cocktail waitress with lofty ambitions and the confidence to achieve them. At a party, she runs into a mega-rich tech mogul called Slater King (that's Channing Tatum!) and strikes up a conversation. Their kinship leads Frida into Slater's mega-rich inner circle, and she visits the island where he and his friends all frolic. But when she gets there, the luxurious veneer starts to wear off, exposing a more troubling problem underneath. The project is set to be shopped to distributors at this year's Cannes Film Festival.
Zoë and Channing worked through the script together at times, honing the male character to be what Channing has called "an extremely committed version — psychotic possibly — but an extreme version of myself". Zoë will not play Frida. She told Deadline that, although it is her kind of role, she wrote it anticipating to offer the part to another actor so she can fully focus on the direction.
Pussy Island is set to go into production in early 2022 on an undisclosed tropical island, before she kicks off a world press tour in support of The Batman, in which she plays Catwoman, that spring. She is officially booked and busy.
Tagged: